Do you remember McKenna's mobile and the Fall leaf mobile/wind catcher I made last year? Well this is similar, except I'm using hearts and I'm calling it a chandelier. I found these cute paper doily hearts in the cake decorating area in Wal-Mart. Everything else I already had on hand. Ignore that pink ribbon, I decided not to use it.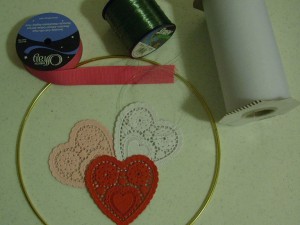 Fold all the hearts in half to make them more dimensional. You'll be putting 2 hearts together, back to back, and threading them on together.
Cut a length of fishing line. Thread the fishing line through a hole towards the top of the heart and one towards the bottom. Tie a knot or two at the bottom of the heart to hold it in place. I didn't use any adhesive, just the knots to hold them.
Take 6 pieces of fishing line. Thread 3 double hearts onto each piece of fishing line. I would have done more, but the doilies come in packs of 12 and I only bought 1 package of each color.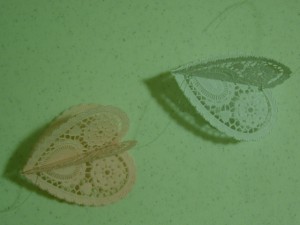 Tie them all on the hoop, evenly spaced. Then cut off 6-8″ lengths of tulle and tie around the hoop. I tied on 8 pieces between each section of hanging hearts. Oh, and use the tulle to make a loop to hang the chandelier from.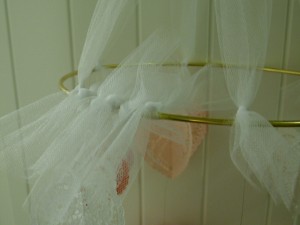 Ta-Da! Isn't she lovely?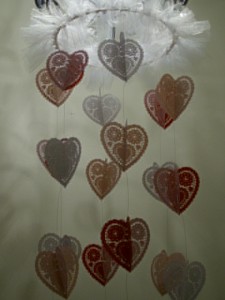 And so Valentinesy!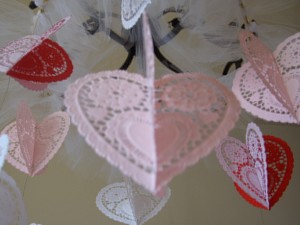 Here's the hoop part finished. I should have spray painted it white.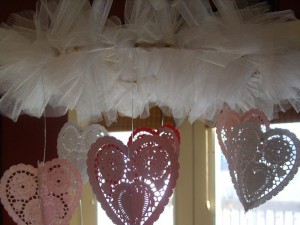 And some more pictures.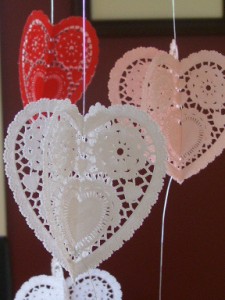 I think I like the pink one's best.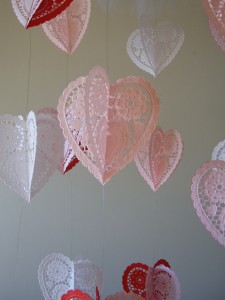 It's hanging in the dining area from a real chandelier.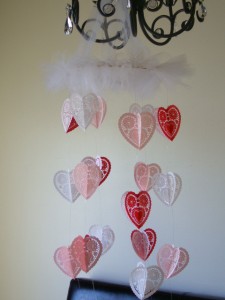 I tied a bead to the bottom of each strand of fishing line for weight. I'm happy with how it turned out .