Yep, I'm still organizing the kitchen. It's easier for me to tackle it in sections instead of spending hours organizing the whole thing at one time. Today, I worked on the island.
The utensil drawer didn't really need any organizing. I try to keep it under control. I did take everything out and wipe it down though. I found a few medicine droppers I was able to throw out.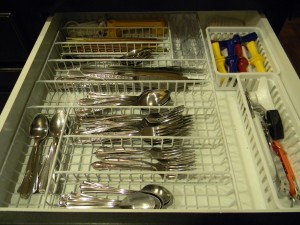 The drawer next to it needed a little clearing out. I added a few baskets to keep things contained better and moved a few things closer to where they were being used. Here's the before.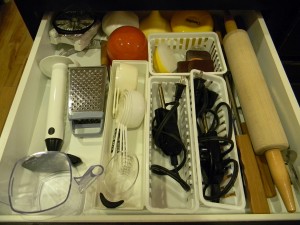 Here's the things I decided to get rid of. There's nothing wrong with deciding something isn't working for you anymore and getting rid of it. If you're not using it, it's just taking up space.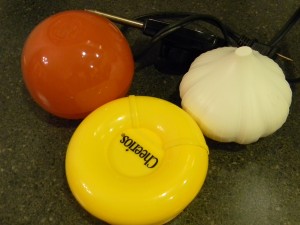 And here's the drawer now. Things are better contained and easily accessible.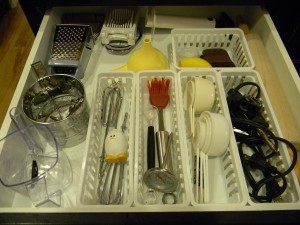 This is under the island. When we moved in, there was another long shelf, but that wasn't working. If there was very much weight put on it, it would fall down. And since that's where I keep my pots and pans everything I put on the shelf was heavy.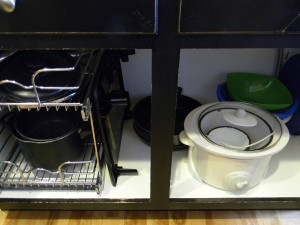 So I installed this unit on one side of the cabinet. I attached it to the bottom and side of the cabinet so it's really stable. I love it! It rolls in and out so easily and I don't have to kneel on the ground to get what I want. The griddle is slid in on the side of the storage unit.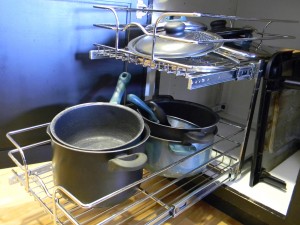 Here's the other side of the cabinet without the unit. I'm planning on getting one for this side too. There will still be space between the units to store narrow things.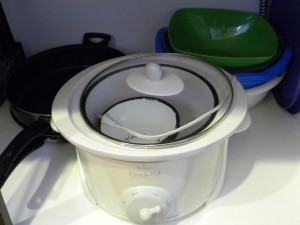 Here's the things I was able to move to another place or get rid of from under the island.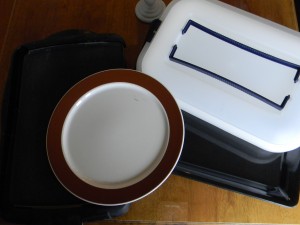 This is the top of the island. I used to have a lamp and some cute decorations on the top, but my island is small and they were taking up valuable space. The boys eat breakfast and lunch up there and now they have more room. Having just the fruit bowl in the center gives me more space to work and the kids eat more fruit now that it's more noticeable.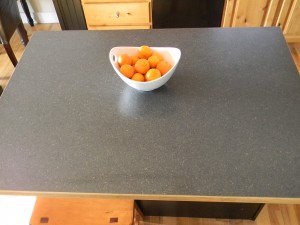 Only 8 items are leaving this area, but that's a grand total of 172 items now.
I'm linking to:
Transformation Thursday at The Shabby Chic Cottage
Kitchen Clean Up Link Party at Beneath My Heart