This time of year I get a double hit of the organizing/decluttering bug. Before the craziness of the holidays hit our home I like to clear out the excess stuff and get organized. So I started with our bedside tables. Mine first. I only kept things in it that I use daily. A journal, notebook, bedding mist (it really helps me sleep), lip balm and a coaster for my glass of water.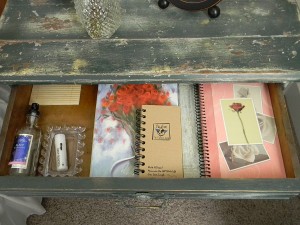 The top was also cleared off except for the essentials (yes, flowers are essential). On the lower shelf are some books I'm reading and the phone.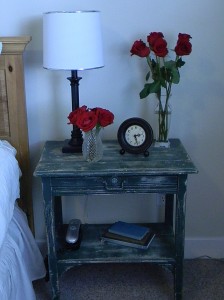 Hubby's nightstand next. TV remotes (of course), checks, journal, deck of cards and a box full of his other essentials. I didn't take a before picture, but the box was overflowing with non-essentials. Don't worry I didn't throw anything out. I had hubby go through his own box and get rid of the things he didn't need. They were either thrown away or moved to where they were used.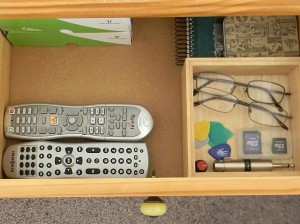 Okay, the plant isn't essential, but it looks good. The basket on the bottom shelf holds hubby's guitar sheet music.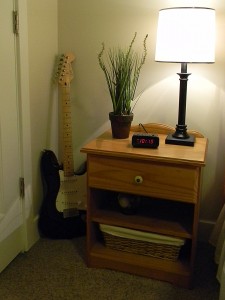 I'm not going to show you my undies drawer, but it looks really organized. So do the rest of the drawers. I'll show you this one drawer of hubby's though. Yep, he has another box with his "essentials" in it. In the past, things would overflow into other places of the room. I learned many years ago to let him have little "essential" boxes for his things. He goes through them a couple times a year and everyone's happy.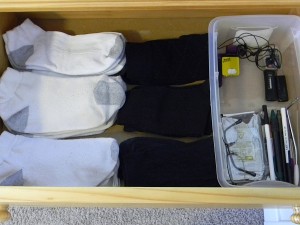 Since the weather is getting cooler I always need extra blankets on my side of the bed. The bench that sits at the bottom of our bed holds extra blankets and pillows.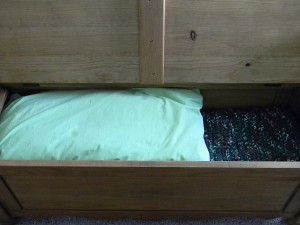 So that's what I've been decluttering and organizing. I'll show you the closet tomorrow.
Remember, store what you need where you need it.
And purge a couple times a year. It's like a breathe of fresh air.
Have a Beautiful Weekend and Organize Something!
I'm linking to:
Sunday Showcase Party at Under the Table and Dreaming
DIY Project Parade at The DIY Showoff
Market Yourself Monday at Sumo's Sweet Stuff
Works For Me Wednesday at We Are That Family
Hookin' Up With HOH at House of Hepworths