This bracelet is one of the most fun and easy projects I've ever worked on. I love how it turned out.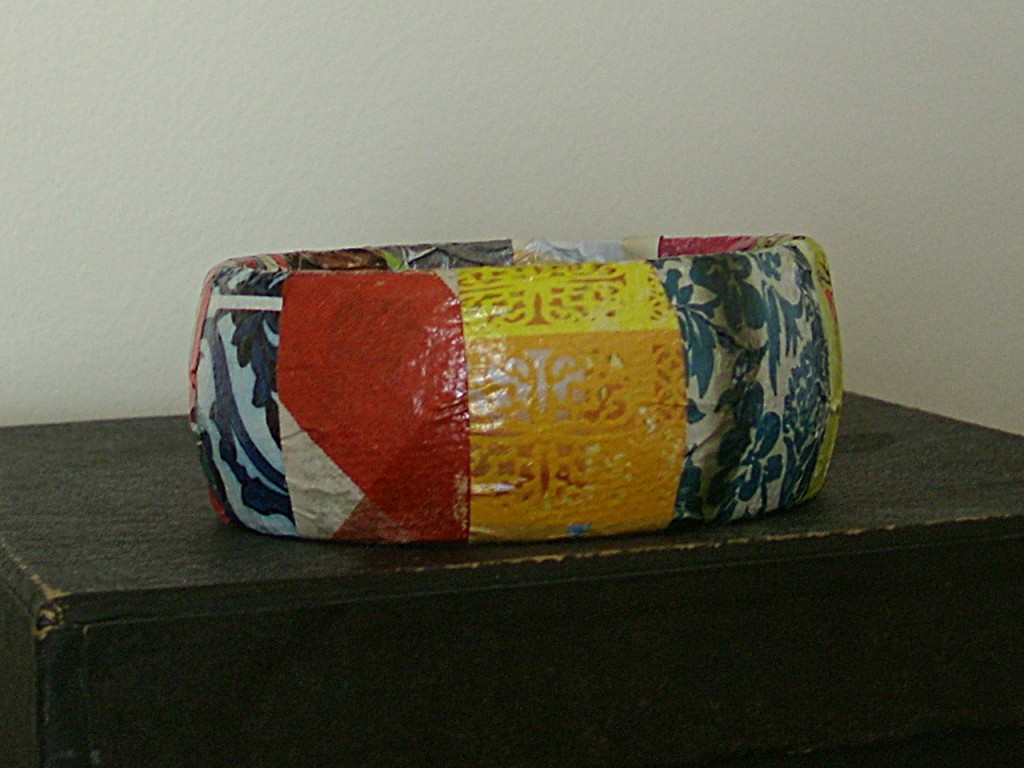 I found these sequined bangle bracelets in the dollar section at Target. That was my only cost for this whole project. If you have a bangle,  you don't wear anymore, use it and then you won't have any cost.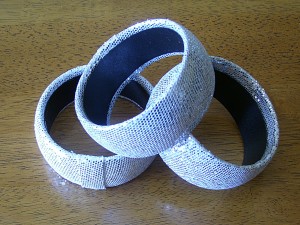 I looked through magazines finding pages that appealed to me, either because of pattern, color or design.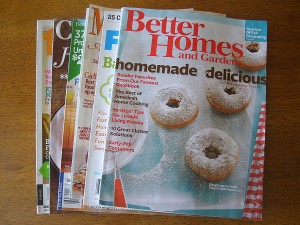 Then I ripped them out to be used on the bracelet.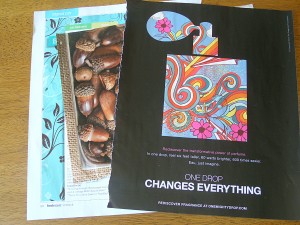 I cut rectangles 1 1/4″ x 3 1/2″ making sure they were the pattern I wanted for the bracelet. Here's what some of the strips actually are, from left to right: tile, apron, wallpaper, dress, vase, and rug.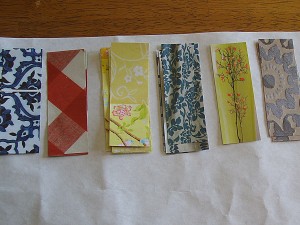 Then I took the insert out before I started wrapping the pieces around the bracelet. I kept the insert to use later.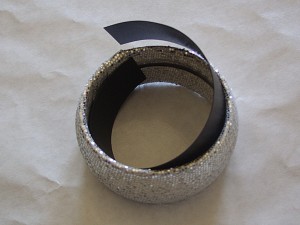 I applied a generous amount of mod podge to a section of the bracelet and attached 1 strip wrapping it around the bracelet. Then I smoothed down the piece as much as possible. It was still a little rough, but I like how it turned out. I continued adding the pieces, overlapping them as I went. It took 11 pieces to get around my bracelet.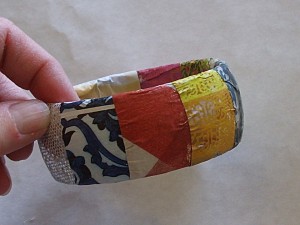 It 's really messy and my fingers got really gooey. I applied more mod podge, with my fingers, where the ends of each piece meets. After I let it dry for about 15 minutes I hot glued the insert back into the center of the bracelet. If you don't have an insert you can make one out of felt. Just cut it a little smaller width than the bracelet. It helps hide the raw edge and have a finished look.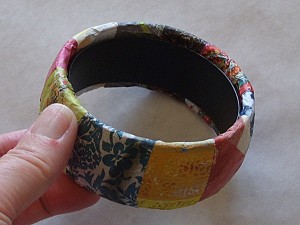 I wanted my bracelet to be shiny and well protected so I used a clear acrylic sealer. This one said it was good for maps and documents so I figured it would work on the magazine pieces. I sprayed 2 coats, but I think I might add 2 more.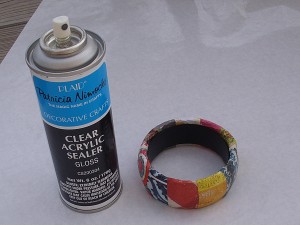 Ta-Da! How cute is that ? It was so quick, easy and cheap! Now I wish I would have bought more of those sequined bracelets. And apparently they're pretty cool. My teenage daughters both want one. Now go make a fun bracelet for yourself.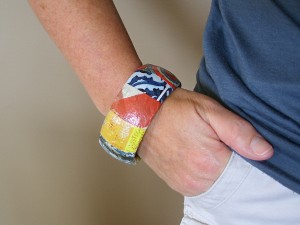 I'm linking to:
Sew Crafty Saturday at Sew Chic and Unique
Show and Tell Saturday at Be Different Act Normal
Craft Schooling Sunday at Creative Jewish Mom
Sundae Scoop at I Heart Naptime
Sunday Showcase Party at Under the Table and Dreaming.
DIY Project Parade at The DIY Showoff
Craftastic Monday at Sew Can Do
Making Monday Marvelous at C.R.A.F.T.
Making the World Cuter Monday at Making the World Cuter
Anything Related at All Thingz Related
Get Your Craft On at Today's Creative Blog
Hookin Up with HOH at House of Hepworths
Under 10 Under 1 Hour Party at 320 Sycamore
Favorite Things Friday at A Few Of My Favorite Things
Friday Fun Finds at Kojo Designs
Before and After Party at Thrifty Decor Chick
All Things Domestic Link Party at Crazy Domestic