Whitney and I were looking at Alphabet Walls when she was pregnant with Maddux. That's when she decided she wanted one for his room.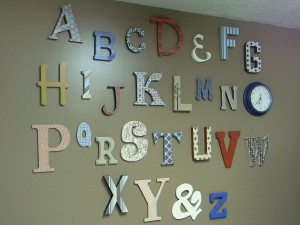 So I started buying her different shapes and sizes of wood  letters as I would come across them. Whitney and I gathered scrapbook paper and paint (we had stashed) that would work with the brown, blue, and red color scheme.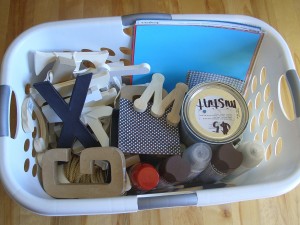 We started by laying the letters out, while deciding on colors and patterns.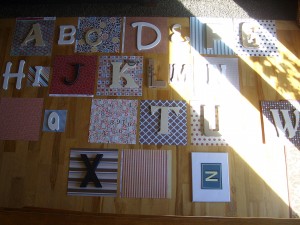 Some were painted.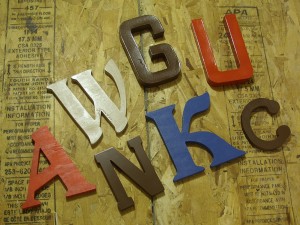 Some had scrapbook paper mod-podged to them.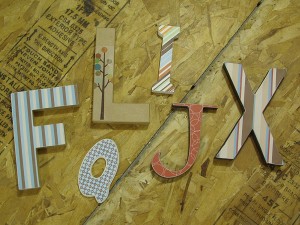 And some were left the way they came or had a little something added to them.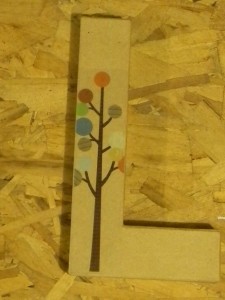 Then I layed them out again and tweaked them a bit. There was a lot of painting, mod-podging, sanding, and more painting. But they turned out just the way we imagined. I'm so glad hubby built this storage area. It was a great place to work on these.
The bedroom walls were a light pink when Maddux first moved in, so Whitney and I painted them a boyish brown before the Alphabet Wall was hung up.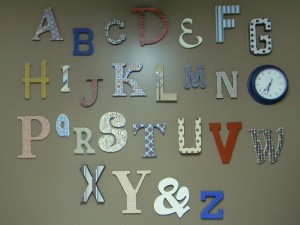 It turned out so cute. Whitney has a great idea for over his crib and while I was there yesterday (for the Super Bowl) I came up with a great idea for the other wall. There's more to come for this sweet little guy's room.