I'm sharing my personal thoughts, ideas, and experiences on decluttering in this post of Less is Actually Less. Let these tips help you have a home you love and feel comfortable in.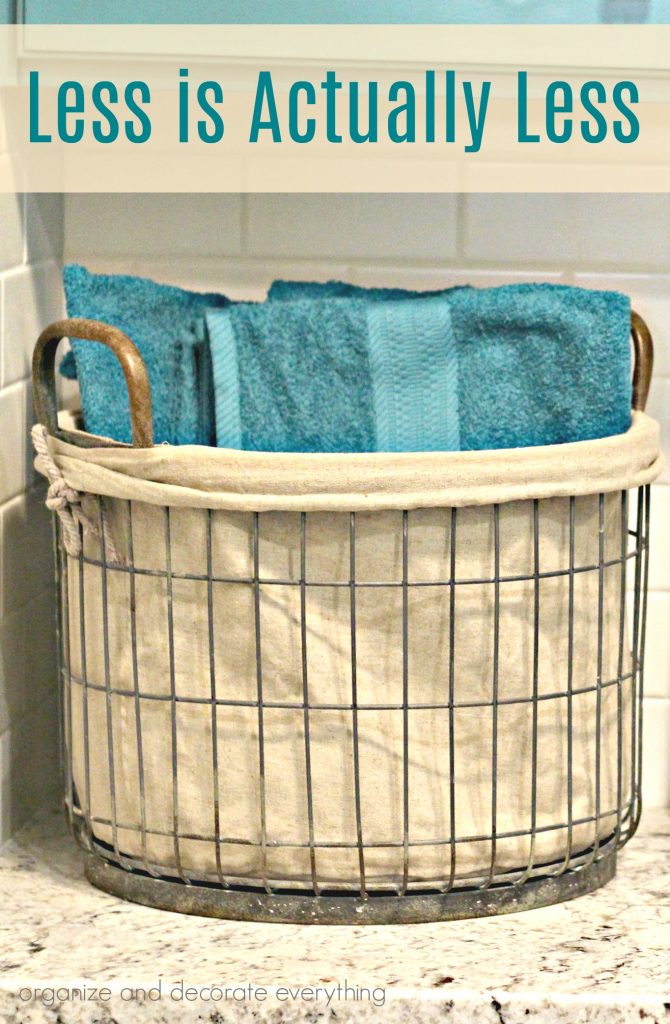 I know that some of these suggestions might be too extreme for some of you. Take from it what you think will work for you. Once you start decluttering you might find that you're willing to take it further. With that being said, it's easier and less painful to purge items when you try not to accumulate too much stuff to begin with. I don't consider myself a minimalist but I also don't like to be surrounded by a lot of stuff, just to have stuff. Less is actually less (and more)!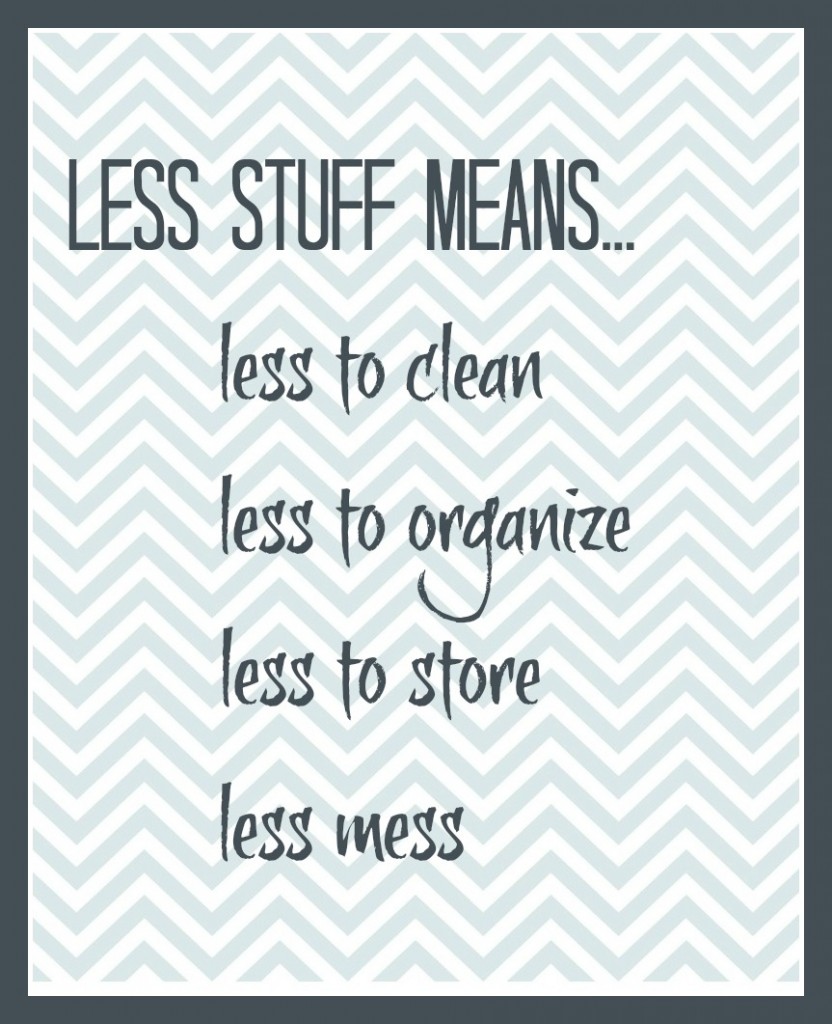 My #1 Tip is to declutter often. I think it's great that there's a huge movement to declutter in January every year but there's a reason why people are decluttering every January. They're not getting rid of things throughout the rest of the year. Why not set aside time every week or month to declutter? It will take a lot less time and things won't be taking over your valuable space. You'll have less to clean, less to organize, less to store, and less mess. Doesn't that sound great?!
Decisions aren't always easy. I really can't say there is one thing I've ever gotten rid of that I regret, except for the mid-century bedroom furniture I gave to my daughter. If she gets tired of it I can always have it back though. If you're indecisive about something you can always loan it to someone with the stipulation of getting it back in the future, then you don't need to make space for it when you're not using it.
Which brings me to another thing. I am totally against storage units. If you don't have the space for it, get rid of it. Of course, there is always an exception. If you are in a smaller space temporarily (a year or two) then by all means rent a space. It will actually give you the time to realize that you can probably live without most of the stuff you have stored.
I totally believe in this statement by William Morris. Do you realize how much more room you would have if you got rid of things that weren't useful or you didn't truly love? I know people who are moving out of houses that are over 3000 square feet because they say they don't have enough space for all their things. I don't want to offend anyone saying that, some people have legitimate reasons for needing a bigger home but a lot of people are moving to bigger homes just to accommodate their things.
Just because you once needed something or loved it doesn't mean you do now. Why do you still have it? Is it just taking up valuable space? Do you have it just to say you have it? Re-evaluate your feelings and your needs for the things you have right now. Now that I'm done with the pep talk, let's get down to business.
Go through one room at a time to stay focused. You can spend as much time as you want each day or on the weekend, but I would shoot for at least 1/2 hour a day and/or 2-3 hours on the weekend until the house is decluttered. Set a timer and work until it goes off. If you have more time or you want to finish an area (which I recommend) then continue until you have that area done. It doesn't have to be a whole room, it could just be a dresser or a closet.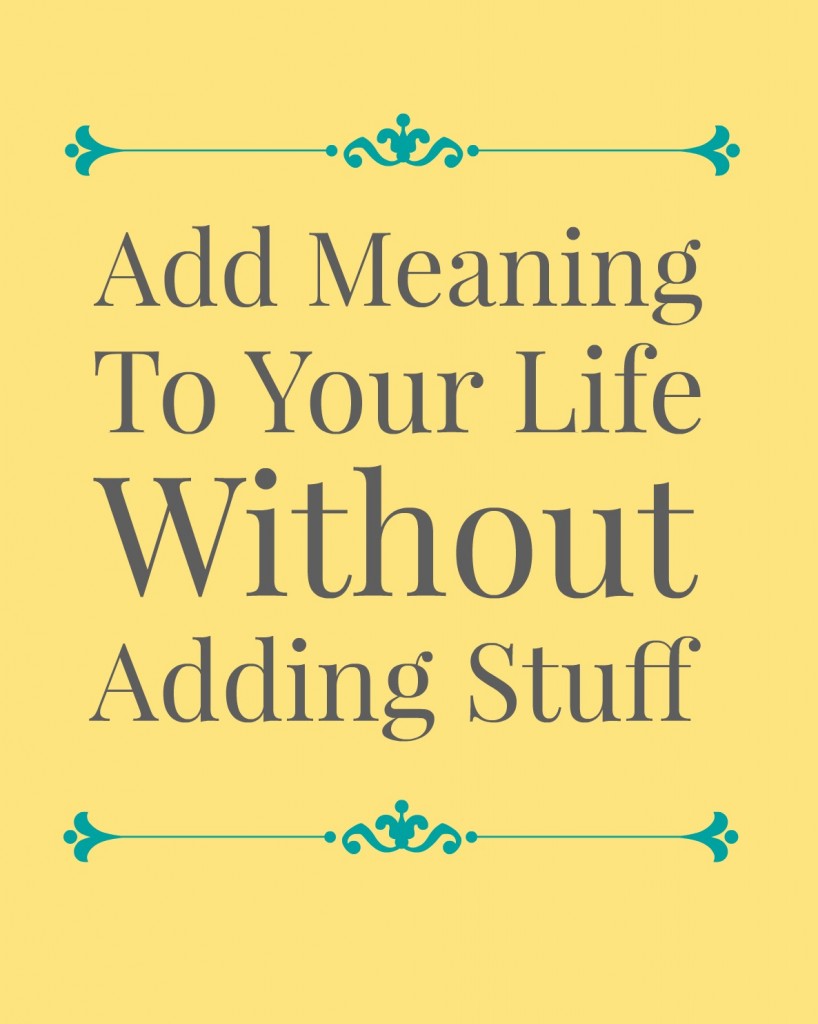 Ask yourself these important questions:
Is it important to me right now?
Do I need it in my life?
Have I used it (or worn it) in the past year?
Could someone else enjoy it more than myself?
Do I have room for it?
Don't dwell on these questions. Ask yourself them quickly then move on to the next item. It really doesn't have to be painful. We as a society put so much value on things, but sometimes they're just cluttering up our life without adding meaning to it. Think of ways to add meaning to your life without adding stuff. It will free up your time and you'll enjoy what you do have so much more.
If you would like any of the printables above just click on the link below each one. Printables are for personal use ONLY and are available to subscribers of Organize & Decorate Everything. I would love for you to SUBSCRIBE NOW to get full access to all printables.
I will be adding a few more posts about general organizing and decluttering over the next couple months. More of pep-talk posts and less specific, but of course, I will be sharing specific organizing posts also. If you ever need ideas or specific suggestions check out the Search Bar in my side bar area. Just type in what your looking for and I'm sure a few posts will come up in that area.
If you would like additional posts just leave a suggestion in the comments and I will try to work them into a post if possible.
Pin it for Later: Less is Actually Less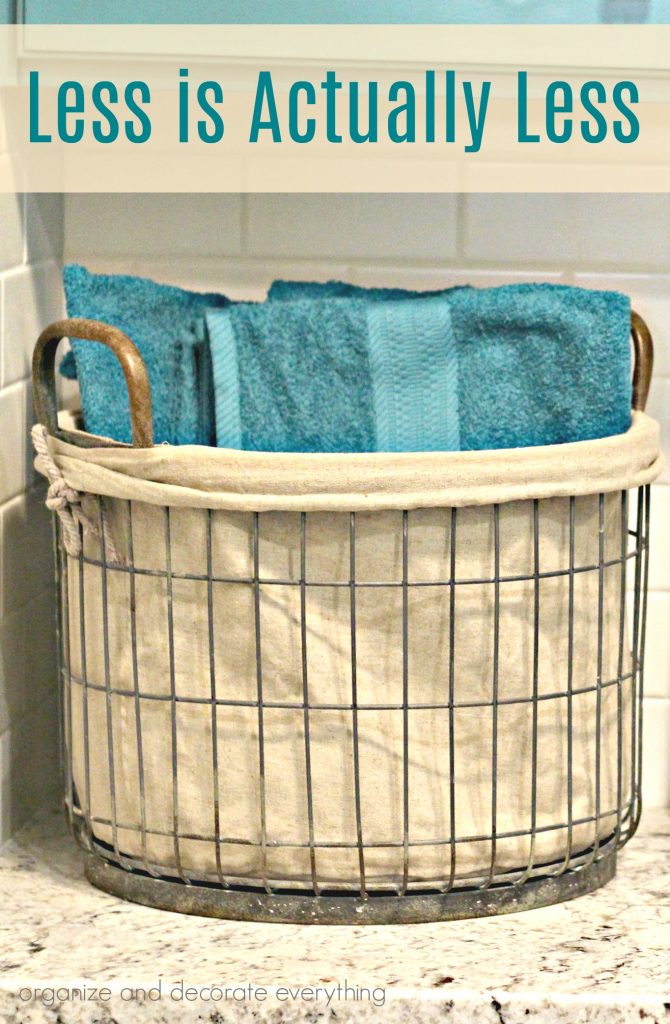 You might also like: