Goodbye paper towels and napkins! Well, not totally, but we've cut our paper towel usage down by about 80% and I rarely buy paper napkins anyway. I decided we were just being too wasteful. Do you remember last Summer when we stopped using paper plates and plastic cups, except for a few special occasions? It took hubby a while to get on board, but he's doing great now. I do know he sneaks a few paper plates from storage every so often if I'm away during dinner time, but he's trying.
Anyway, I decided we needed to use cloth napkins with our meals. They didn't need to be very big, since we usually used paper towels anyway. These flour sack dish towels from Dollar Tree would work perfect.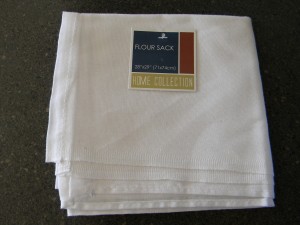 First, I washed them. I folded a towel in half and cut on the fold, then I folded the 2 pieces in half again and made another cut.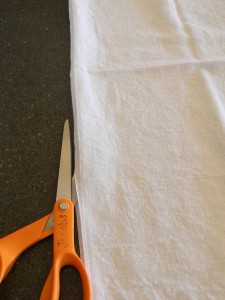 I ended up with 4 pieces out of each dish towel. They measure about 2″ bigger than a paper towel.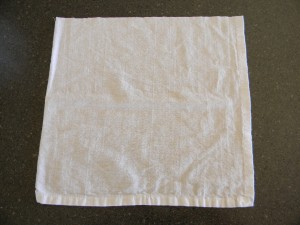 Two of the edges were already finished on each napkin, so I folded and ironed the other 2 edges.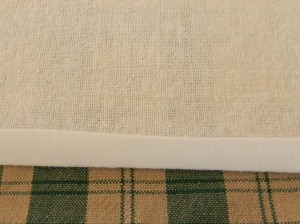 Then used a zig-zag stitch to finish it off.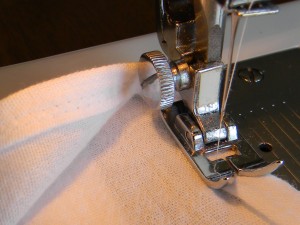 We have a total of 28 napkins now. I already had this cute little basket to put them in. It sits on the cabinet next to the table (perfect for the kids to help set the dinner table).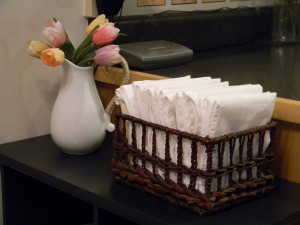 Have a Wonderfully Awesome Weekend!