The 31 Days of Christmas Ideas series has taken over my life this month, but I love Halloween so much that I just had to share some of my Halloween decorations with you before the holiday is over. My kids are older so I lean towards spooky decorating, but not too spooky. This year the colors are pretty neutral with little pops of color here and there. Welcome to my Halloween House Tour!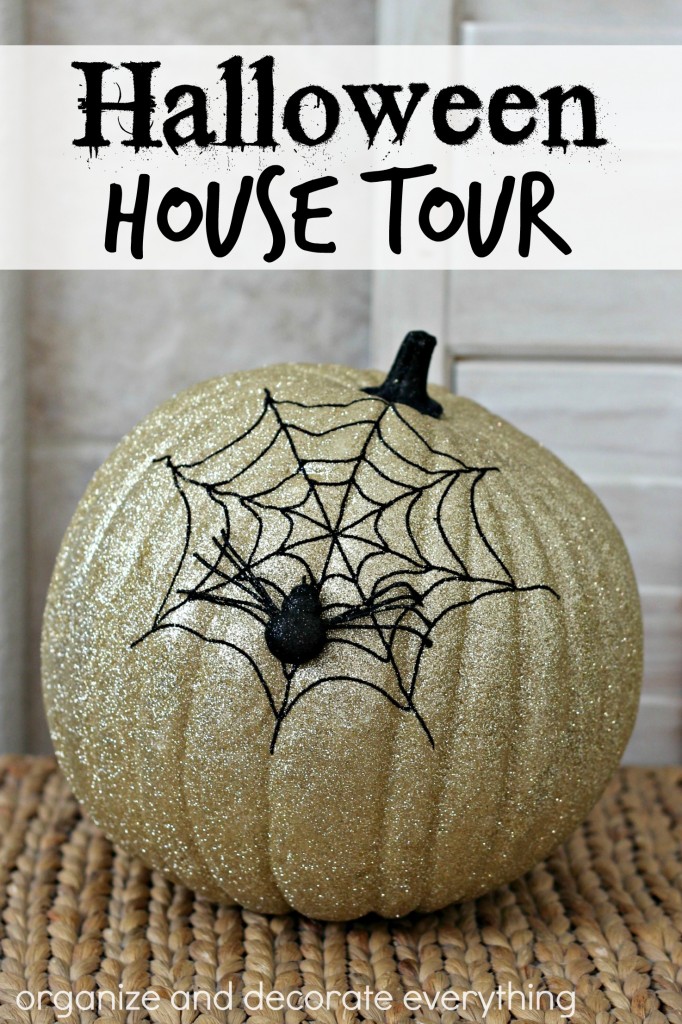 I always decorate my mantel first for any holiday or season, so let's start there. I'm so happy with the gold, black, white, and brown color scheme. It's perfect for Halloween! The fireplace is not functioning right now so I placed shutters in front of the opening.
It reminds me of a cross between Harry Potter and a spooky carnival.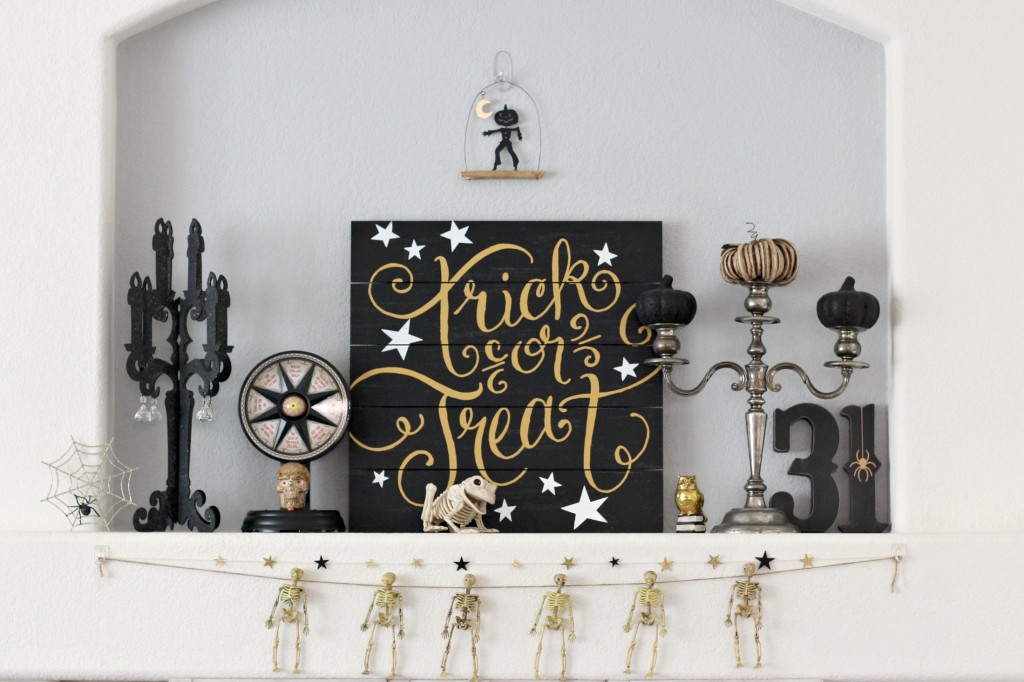 The candelabra and glittery spider web are from several years ago.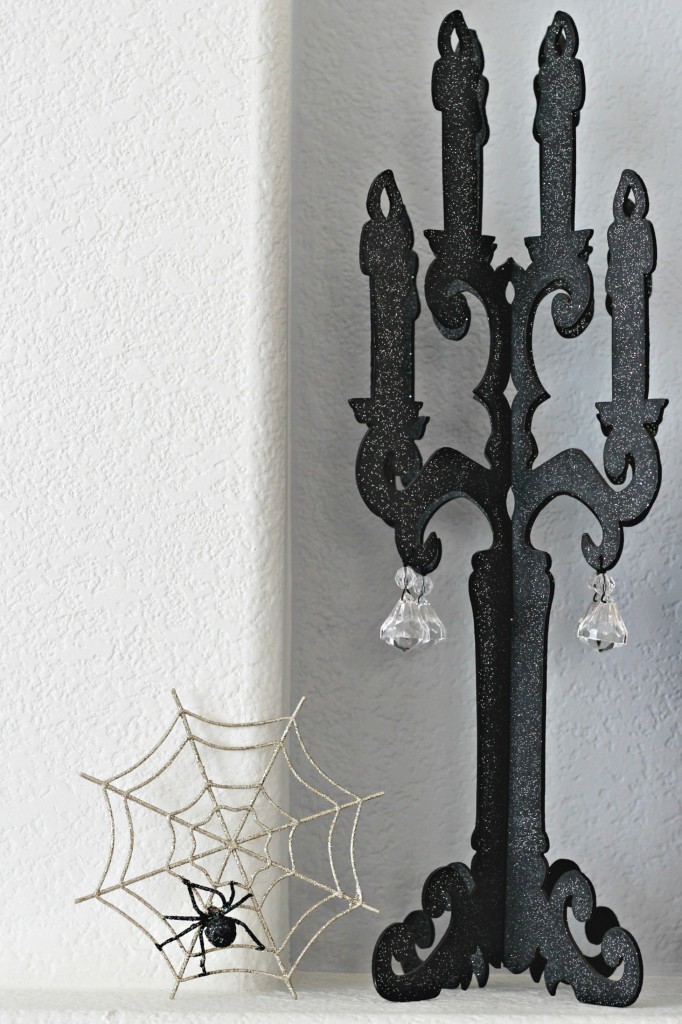 Hubby and I saw this fortune telling wheel at a drug store and couldn't pass it up. Not only is it a decoration but the boys are always playing with it.
It even lights up!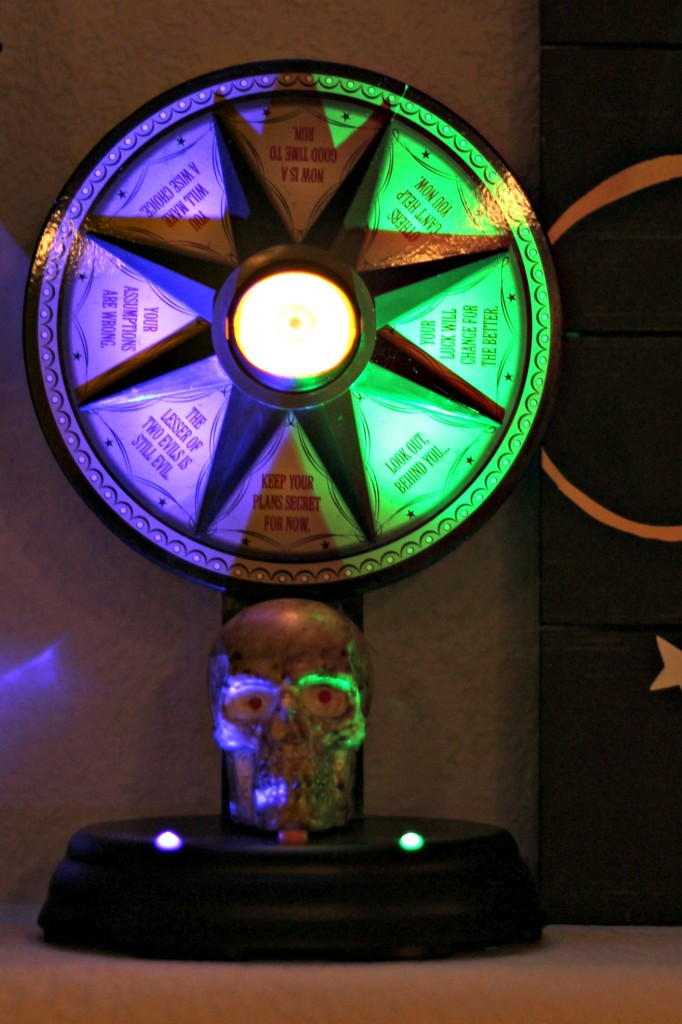 The trick or treat sign is from Hobby Lobby. It was one of those times where it was as cheap to buy as it was to make, so of course I bought it. It's quite large.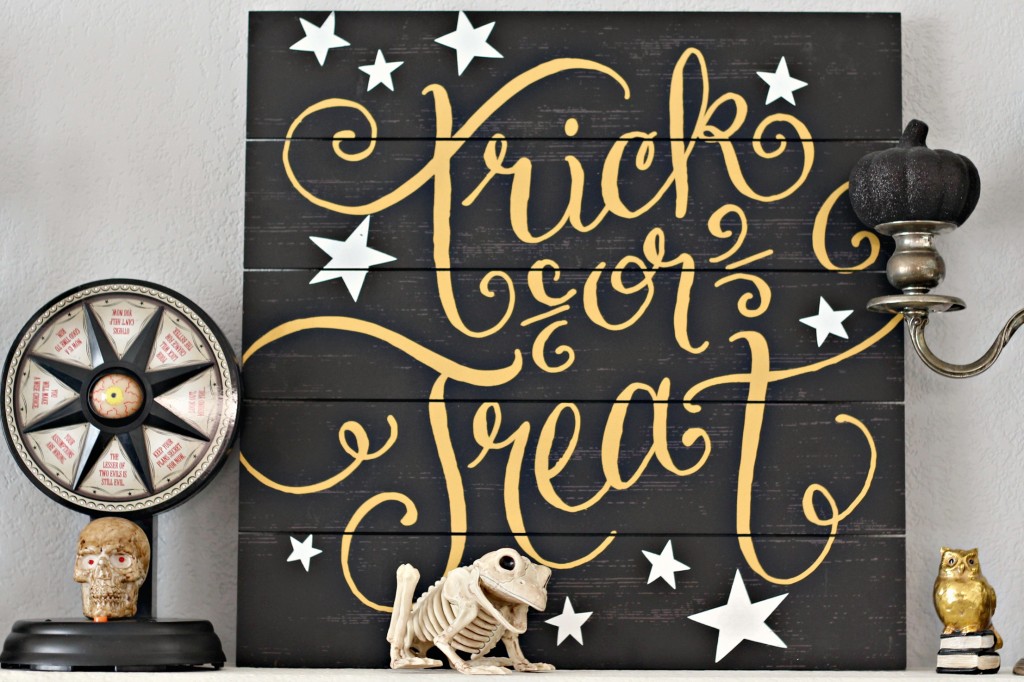 The little frog skeleton is from the drug store also.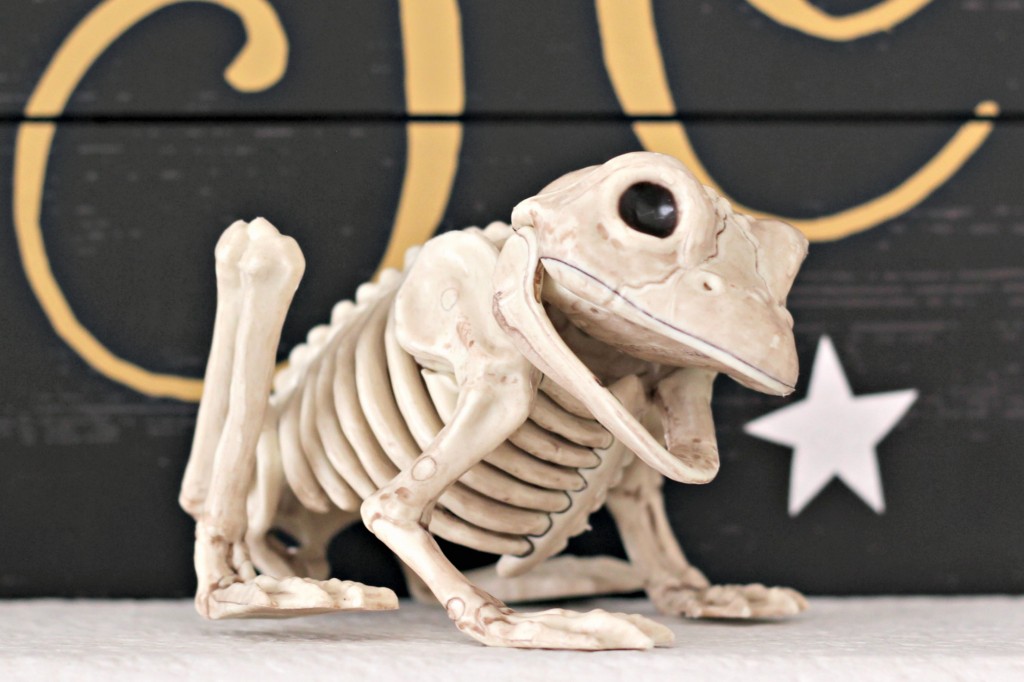 The owl is actually an ornament but I took the hook off. I think it gives the mantel a Harry Potter look.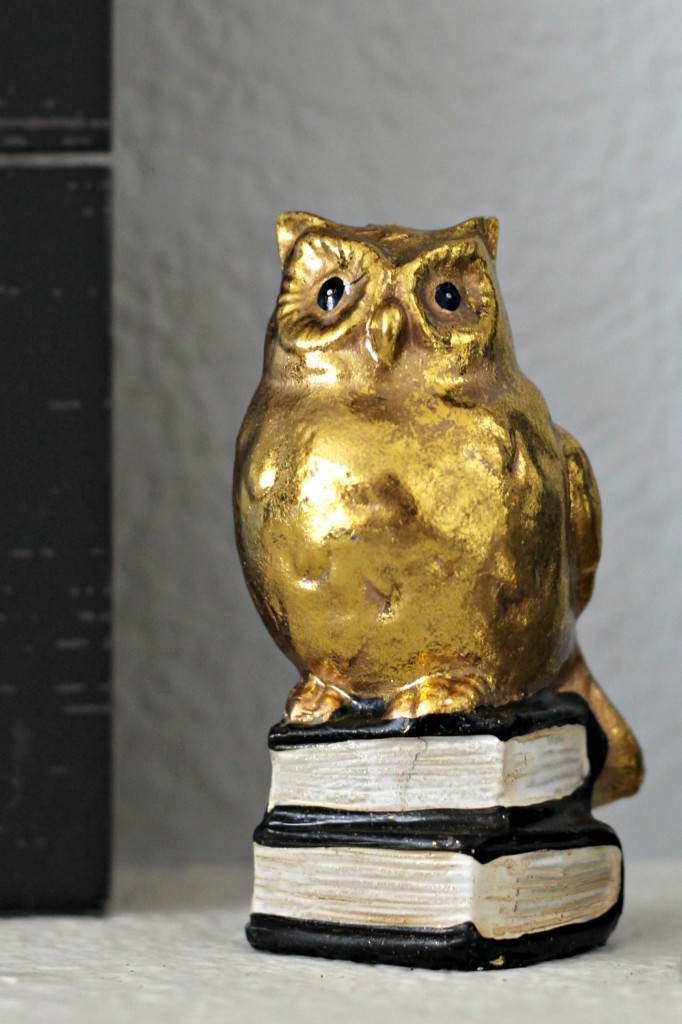 I picked up the silver candelabra at a cute boutique this year and added some black glitter pumpkins and this wood pumpkin to the top. I'm so happy I found it, it's the perfect addition to the mantel. I plan on using it for Christmas too.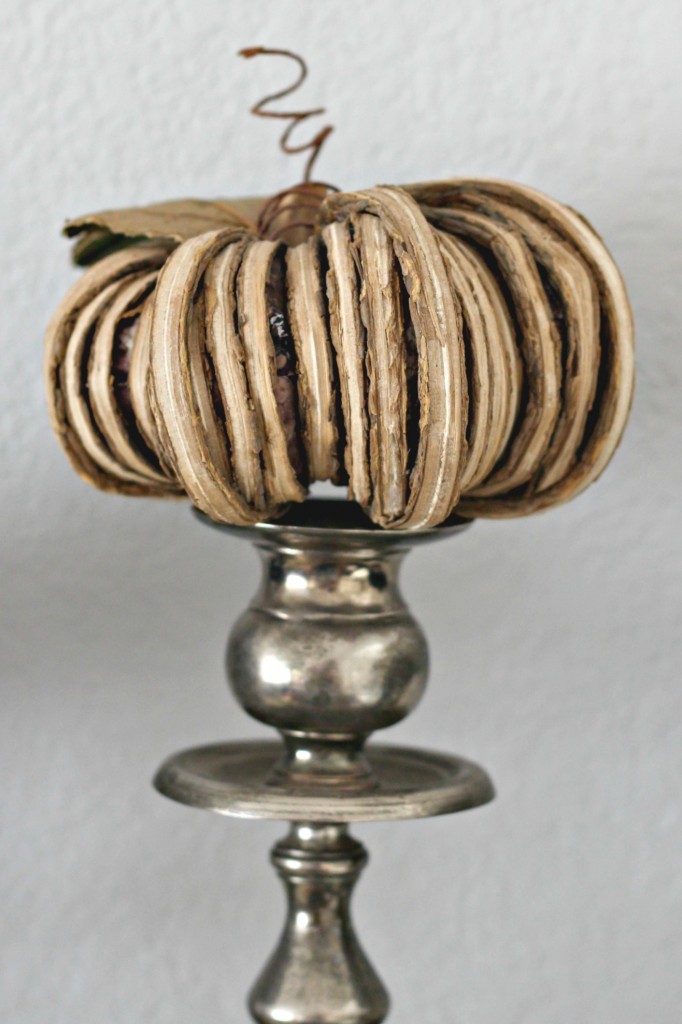 I found the 31 at the dollar spot in Target.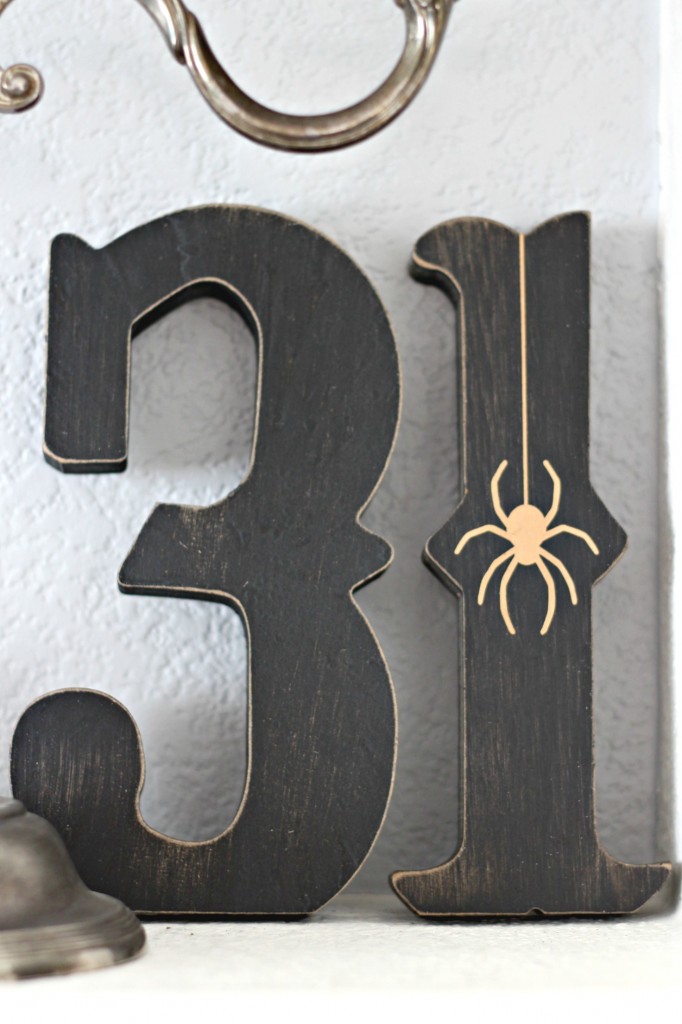 This awesome piece is from the same boutique I bought the candelabra from. I love the vintage look of it.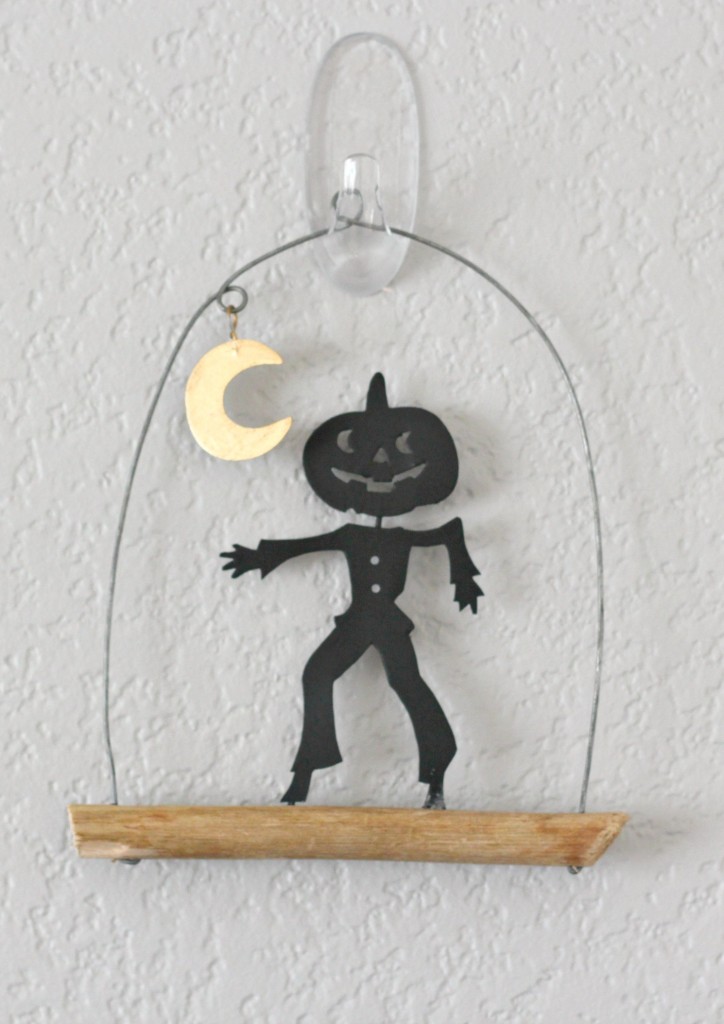 I made the star garland a couple years ago from scrapbook paper. I like the different textures and colors. The skeleton garland was easy to make from dollar store skeletons.

I bought the gold glitter pumpkin with spider from Home Goods this year. That's it for the mantel! I love how it turned out.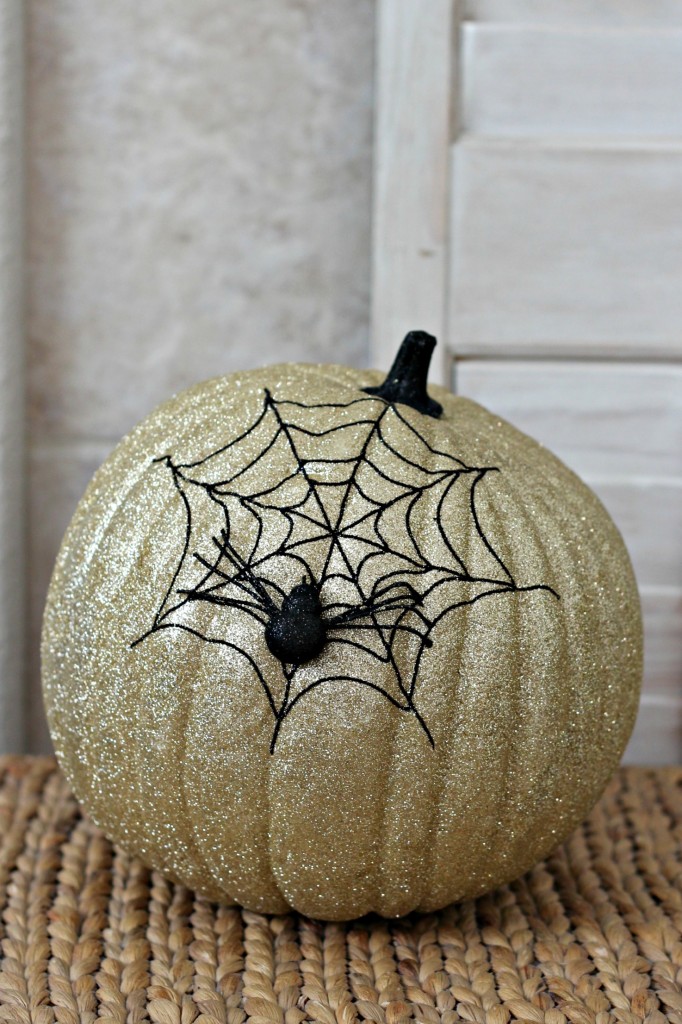 The entry is also very neutral and a bit spooky. I've had everything for years, but glitter skulls are really easy to find  and even create.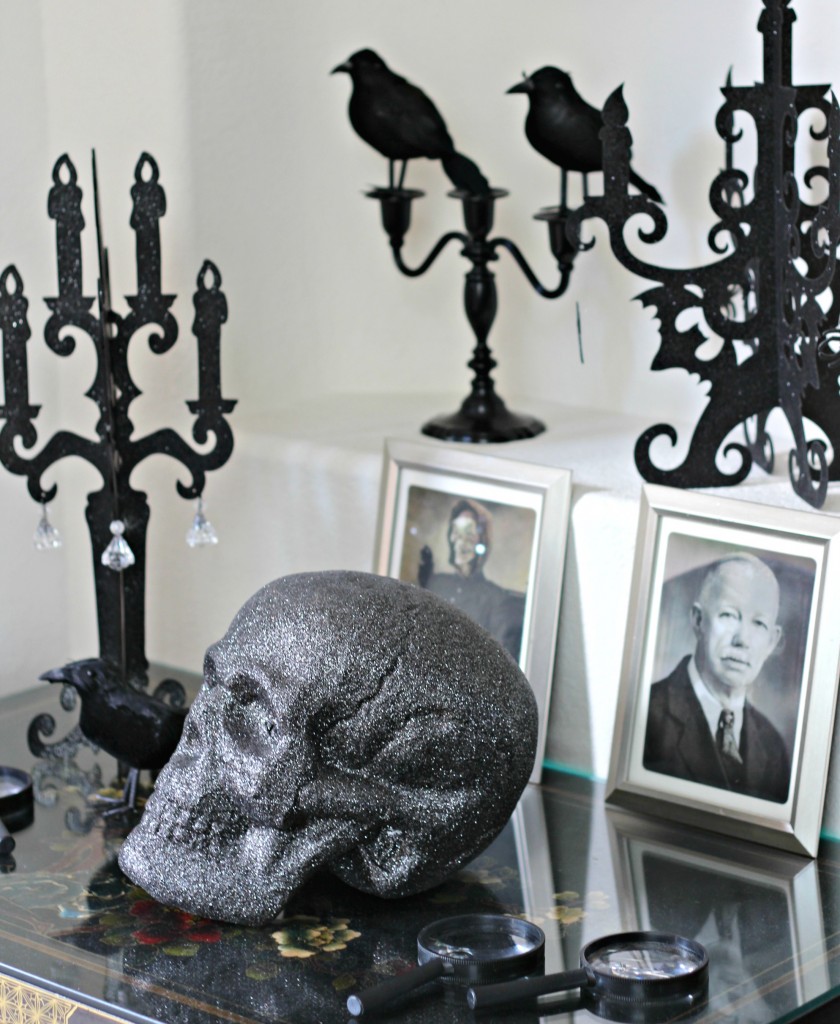 The pictures in the back go from normal faces to skeleton faces as you move around. I bought them at the dollar store several years ago and placed them in regular frames so they look like our ancestors.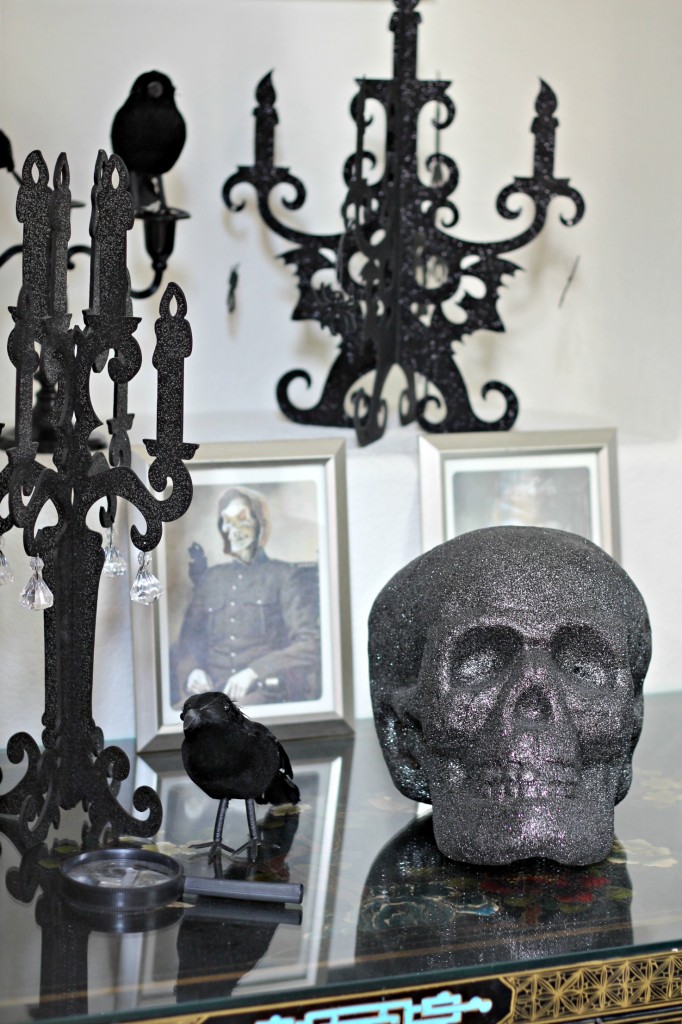 The old windows are a perfect backdrop for garlands and little spooky scenes. I made another star and skeleton garland and added a felt ball garland to add a little color to the neutral space. The bats are attached to the window with glue dots. I made the spider web hoop a couple years ago with scrap fabrics and trims.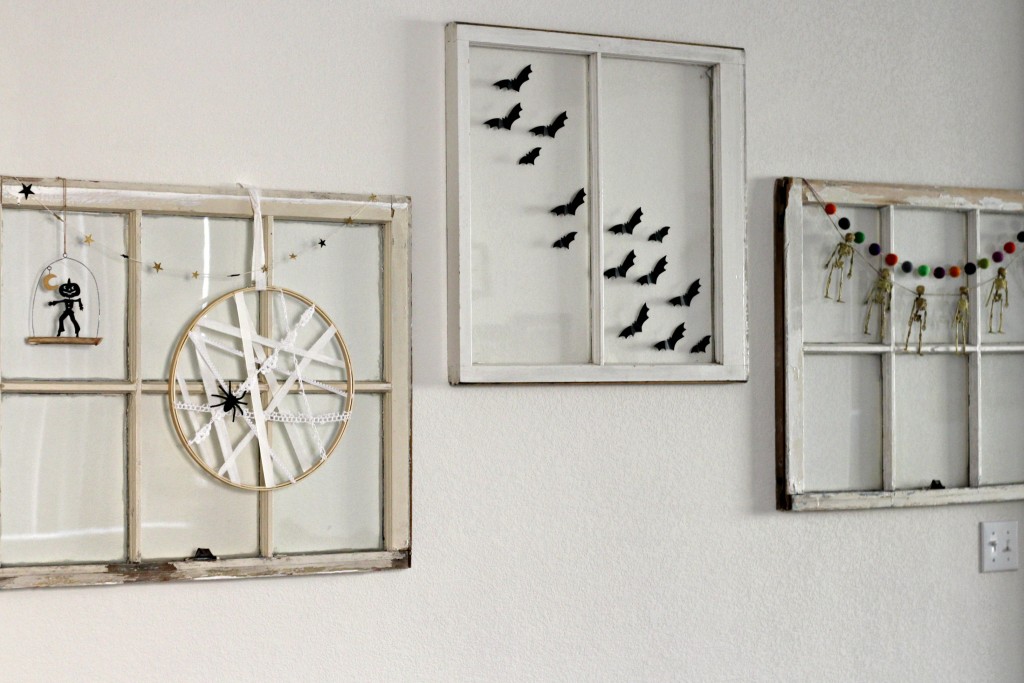 I added a few things to the bookcase and decorated the top with a few white pumpkins and crows.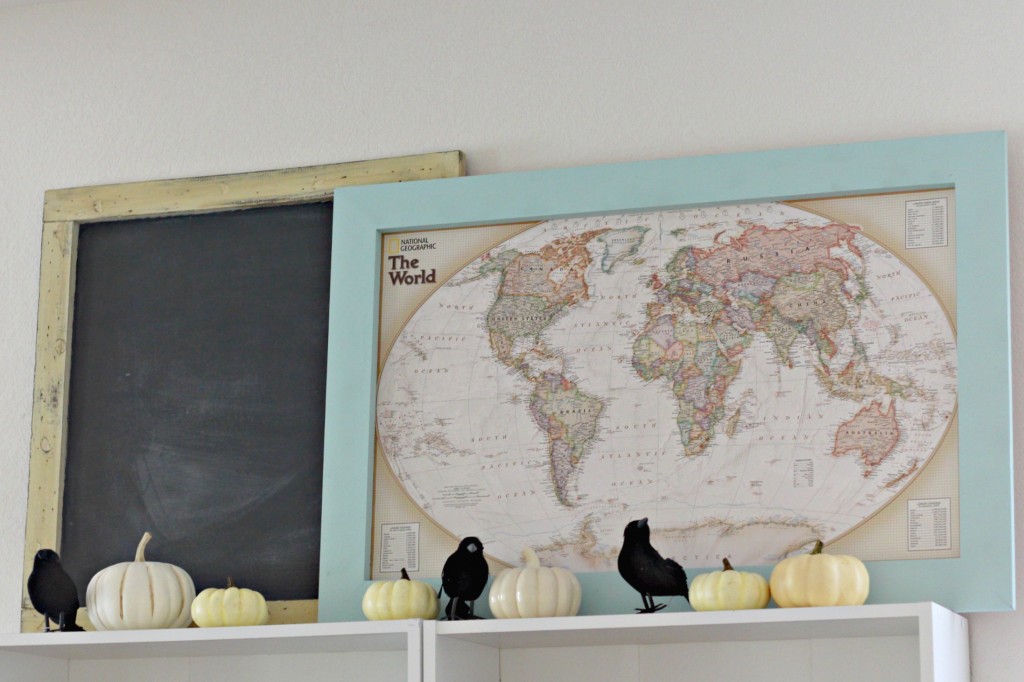 Skeletons sit on one of the chairs in the living room along with a Halloween pillow purchased at a boutique several years ago.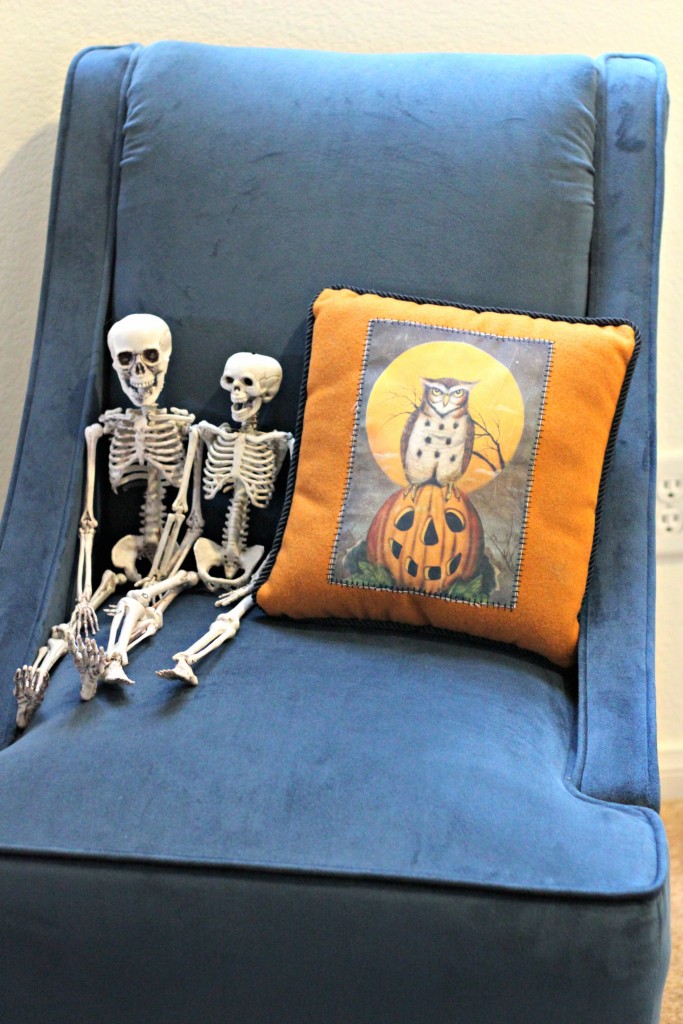 I made this witches hat last year. It was really simple if you want to give it a try. I put it on a candlestick holder as sort of a hat stand.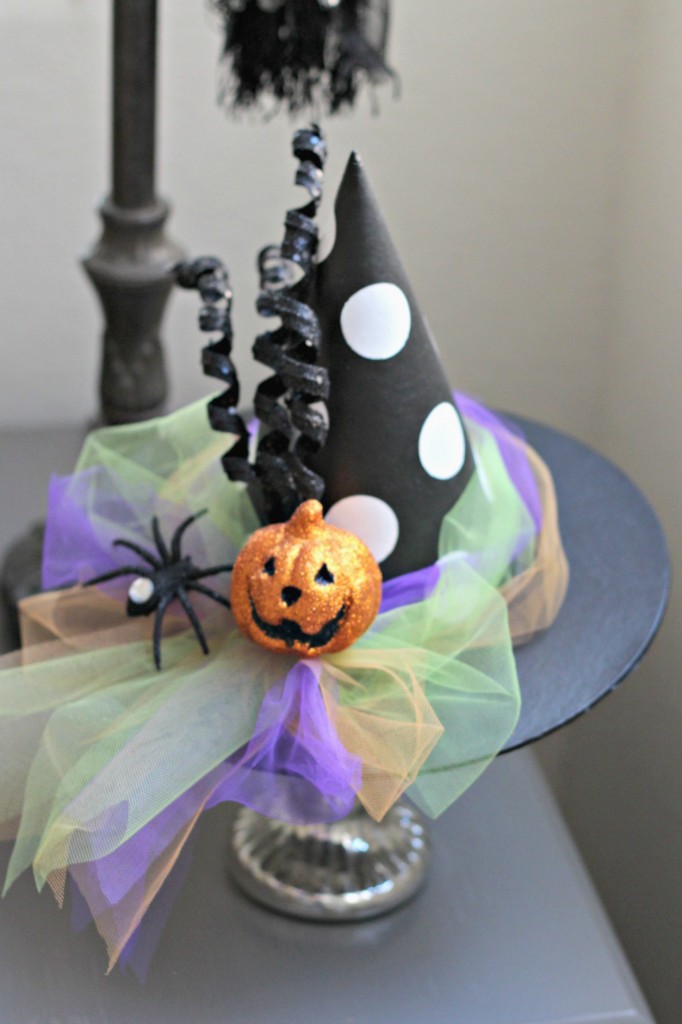 I bought these books with a crow on top, at a boutique several years ago also. The spider was on a stick and I just broke it off.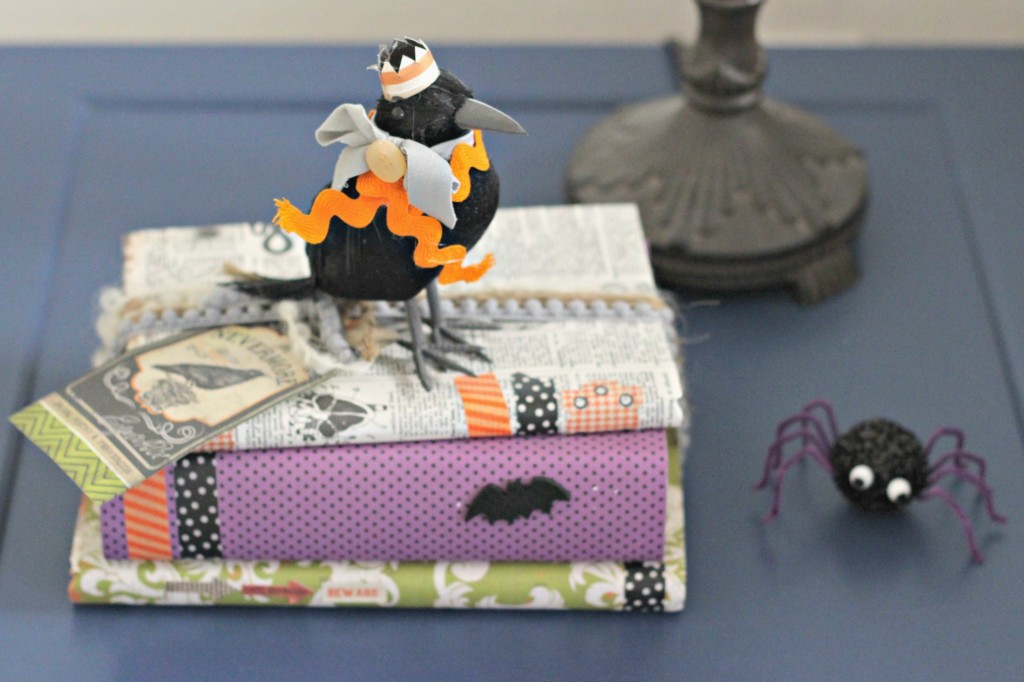 The haunted house silhouette, trick or treating ghost, and Halloween tree look great on top of lockers.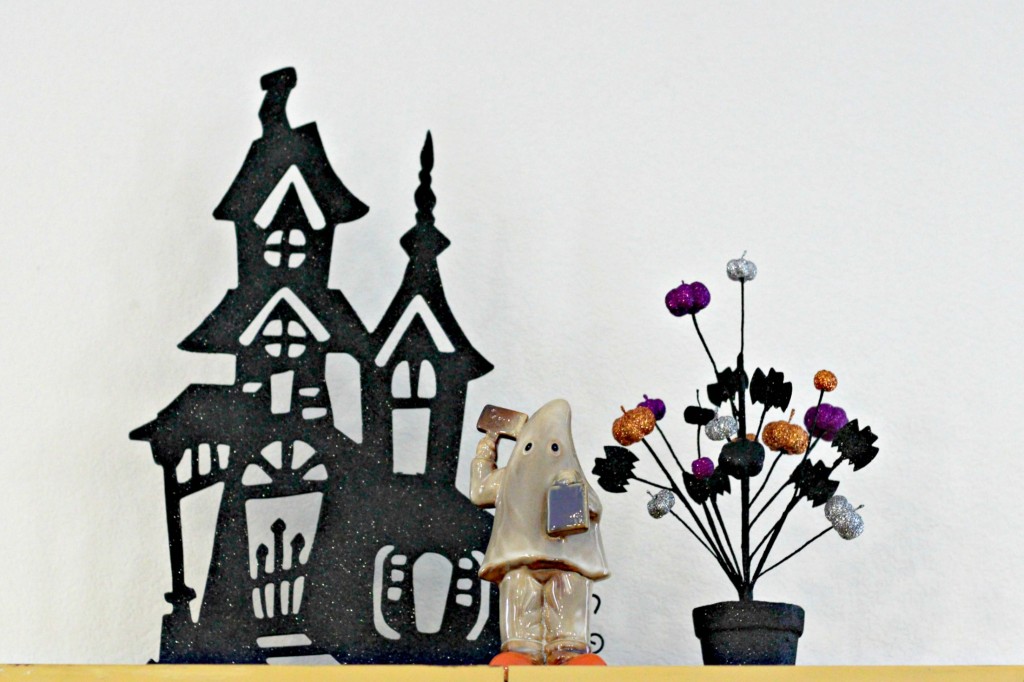 The rest of the Halloween decorating is pretty much pumpkins, crows, and spiders scattered throughout the house.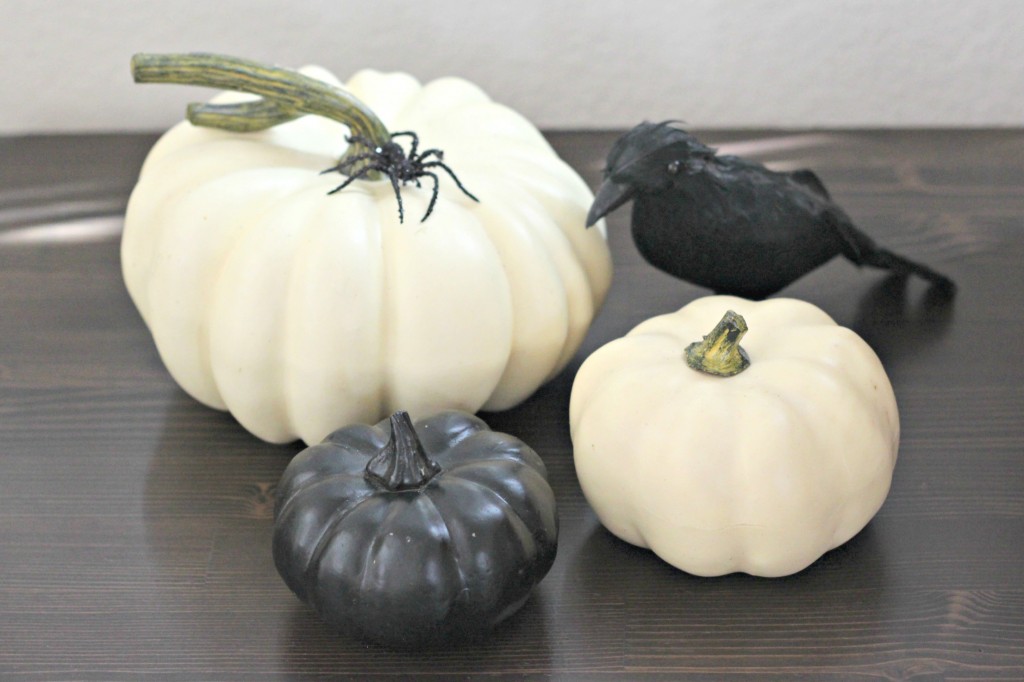 You guys, I really love these neutral colors. They're a little relaxing and spooky at the same time.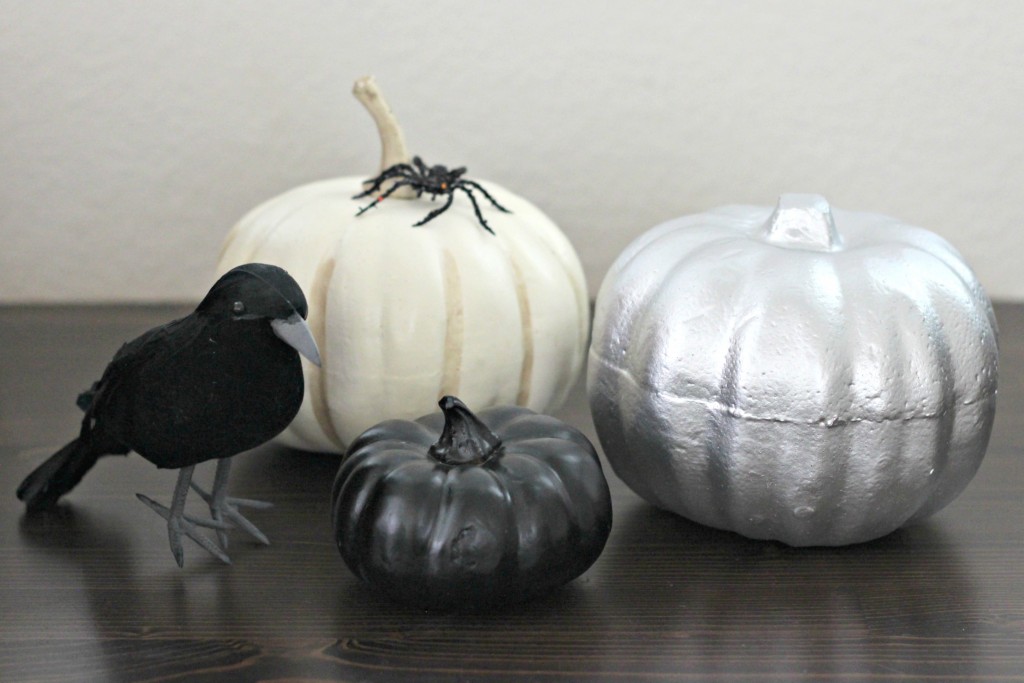 Spiders scare me to death but there's something almost pretty about glittery spiders.
I think all the glitter makes everything less scary.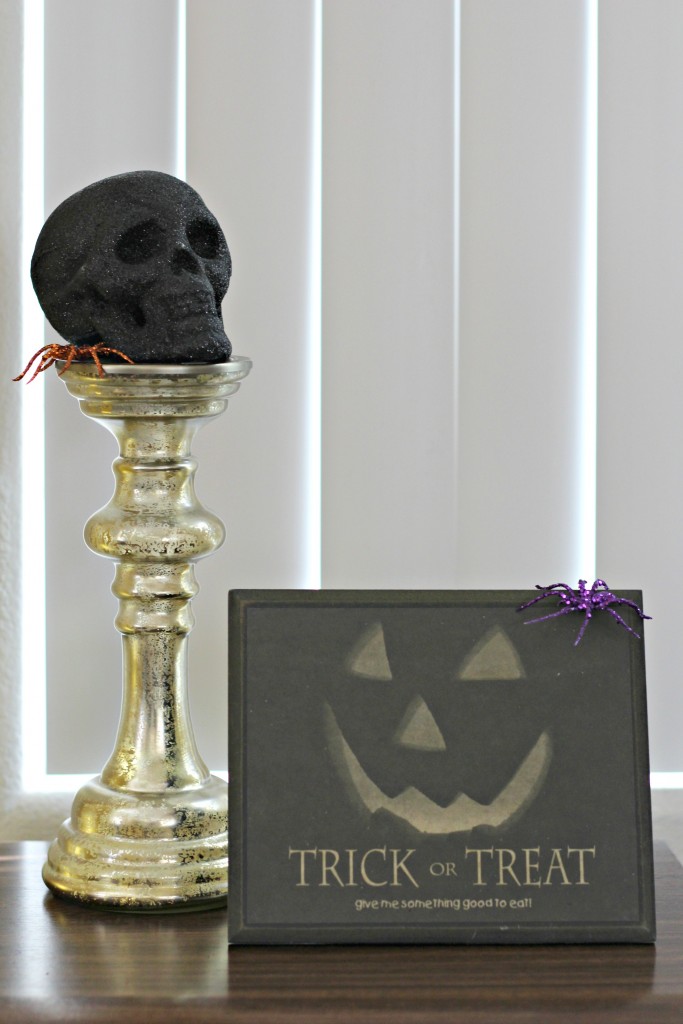 I hope you enjoyed my Halloween House Tour. The porch is still decorated for Fall so hopefully I will get it transformed to Halloween before the trick or treaters knock on the door.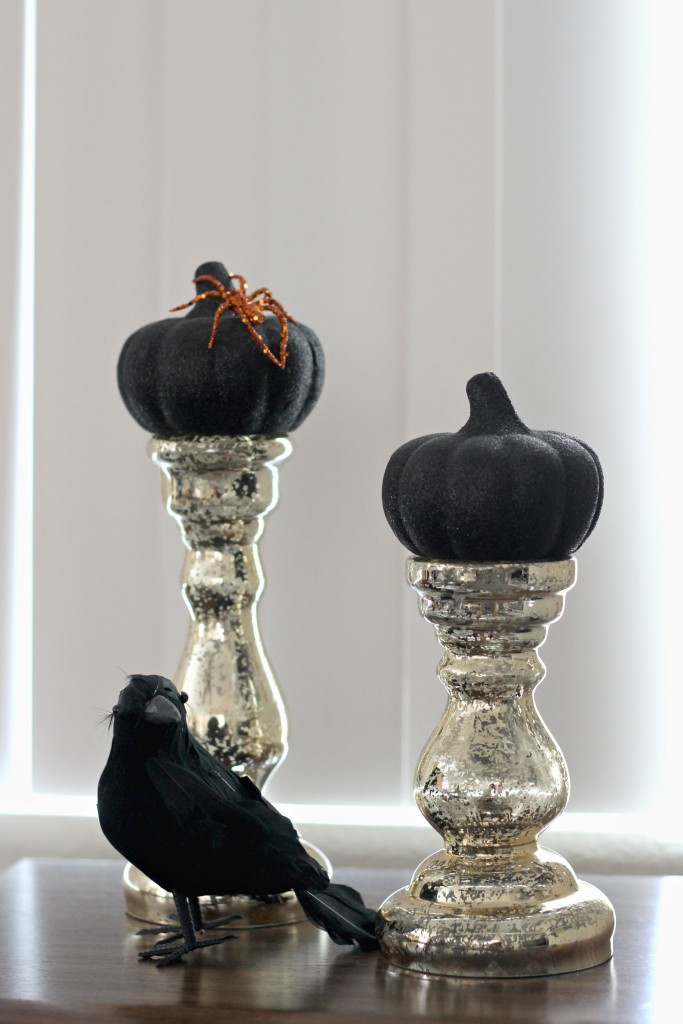 Do you decorate for Halloween? Scary or fun?