I've had these keys hanging around for over a year. I've been wanting to make them into framed keys, but I figured if I hadn't done it by now I was never going to.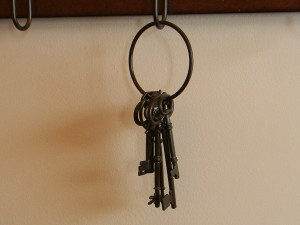 I used a spray primer at first, but it didn't take well and they just turned a light chocolate brown. So I just took my chances and used the silver metallic spray paint and it worked perfectly, plus it dries quickly.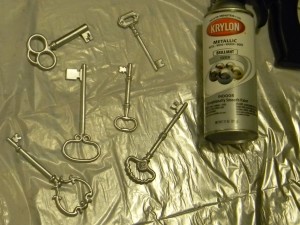 Then I got out my silver glitter and went to town. I couldn't wait to make glitter key ornaments. I swear glitter lasts forever. I just poured the extra back into the bottle and it looked like I had it all back. I have to say Martha Stewart is my favorite glitter.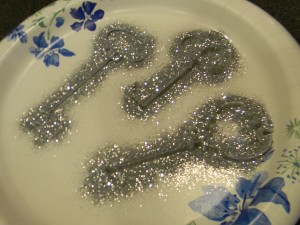 Our Santa Key broke from last year (I think Ammon was sticking it in all the doors) so I needed to make a new one. I only have 2, maybe 3 more years of believing in Santa, so I'm milking it for all it's worth.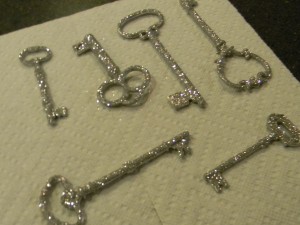 I used a store bought tag, dipped the edges in glue, then glitter. I used stamps to make the letters and design on the tag.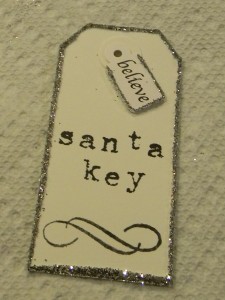 And then attached it to the glitter key with ribbon. I hung it on the door knob, but then thought of my grandsons and moved it.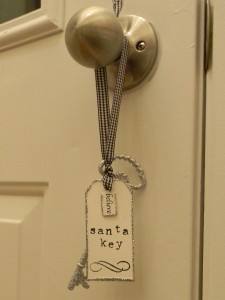 Our Advent Tree is starting to look a little bare so I hung it there. And it's by the front door. On Christmas Eve we hang it on the outside by the front door. We have a gas fireplace so Ammon knows Santa won't fit down the chimney.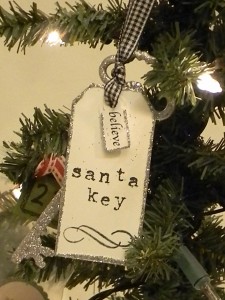 I hung the other glitter key ornaments on the Advent Tree too.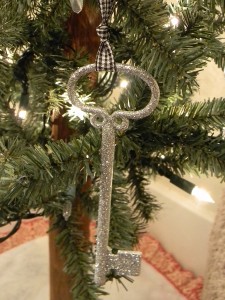 It's still looks a little bare, so I'm also going to add the glitter sleigh bells I made last year.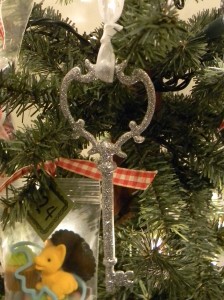 Now this girl is covered in glitter. Ammon was working on his homework by me and now his paper is covered in glitter. Apparently I can't control my glittering.