Who can resist fresh fruits and vegetables? Not me! That's why I'm hooked on gardens and Farmer's Markets. Because everything is grown locally it stays fresh longer once you get it home. And it tastes sooooo much better. Nothing compares to fresh picked garden tomatoes. Just ask my youngest. He picks them and eats them straight off the plant. He likes the tomatoes even better than the strawberries. Here's some yummy fresh produce to look at: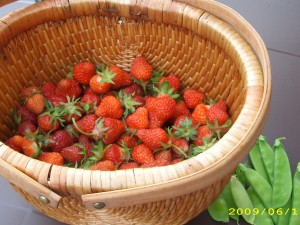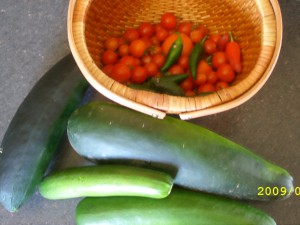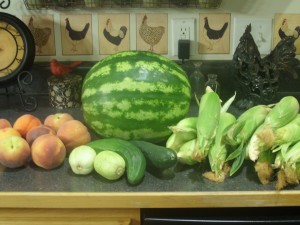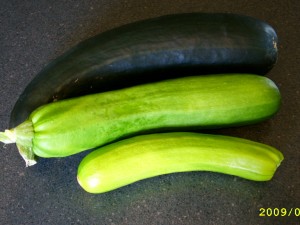 Just a thought: Unless you want to eat zuchinni everyday or share it with all your neighbors, plant just one or two plants. You'll have plenty. Because I have so much zuchinni I've been making a lot of zuchinni bread and love this recipe:
4 Cups coarsly shredded zuchinni
3 Cups flour
2 1/2 Cups sugar
1 1/4 Cup vegetable oil
4 eggs (beaten)
1 Cup chopped nuts (optional)
1 Tbls. & 1 Tsp. vanilla
1 Tbls. cinnamon
1 1/2 Tsp. salt
1 1/2 Tsp. baking soda
1/2 Tsp. baking powder
Heat oven to 325. Grease bottom of two loaf pans. Beat on low 1 minute. Medium 1 minute. Pour into pans. Bake 50-60 minutes. Cool 10 minutes and remove from pans.
Just a couple notes: I got this recipe from my mom who lives in Florida, so I used 2 loaf pans and 12 muffin cups instead of just 2 loaf pans. I don't know if it's the altitude difference, but they wouldn't bake all the way through in just the loaf pans. The kids like the muffins better anyway.
I also sprinkle a cinnamon and sugar  mixture on the top before baking and it makes a yummy sweet crust on the top or you can make a cream cheese frosting if you like. Yummy!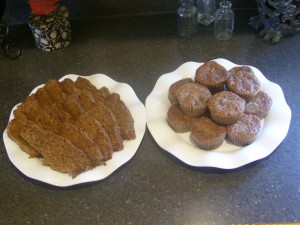 I'm linking this to Julia's Hooked On Party at Hooked on Houses. Stop by and see what others are hooked on this week.
Have a beautiful Fall weekend!
Check Out These Related Posts