My kids count down to everything. How many days till school starts, how many days till we go to California, how many days till the birthday party, how many days till pack meeting. You get the picture. So, I thought I'd help them count down to Halloween this year by making a magnetic Halloween Countdown Calendar.
I started with a sheet of metal I bought forever ago at Roberts (sometimes I wonder why I have certain things) and a sheet of stickers I bought last year after Halloween. I used a circle punch to punch out 31 circles from orange cardstock.
Then I added the stickers to the front of each one. Which was easy, because they're stickers. Yay, no other adhesive.
I then used the same circle punch to punch out 31 circles from a magnetic sheet. The punch went through the sheet really easy. See the white side of the magnetic sheet? Just peel that off and it's sticky. So, I stuck the punched out cardstock to the magnets. Yay, no other adhesive again.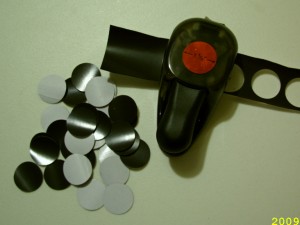 Back to the sheet of metal. I took a paint pen, measured and drew lines to make a grid. You can't make anything go into 31 evenly, so I filled in some squares with words and pictures drawn in with the paint pen.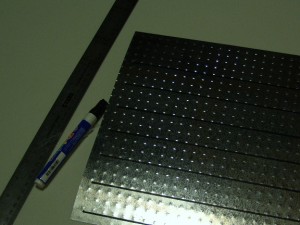 I added rub-ons to the top that say "Halloween Countdown" and used a wooden pants hanger to hang it by. Then I mod podged scrapbook paper to the front of the hanger and added coordinating ribbon.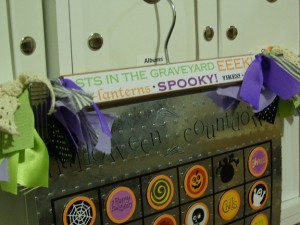 I found a small jar at Roberts to put the magnets in until it's time to go on the countdown calendar. I used rub-ons to put "31 Days" onto the jar.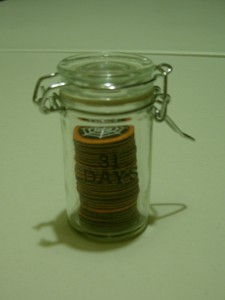 And here's the finished product. It's not hanging up yet, because I want to put it in the mudroom and that's not finished yet. There's huge progress though. I just finished painting yesterday. Beadboard is next. I'm just giddy thinking about it.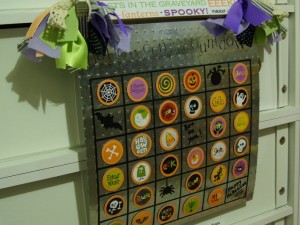 I'm linking this to DIY Day at a Soft Place to Land and Transformation Thursday at The Shabby Chic Cottage. I'm excited to see what everyone's been working on. You should go check it out too. Have fun getting great ideas for projects to work on.
I'm linking this to The DIY Show Off Fall Festival. I can't wait to visit and get some great ideas for Fall decorating and crafts. You should check it out too.