Do you remember when I found this at Deseret Industries about 7 months ago? Yeah, I had forgotten about it too. Until I was taking gardening things out of the garage and saw it in the back corner. I paid $5 for it and thought it would make a perfect little side table in Emilee's room. I know it's really dusty, it's been in the garage for 7 months. I started by dusting it off then using a wet cloth to wipe it down. I sanded it just a bit, wiped it down again, then primed and painted it.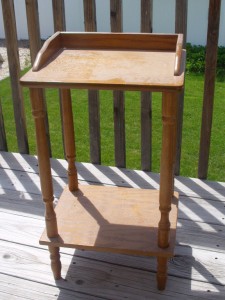 Can you guess what color I painted it? I love shiny black spray paint and lucky me, that is one of the colors Emilee wants in her room. She wants yellow, green and black. She definitely has particular ideas about her room. Hopefully our ideas will mesh well together.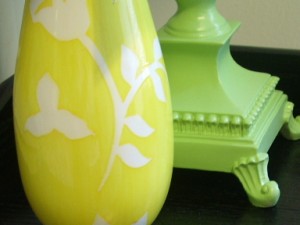 This is what it looked like beside her bed before the table. So sad, not even a place for her alarm clock to sit. And those sheers have got to go.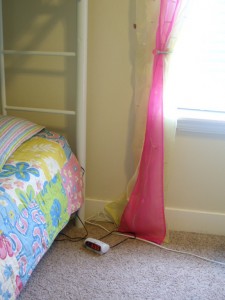 That's much better! A place for her lamp and a vase with pinwheels. I painted that lamp just a few months ago. Now I need to think of something to do with the shade. Maybe decorate it with something yellow.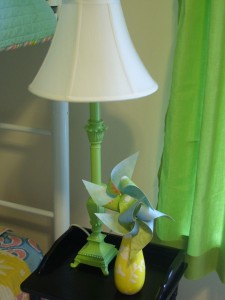 Also a lower shelf for her alarm clock and the current book she's reading. She loves her new nightstand! Did you notice the new curtains? They were only $2 at Wal-Mart. They were on clearance because the packaging said there was only 1 panel in the bag. I was going to make a valance and some pillows out of it, but when I got home and opened the package, there were 2 in it. Woo-hoo! I decided to use them for curtains (since that's what they are).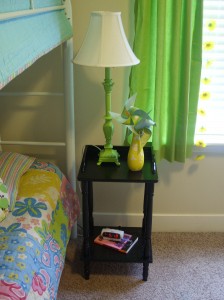 There will be a lot of changes happening in her room, but mostly with things that are already around the house. There isn't a big budget, not really even a small budget, more like a mini budget. So, a lot of paint will be used, things will be borrowed from other rooms, furniture moved around and a little sewing will be attempted.
Wish me luck! This may take a while for us to get on the same page.
I'm linking to:
Trash to Treasure Tuesday at Reinvented
DIY Day at A Soft Place To Land
Tip Me Tuesday at Tip Junkie
Penny Pinching Party at The Thrifty Home
Power of Paint Party at Domestically Speaking
Whatever Goes Wednesday at Someday Crafts
Show and Tell at Blue Cricket Design
Transformation Thursday at The Shabby Chic Cottage
Get Your Craft On Thursday at Life As Lori
Frugal Friday at The Shabby Nest
Creative Cats at Poppies At Play
Remodelaholics Anonymous Meeting at Remodelaholic
Saturday Nite Special at Funky Junk Interiors
Metamorphosis Monday at Between Naps On The Porch
Thrifty Treasures at Southern Hospitality
Best DIY Projects of May at Beneath My Heart
Show and Tell FRiday at My Romantic Home
Before and After Party at Thrifty Decor Chick
Twice Owned Party at House of Grace