I would show you the before, but I just jump right into things and then remember to take pictures later. I'll try to remember next time. Just vision the "before" with way too many clothes, that were too small and toys and things that she never even looked at. Here's what it looks like now.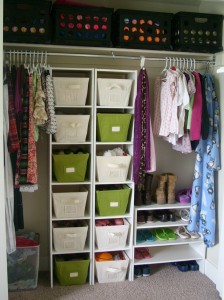 It was quite a chore deciding on what should be kept or given to someone else. Not on my part, but Emilee's a pack rat so she was struggling with getting rid of anything. This was a 2 day process for her. First, putting things in piles. Then going through the piles and deciding what items were the most important to her. I still feel there's more that can go, but this will do for now. The top shelf holds bedding, games, scrapbook supplies and dance videos and equipment. They're all sorted in the black totes. I just realized that I still need to make tags for the totes.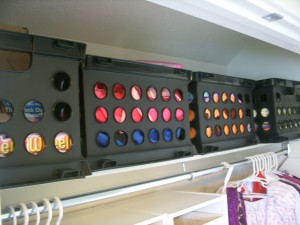 Her dresses and dance costumes are on the left side of the closet.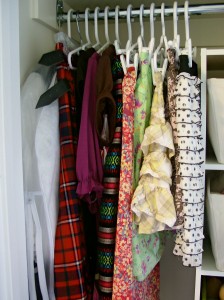 And her shirts and sweaters are on the right, with her robe hanging from a hook.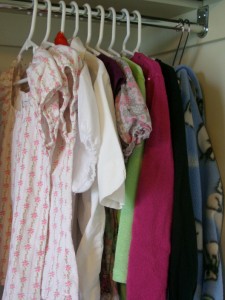 I like to buy these stackable organizers, because they can be moved from room to room, depending on where they're needed. These were in Adam's room, but he didin't need them anymore. They work perfectly for Emilee's shoes now.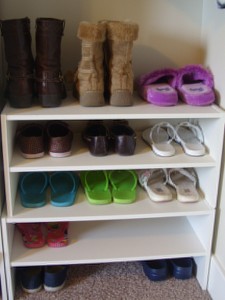 This hook holds her scarves for her tops and dresses.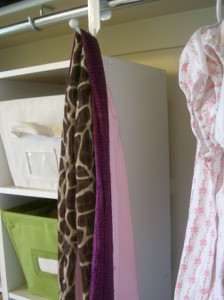 I used 4 stackable organizers here. I had to buy 2 of them, but they were only $12 each. I did secure these tall ones to the wall for safety reasons (I have young grandkids). I had all 4 of the green tote and 4 of the white ones, so I only had to buy 4 more. I think they were 2 for $10 at Wal-Mart. They fit perfect in the units. Her colors are yellow, green and black. I'm so excited I already had these green and black totes.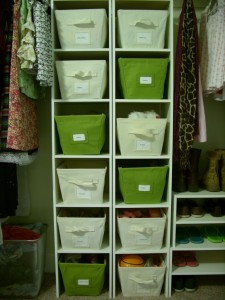 I just printed the simple labels on the computer. First I measured how big the opening was by tracing it on the paper that came with it, in the window. Then I decided how big the font could be. I could have gone a little bigger. Oh well!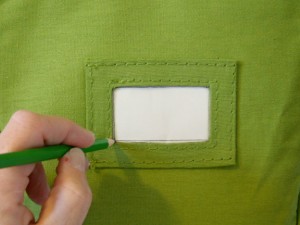 Here they are finished. She has a place for everything now. Let's see if she can keep it that way. It's been this way for a few weeks, so far so good.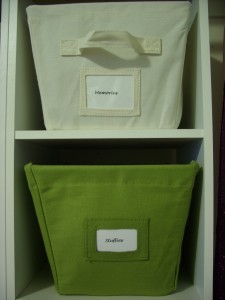 Like I told you last post, we're redoing Emilee's room, but on a strict budget. The closet total so far is $44. I still have one more thing I need to do before it's complete. I'll give you a hint: It has to do with the doors.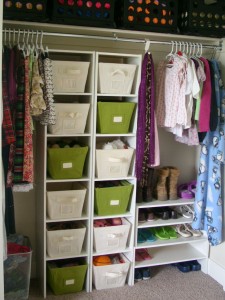 Oh, I forgot, the little basket on the floor is for her dirty clothes. It's small on purpose. She has to bring her clothes down to be washed every 2 days because of it's size. Since I do laundry everyday, that's perfect.