Do you come home from trips with arm fulls of things? Do they get put behind closet doors or tucked away in drawers? Usually when we go on a trip we don't have a lot of extra money to spend on souvenirs, but I want to remember my special time away from home with a memento or two from our vacation. So I get pretty picky about what I bring home and try not to spend a lot of money. Some of the things I bring home are free and those are the things that usually have the most memories attached to them. But how do you display these treasures from a memorable trip? Here's what I decided to do with some of our souvenirs from Oahu.
This is how we brought the sand and shells home in our carry-on. And just for some info, we were questioned about what beaches we got the sand from. That was a little scary. I thought they were going to keep my sand. Next time I'll put it in my checked baggage. She did laugh at the coconut shell I had wrapped up in a bag though.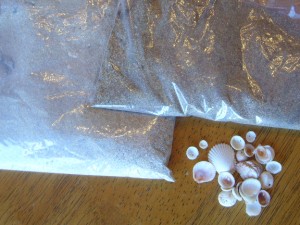 I love old bottles and have too many to count, so I knew they would be the perfect thing to use to diplay my treasures.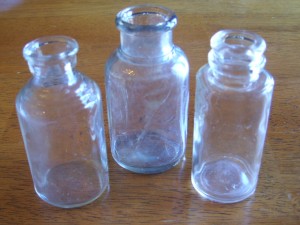 First I sifted the sand through a piece of screen to get out the small pieces of bark and leaves.
Then I filled the other 2 bottles the same way.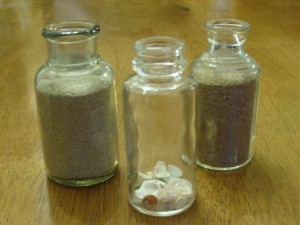 I have dozens of these little tags, so I just tied some string on them and labeled them with the contents of the bottles.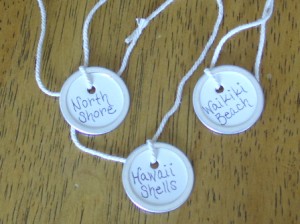 Then I tied them on the appropriate bottles. I didn't know shells were so hard to find on Oahu. That's okay, that makes them more special because hubby was even digging in the sand helping me find them.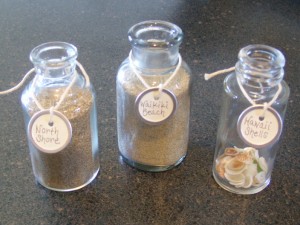 I also picked up the vintage looking postcard there. It's an old depiction of Waikiki Beach (where we stayed). I bought the shell in the front from a little shop on the North Shore (much bigger than the ones I found).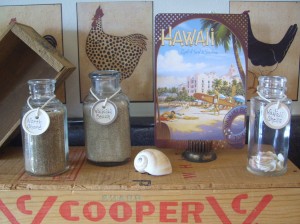 I'll keep this display through the Summer.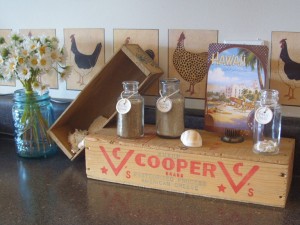 And then I'll move it to the bookcases with other vacation mementos. Of course, to bring it front and center again next Summer. The other shells and coral in the cheese crate were found by my boys in Florida.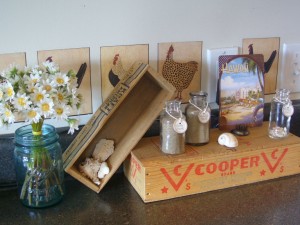 How do you display your vacation souvenirs?
I'm linking to:
Spotlight Yourself at It's So Very Cheri
Works For Me Wednesday at We Are That Family
Summer Categorically Crafting Show at Someday Crafts
Show and Tell at Blue Cricket Design
Show and Share Day at Just A Girl
Transformation Thursday at The Shabby Chic Cottage
Strut Your Stuff at Somewhat Simple
Hookin Up at House of Hepworths
Tips and Tricks Tuesday at The Brambleberry Cottage
Home and Family Friday at Home Is Where My Story Begins
Remodelaholics Anonymous Meeting at Remodelaholic
Friday Fun Finds at Kojo Designs
Weekend Wrap Up Party at Tatertots and Jello
DIY Project Parade at The DIY Showoff
Motivate Me Monday at Keeping It Simple
Countdown To Summer Party at Domestically Speaking
Mantel Vignette Party at The Stories of A 2 Z
Beach Categorically Crafting Show at Someday Crafts