Hubby brings me flowers quite often and always if he's been "in the dog house". Roses were waiting for me when I came home yesterday. I won't tell you why, but they are beautiful. I wanted a new way to display them, so I got an idea from some greenery that came with the flowers. There were actually 2 pieces, but I had already wrapped one around the flowers before I took this picture.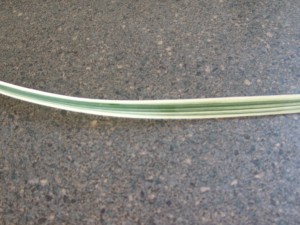 I forgot to take pictures of this part, but this is how you do it. Put the flowers in your hand and make them all the length you want. I made all the flowers in this arrangement the same length. Place the end of one of the pieces of greenery between the flower stems and start wrapping in one direction. Place another piece of greenery between flowers stems and wrap in the other direction. Bring the pieces together in the front and tie a knot.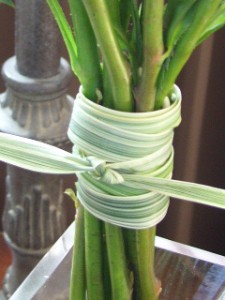 I  always cut my flowers this way so I get the length I want. Place the vase you want to put the flowers in at the edge of  the counter. Hold the flowers next to the vase and adjust them to the length you want. Find the length and then cut. I cut about 4 inches off mine.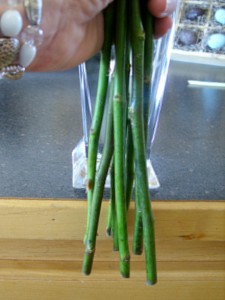 This is the result.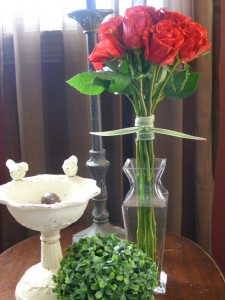 What do you think?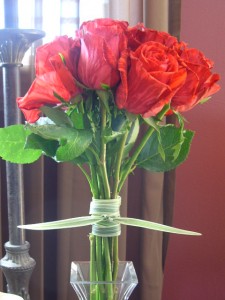 I think it's pretty cute!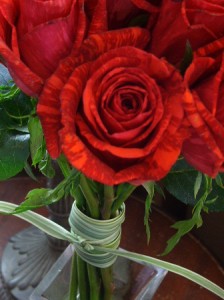 I'm loving the flowers bunched and the greenery wrapped around the stems. Hubby likes it too and he's not "in the dog house" anymore.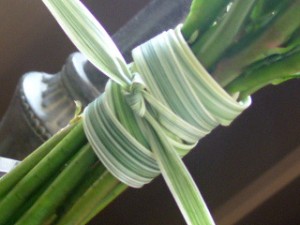 When you get your next bunch of flowers at the grocery store (that's where we buy ours). Think of a new way you might be able to arrange them.
I'm linking to:
Motivate Me Monday at Keeping It Simple
DIY Project Parade at The DIY Showoff
Made It Mondays at The Persimmon Perch
Check Me Out Saturday at I Am Only 1 Woman
Sunday Showcase at Under the Table and Dreaming
Just Something I Whipped Up at The Girl Creative
Market Yourself Monday at Sumo's Sweet Stuff
Making the World Cuter Monday at Making the World Cuter
Tutorial Tuesday at Hope Studios
DIY Day at A Soft Place To Land
Tip Me Tuesday at Tip Junkie
Get Your Craft On Tuesday at Today's Creative Blog
Talented Tuesday at My Frugal Family
Whatever Goes Wednesday at Someday Crafts
Show and Tell at Blue Cricket Design
Show and Share Day at Just A Girl
Strut Your Stuff at Somewhat Simple
Ger Your Craft On Thursday at Life As Lori
Feature Yourself Friday at Fingerprints On The Fridge
Look At Me Party at Fun To Craft
Creative Cats at Poppies at Play
Home Is Beauty In Fresh Flowers at Reluctant Entertainer
Flower Week at Singing Three Little Birds
Flower Categorically Crafting Show at Someday Crafts