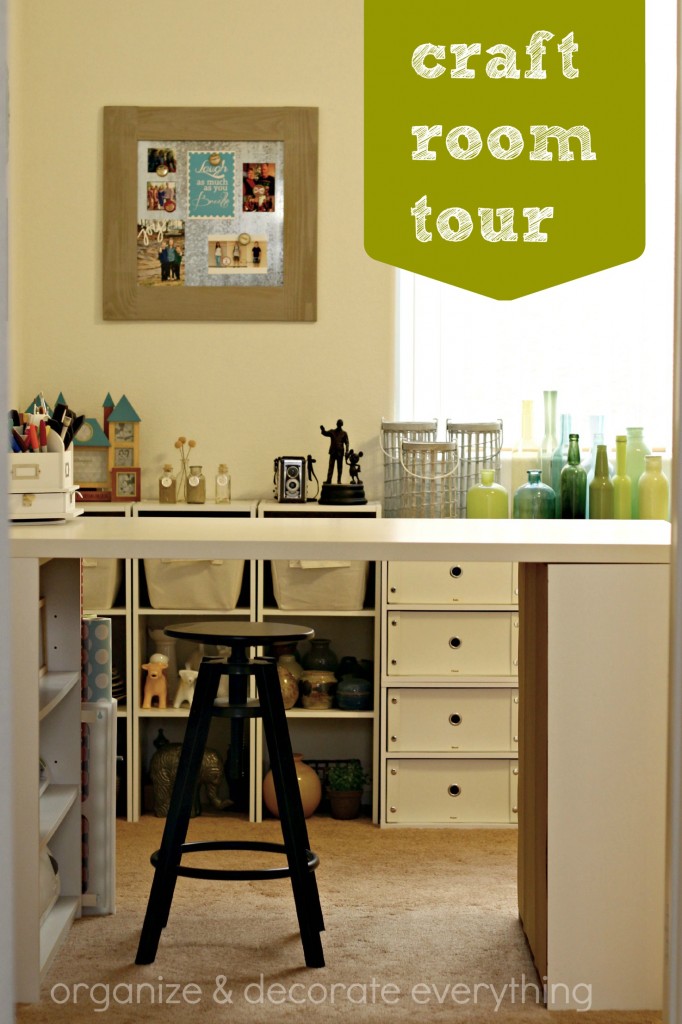 Are you ready for a Craft Room tour? I thought it was time. As you can already tell from this picture it's also a decorating storage room. Besides holding all my crafting supplies it also holds things I use to decorate the rest of my house, when they're not being used. That's a lot to cram into a 12'x10′ space so I'll show you how I did it over time and on a tight budget.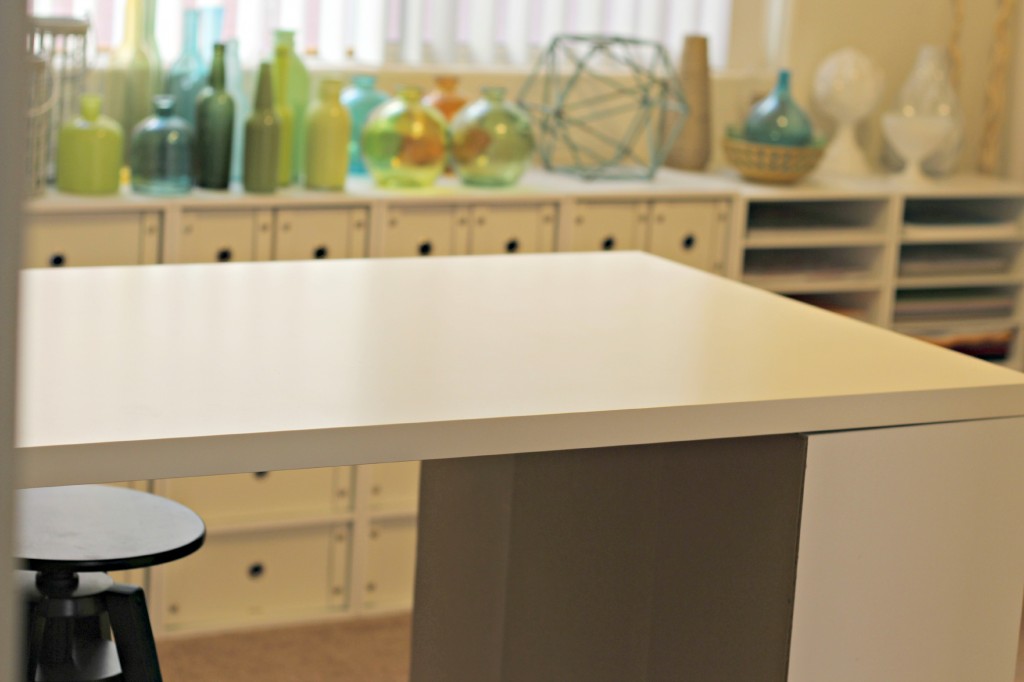 My room is small and I only have one lens for my fancy schmancy camera at this time, so I'll show you the room by areas. The craft table is against the left wall and about 3 feet from the door, just far enough back for the door to open. I'll share more on the table later.
You can see more of the room here. Since we don't have a guest room in this house I had to leave enough space in my craft room for a blow-up queen size mattress. There's also enough room behind the craft table for a porta-crib. Pretty good for a 12'x10′ space, don't you think? Putting this room together was somewhat like putting a puzzle together. I had all the storage pieces, I just needed to make them fit.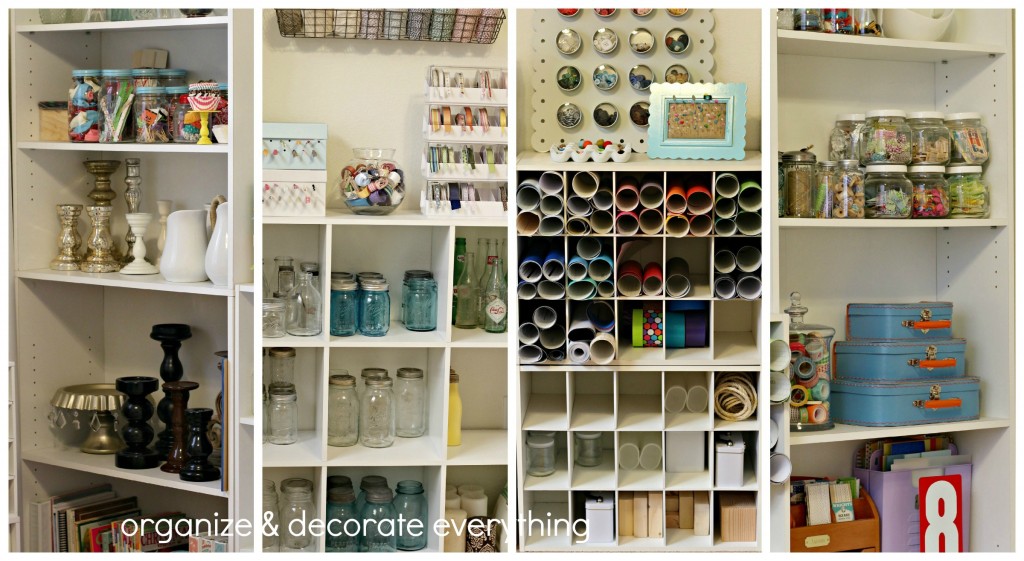 Here's a collage of the wall on the right, opposite the craft table. I have 2 tall bookcases, 2 shoe storage cabinets, and a cubbie storage cabinet that cover the whole wall. The bookcase against the back wall holds home decor and one shelf holds party supplies. The cubbie cabinet holds mason jars, bottles, and candles, with ribbon storage on top and a basket of bakers twine above the cabinet. The shoe storage cabinet holds rolls of vinyl, decorative tape, cut wood blocks, and small containers used for gift giving and storage, with a magnetic board that holds buttons on top. The end bookcase holds mostly small craft supplies in jars and other containers. I had all these units before we moved here but some were being used in other rooms. I like free-standing organizing pieces for that reason. Don't get me wrong, I love build-ins but with being in a rental now I love the option of moving things where needed.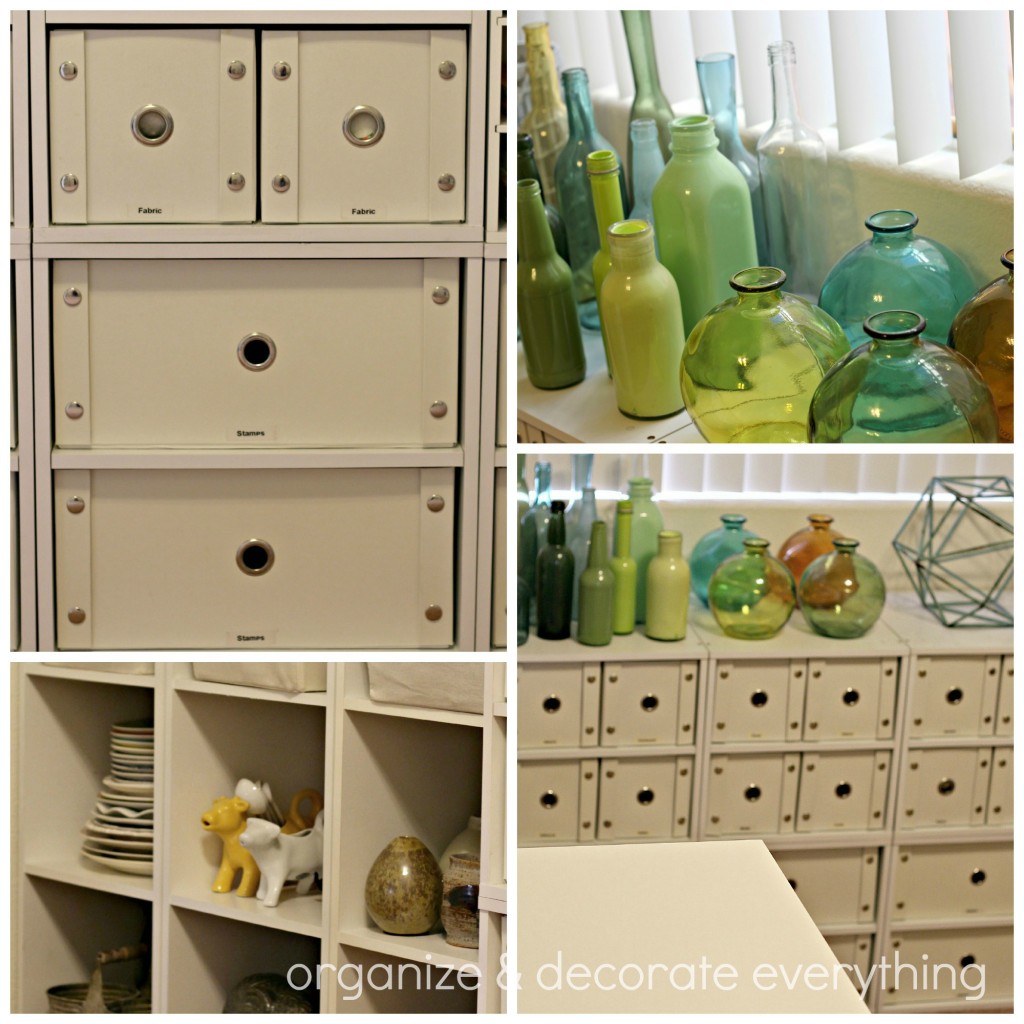 The back wall holds my cubbies with drawers. These hold most of my craft supplies. I bought these years ago, 1 or 2 at a time using a 40% off coupon. I have them stacked 2 high but I've had them stacked as high as 4 in other places. I love that I can rearrange them when needed. I labeled the front of each drawer with the contents inside and because I have limited space it helps me edit my supplies on a regular basis. The 3 closet shelves on the end hold more home decor. I store more home decor pieces on top of the cubbies on the back wall. I actually love having all the beautiful colored glass out even when I'm not decorating with it. Since this room doesn't have a closet everything is out in the open.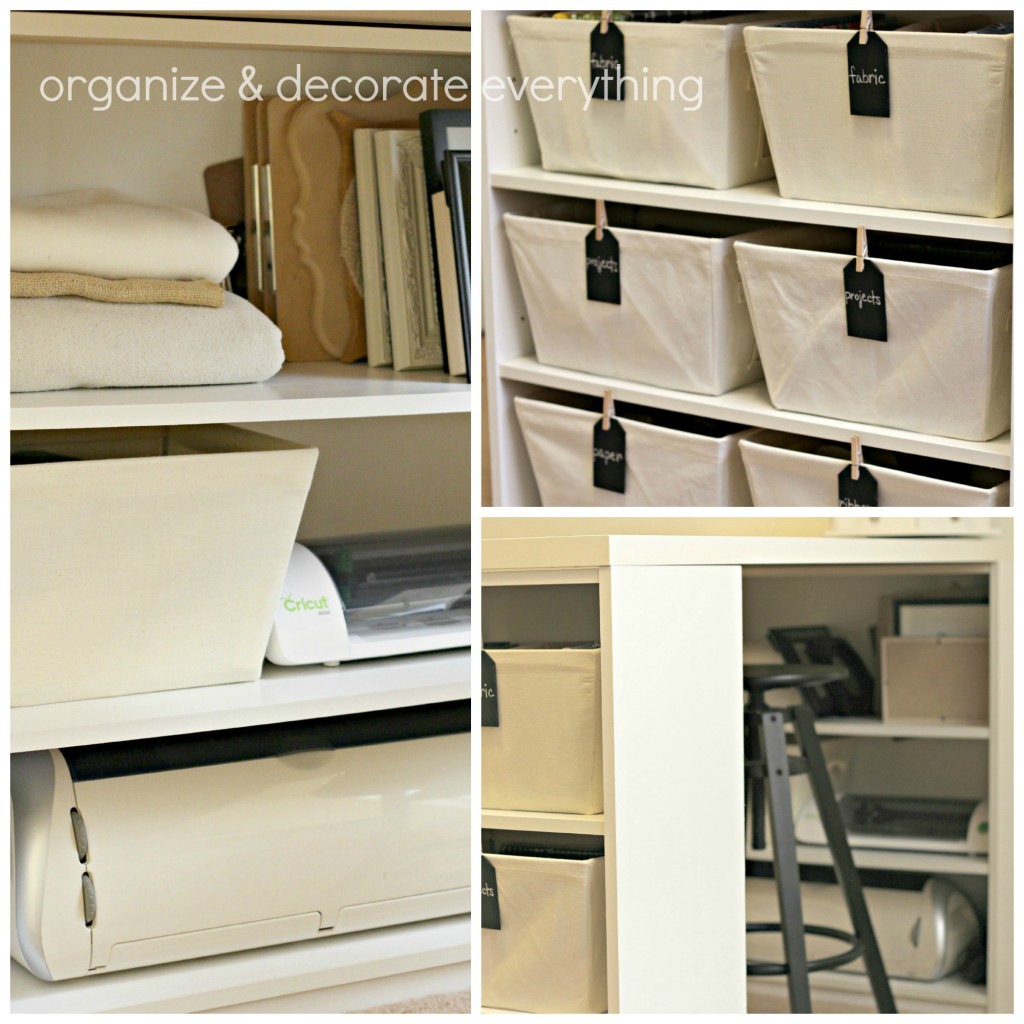 I get asked a lot of questions about my craft table since I first made it in March of 2012 (you can also get a look at one of my craft rooms when I had more space). One of the questions I get asked is why I didn't make the table top permanent. I have 2 answers: 1 is that is was way easier to move since I could take it completely apart into 3 separate pieces and 2 I needed to re-configure it for this room. In the first craft room it was in the center of the room so I had both of the book cases facing out, in this room it's again the wall so I have one bookcase facing out and one facing in. It takes up the same amount of space either way, but this way I can have it right against the wall and still have the same amount of storage space.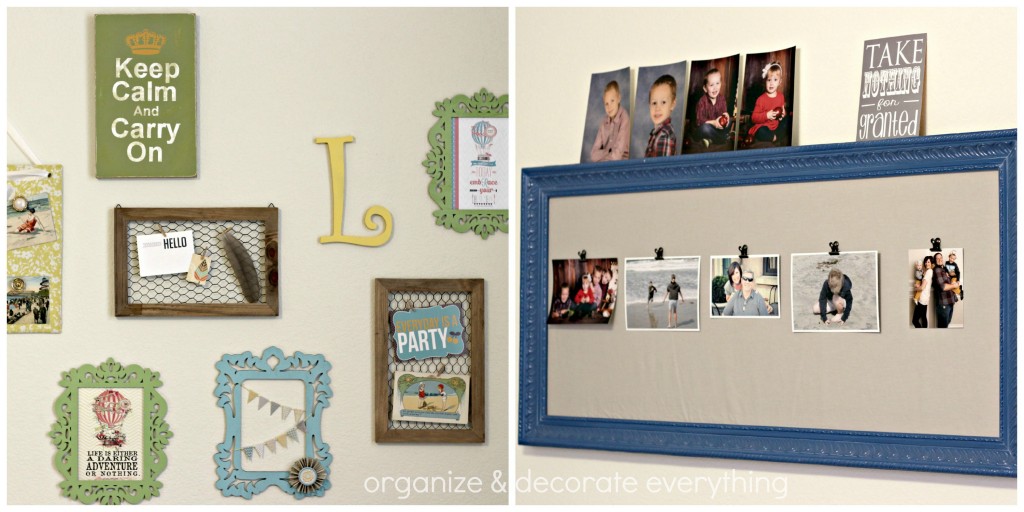 I don't have a lot of decor on the walls because there's a huge window, a double door, and tall bookcases taking up a lot of space in this little room. I had 2 areas where I could do something on the walls though so I made a fun little gallery wall using things I already had next to the craft table and I put my large picture frame on the wall the door is on.
I didn't want this post to be forever long so I will be sharing more of my small storage ideas with you in a post next week. I hope you enjoyed this little tour of my craft room and it gave you some ideas on how you can best use a small space. Thank you for stopping by! Happy Organizing!