Welcome to my home this Christmas. I'll have some pictures of the front of the house later this week. I made the Pine and Pom Pom wreath this year. I think it sets the tone for what you'll see inside our home.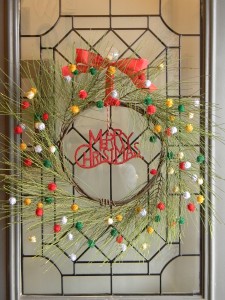 If you look up once you enter our home, this is what you'll see. Hubby hangs these ornaments for me every year and while he's up there he replaces the bulbs that have been out for at least 6 months.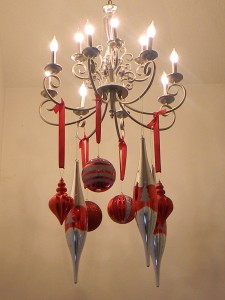 The advent calendar and tree are on the landing leading up the stairs.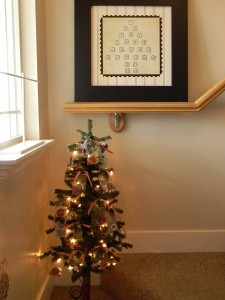 I made these ornaments last week using clear glass balls. The stand is from Ikea and sits in the little window by our front door.
My stair railing garland is simple this year. Some red berry garland and resin candy canes tied on the railing with red and tan jute.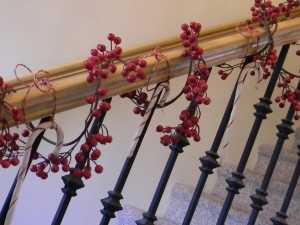 The stockings are hung from a shelf  in the entry. I'm happy with the red, white, and silver color scheme for this Christmas.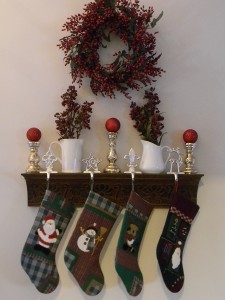 Probably the first thing you notice when you enter the living room is the mantel. It's usually the first thing I decorate every season too. Decorating the mantel puts me in the mood to tackle the rest of the public living spaces for the season.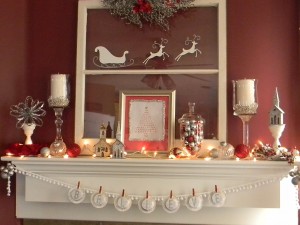 I used a lot of ornaments in glass jars as decorations this year. Super fast and easy. I  love all the glitter ones.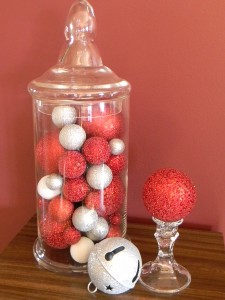 More ornaments in a glass jar, but these are vintage ornaments I'm protecting from getting broken on my tree. Maybe they'll be hung up next year.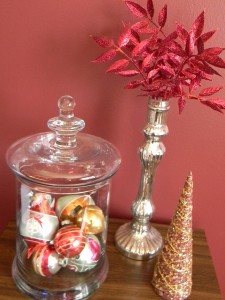 I've been wanting to make one of these trees for a couple years now, but when I found this one last year, on clearance for only $4.99 I had to buy it. I wouldn't be able to make it for less than that.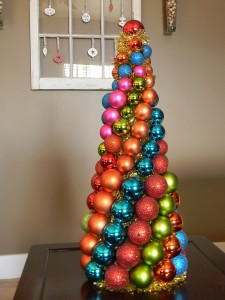 Here's a closer look at the window with vinyl ornaments hanging in it. I change this window every season also.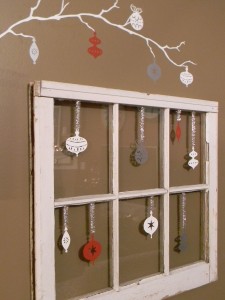 Our tree is surrounded by barriers this year to protect it from little hands. It's 9′ tall and a little top heavy because of the long trunk so it's protecting the kids too.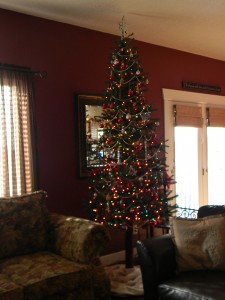 Our sofa table also doubles as an eating area for 2 children when we have guests. By using a tray to hold the table decorations it's easy to remove the decor and  have it ready for a meal quickly.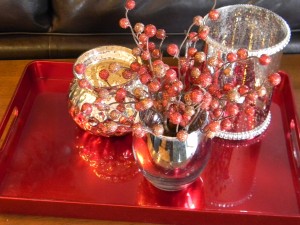 Hubby wears this santa hat every Christmas morning while he passes out the gifts. Do you take your time opening gifts or do you just tear through them? We take our time and hand them out one by one. It's fun to watch each one of them opening their gifts in anticipation and excitement.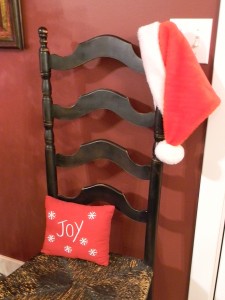 The kitchen has minimal decorations because of all the treats and food that are being prepared this time of year. I have to have room for all the goodies.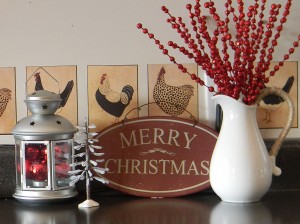 I made these trees just last week.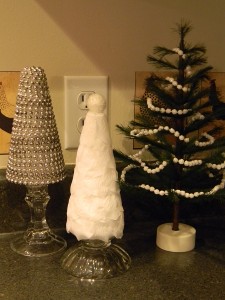 This nativity is upstairs in the loft area. It's the only one I got out this year. Since it's wood, I don't mind if the kids play with it and they do. A friend made it and gave it to us about 14 years ago. Don't you love how they always put every person and animal in a circle around baby Jesus?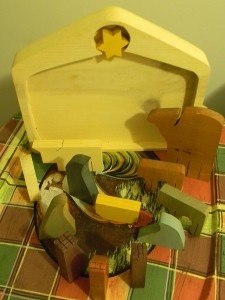 I'll show more of the upstairs later this week.
I hope you're all enjoying the Holiday Season!