Visit Cathedral Gorge State Park in Nevada for a fun filled day exploring the amazing buff colored cliffs, canyons and spires.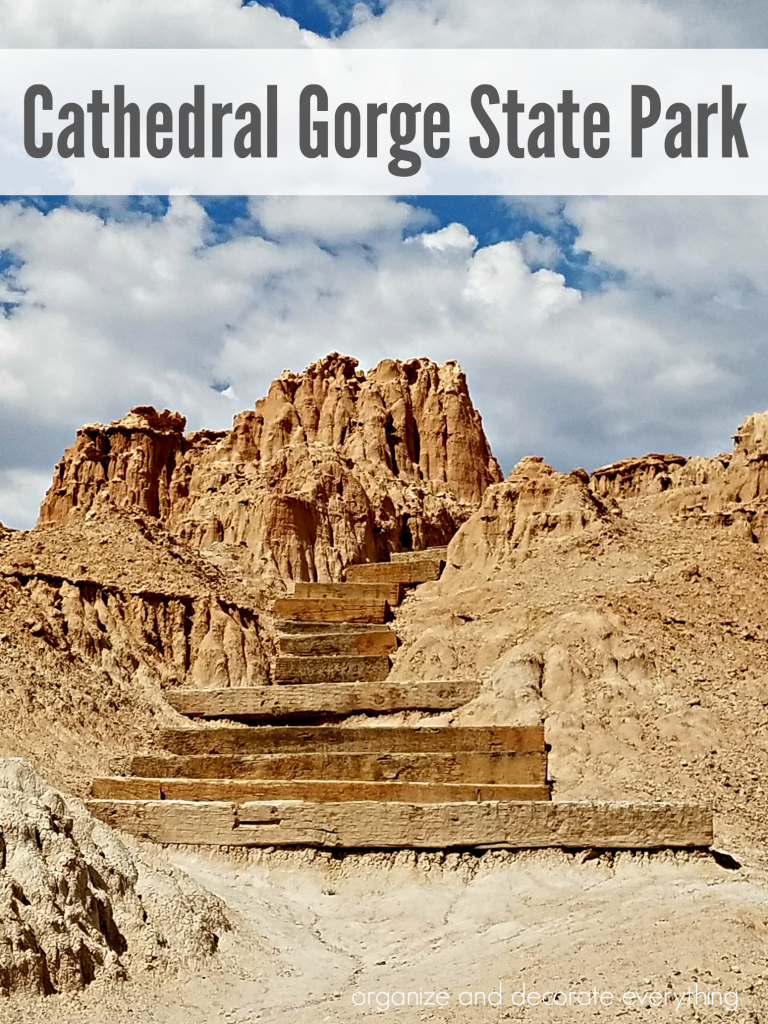 Cathedral Gorge is out in the middle of no where so it was surprising to us when we just happened upon it coming back from another day trip we were on. We like exploring but it was late so we decided on a weekend to come back. We made the 164 mile drive from Las Vegas a few weeks later and were not disappointed.
You can see a tower in the center right side of this picture. The stone water tower (not in use anymore) restrooms and picnic and camping facilities were built by the Civilian Conservation Corps. There's a nice covered picnic area but there isn't anywhere to purchase food so make sure to bring a picnic lunch, snacks, and plenty of water. There's a small day use and/or camping fee for the park. There is also a visitor center at the park entrance which gives you information about other parks in the area. We watched a short movie there.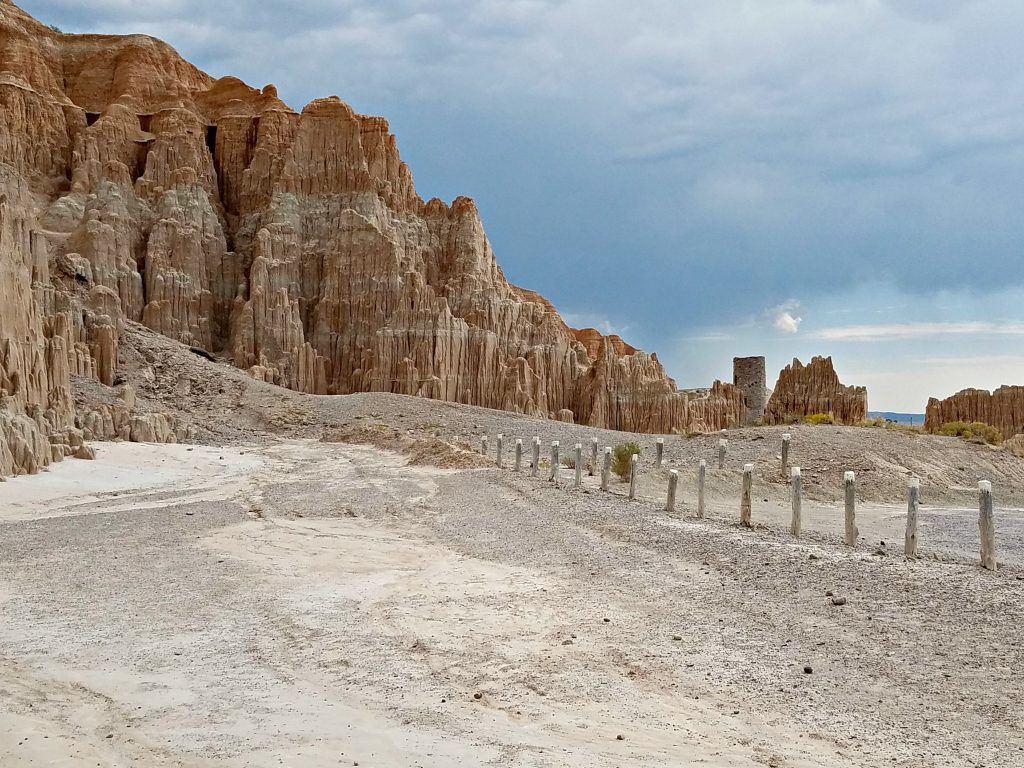 The caves are not actual caves but narrow slot canyons that make you feel like you're in a cave. The change in temperature is very noticeable once you enter the narrow canyons. It in the heat of the Summer it's very refreshing.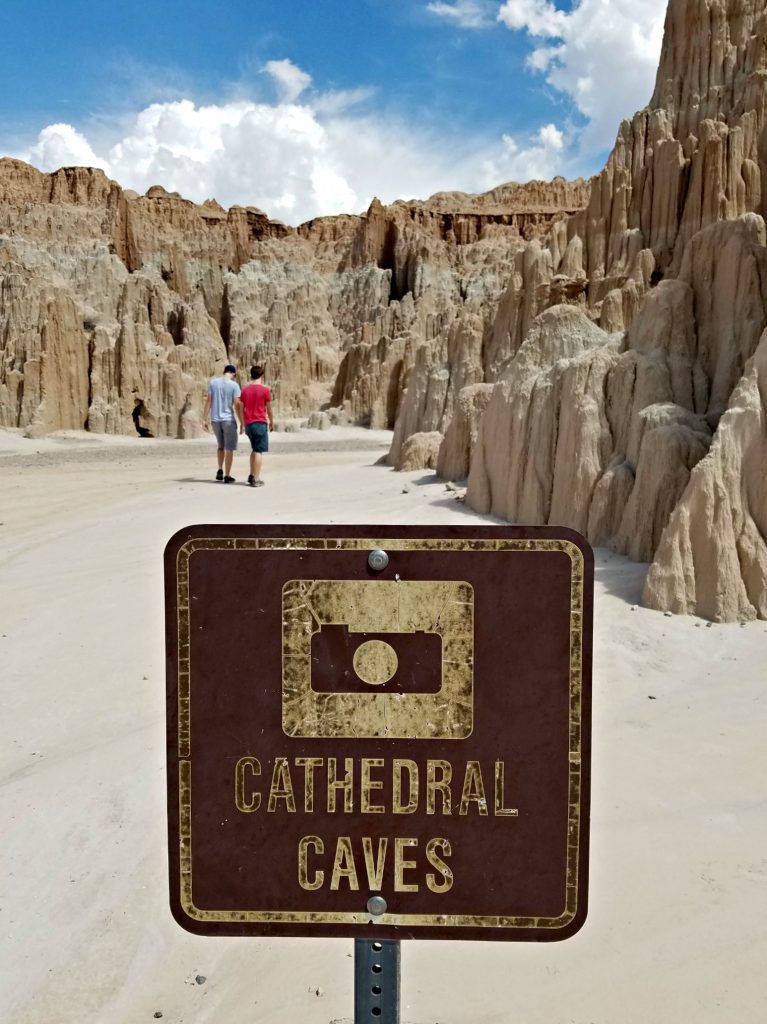 There are many different "cave" areas. Cathedral Caves and Moon Caves are signed areas and the boys were off and running. We could have spent all day in this area. It was so fun exploring the narrow canyons that twisted and turned and got so narrow that even the boys were having a hard time getting through in some areas.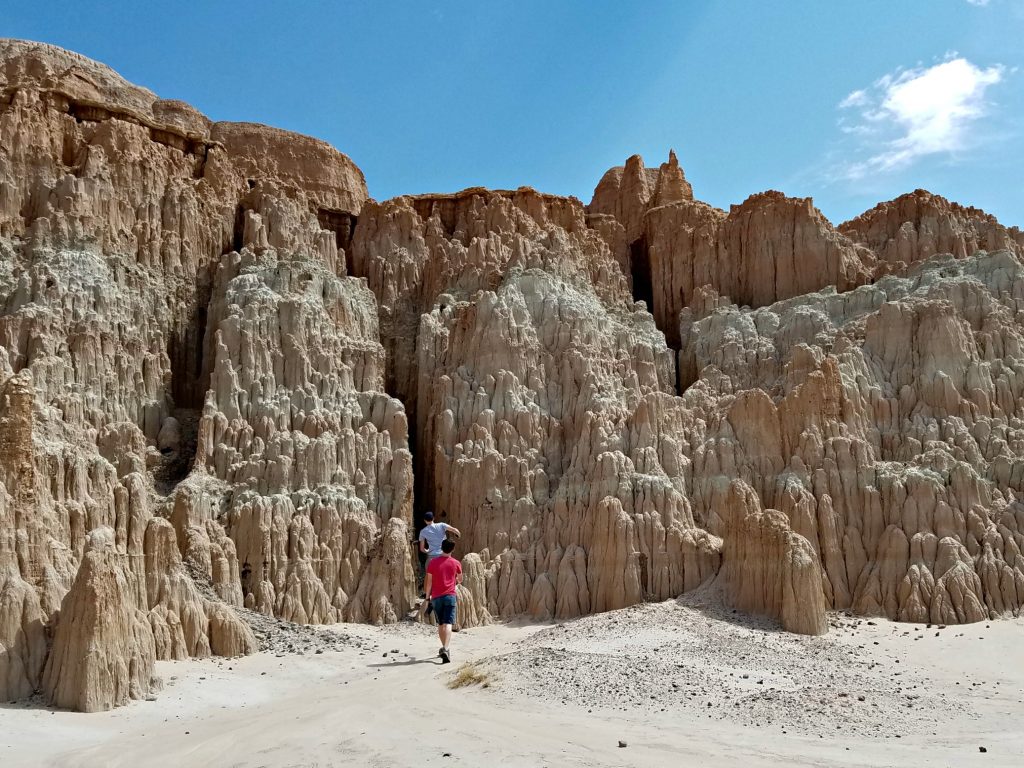 This is one of the wider areas in the canyons. The walls are incredible and were cut from the mud that lay at the bottom of the lake millions of years ago. We also found some tunnels to crawl through and some climbing areas with ropes.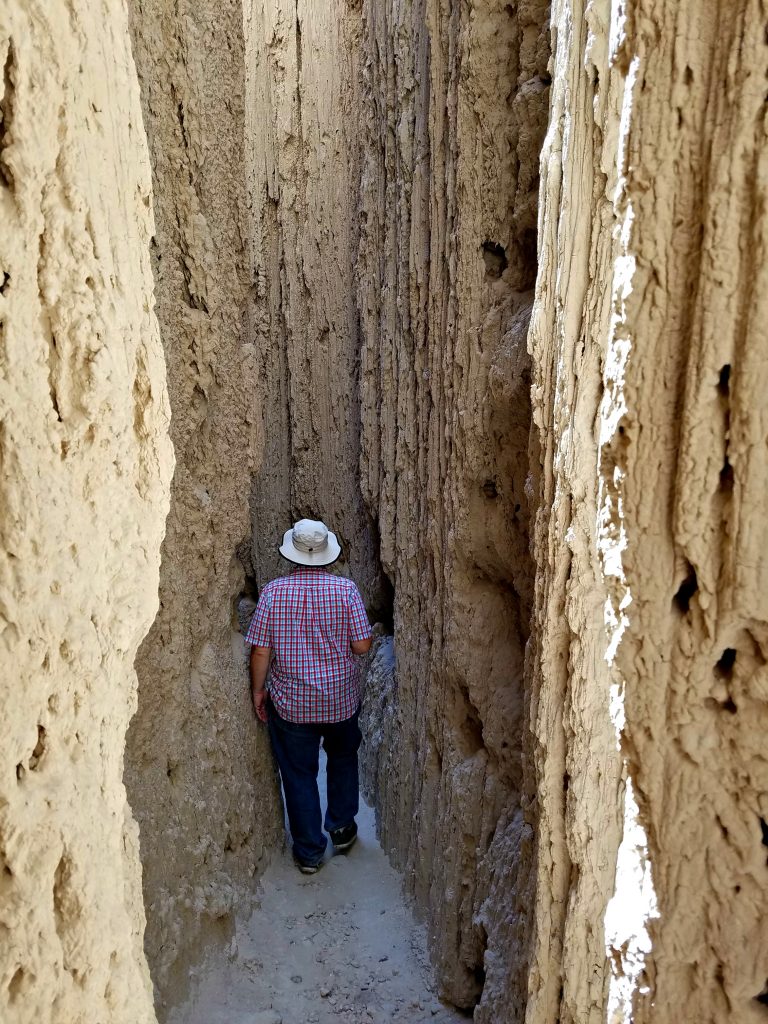 The views are incredible from every angle.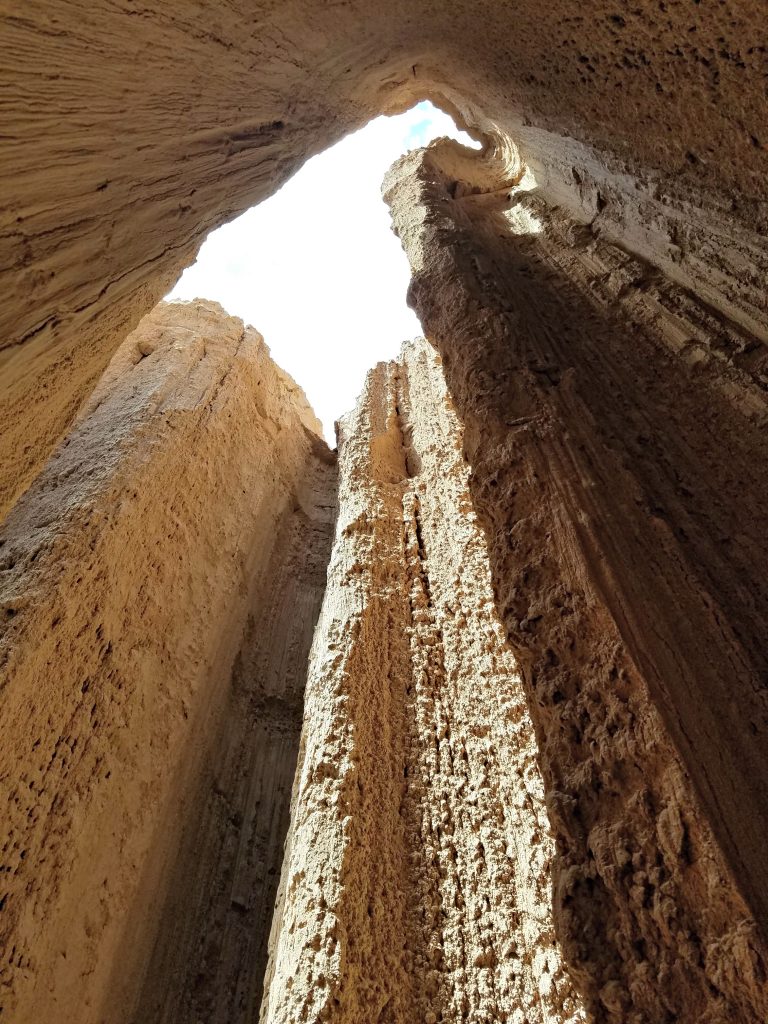 Once we got the boys out of the "caves" or canyons we explored on top of the siltstone and clay shale spires. You often wonder if you're on another plant here. It's something like you've never seem before.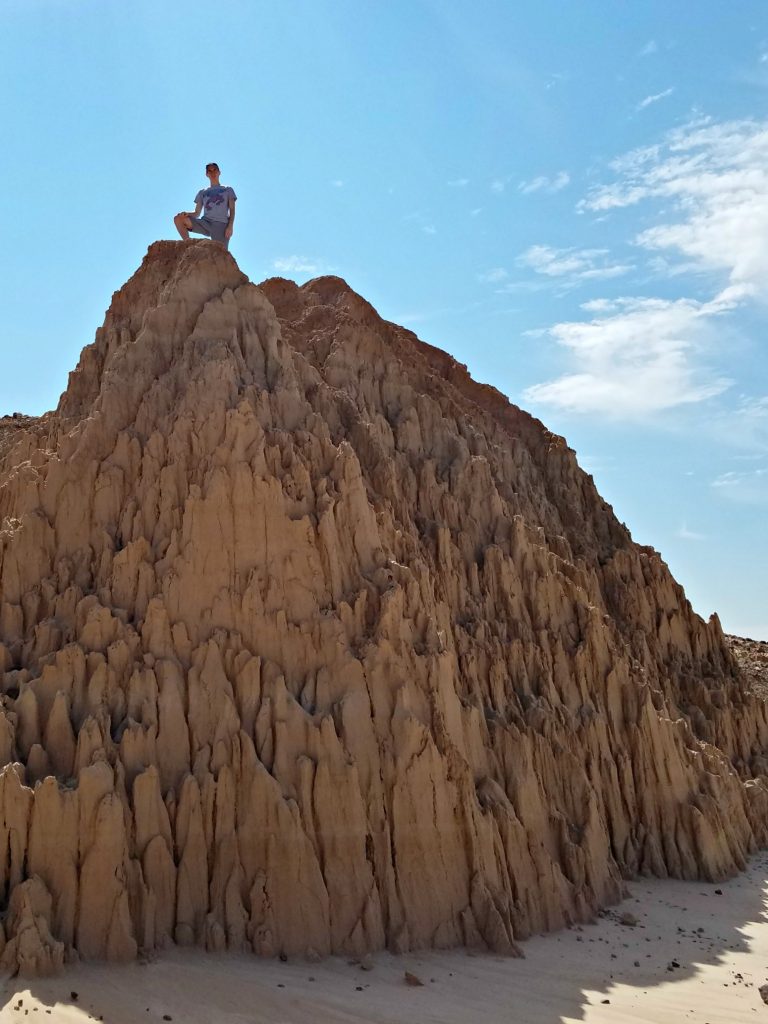 Watch your step while you're exploring the upper areas.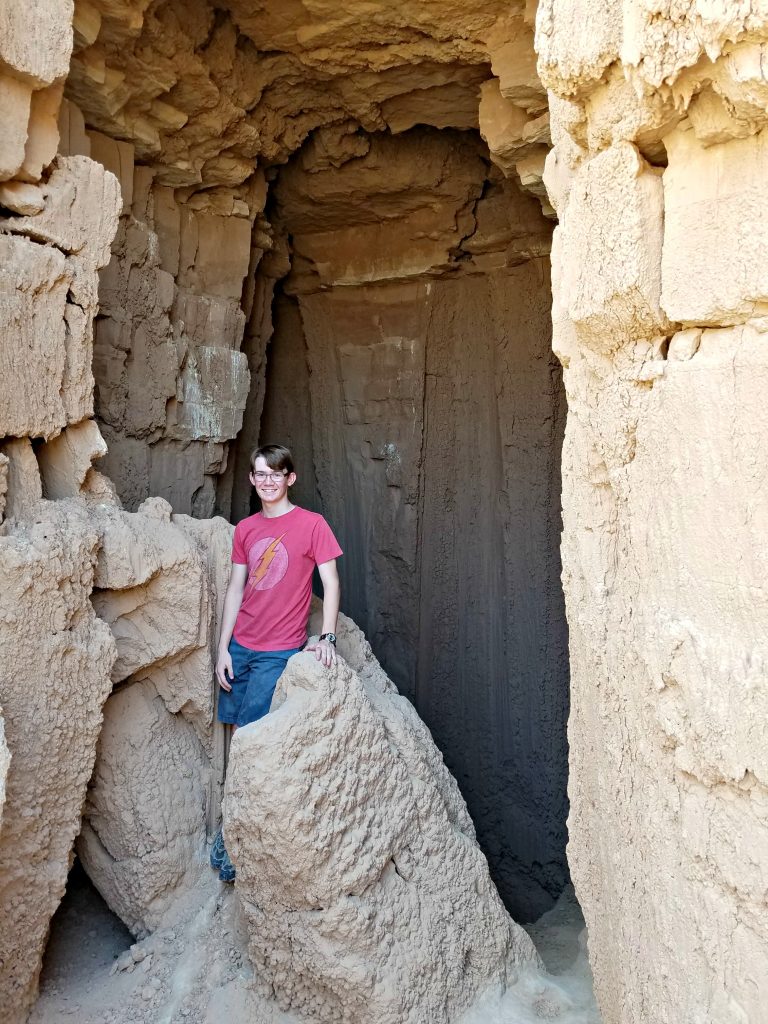 This is right behind and below where Ammon is standing in the photo above. Beautiful but dangerous!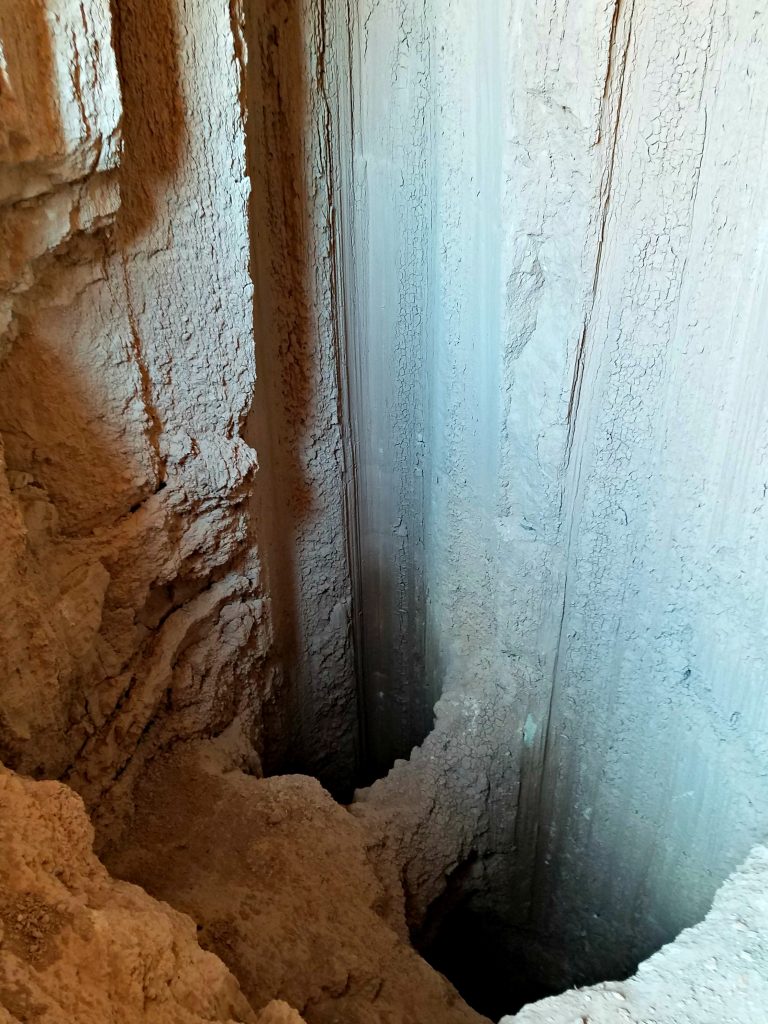 We decided to take a little lunch break before we ventured out for more hiking. Make sure to drink plenty of water too. As you can tell from looking at the pictures the weather can change quickly. Be prepared for anything. It was bright and sunny most of the time but then clouds rolled in and by the time we were leaving it was starting to rain.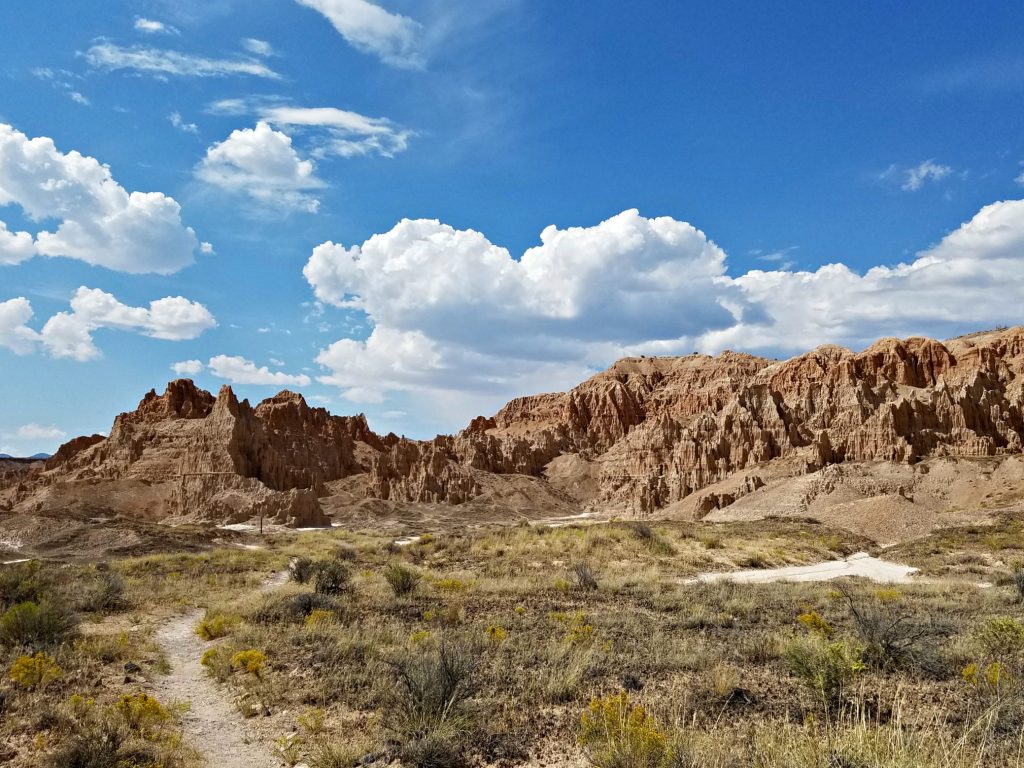 We were able to hike four of the trails. You can see many of them in these photos. Juniper Draw Loop is a 3 mile loop around the valley floor.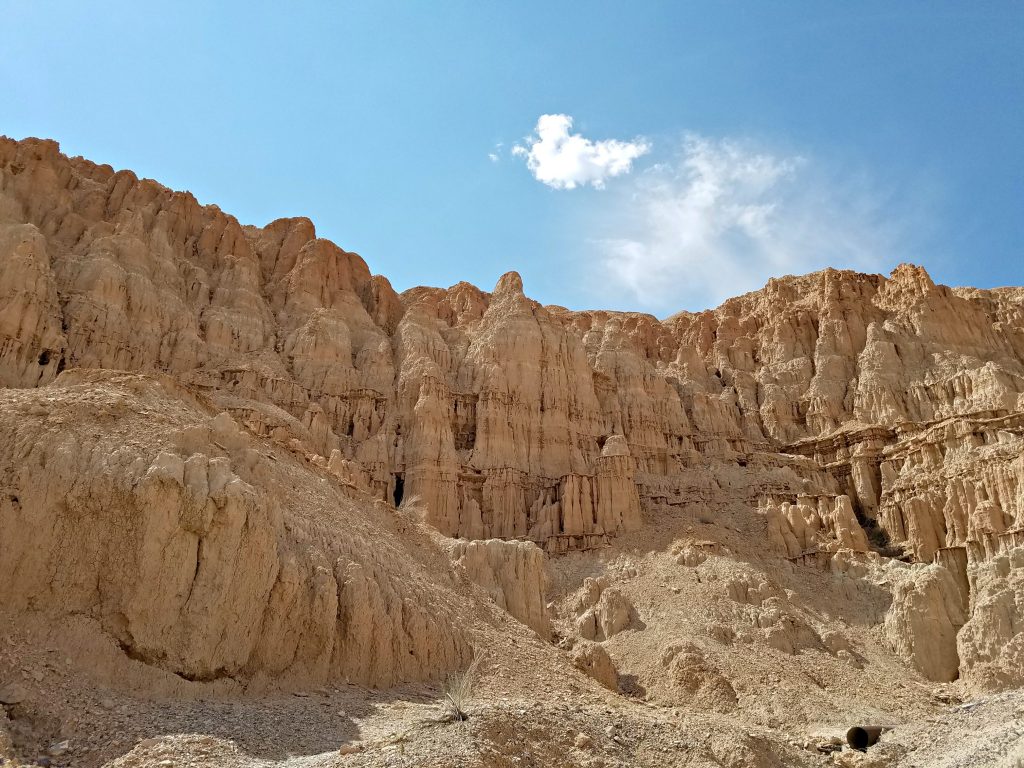 New Ridge-line trail winds through formations then follows the ridge-line around the park. It is 4.2 miles.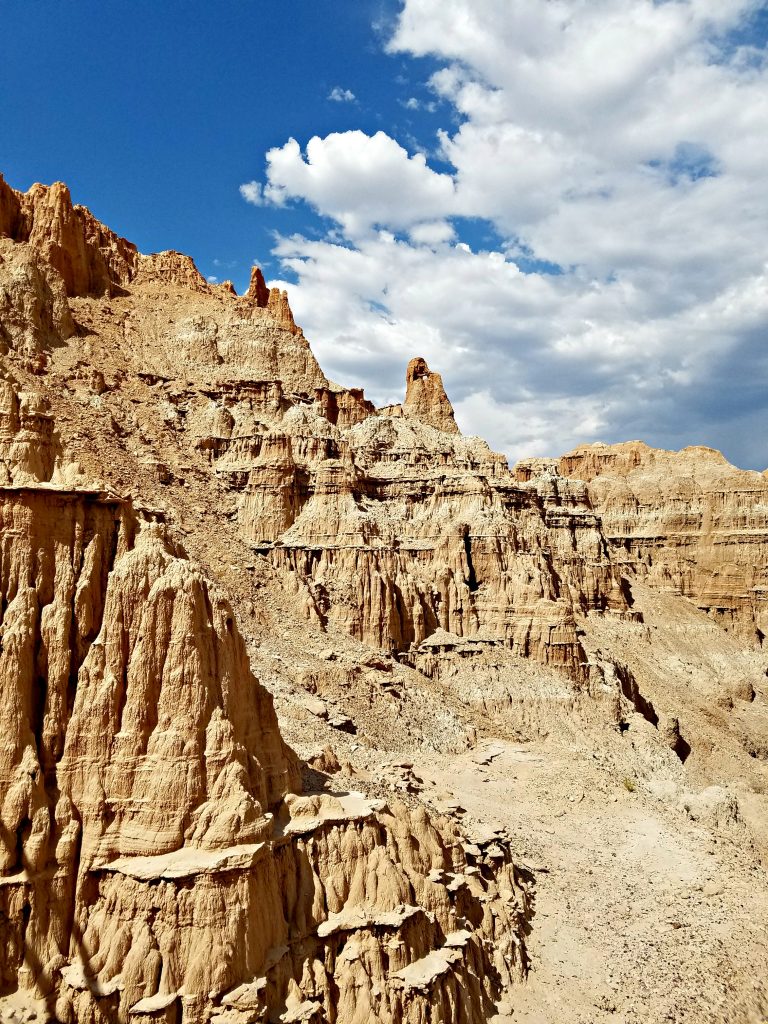 Eagle Point trail is .8 miles and follows a ridge-line to a view of the entire park.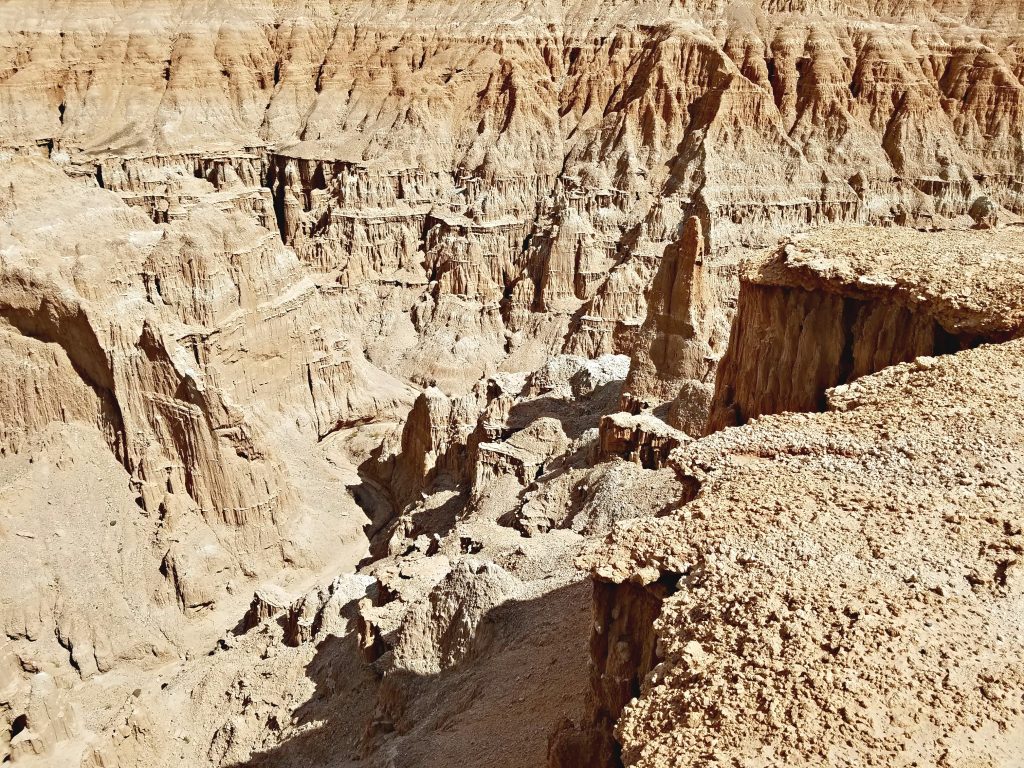 Miller Point trail is a 1 mile trail with stairs to Miller Point.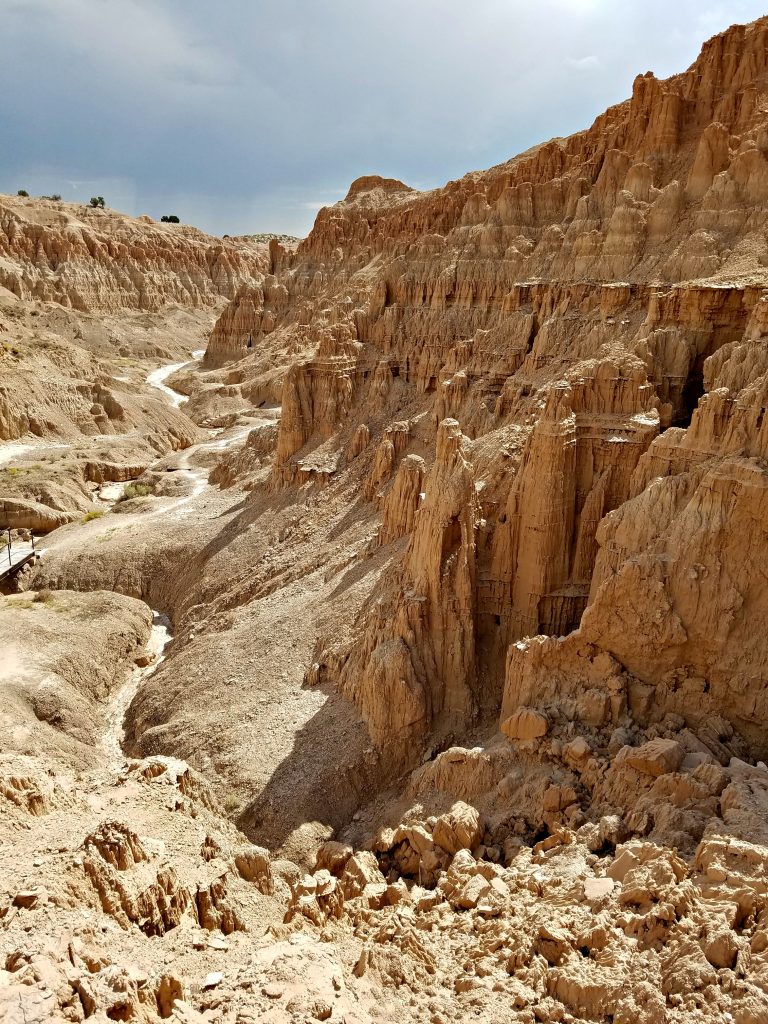 There is actually a parking lot at Miller Point but it's at the opposite end of where the visitor center is. We spent the whole day at Cathedral Gorge State Park and can't wait to go back. We didn't camp but the campground looks really nice so I'm willing to give it a try. It's first come first serve and there's only 22 spaces so get there early. There's also flush toilets and showers in the camp area so that's a huge plus for me.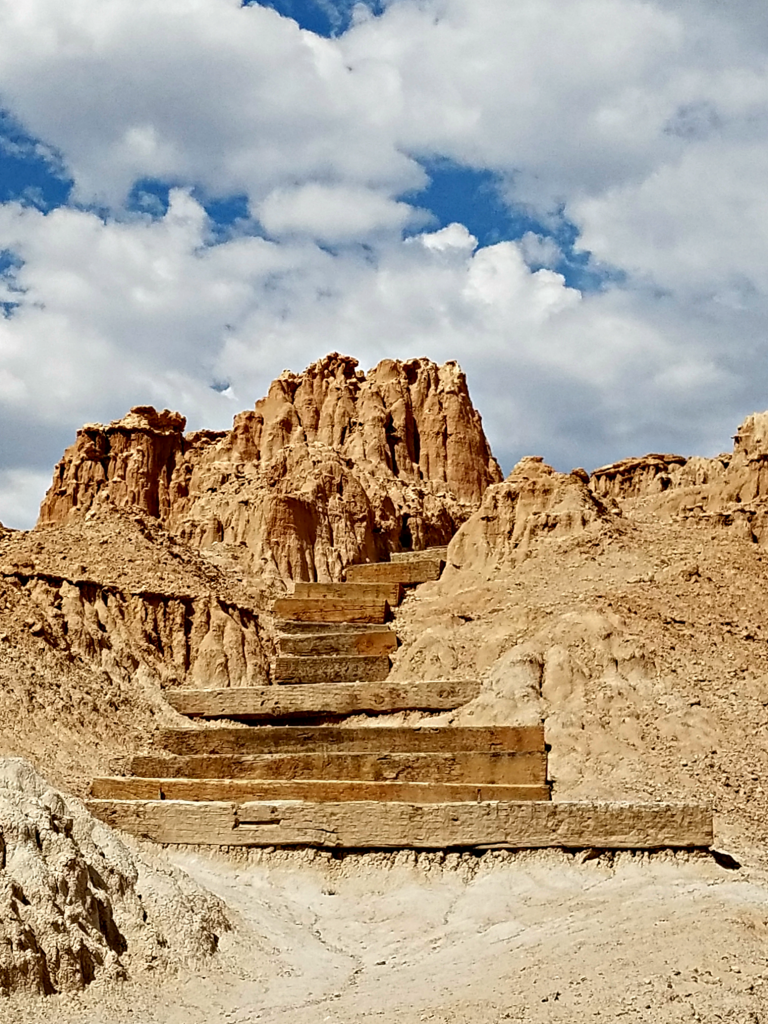 Where will you explore next?
Pin it for later: