It's easy to create a Bathroom Update on a Budget by selecting just a few new items to bring your personality to the space. This is ideal if you're renting or have a limited amount of money.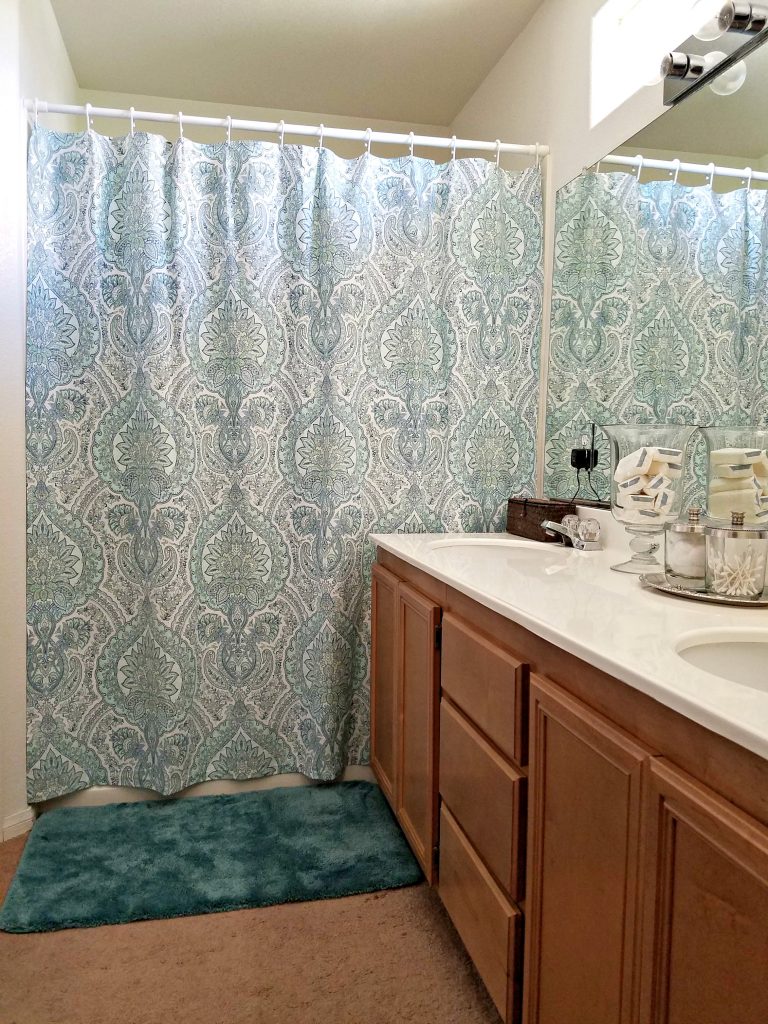 This is probably the least favorite bathroom I've ever had and I've lived in a lot of homes. Since I'm renting and there are a lot of restrictions there's only so much I can do. By adding color, pattern, and organization to a space you'll be able to make it your own no matter your limitations or restrictions.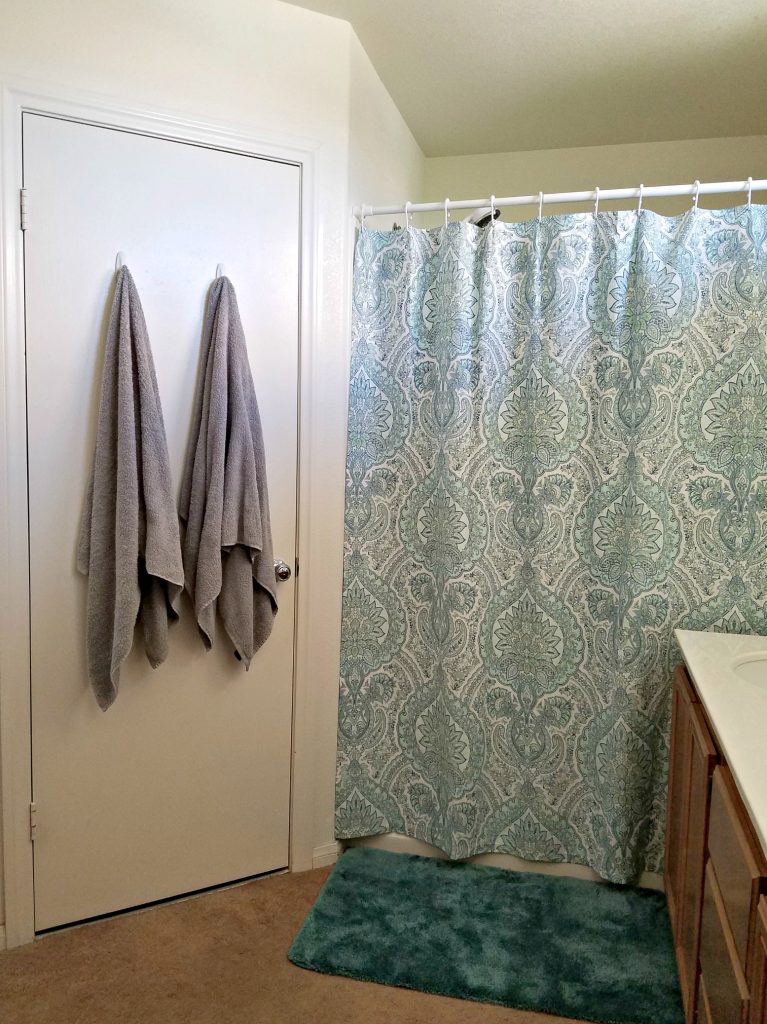 Who puts carpet in a bathroom? And those shower door sliders are a bugger to clean, especially if you're renting and others have lived there before you. Yeah, I don't like to think about that. Besides those things, there's also the fact that it's just boring and colorless.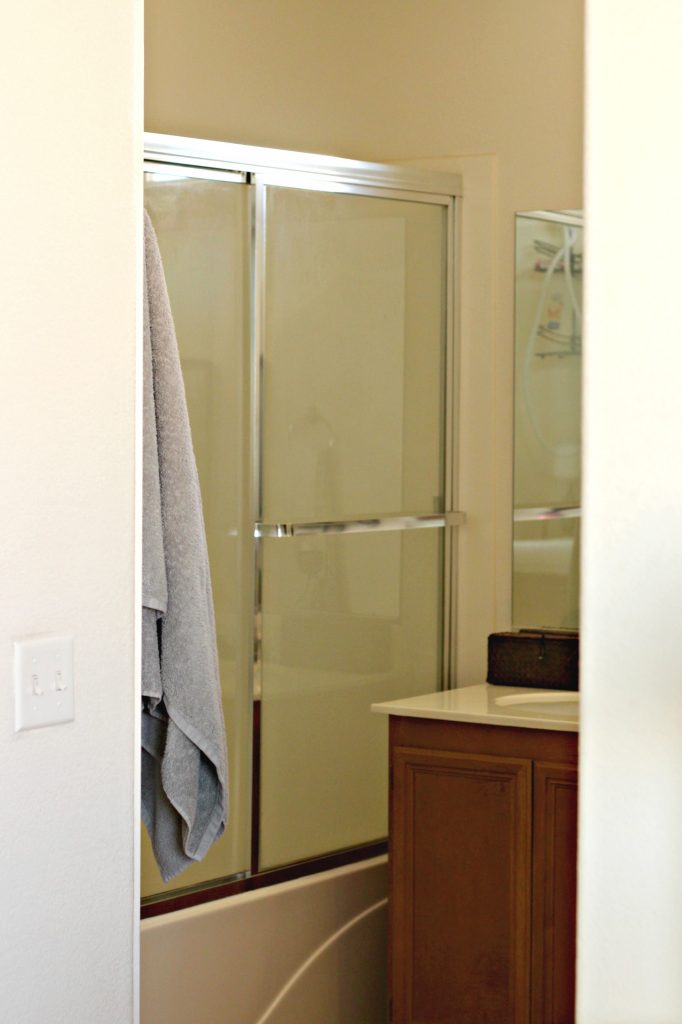 I started with organizing the space first since I already had the glass containers. Try to use what you have to organize your spaces, only purchase containers if you need too. Glass containers are nice because you can see exactly what you have and when you need to replenish. I use body wash but my husband uses bar soap. This is so I can see when he's running low plus I like the way it looks.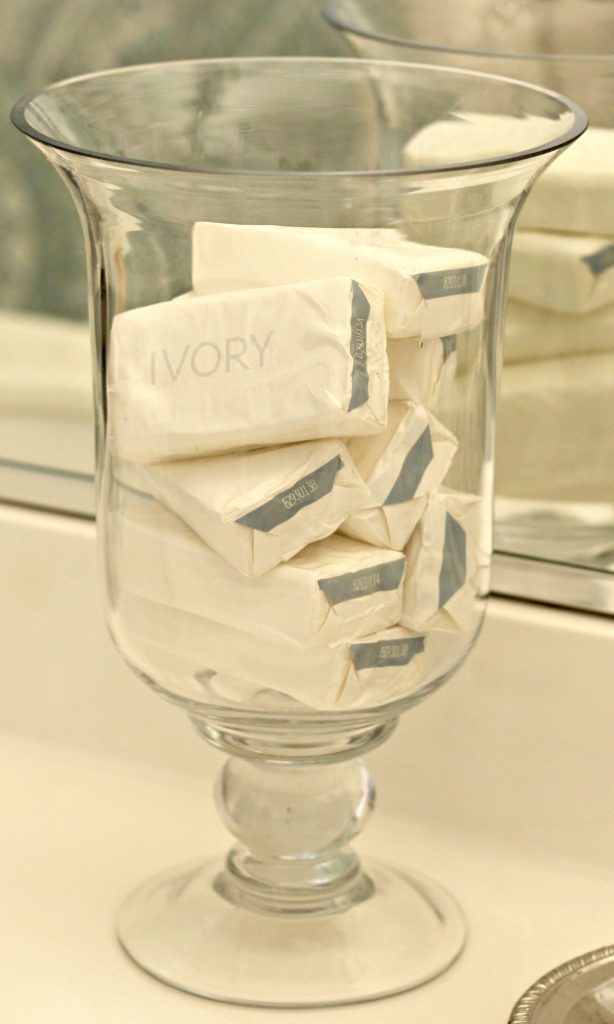 I like to keep the counters free from clutter but since hubby has a container by his sink I added this one to my side for my nail polishes. I just tossed the old ones so it looks a little bare. Don't worry I'll get some new Spring colors soon.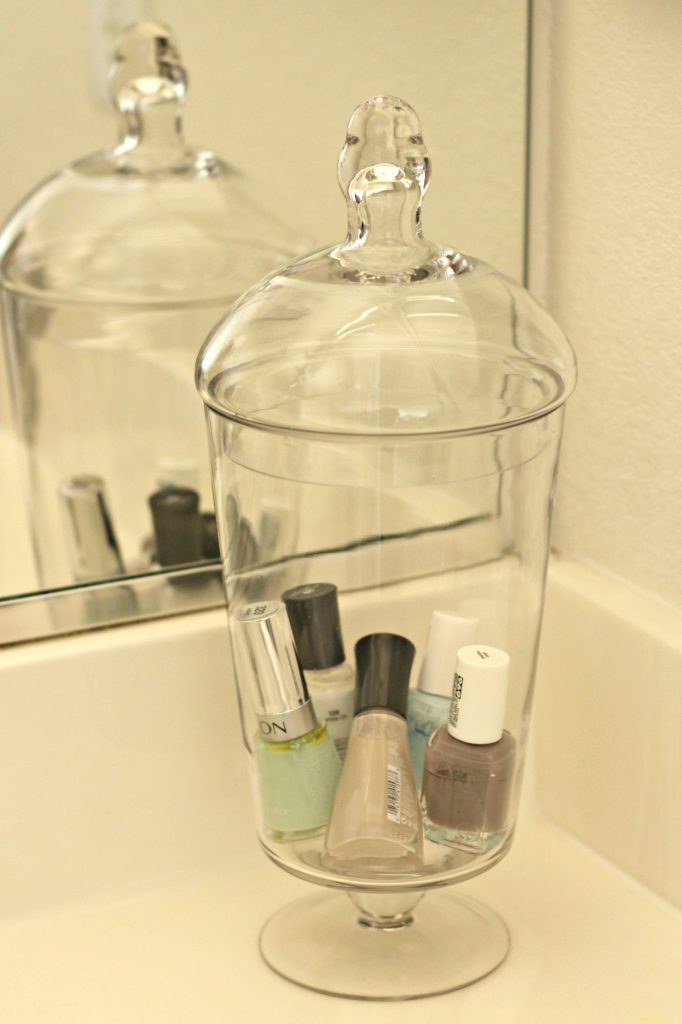 Since I use cotton balls and swabs daily I added them to glass containers and placed them on a dollar store tray. I love how it looks like they came together.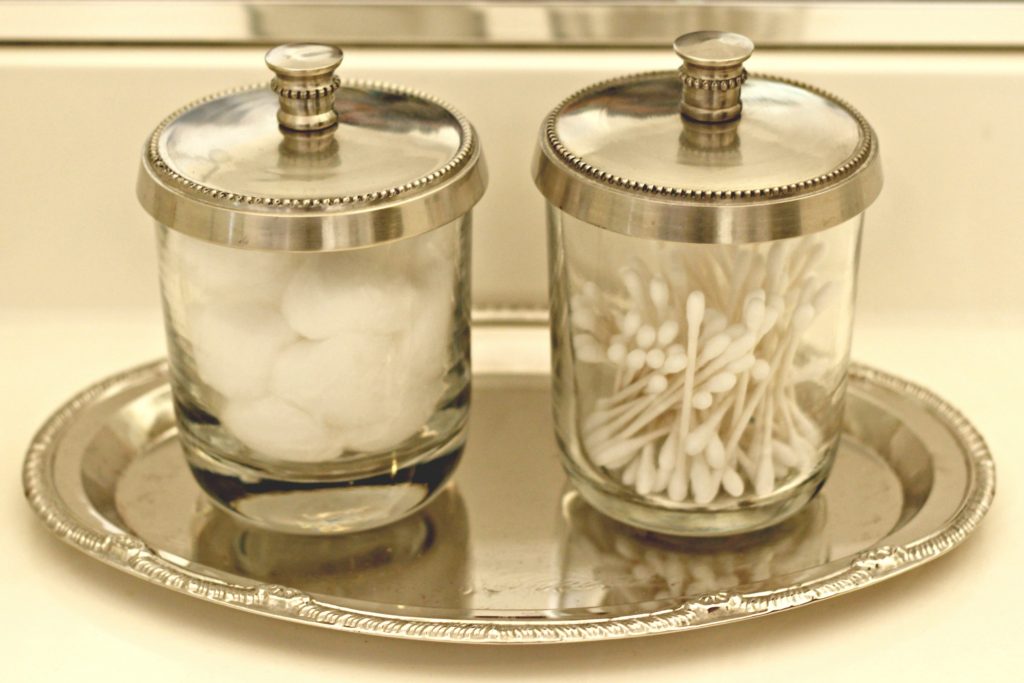 As you can probably tell I don't like things just sitting on the counter. This basket hides my husband's shaver. It's right below an outlet so he can keep it plugged in when it needs to charge.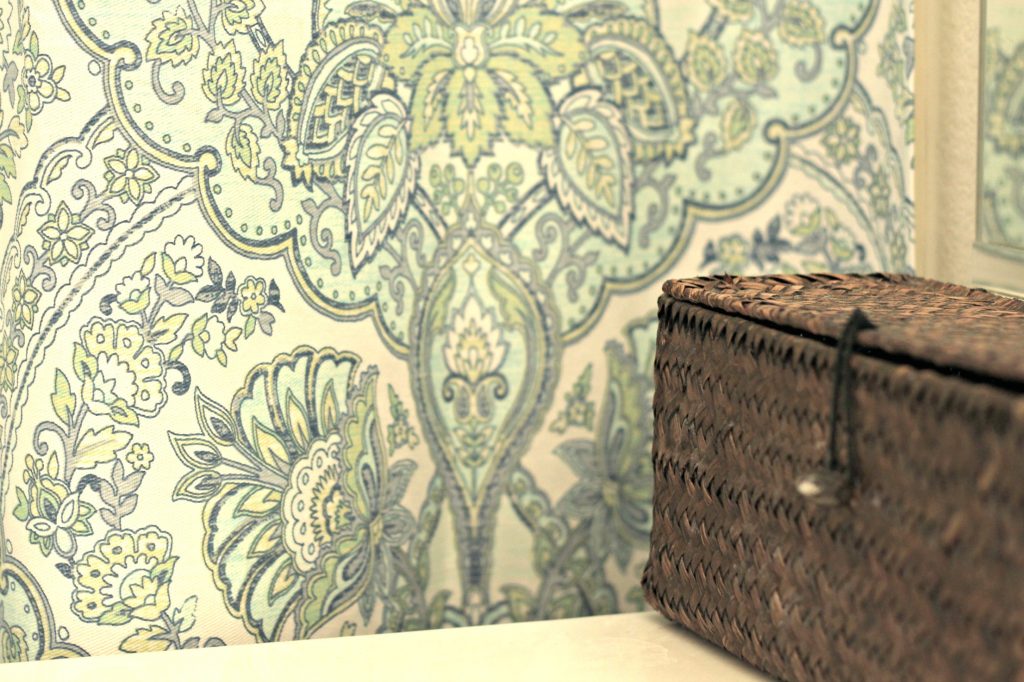 A shower curtain is the easiest way to add pattern and color to a bathroom. Another option is pictures but this bathroom has absolutely no space to hang a picture, so the shower curtain and rug will have to give me the color and pattern I crave.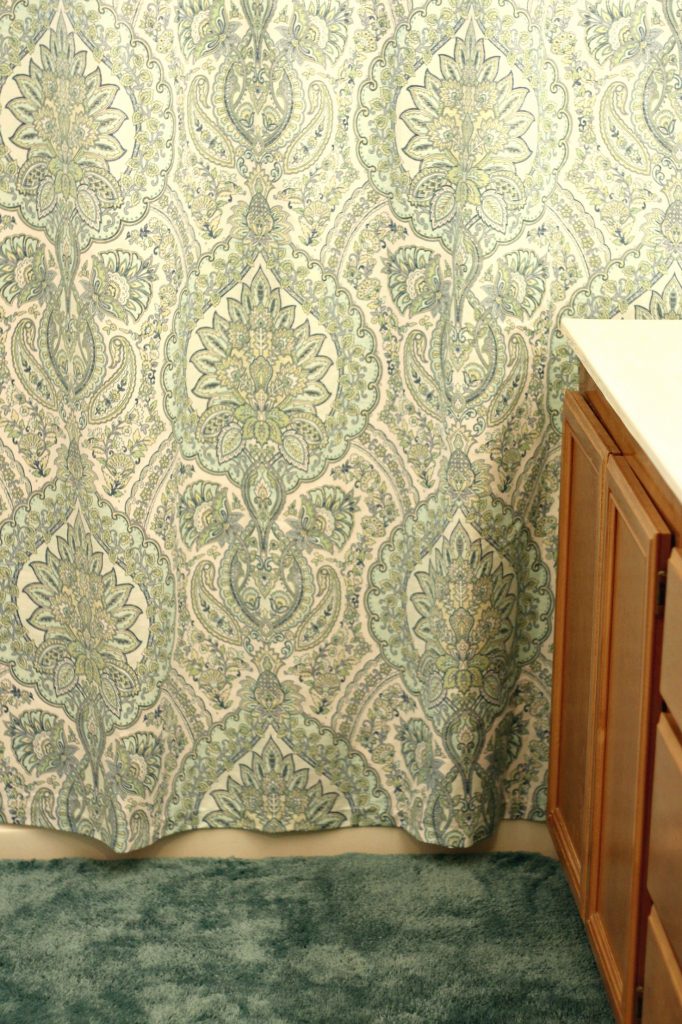 I needed a space for my jewelry even though I don't have a lot. It also adds a bit of decor to the room. The jewelry frames are a DIY project I made a few years ago. The "wall" the frames are hanging on is actually one side of the sliding door to our walk-in closet. Since it's a double door we just keep the one side stationary. When you're renting you just find a way to make things work.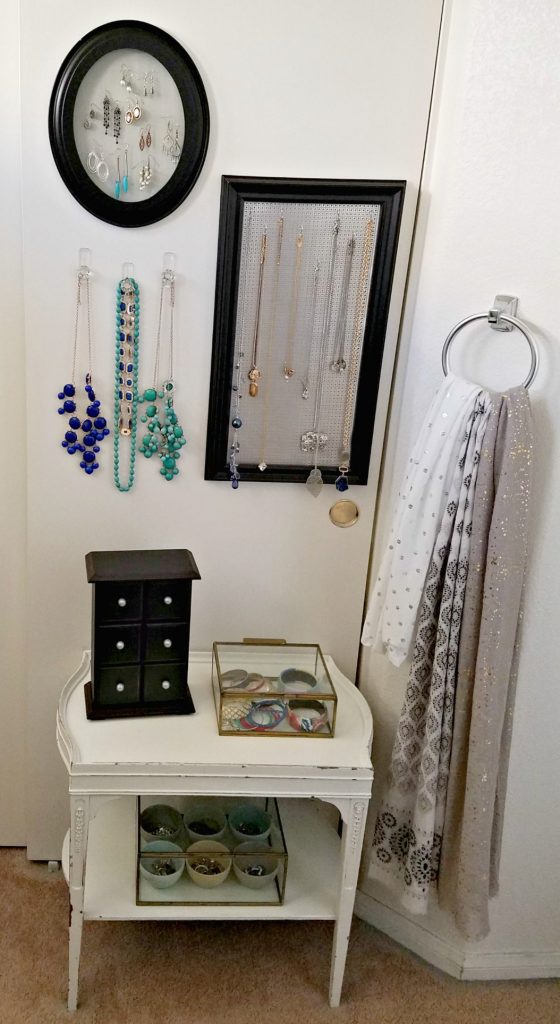 The other thing I don't like about this bathroom is that it's open to the bedroom. It was especially a problem if one of us was sleeping and the other was up and getting ready. If this were my home I would put in a nice barn door but since I can't do that I thought of an alternative solution. I used a tension curtain rod to put across the opening and then hung a long curtain from the rod. I like that you can't see into our bathroom from the bedroom now.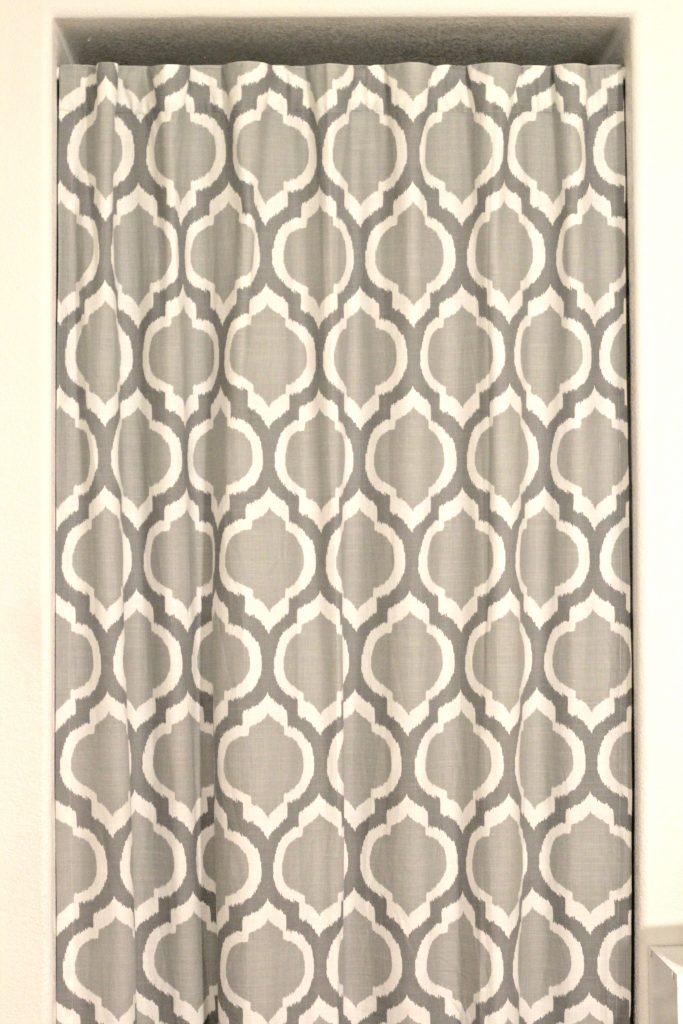 A few more things:
There wasn't anywhere to hang towels except on the shower door so I used command hooks on the toilet door for our towels (which is right next to the shower). You can see them in the second photo.
I used bowls, glass jars, the table, and things I already had for organizing.
The total I spent on the bathroom was $49 :
shower curtain – $13 (Target)
rug – $10 (Walmart)
shaver basket – $5 (Hobby Lobby)
shower rod – $10 (Walmart)
curtain rod – $5 (Walmart)
curtain – $6 (Target)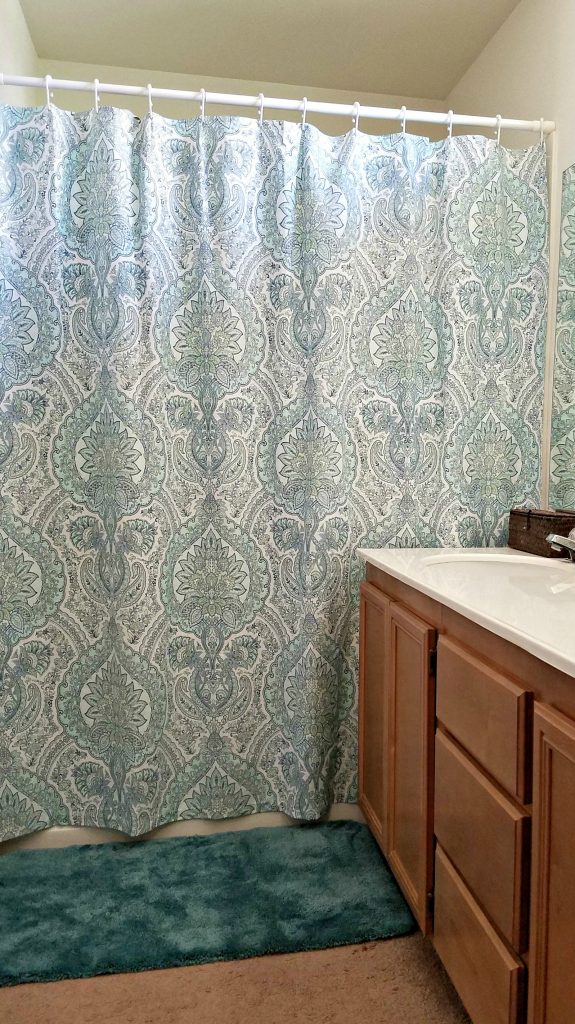 Pin it for later: