31 days of Loving Where You Live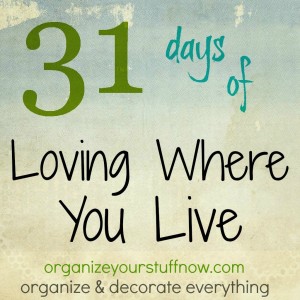 While I've followed many of the 31 Days series in past years, this will be my first year participating. Anyone can join in, you just pick a topic and blog about it everyday for the month of October. On October 1st there will be a link party so everyone who is participating can link up their blog.
So what does Loving Where You Live mean? It means whether you're in your dream home or a temporary place there are things you can do to make your home a place you want to be, a place that represents you and feels like home. I'd love for you to join me as I share simple ways to organize, decorate and update your home to make it a place you love coming home to.
Starting October 1st and going for the whole month I will be sharing simple ideas and projects with you everyday. Because I already have some other things in the works I will also be having some giveaways, reviews and other projects mingled in. There will be days where there will be 2 posts so don't forget to come back and see what else I have to share. The Home Decor and Organizing Link Party will still be taking place also.
I hope you enjoy the series. I can't wait to get started!
The 31 days of Loving Where You Live has started, go here for the first post.