I saved some of my baby furniture and hoped one of the kids were going to be able to use it for their baby. I'm so happy Whitney and Ty are able to use it. It has such happy memories for me and I love seeing it in use again. This was Amanda, Emilee, Zachary and Ammon's bassinet.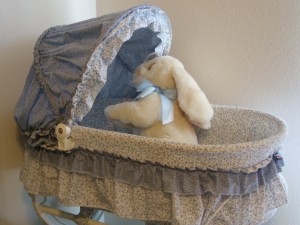 The crib was Zach and Ammon's. It is still in really good shape and didn't really need anything done to it. I love the bedding Whitney and Ty picked.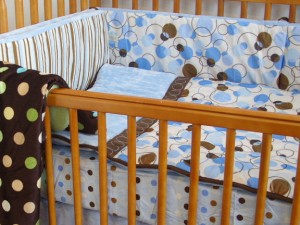 The changing table was white (apparently I didn't care they didn't match, because I had it with Emilee, Zach and Ammon). Whitney and I bought paint to match the crib the last time I was here.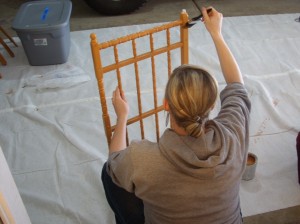 And then we painted it in their garage, in really cold weather. I took a long warm shower after painting.
It matches the crib perfectly.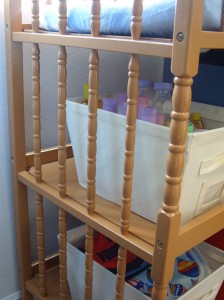 The original colors for the room were blue, brown and tan. Red was added later thanks to the inspiration taken from this little puppy.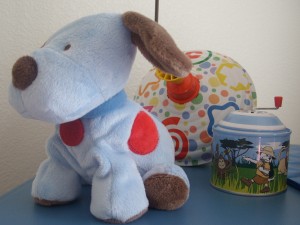 A red tote was added to the changing table. Whitney bought red material to make the curtains and she's painting a shelf red.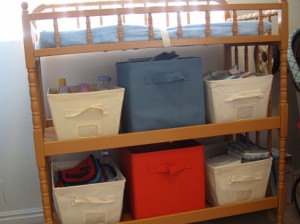 These pictures were Ammon's and will tie in nicely with the other decor in the room. We're going to make an "A" for Airplane picture to go with them.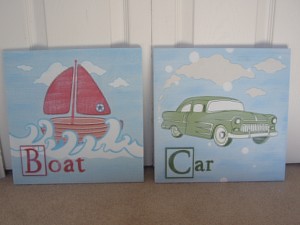 I can't believe how lucky we were to find this paint in the color Whitney wanted for Maddux's dresser. We found it at Lowe's when we were in St. George over Spring Break. I don't have a before picture of the dresser, but it was a dark walnut stain.
And here it is now. Don't you love it?! Ty sanded and painted it. I had seen the drawer pull idea in a magazine (I don't remember which one) and suggested it to them.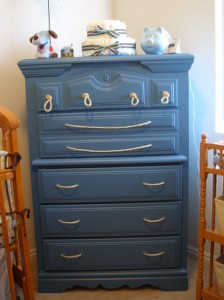 Doesn't it look perfect for a little boys room? I love the detail on the dresser. And they got it for free from a friend.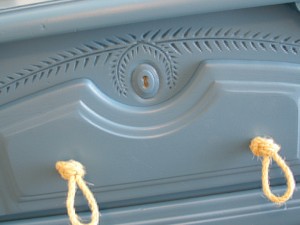 I think they've done a great job, so far. Baby Maddux came about 11 days early so they didn't get quite finished with everything. They're going to be moving in about 2 months for Law School. They'll only be about a half hour from us then and we're so excited.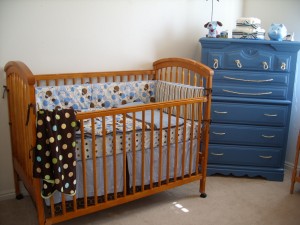 Here's another picture of Maddux, because he's just so cute.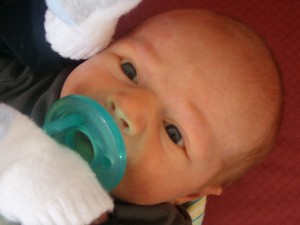 I'm linking to:
Trash to Treasure at Reinvented
DIY Day at A Soft Place To Land
Power of Paint Party at Domestically Speaking
Transformation Thursday at The Shabby Chic Cottage
Strut Your Stuff Thursday at Somewhat Simple
Hook Up at House of Hepworths
Look At Me at Fun To Craft
Home and Family Friday at Home Is Where My Story Begins
Remodelaholics Anonymous Meeting at Remodelaholics
Saturday Is Crafty Day at Along For The Ride
Saturday Nite Special at Funky Junk Interiors
Weekend Wrap-Up Party at Tatertots and Jello
Sunday Showcase Party at Under the Table and Dreaming
Metamorphosis Monday at Between Naps on the Porch
Motivate Me Monday at Keeping It Simple
Before and After Party at Thrifty Decor Chic
Baby Week at Oopsey-Daisy