Welcome to my 2016 Craft Room Tour! I'm so happy you're here. I love looking into homes and seeing how other people live and what is special to them. Homes should tell a story of the person who lives there. I hope my home tells the story of my family. I know my craft room tells a story of what I love to do. Because we're renting and are small on space I hope you will like the room, but also be able to get some thrifty and space saving ideas to incorporate into your own space.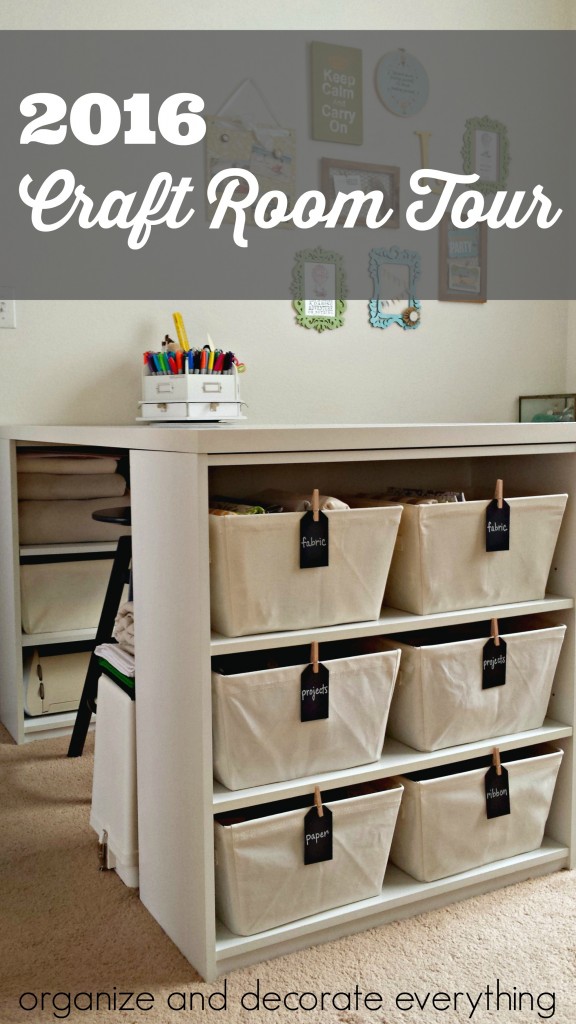 This post may contain affiliate links for your convenience. There is no additional cost to you.
My craft room is small but full of supplies and storage ideas. It serves as a craft room, decor storage room, and occasional guest room. I arranged it so I could fit all those elements in the room while still following the landlord's rules of no nails in the walls (eye roll). There are double doors but the other one is seldom open unless I need more light or to make it easier to show the room.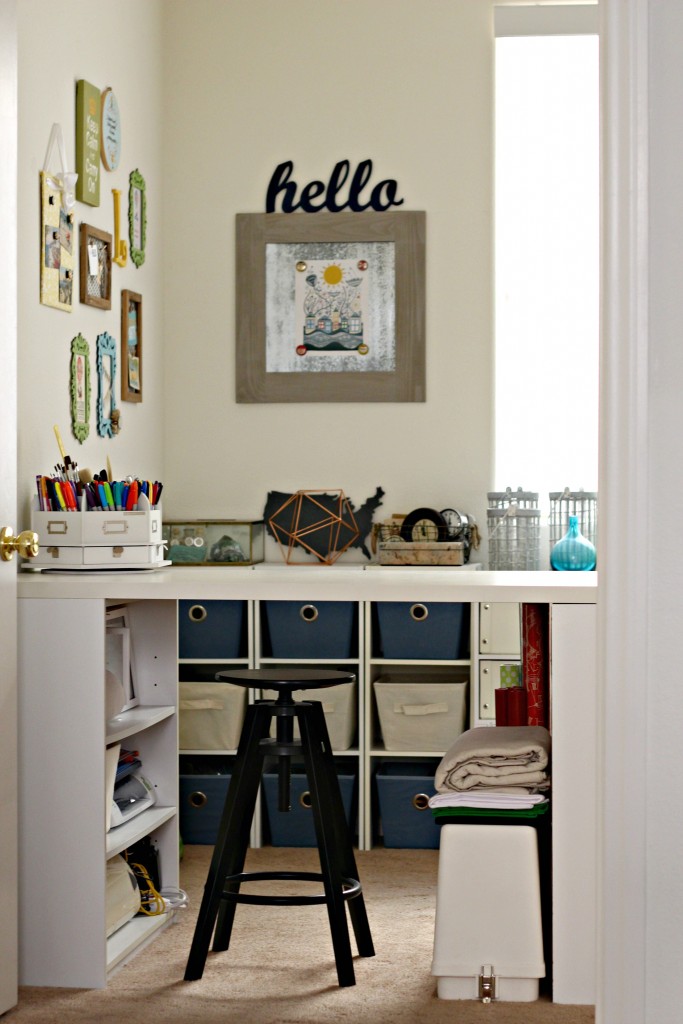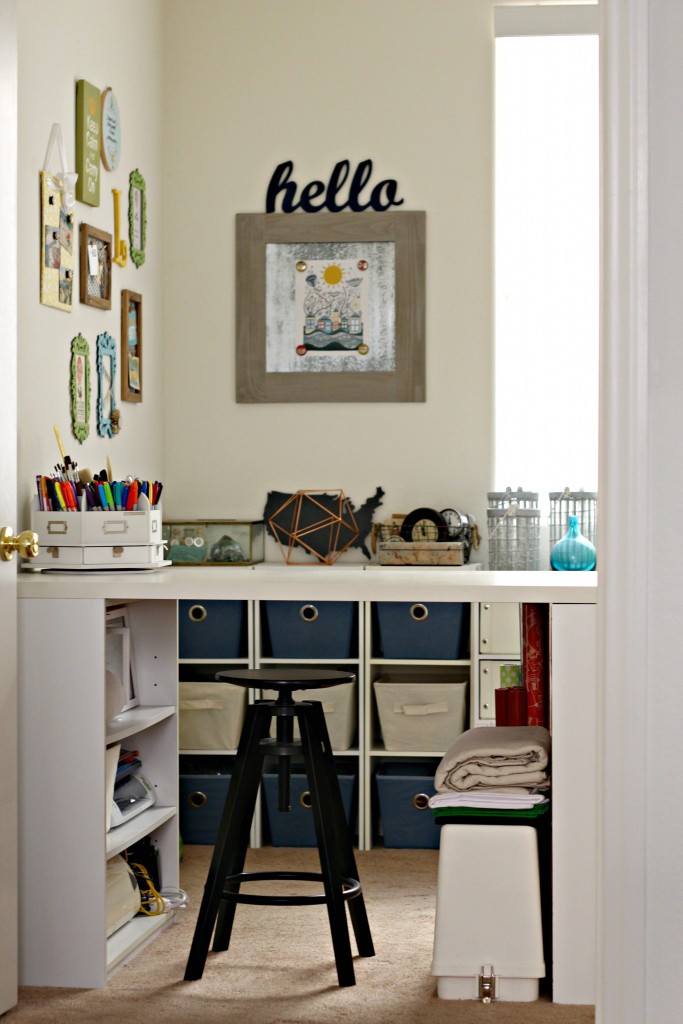 Because of the room size I can't really get a photo of the whole room so I'm breaking it up in sections. I made the craft table about 4 years ago and I love it because I can change it to fit different rooms needs when we move again. At our last house it was in the middle of the room because the room was larger. The table is simply 2 short bookcases from WalMart and an IKEA flat desk top. The 2 bookshelves were facing out at our last house but to put it against the wall and still be able to use the shelves, I faced one shelf in and one out. You can see some of the storage underneath in the first 2 photos. My sewing machine and wrapping paper is under the table because I really don't have anywhere else to keep it when I'm not using it.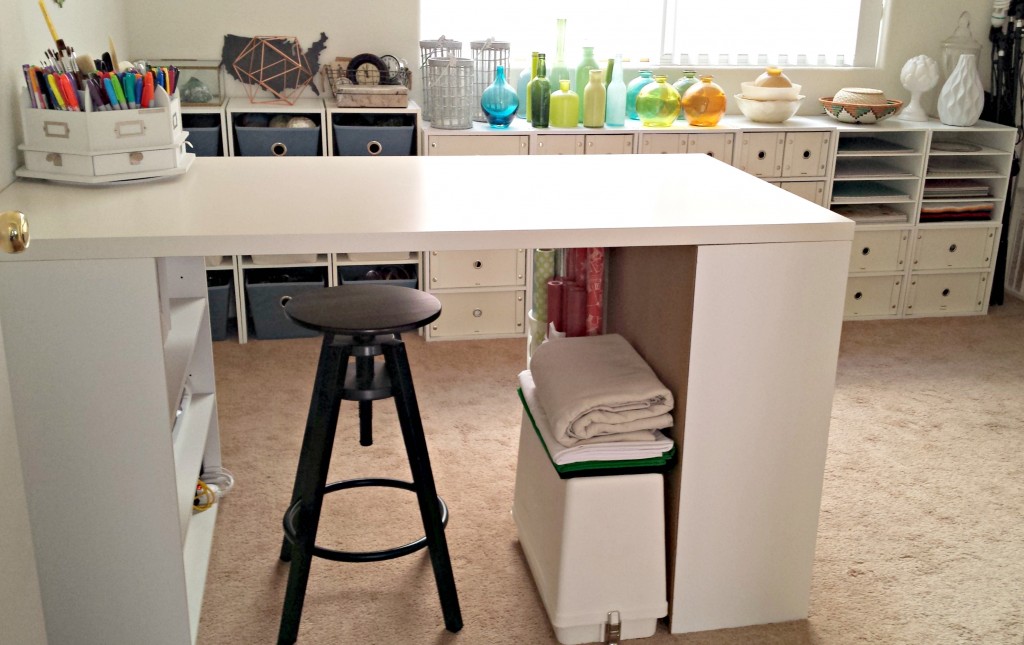 The organizer in me has to have a neat room before I can create, so this little organizer is the only thing that stays on the desk all the time. I love Sharpie markers! The kids and I use these supplies almost daily so I wanted them easy to get to. The kids even do their homework here sometimes, especially if they want my help.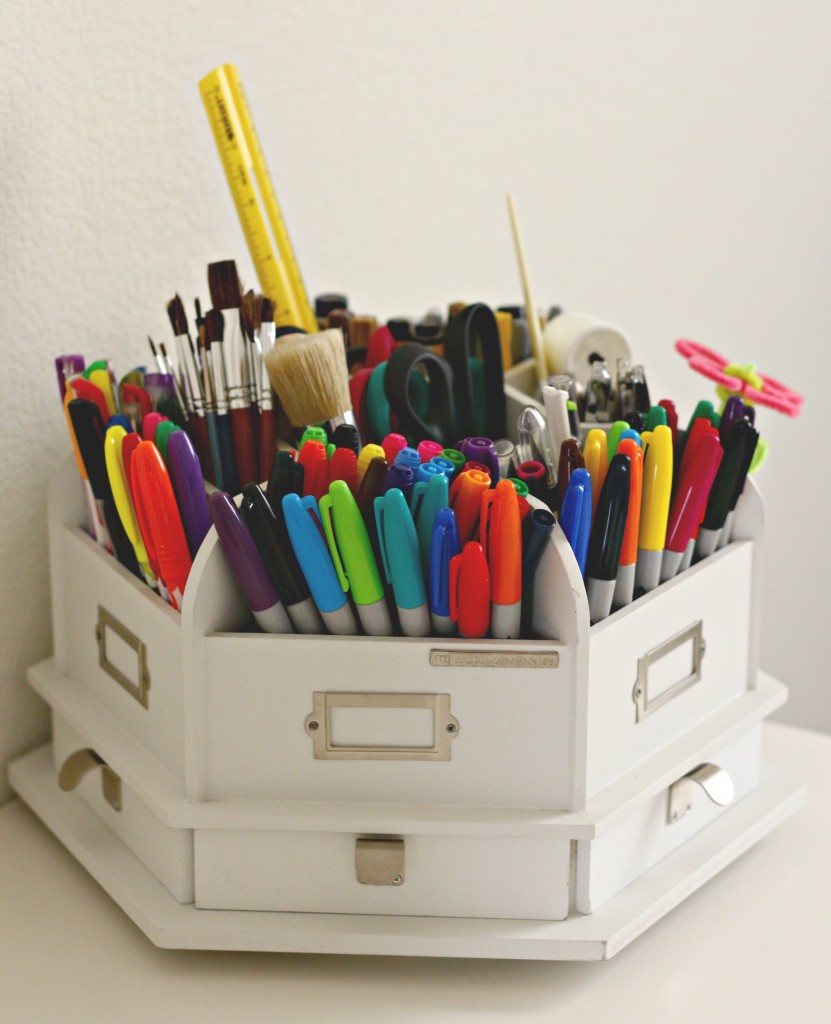 The end of the table also has fabric totes for projects I'm working on, fabric, paper packs, and ribbon. The labels are chalkboard so I can change them if I decide to store something different.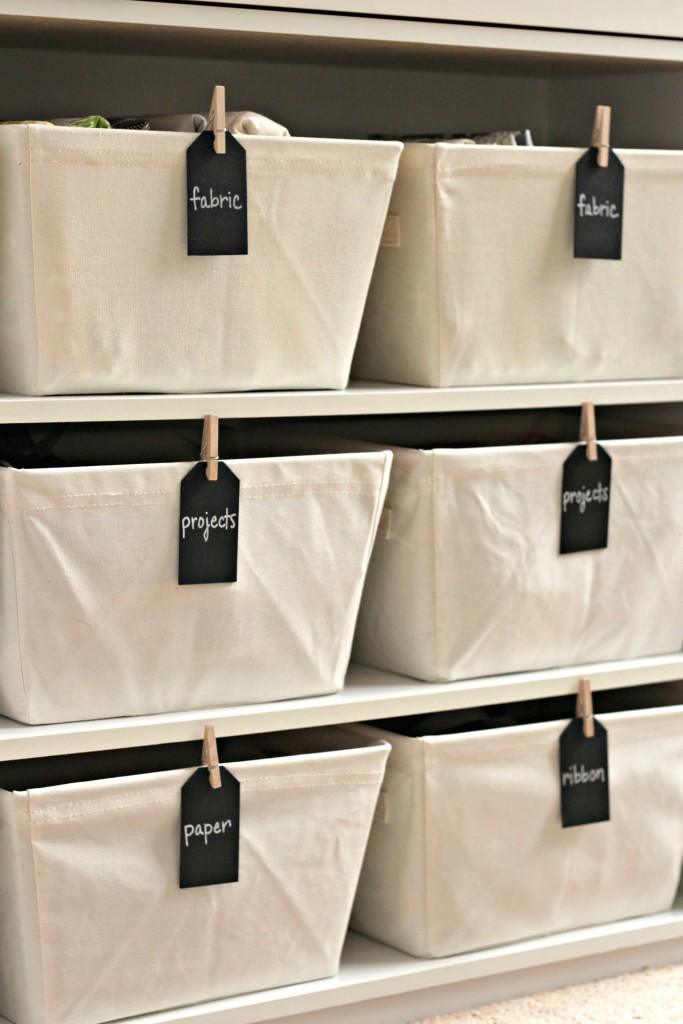 In my last house I had a basement to store regular home decor items, but not here so I store as much as I can in these totes behind the desk and on top of the shelves. Items are changed constantly so I try to keep everything as neat as possible.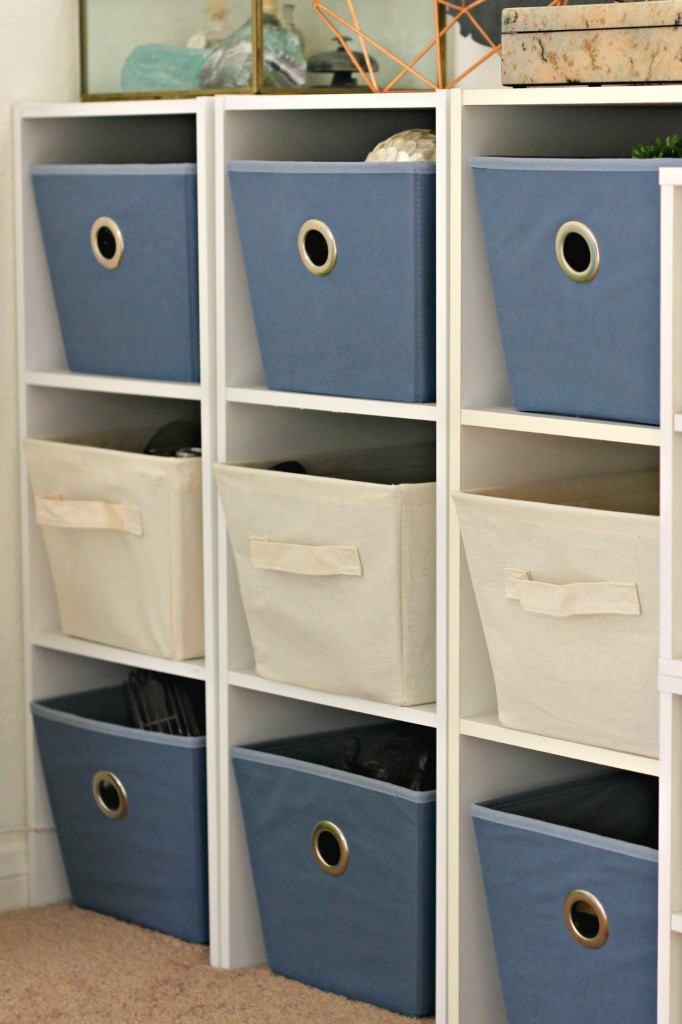 So speaking of guests. Sometimes we have babies and the space in this area is perfect for a portable crib close to their parents, with even a little room to spare. My desk stool is stored under the desk when not in use.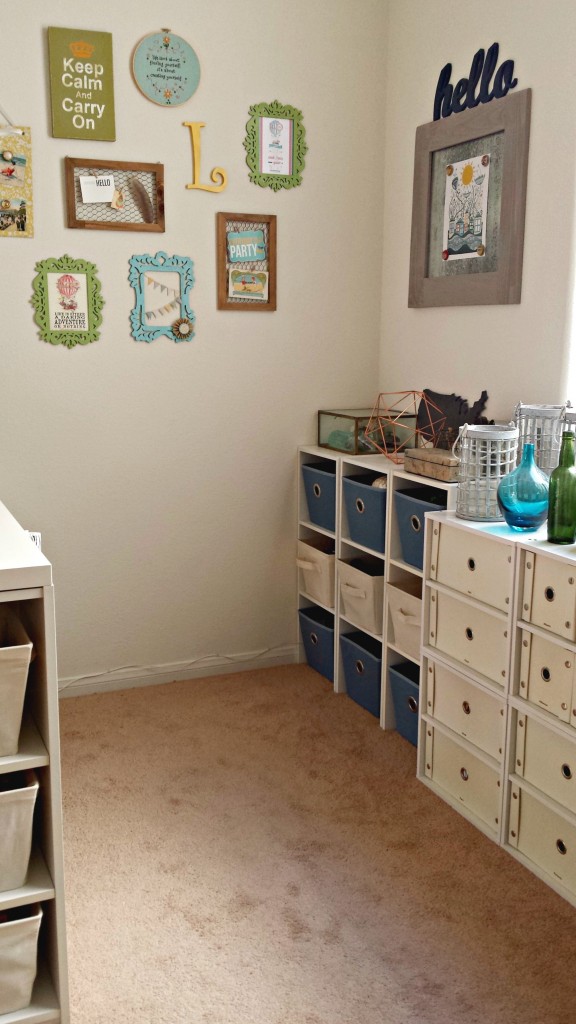 I use command hooks or sticky tack to hold all the pictures and things in this collage. One day I decided I needed something on the wall so I grabbed some supplies, painted a few things, and it was done. The hoop art was actually a towel my mom gave me that says: life isn't about finding yourself, it's about creating yourself. I love it! My daughter made the Keep Calm and Carry On and also the fabric covered magnetic board.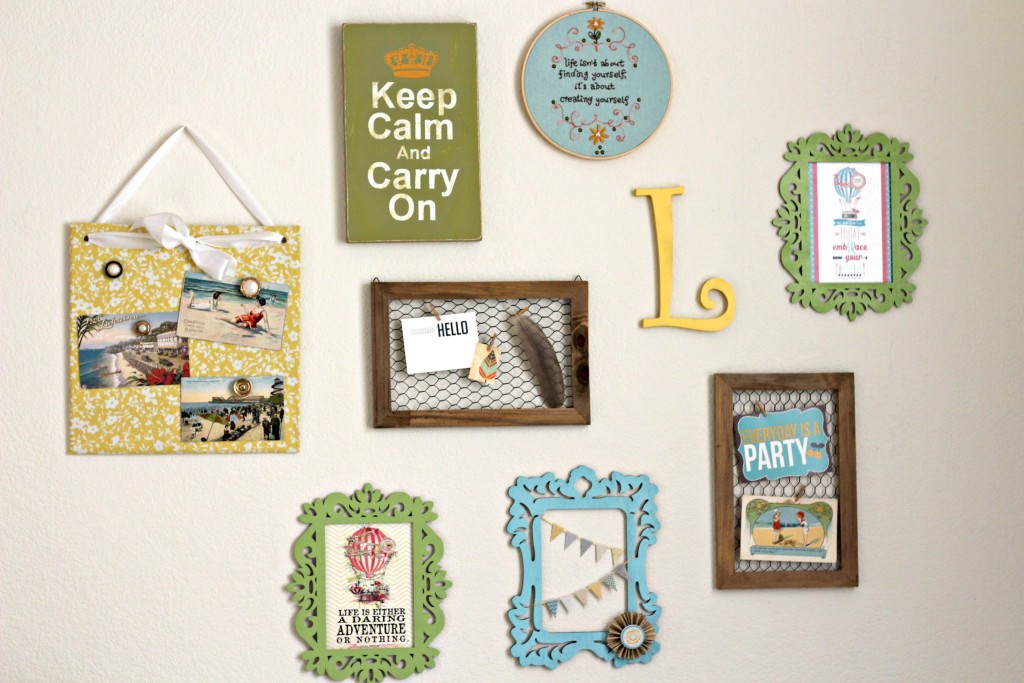 Under the window I have a wall of cubbies with drawers. I bought them at Roberts years ago and they have been the best thing to keep me organized. They aren't available anymore but they have something similar at Michael's. I also store more decorating items on top. I have been debating whether to put them in something or just leave them out. I still haven't decided. The top drawer on the far left holds kids craft projects and all the other ones hold everything from small wood pieces to jewelry supplies.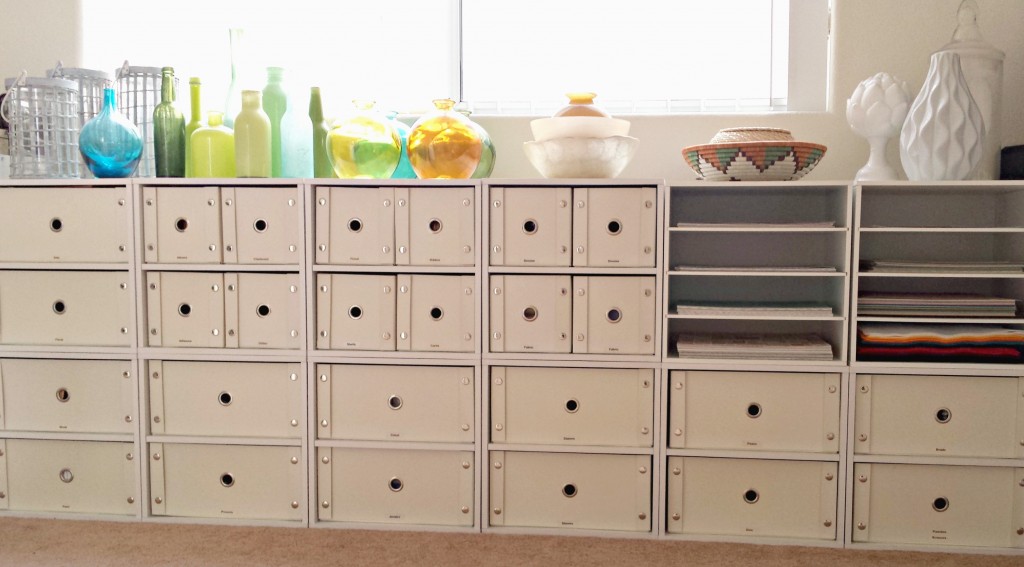 As you can probably tell all the furniture and storage pieces I have a very versatile. Since we have moved a lot and I never know how a space is going to be, I can easily move things around to fit the space. I like to use free or very cheap containers to store small objects in the drawers. Below are the containers I like to use.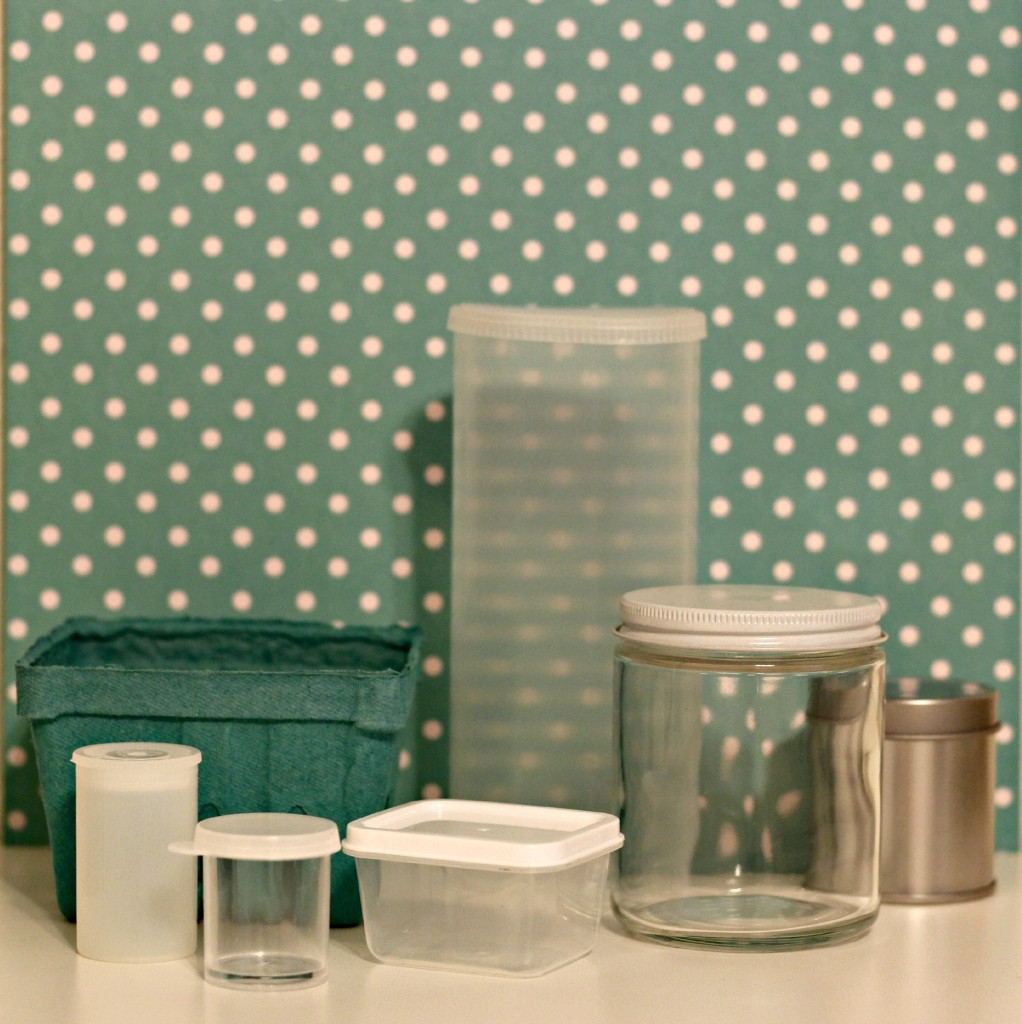 There's a small piece of wall next to the window on the right side of the room where I like to display cute prints or quotes to inspire me. They are easy to change often since I use washi tape to hang them. Right under these prints are where I store all my lighting and photo taking equipment.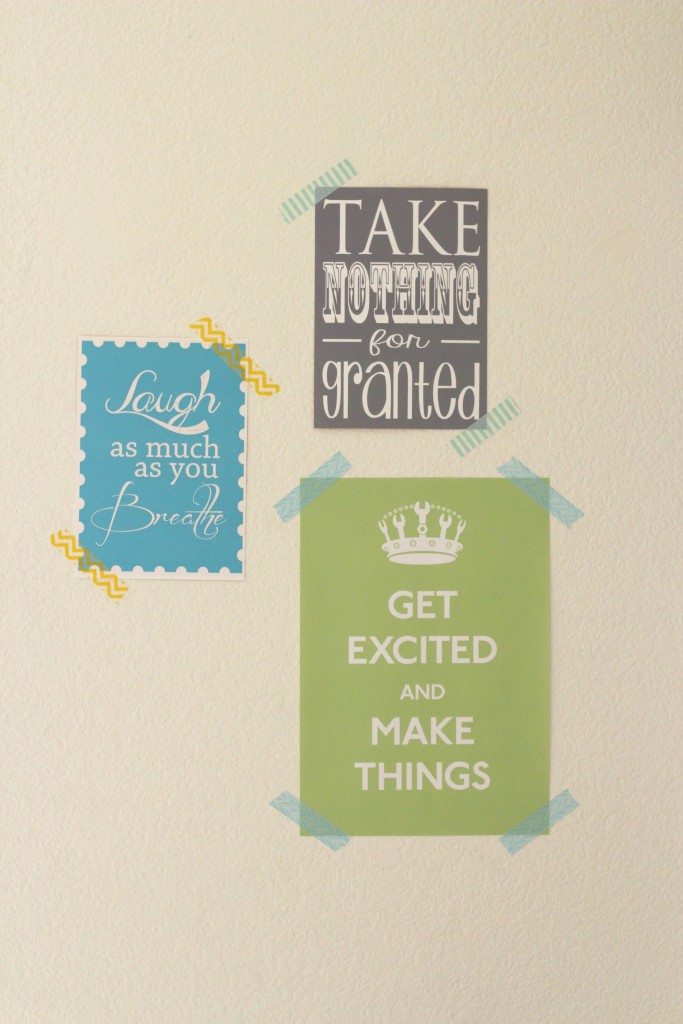 The wall on the right side of the room holds most of my supplies and is a mix of different pieces of furniture, but it all works. I try to keep all my shelves and pieces white so I can mix them and change them to different rooms if I need too. I'm always taking into consideration that we might move. There is so much going on here that I hope you can see everything.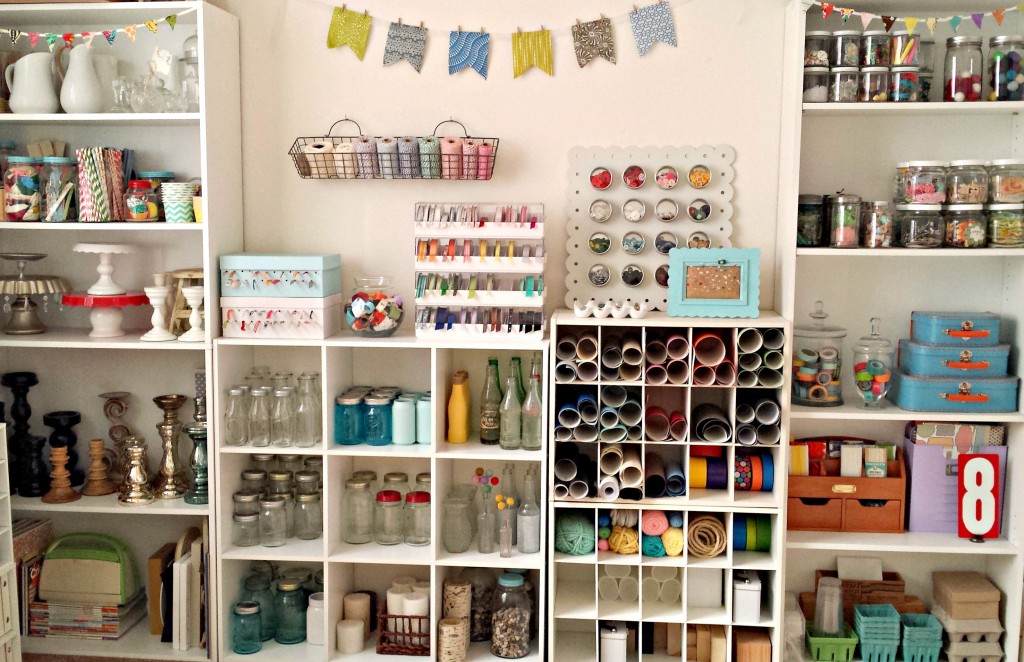 The shelves on the far side hold more decor items. We have a small kitchen too so pitchers and cake plates are stored in my craft room.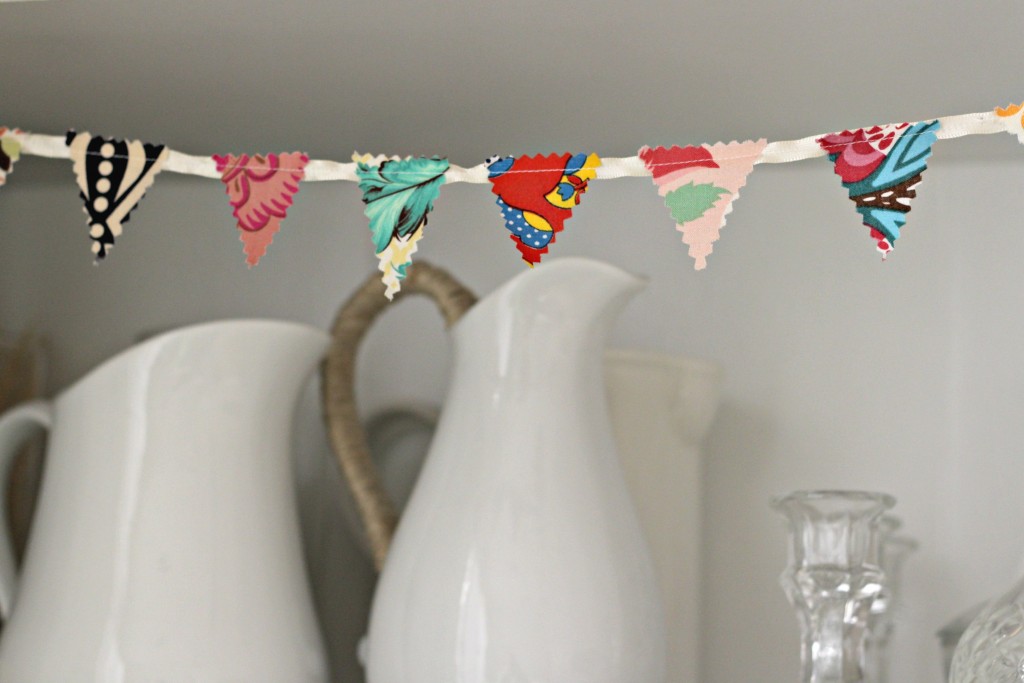 This shelf holds most of the party supplies. I try to keep everything together.
I have a lot of jars because I use them in gift giving, home decorating, props for food posts, organizing, and parties. I love glass jars!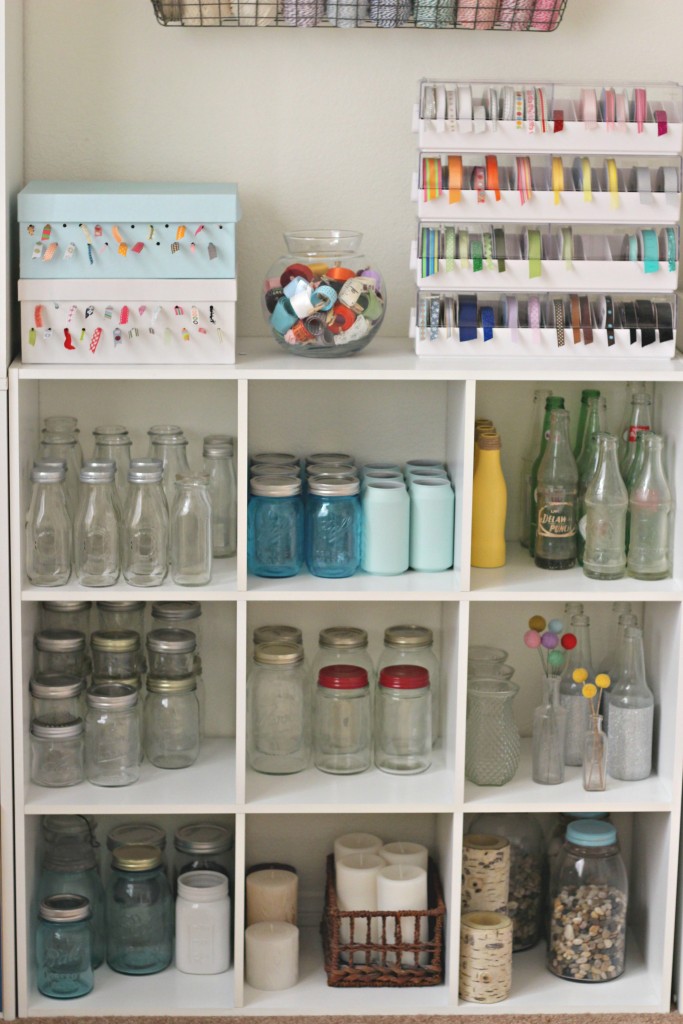 On top of the jar shelf I have different ways of storing ribbon and in a basket above that, bakers twine.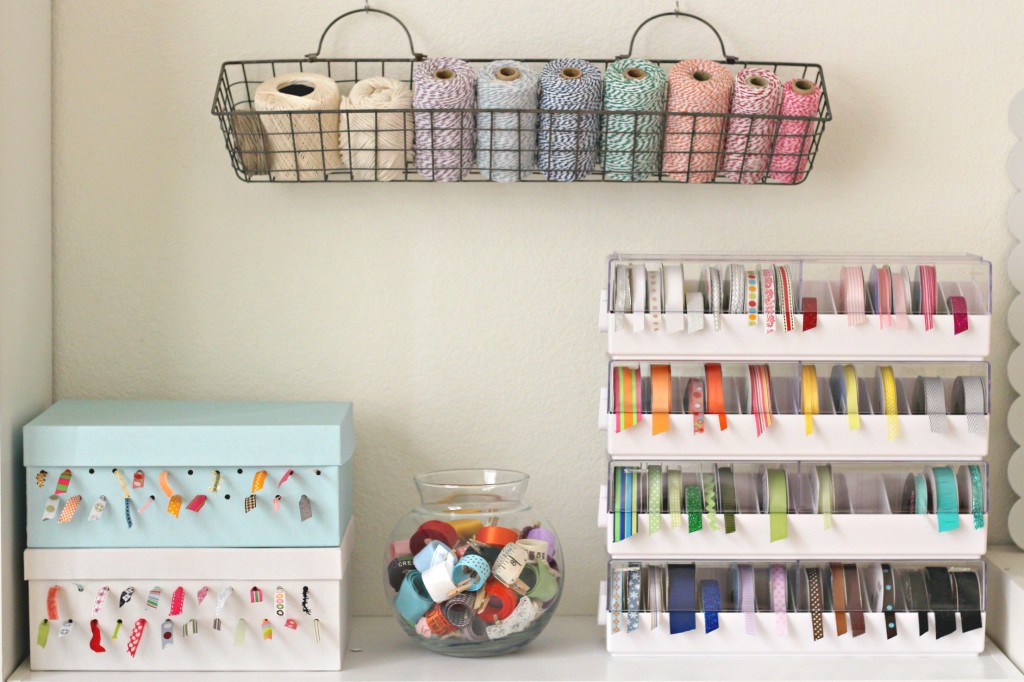 A magnetic board with containers hold most of my buttons. A ceramic egg carton holds small items and the pin cushion holds pretty pins.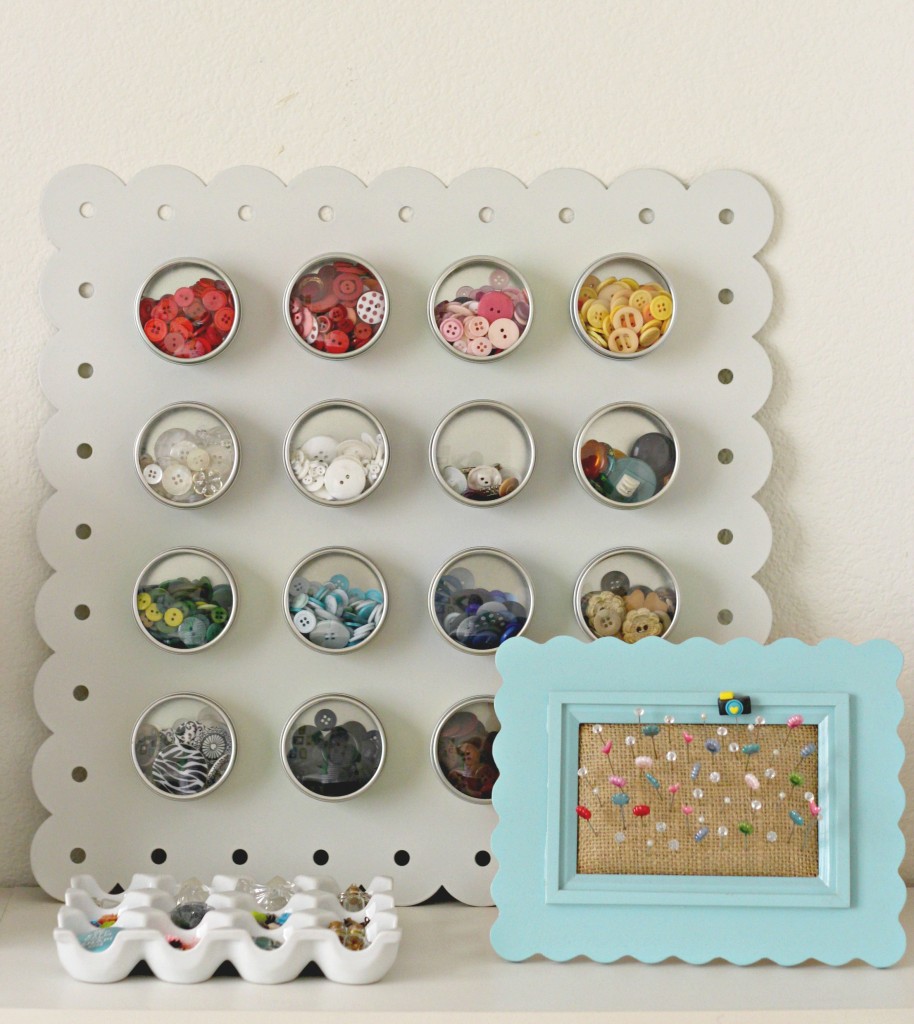 I just started buying felt balls and I am obsessed. There are so many fun things to with them. I might need 2 more jars soon.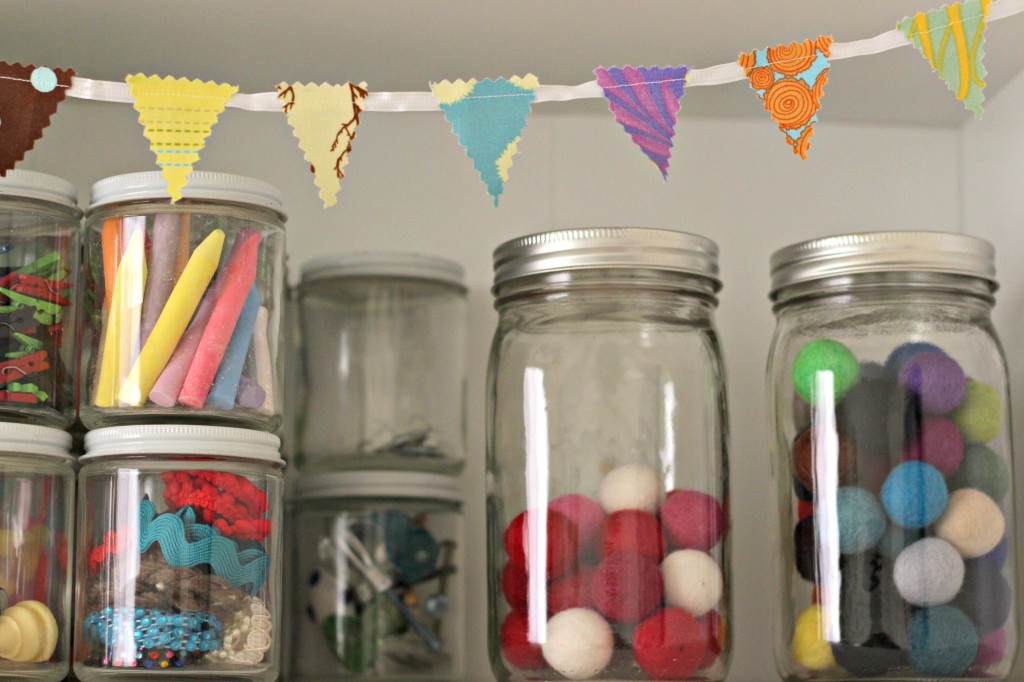 I use all kinds of jars to store items. Some are free, they're clear so you can see what's inside, and everything looks good under glass. The blue jars are old Ball jars, the ones for twine are for sugar, the small ones were free with other art supplies, and the squarish ones are from the dollar store.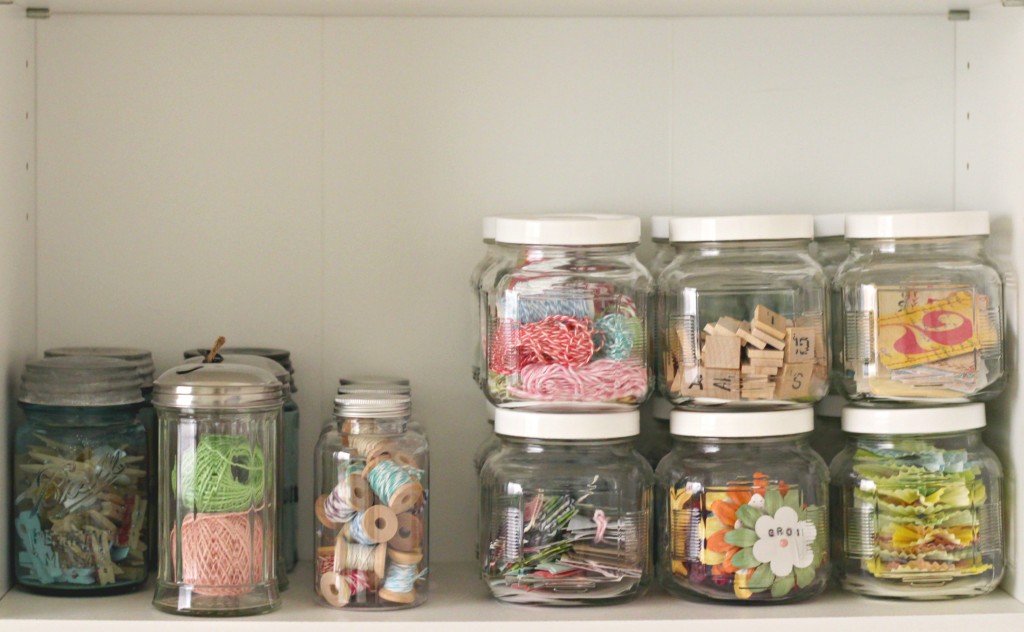 This is my favorite shelf. Washi tape looks so good in glass jars, I almost don't want to use it. Almost. The little blue cases are so cute too, they were my daughters when she was little. They once held small dolls and accessories and now they hold scrap paper and craft supplies.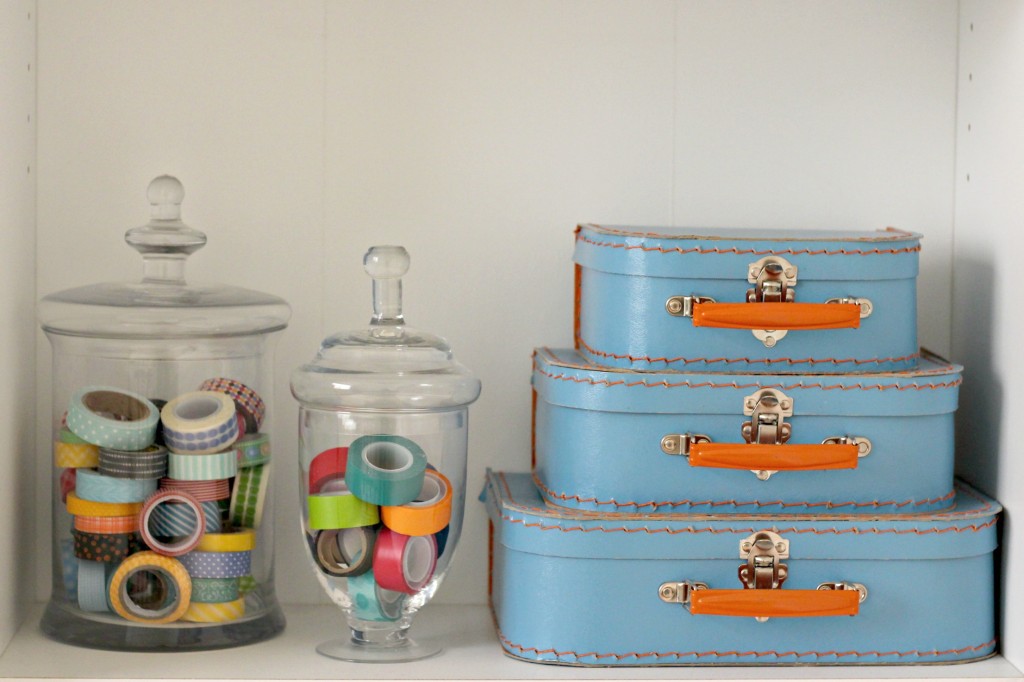 The floor space is large enough for a queen size blow up tall bed and the portable crib is close by, in the space next to it. There is even some space on the shelves for phones, wallet, water, or anything you might need in the night.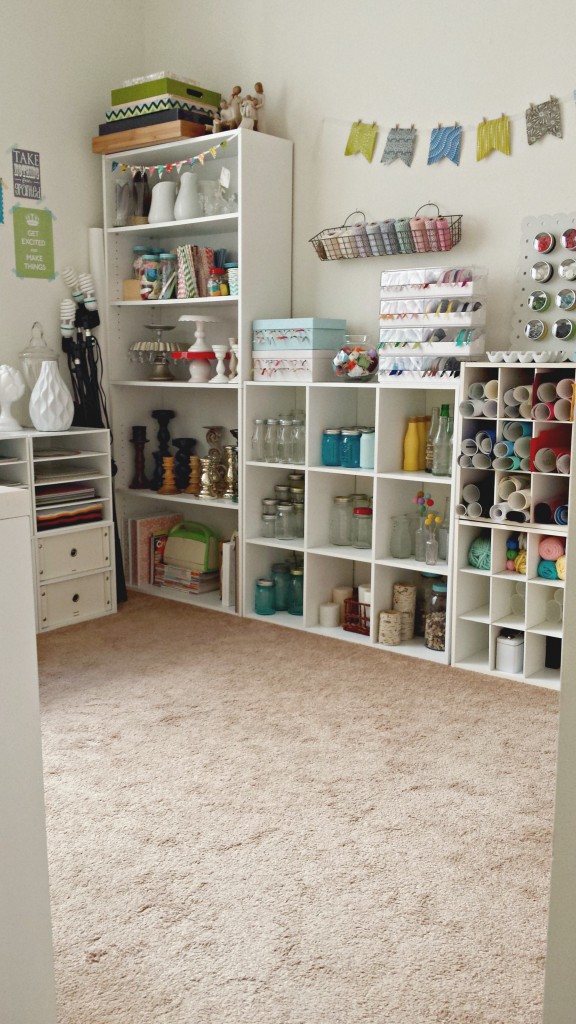 The top shelf of the bookcase on the right, holds a lamp that can be brought down when we have guests. I just found a chair I am fixing and painting to go in that area. The chair can also be used as a side table for guests. Hopefully I can show it to you soon.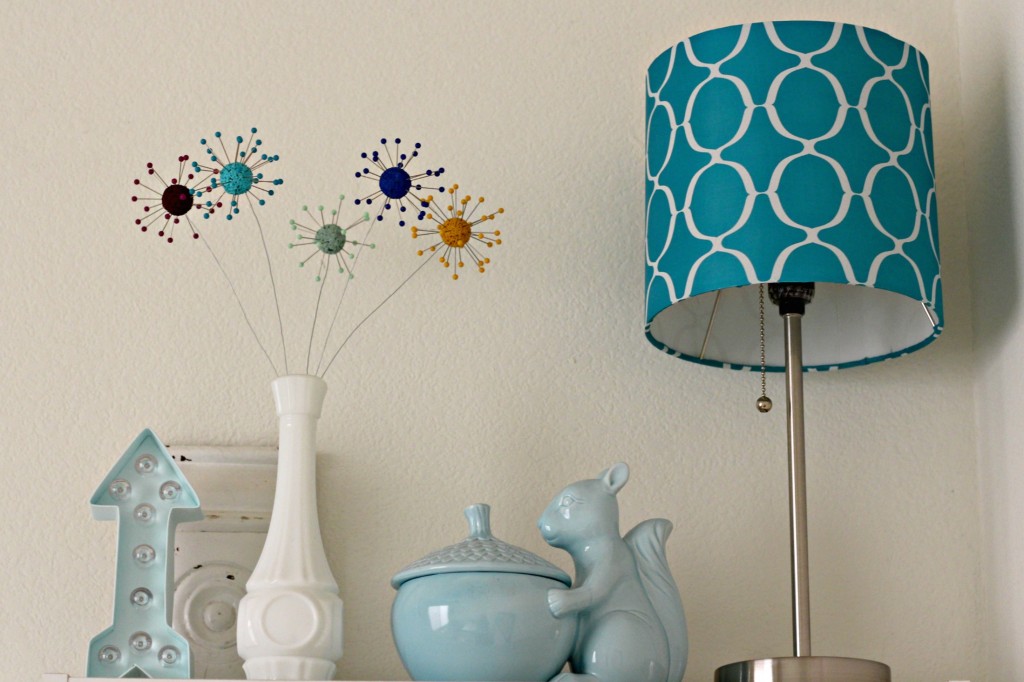 The last wall has a large photo holder I made a few years ago. I love that I can change the photos out often because they are held on by clips.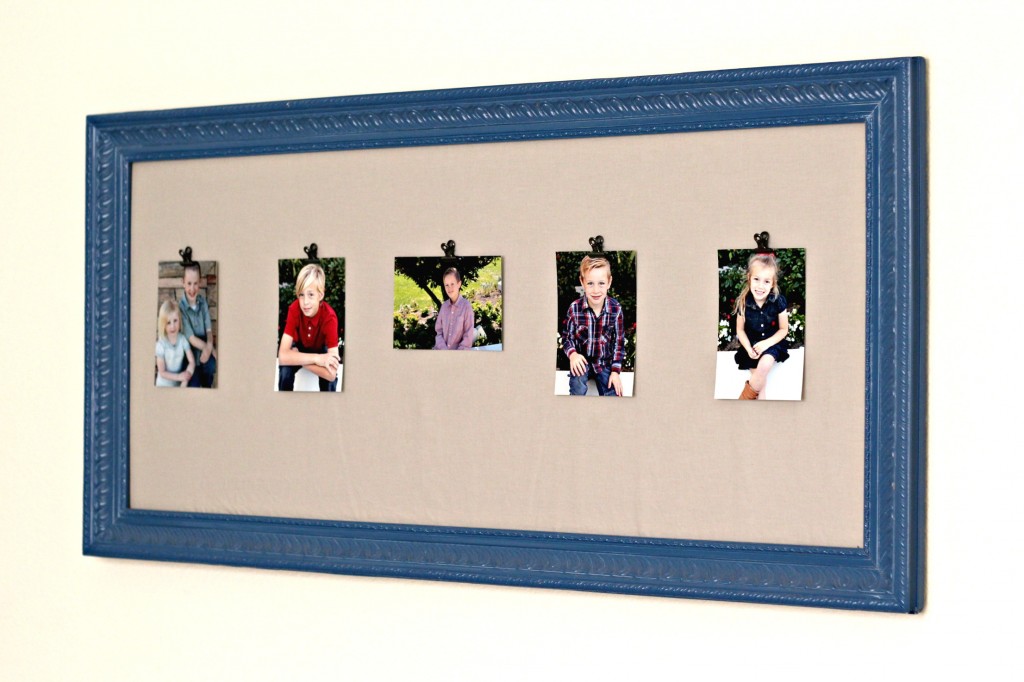 I didn't mean to write a story but I hope you enjoyed the tour of my craft room. Don't forget to visit The Country Chic Cottage where she has links to all the Craft Rooms in the tour.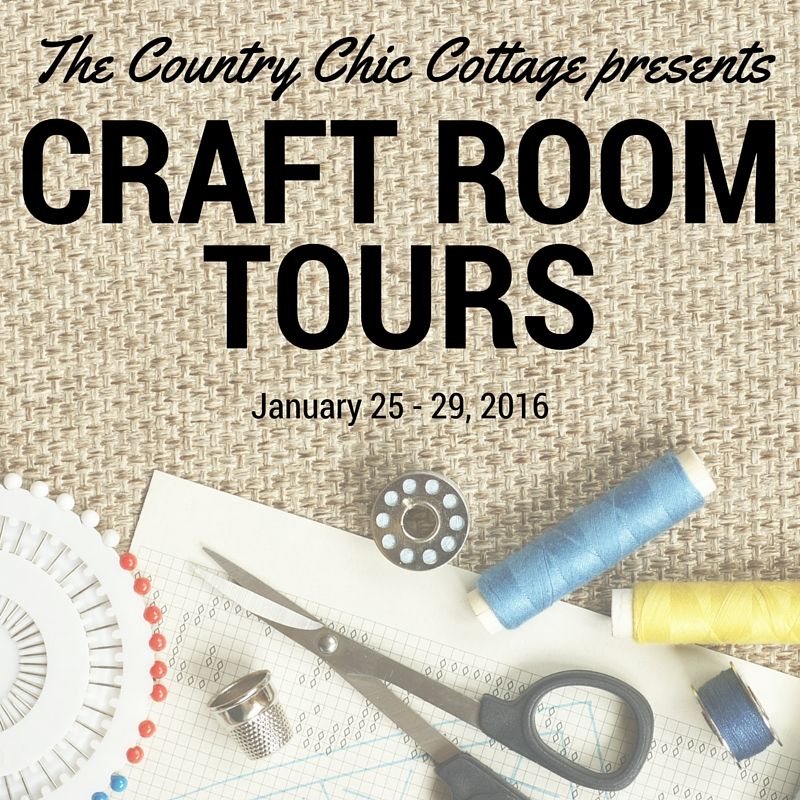 If I missed anything or you have any questions just leave a comment and I'll try to answer it.