This shop is part of a social shopper marketing insight campaign with Pollinate Media Group™ and Dr. Pepper Snapple Group but all my opinions are my own. #pmedia #TENways  http://my-disclosur.es/OBsstV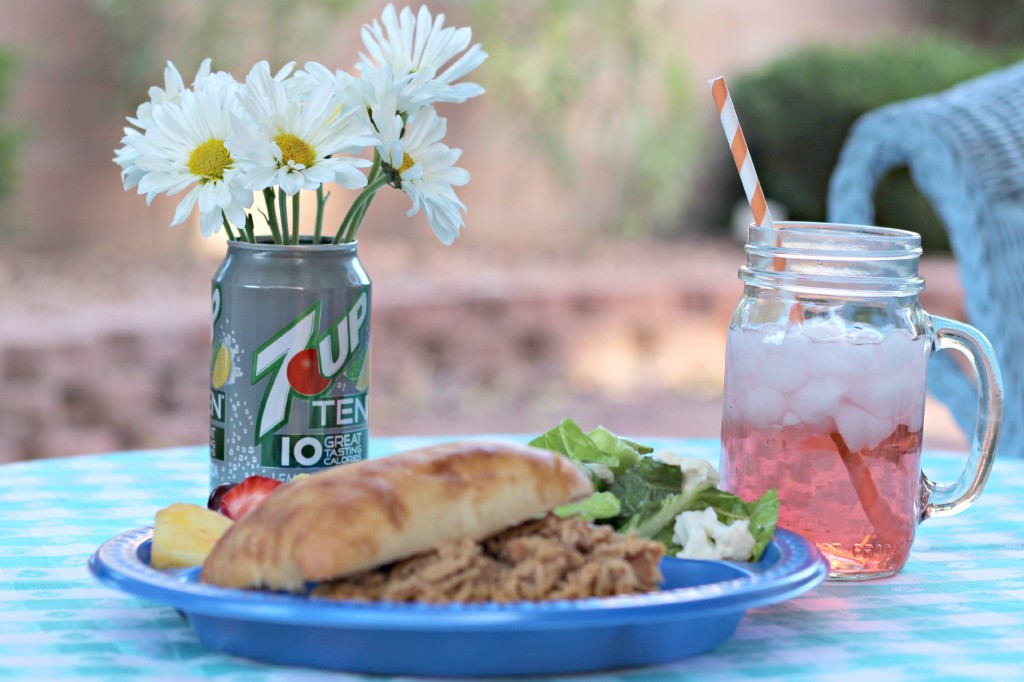 It seems like everyone is trying to eat lighter and healthier lately. It's been a concern of mine for a while because as you age it gets harder and harder to stay at a healthy weight. The last thing I want to do is drink and eat empty calories. It's also important for me to teach my kids to eat healthy and limit their sugar intake. One of the easiest ways to do this is to alter a recipe that is already a family favorite. One of my favorite Summer meals is this Crock Pot 7Up Shredded Turkey. The best thing about this meal is that you can start it before you go to bed at night then finish it in the morning and keep it on warm until it's time for dinner. It's perfect for picnics, barbeques, or Summer parties. By substituting 7Up Ten you get full delicious flavor with only 10 calories per serving.
7Up Shredded Turkey Recipe
Frozen Turkey Breast
2 cups 7Up TEN
3/4 cup reduced sodium gluten-free soy sauce
1/8 cup oil
Rinse turkey and place in crock pot. Mix 7Up TEN, soy sauce, and oil in medium bowl. Pour sauce over meat. Cover and heat in crock pot on low for 10 hours. A few times during the cooking process turn the turkey to get the sauce on all sides. After 10 hours, place the turkey on a cutting board and remove all the bones. Now is also a good time to remove any of the fat you were not able to remove before cooking. Shred the turkey using 2 forks. Strain the juice to get all the bones and fat out then return to the crock pot. Place the shredded turkey back in the juice and mix well. Place crock pot setting on warm or serve setting until ready to serve. Serve on hard rolls. This also freezes really well in freezer bags.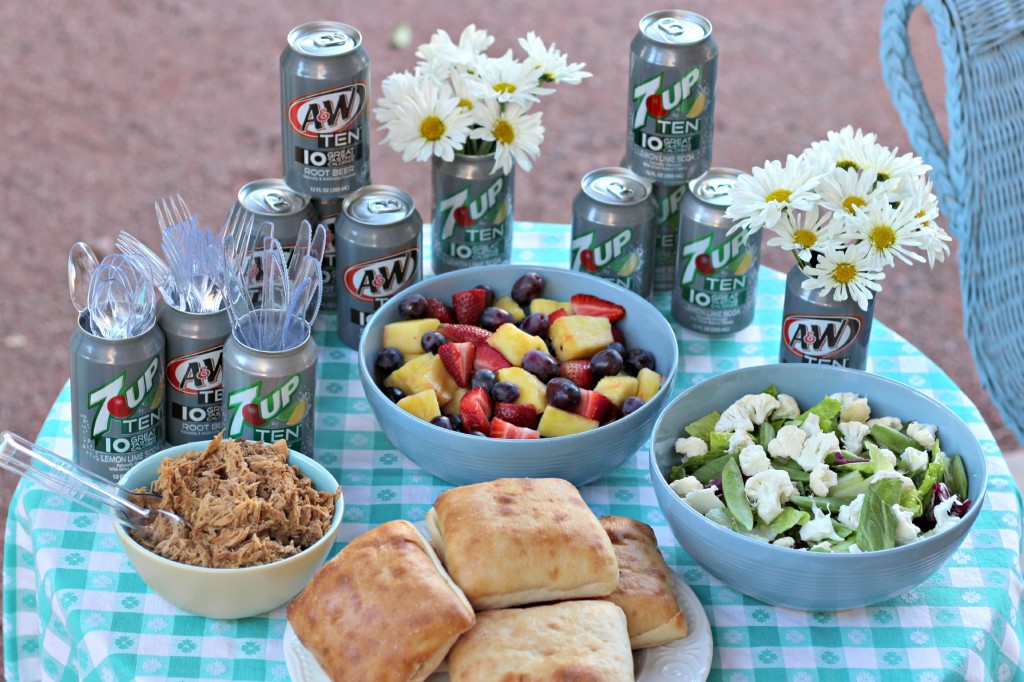 The weather here has been gorgeous and we had the perfect day to have a little family picnic. Family meals are important to us and just moving it outside in warm weather makes it special and more enjoyable. It only takes a few minutes to set up a lovely table for your family. I used empty 7Up and A&W TEN cans as vases for the flowers and containers to hold the utensils. I know my picky kids will always eat fresh fruits and vegetables so those are always included with the meal.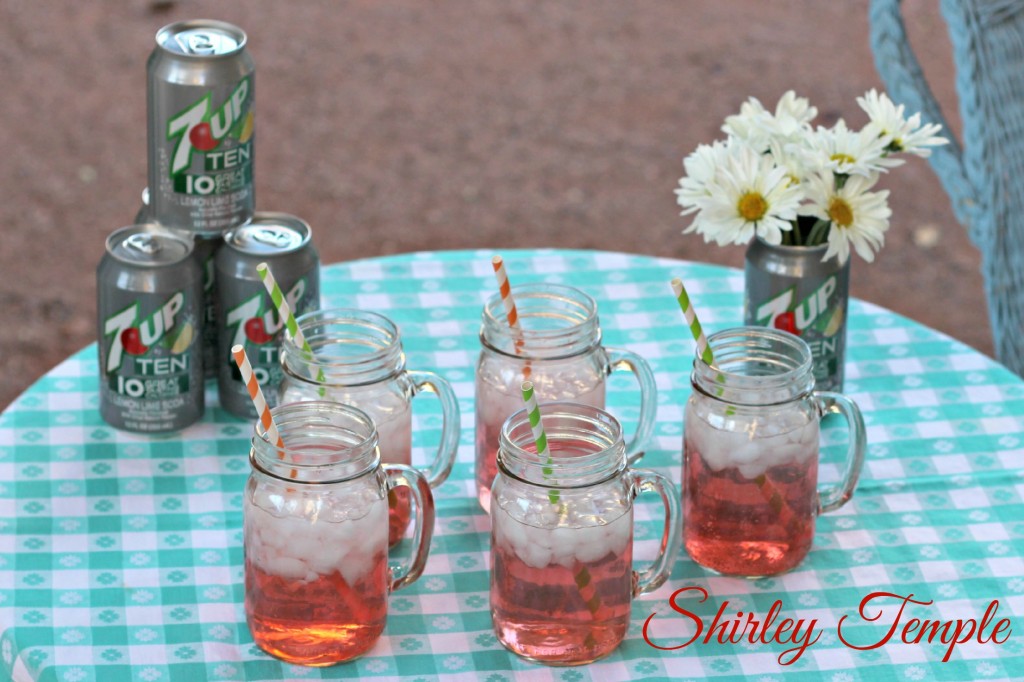 One of my favorite drinks as a child was a Shirley Temple. The first time I had ever had one was on a flight from Indiana to California. I was only 11 and thought it was so special. I introduced it to my kids when they were younger but we rarely had soda in our home because of the empty calories so they rarely got it. The kids were so excited when I made them Shirley Temples using 7Up TEN. I didn't even mind when they had a second glass.
Shirley Temple
Ice
7Up TEN
Splash of Grenadine
Add a striped straw and stir!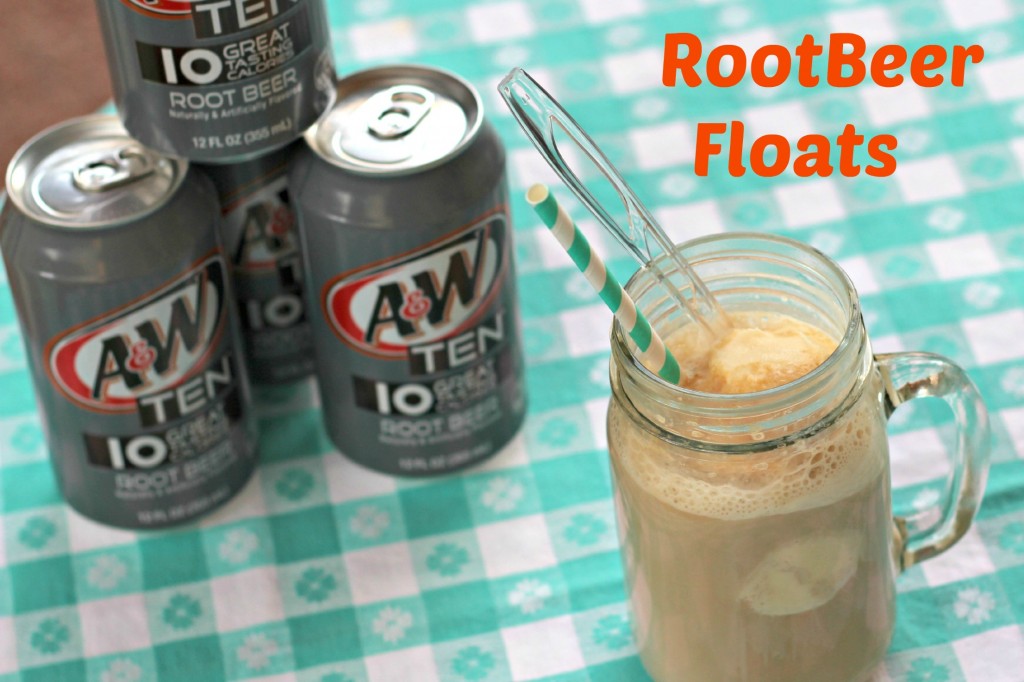 We can't forget dessert, right? I'm not much of a root beer drinker although I do like a good root beer float every once in a while. Hubby on the other hand loves root beer! He loved A&W TEN and had already downed a can while I was preparing dinner. He kept saying how good it was, so I'm pretty sure it was a hit with him and obviously there was no lack of great taste.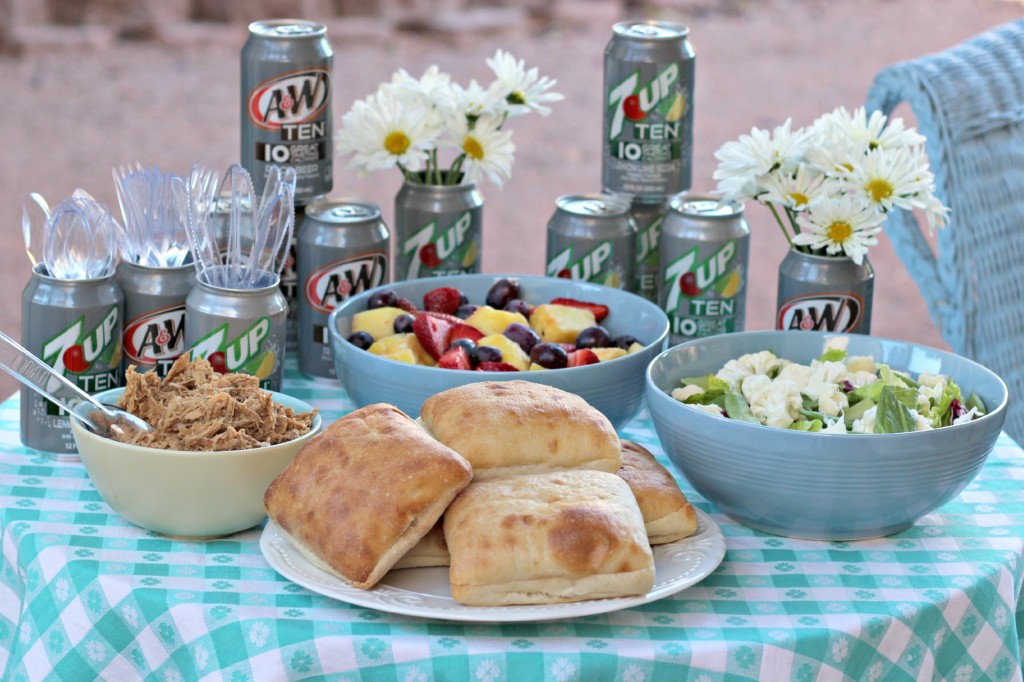 Drinking and cooking with Four TEN Calorie DPSG Products is one way to cut calories but I'm always looking for other ways to make my favorite recipes taste delicious but have less fat. Here are some of the ways I've found to alter my recipes but not the taste.
Healthy Substitutions Click to Print!
It's as easy as thinking about what you're eating and serving your family and trying to make it a bit healthier. I doesn't really take anymore time, just a little thought. The kids are loving how the fridge is stocked.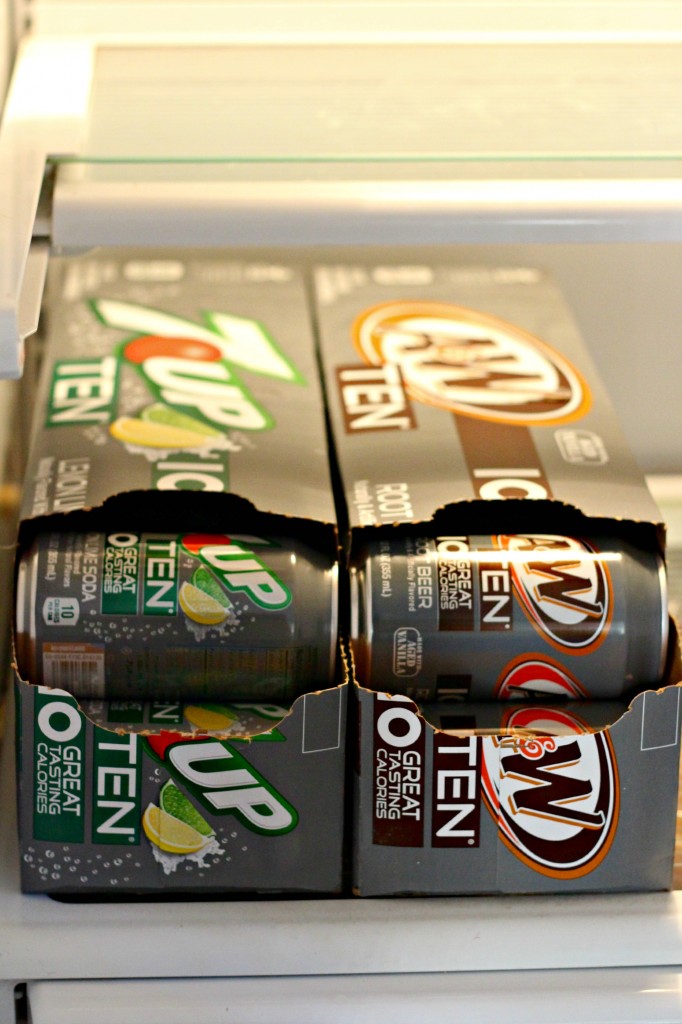 Being a busy wife and mother, as I'm sure you are also, I like to limit my shopping to one store as much as possible. I was able to purchase everything for our meal at my local WalMart. Here is a coupon for .50 cents off of the purchase of two 2-liter bottles or 2 4-pack cans of 7Up TEN, A&W TEN, Canada Dry TEN, RC TEN, or Sunkist TEN soda. If you share the coupon you will be directed to a $1.50 off coupon. This coupon is available from 3/27-4/17 while supplies last.
Learn more about Four TEN Calorie DPSG Products on WalMart's Website, DPSG Twitter, and DPSG Facebook page. #TENways