The Winners of last week's Kitchen Challenge are:
1st: Vanessa's Kitchen
2nd: Hayden's Organized Kitchen
3rd: Crystal Walker from Crabby Home
Congratulations!!! We will be putting you in contact with each sponsor so that you can get that prize…. AND, you qualify for the GRAND prize at the end of this month's challenges!!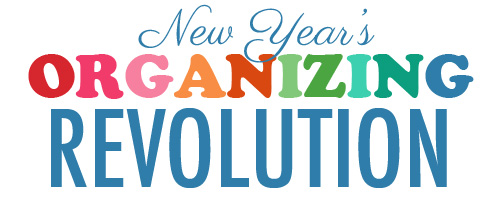 We created this challenge to help you get a jump start on your organizing this year. Our challenge will only last 4 weeks so we encourage you to join every week and be eligible to enter to win some fabulous prizes. There will also be a Grand Prize drawing at the end of the 4 weeks.
Are you ready for week 3 of our organizing challenge? This week is closets! I have to say one of my favorite things in the world is an organized closet. I love having everything in it's place and knowing right where to find what I need. Even though everything in a closet is behind closed doors I still like having it neat and tidy. What about you? Have you been organizing your closets?
I haven't had the money to update our closets with new systems so I do the best with what I have. I know a lot of you are in the same boat so I hope this will give you some ideas. I have used these Closetmaid shelves in many homes and like them because I can change them around and move them anytime I like. Just make sure to secure them to the wall. I also like to use bins and baskets on the shelves to keep things corralled. My #1 tip to keeping closets organized is to purge regularly. If you're short on space always think vertical.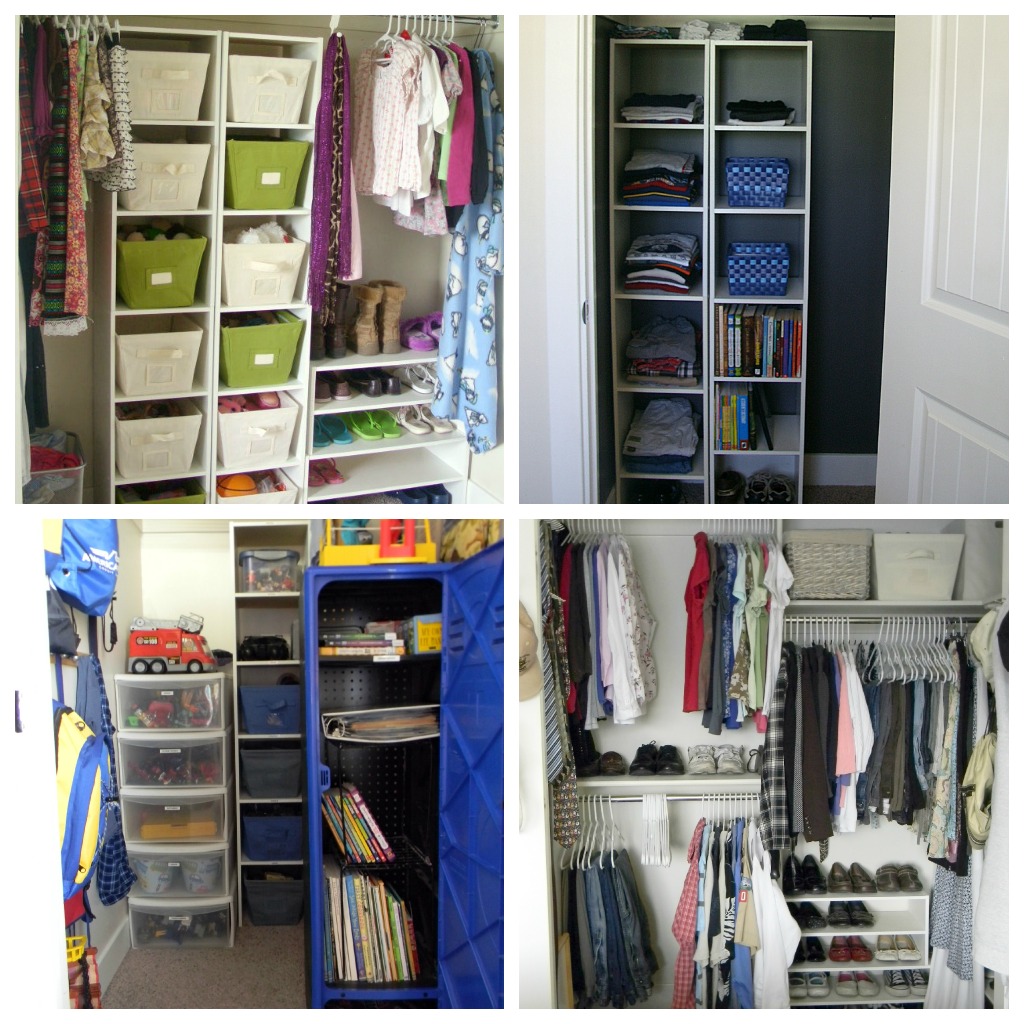 I also like to use the doors for storage whenever possible. Over-the-door shoe organizers are one of my very favorite organizing tools. And apparently I like hooks too. I love the ones I added to the inside of Zach's closet.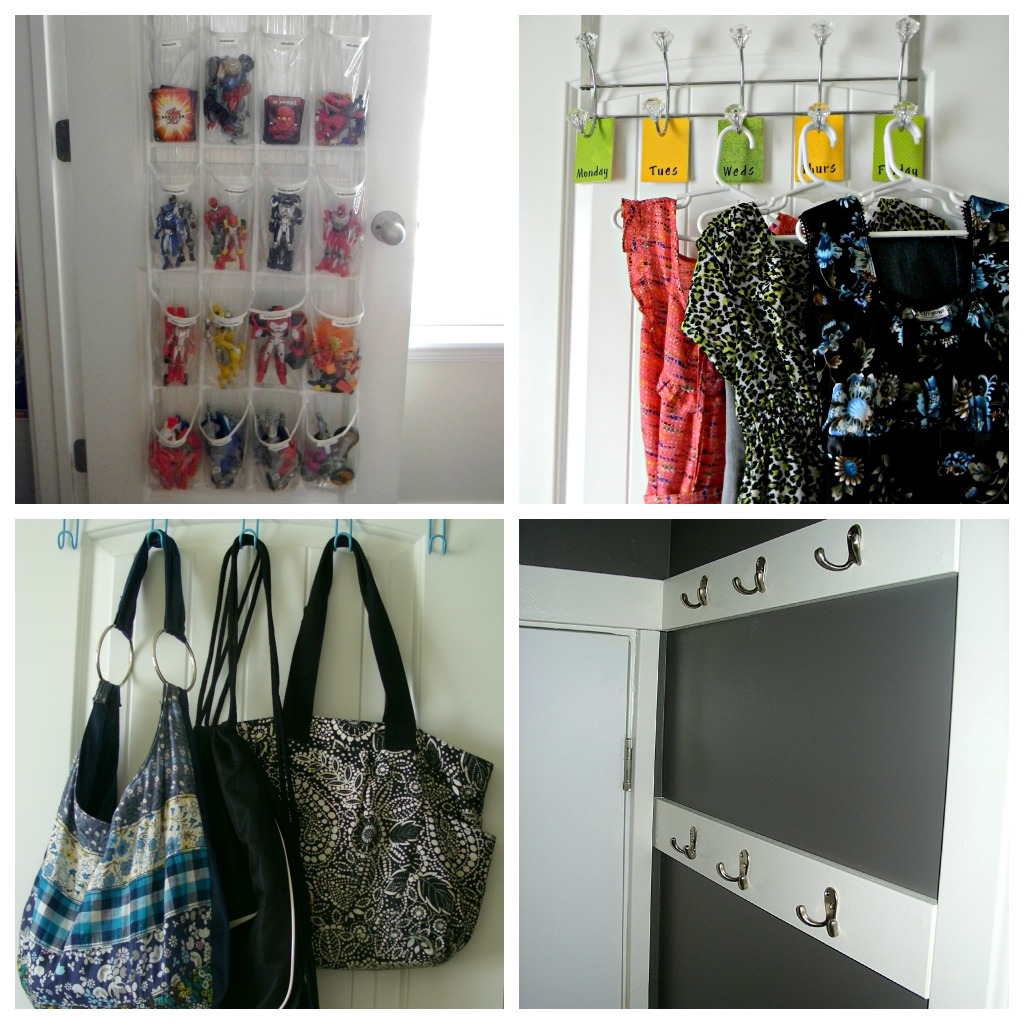 If you don't need a closet for what it was intended, turn it into something else. Our coat closet was teeny tiny and wasn't being used well, so we built a mudroom (that I will share with you later) and turned the coat closet into a movie closet. Hubby built the shelves and I painted. It took a day and about $25.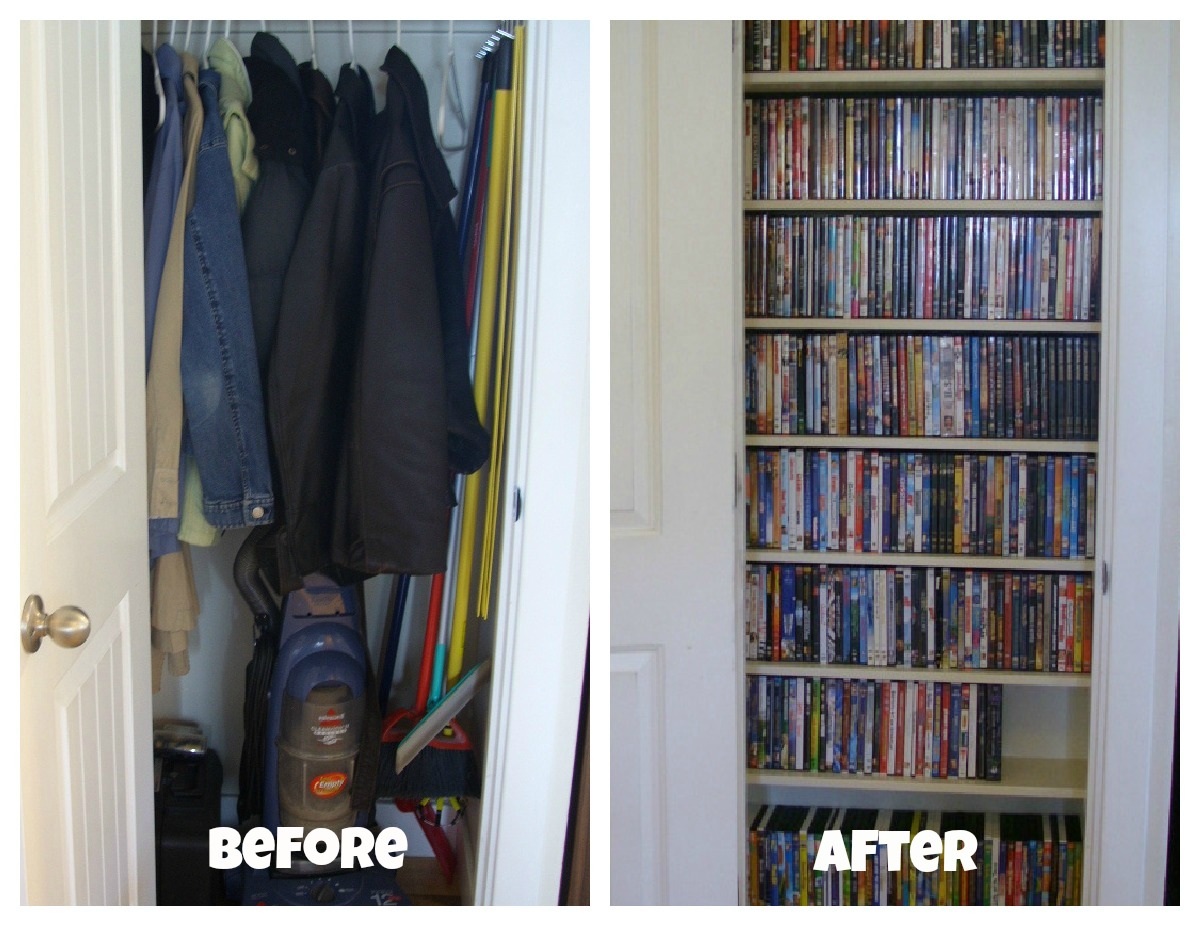 What do you do if you don't have a linen closet? I have 3 bathrooms and not 1 linen closet. A woman did not design this house! Here are some ideas if you don't have a linen closet like me. I also store guest towels in a basket in my laundry room.
Now it's your turn to get your closets organized and share your spaces with us. Organize one or all of them, but make sure to link up before Friday at 6am.
To join our week 3 challenge, follow these 5 steps:
1. ORGANIZE YOUR CLOSET space.
2. TAKE PICTURES of your organized space. Anna has great photo tips here.
3. LINK UP to the challenge from your blog or Pinterest (by Thursday night). Becky has some great tips here.
4. FOLLOW ALL of the hosts of the challenge on Pinterest & Facebook (below).
5. VOTE for your favorite space of the week (Friday-Sunday)
HERE'S WHAT YOU COULD WIN:
1st Place:
A Closet Maid CLOSET System worth $250!!!! Woohoo!!
www.closetmaid.com
ClosetMaid works hard to provide products that help people maximize the storage spaces in their homes. The first prize winner of this challenge will win $250 toward ClosetMaid's new ShelfTrack™ Elite customizable closet system. It is a beautiful combination of both wire and laminate. A ClosetMaid specialist will work with you to design a system that functions efficiently in your closet. ClosetMaid's ShelfTrack™ Elite is sold exclusively select Home Depot stores and online at HomeDepot.com. Please note that the winner is responsible for installation.
2nd Place:
http://www.offthefloorEZstore.com
Two moms, life-long best friends, set out to develop a practical, innovative, customizable, all-in-one storage solution for everyone in the household. Products were created and designed to meet personal challenges of dealing with clutter throughout the house & garage, unmet by existing products out in the market today. Our modular storage units have snap construction which allows for easy assembly with no tools required, including snap-on accessories. Configure the shape of the overall unit to fit any space, or split a starter kit into multiple smaller units. Ten different colors are available to fit any room décor. With door hang and wall mount options, it requires no valuable floor space. Various accessories allows a place for everything, and everything ends up in its place! Great training for young children to manage and be responsible for their personal belongings from an early age. Additional accessories and panel kits are available to expand the overall size of the storage system, or to create a smaller version of our starter kits to fit specific needs.
3rd Place:
http://www.organizables.com
Organizables is a practical solution to the early morning chaotic demands of getting children ready for school every day. For the busy parent who has to get kids up, dressed and fed on a tight schedule, Organizables are the antidote to your morning frustrations.
Organizables clothes organizers feature colors and designs that are visually appealing to kids and are easy enough for even very young children to use. At the beginning of the week, your child chooses the clothes that he or she will wear for the next five days – putting an end to weekday morning arguments over wardrobe!
REMEMBER — Anyone who enters each week and wins the top THREE spots will qualify to be entered into a HUGE Grand prize. The Grand Prize will be from Cricut, Oreck, and Office Depot!!!! So, get organizing and enter your pictures cause you might just win something HUGE!
The best part of the challenge… Its SUPER easy to enter & there are only 2 main rules. Follow each of us on Pinterest & Facebook! That's it. Remember, to be eligible to win a prize, you MUST follow us ALL!
Here is a button for you to get started! Put it on your blog and spread the word about this huge challenge! You can also tell your family that you're getting organized this year and "wow" them by actually tackling a room in your home each week!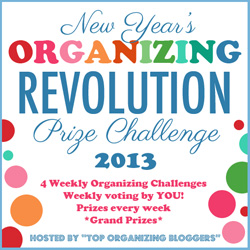 <div align="center"><a href="https://organizeyourstuffnow.com/" title="Organize & Decorate Everything" target="_blank"><img src="https://www.abowlfulloflemons.net/wp-content/uploads/2012/12/OrganizingRevolution250.jpg" alt="Organize & Decorate Everything"  width="250" height="250" style="border:none;" /></a></div>