Since I live in the desert there are very few chances for me to make a real snowman, but that doesn't mean I can't decorate with them. I usually save most of my snowmen to decorate with after the Christmas decorations come down and the Winter ones go up. But I'll be adding this Wood Slice Snowman Ornament to our Christmas tree this year. It's pretty adorable and sparkly.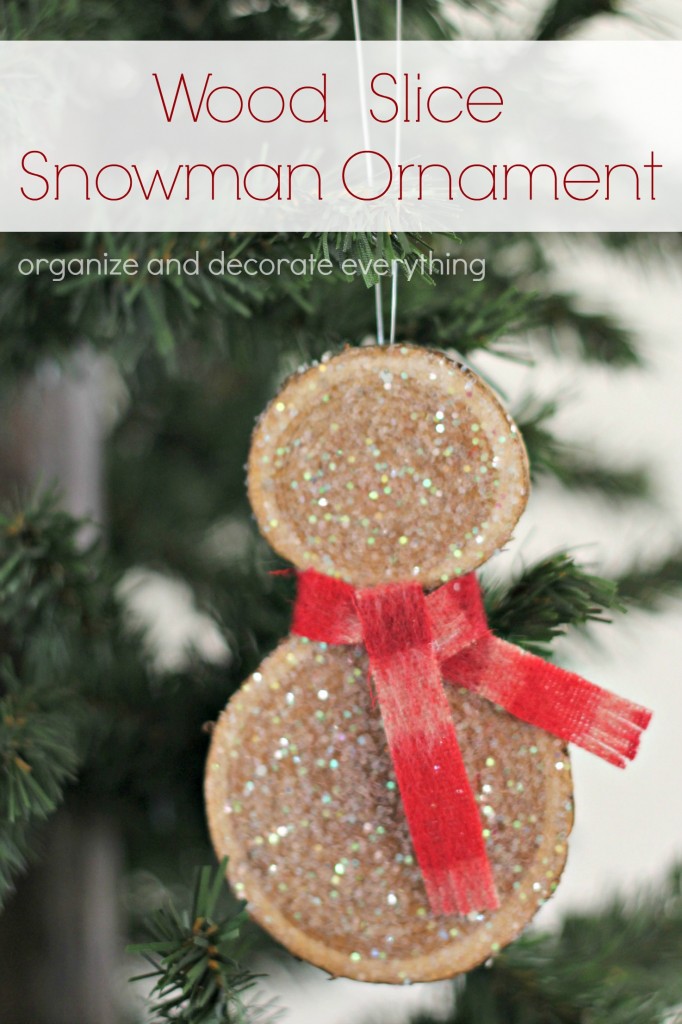 This post is part of the 31 days of Christmas Ideas series. Click over to the main page to see all of the 31 Christmas posts (they will be added daily).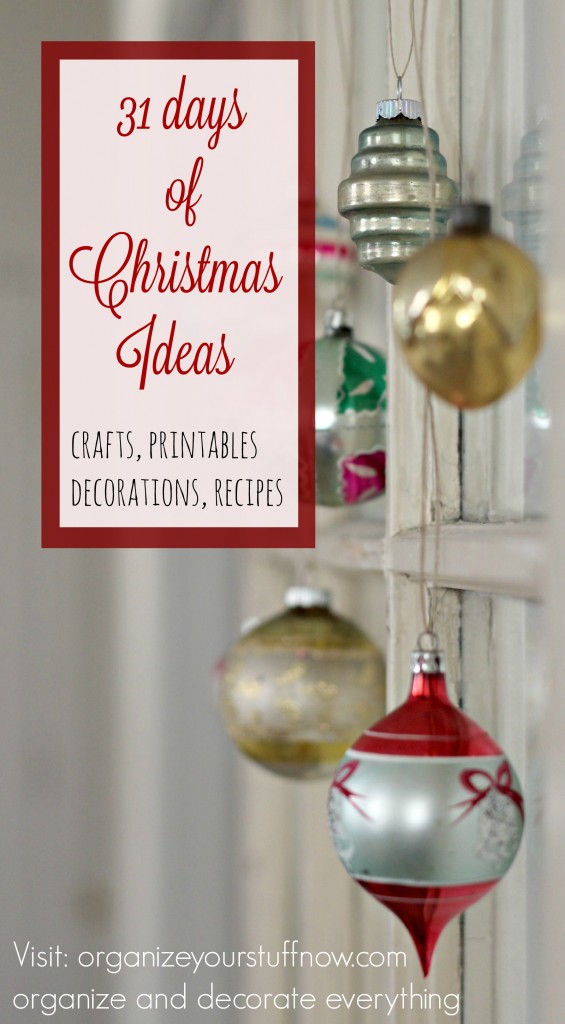 Supplies needed:
wood slices
popsicle sticks
ribbon or fabric
twine or fishing line
liquid nails
mod podge
glitter
sponge brush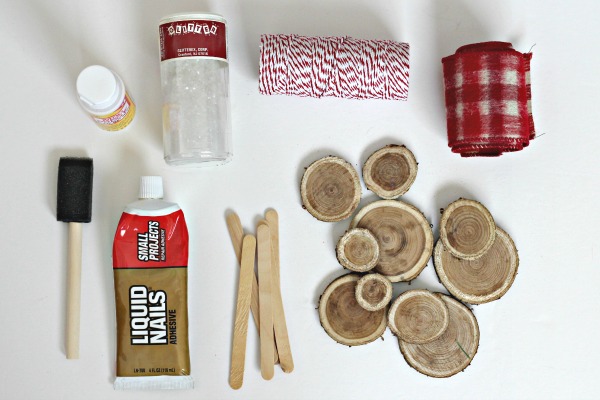 Start by choosing the body and head for your snowmen. They're not going to be perfect but neither are my snow ones. I love that these slices can be purchased at craft stores because it's hard to slice a tree branch and get the pieces the same thickness.
Drill a small hole in the small wood slices that will be the heads.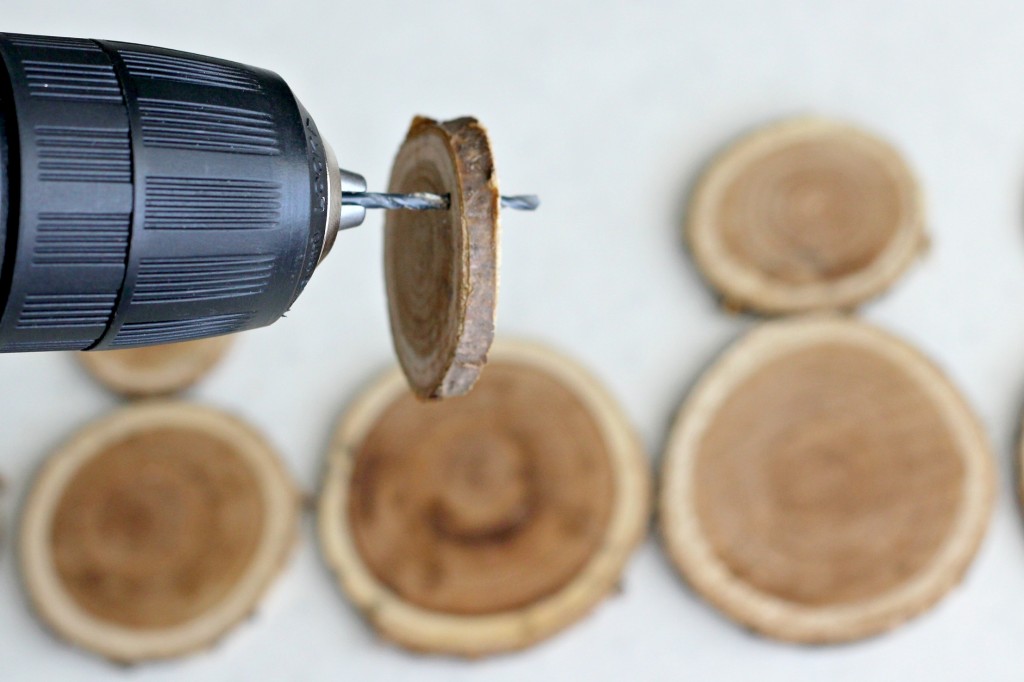 Break a popsicle stick in half and apply the liquid nails to it. Use it to hold the 2 wood slices together. Make sure the placement of the hole is at the top of the snowman. Let dry for about an hour.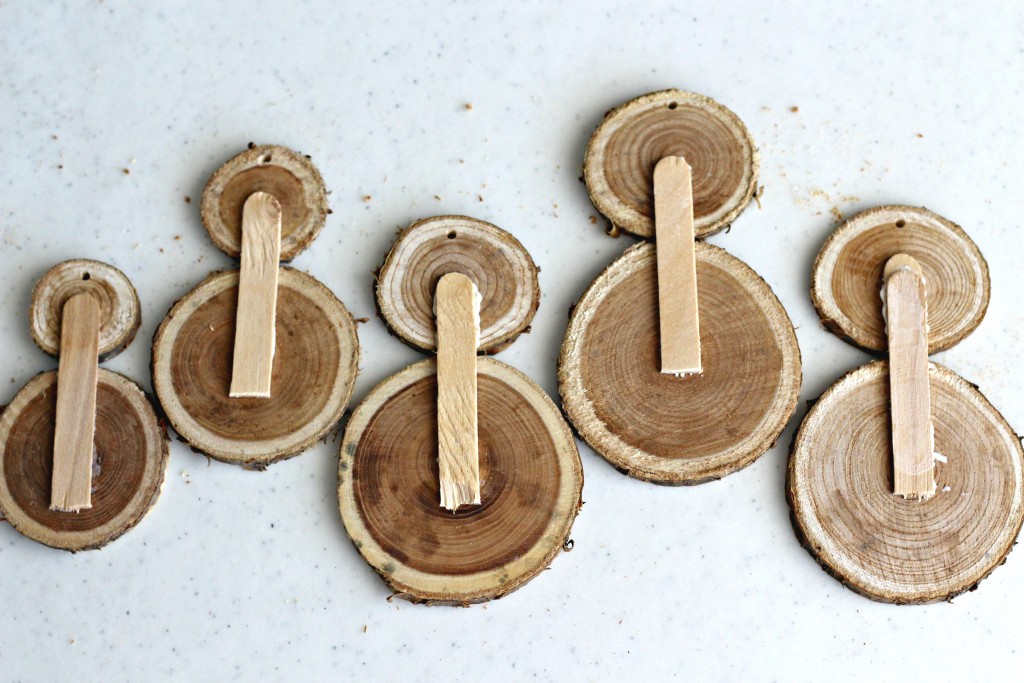 Turn it over and apply mod podge to the front of the snowman. Quickly sprinkle on glitter, then turn over and shake off the excess.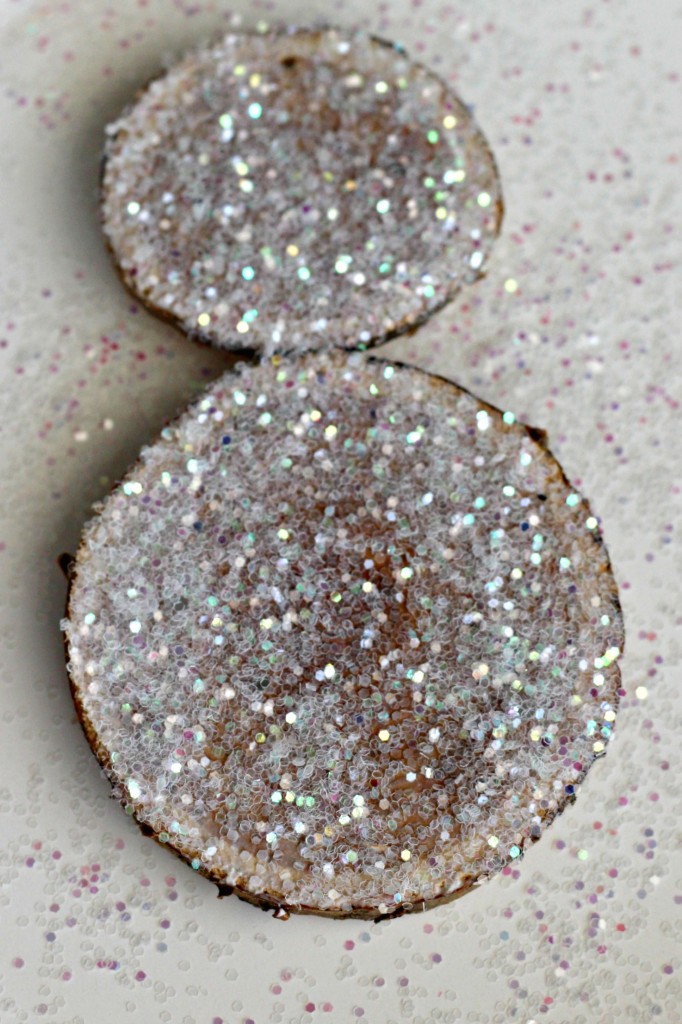 What a cute snowman family! Let dry for about 15 minutes.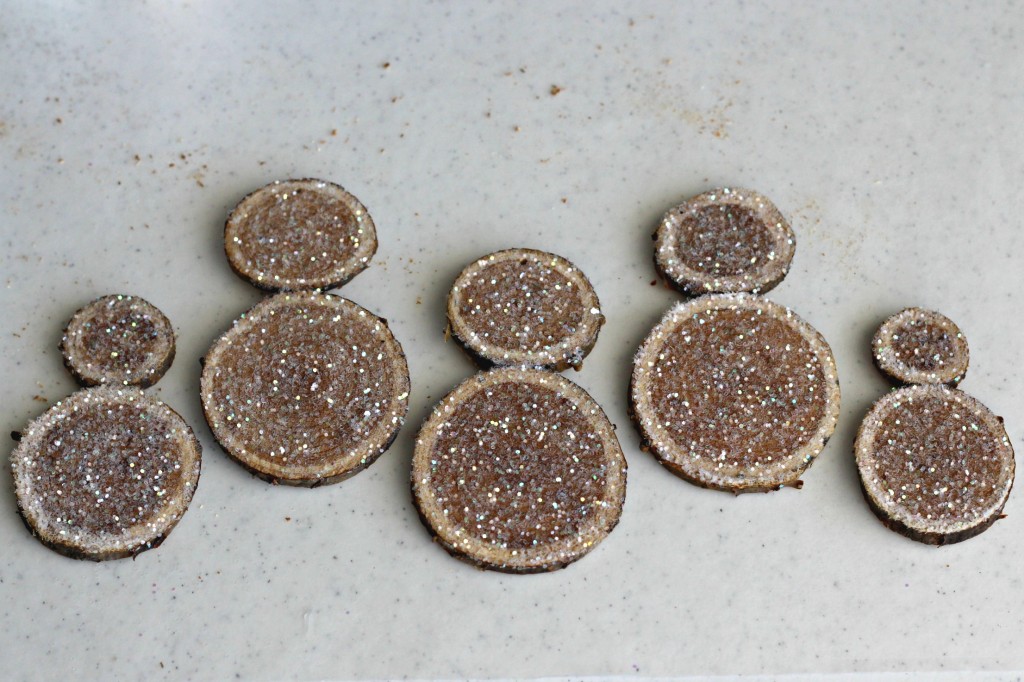 Then make a scarf and tie it on each snowman. I used plaid ribbon and just cut it the width I wanted for the scarf, you could do the same with fabric. I used a dab of hot glue to hold it in place where it crossed over in the front. You can also fringe the ends of the scarf by cutting a few slits.
I decided to use fishing line to hang the snowmen by since it was easier to get through the hole. I was running low on patience today so it was the best alternative. You could also add little black beads for the eyes and buttons, if you like.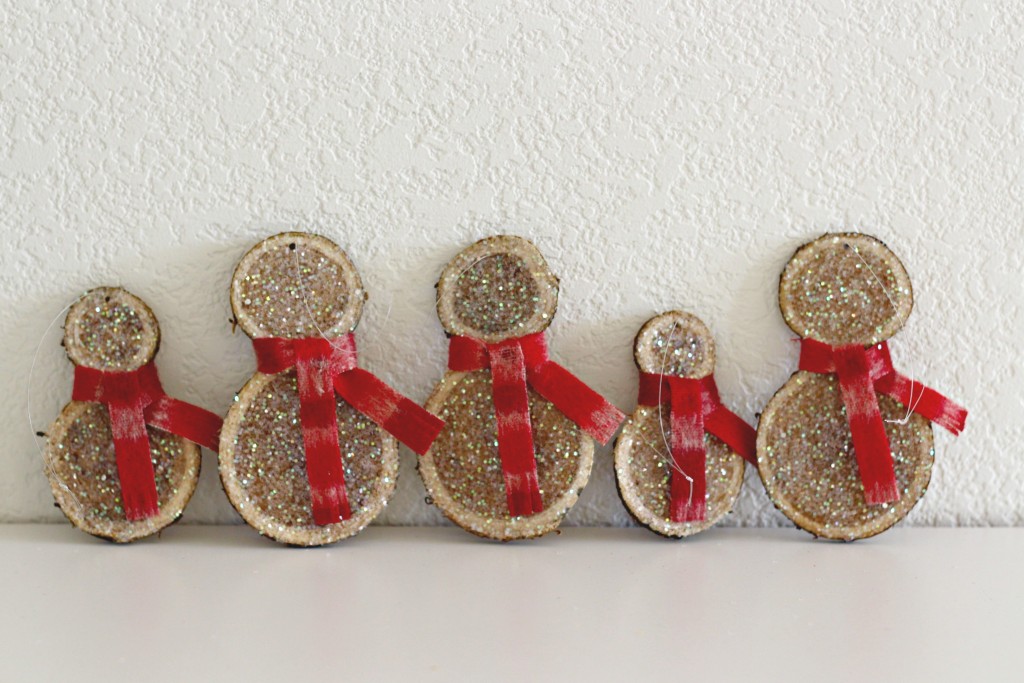 We have a tradition of giving the kids a new ornament every year. I also try to make new ones so they'll have a good start to decorating a tree when they move out. I use a sharpie to write their name and the date on the back of all their ornaments.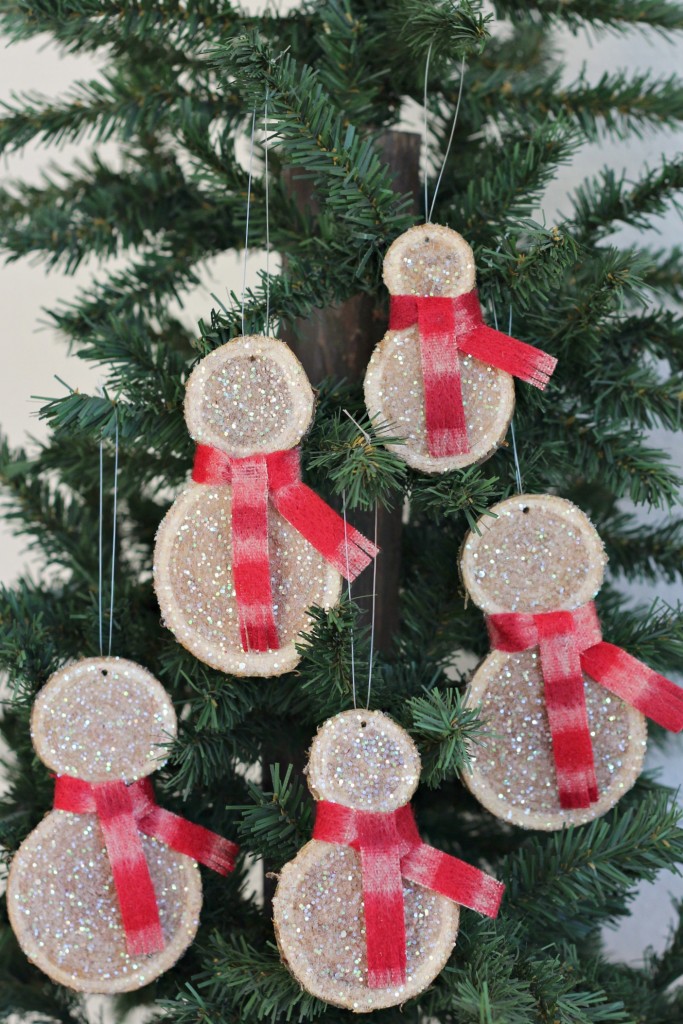 These were so fun to make. I hope you get the chance to make them.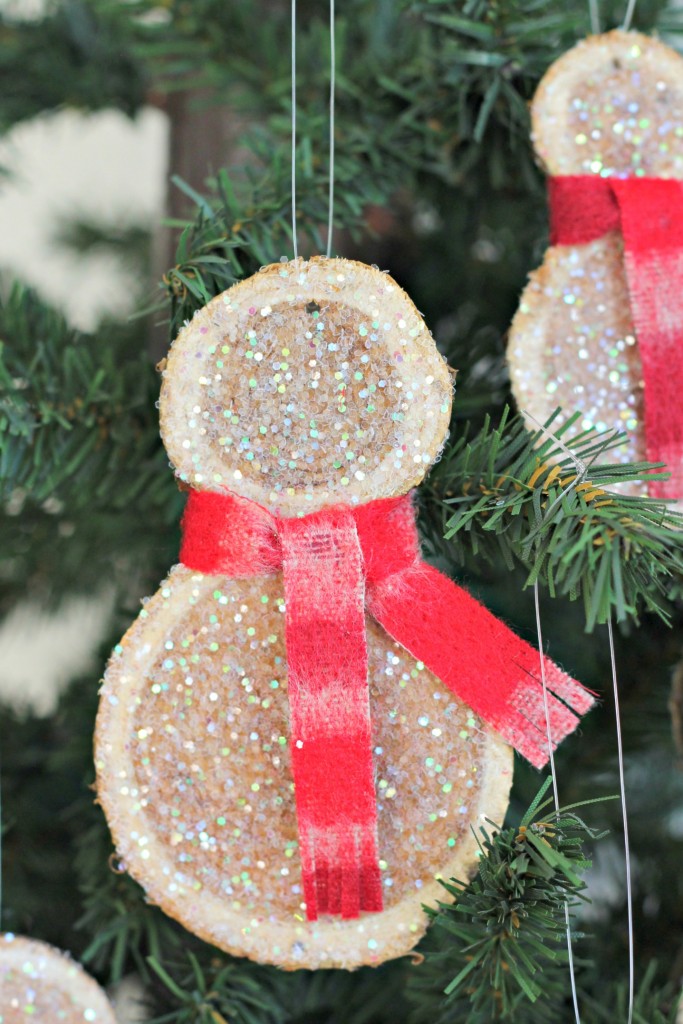 Come back tomorrow for the next 31 Days of Christmas Ideas post.