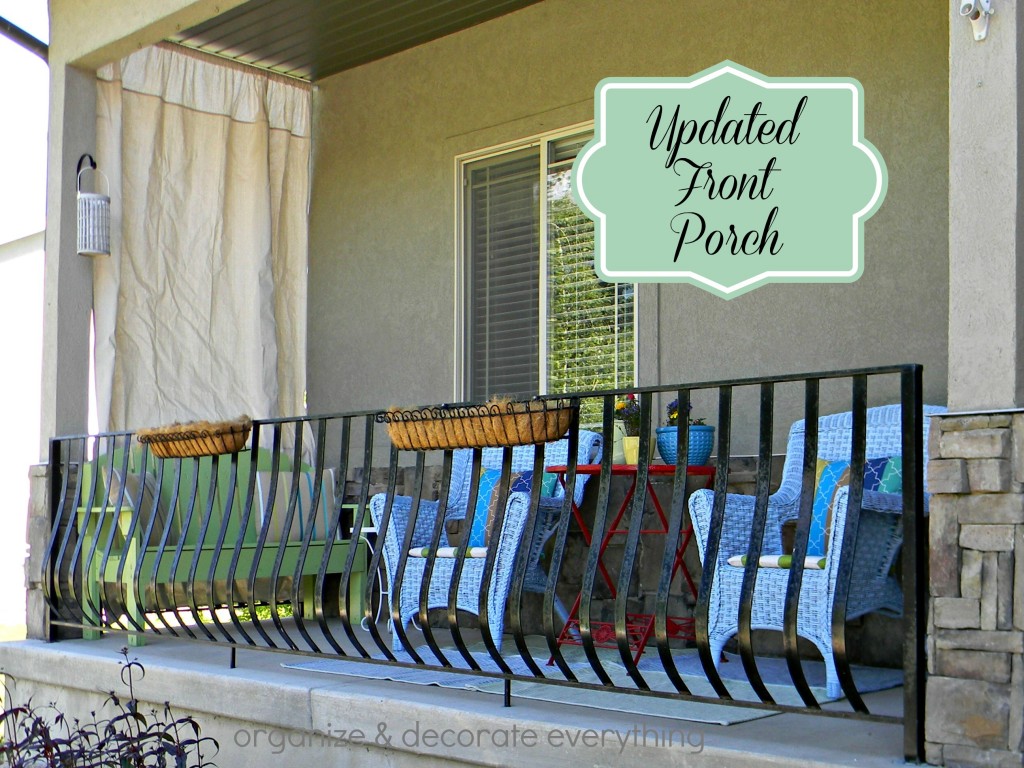 We love our front porch. It was one of the things that sold us on this house. It's always been the perfect place to sit and relax, read a book, or watch the kids play. I've had all this furniture for years but now I thought it was time to add color to the pieces. You can check out the separate posts about painting the tables, bench and chairs and the drop cloth curtains.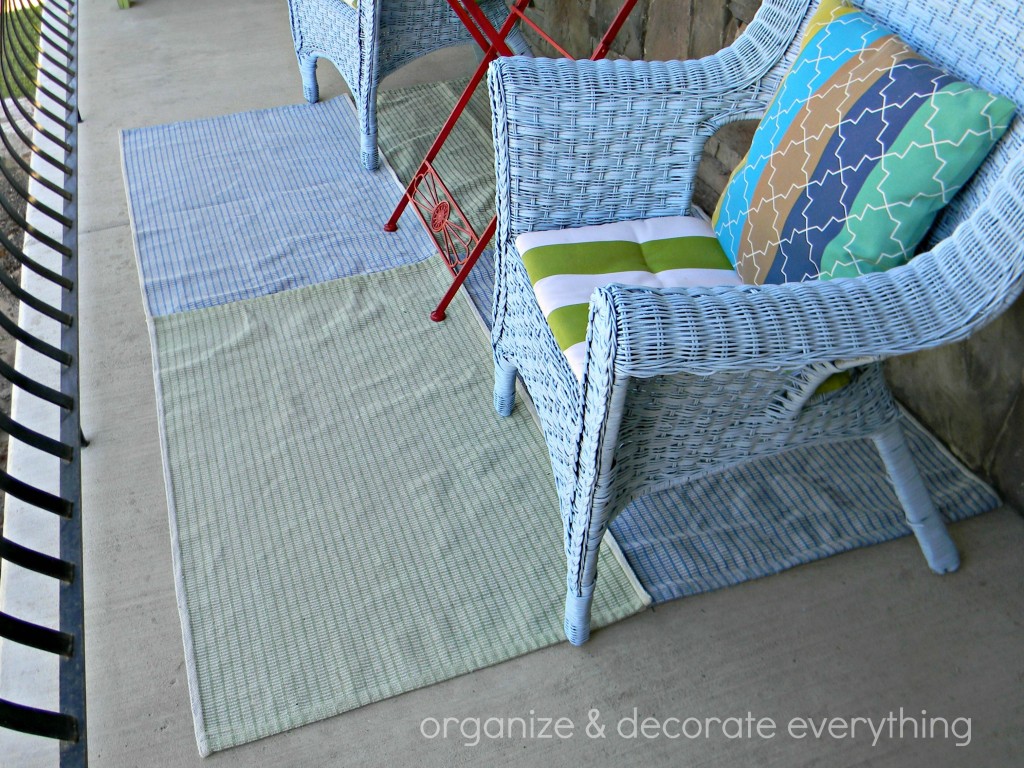 I made a large rug last year by attaching 4 small rugs together. I used the same rugs this year and put them back together after I washed them, using duct tape on the back. It held up really well last year so I hope it does again this year. I'm not completely sold on the cushions but I've had them for a few years. Maybe I'll cover them later.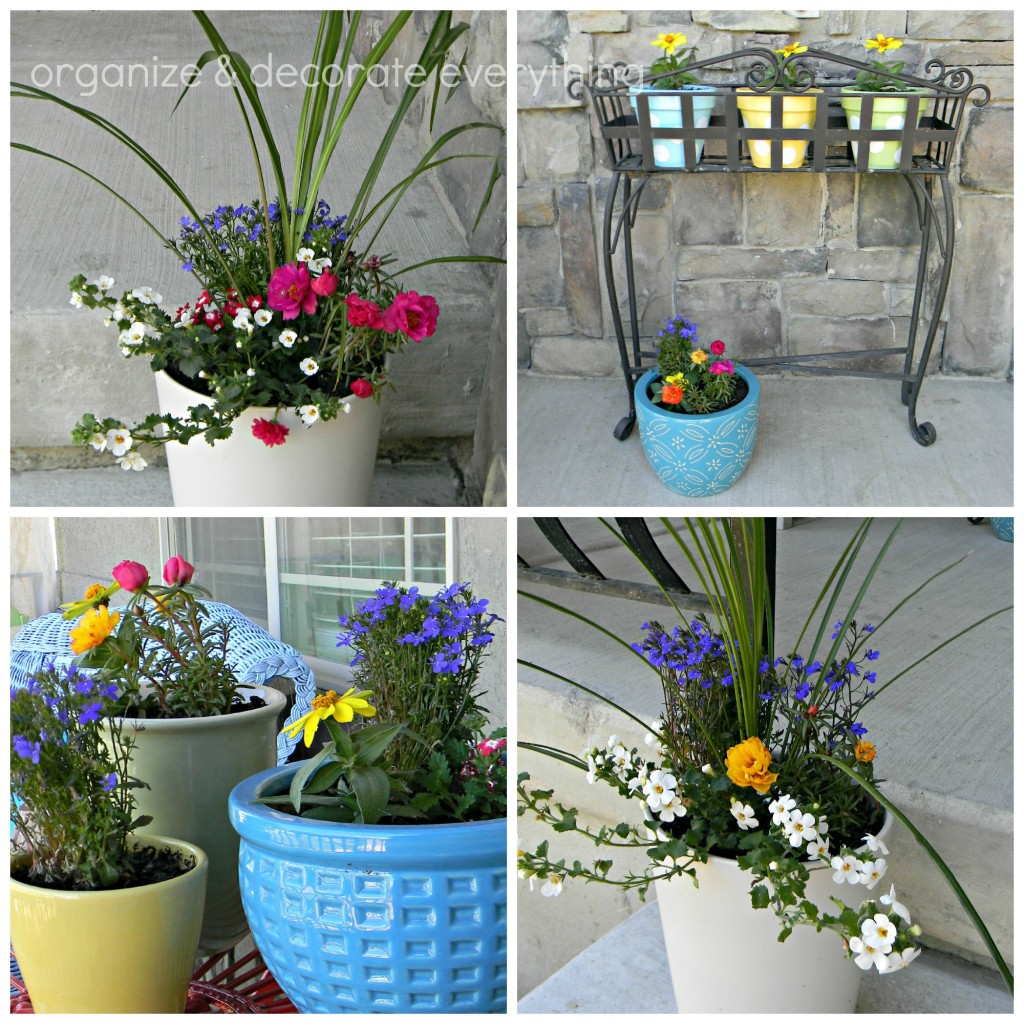 Yay! I finally potted some flowers thanks to my Lowe's gift card. I painted the polka dot clay pots last year, the white pots came from IKEA (last year), and the other pots are from Home Depot (last year), the plant stand is from J & J Nursery (about 7 years ago). As you can tell from the first picture I still need to plant flowers in the planters on the rail.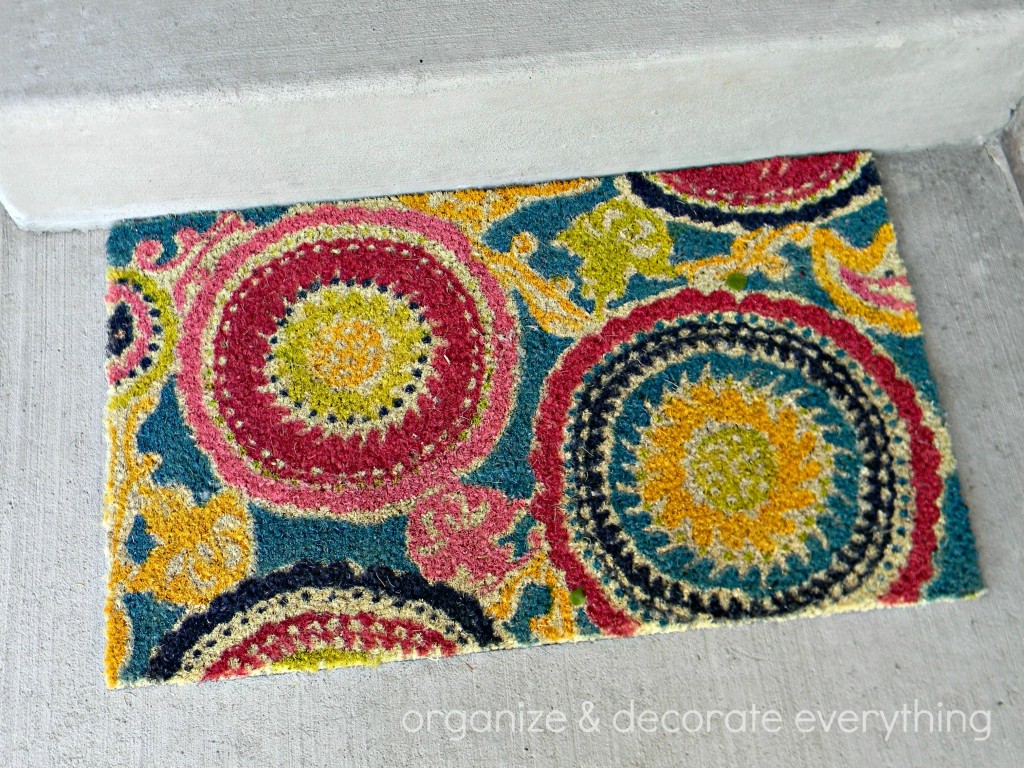 I love my new door mat. I was going to paint another one, but then I saw this one at Target and had to have it. I think that added a bit of color, don't you?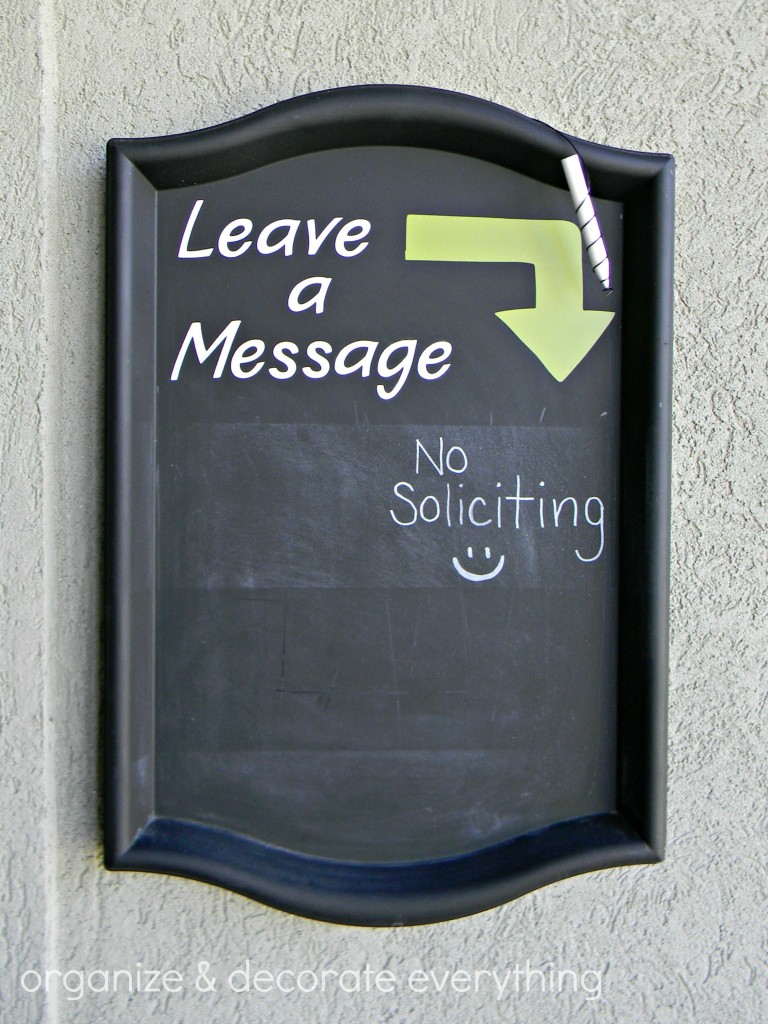 I made the chalkboard message board last year out of an IKEA tray, chalkboard paint, and vinyl. I love how it looks next to my front door and if we're not home don't forget to leave us a message. I think I need to take the smiley face off, because solicitors are thinking it's okay to come to my door. I even pointed to it last week and the solicitor just smiled and continued talking. Ugh!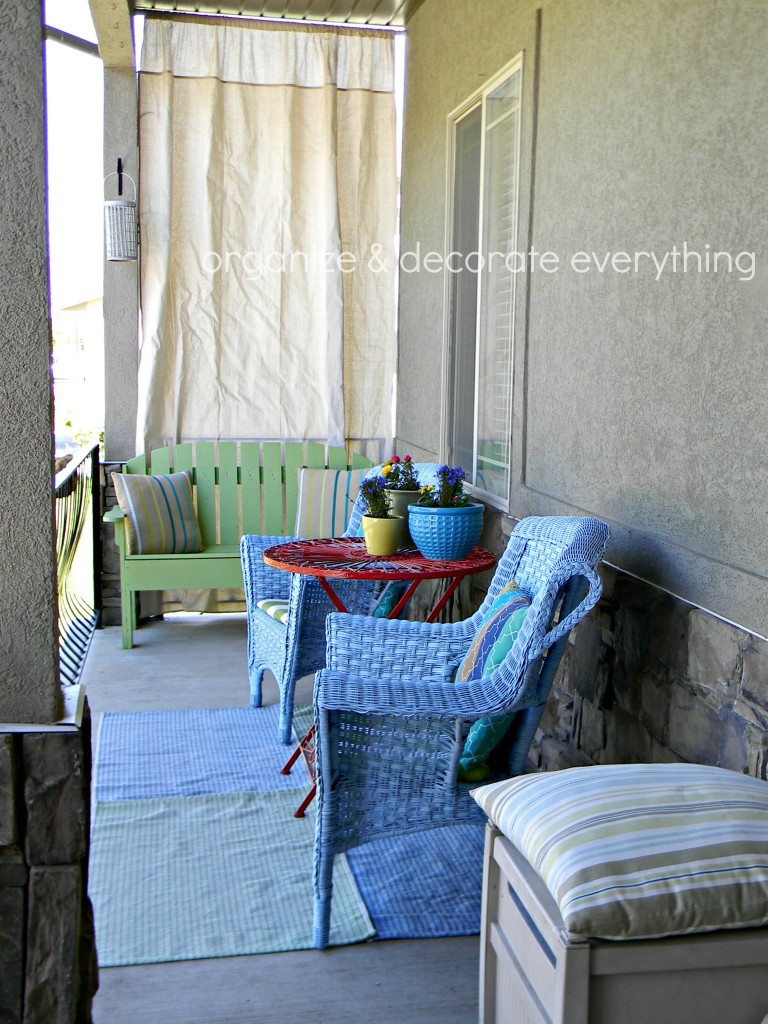 Here's a view of the whole sitting area. I added a cushion to the hose box for an additional seat. Ignore the wrinkled curtains, they were twisted in a knot one night in a rain storm.
And here's a view of the front door. I think I did pretty well at adding color to the porch, don't you? I love how welcoming it feels. I still need to paint the front door. It's one of those things I'm putting off because it kinda scares me and I haven't exactly decided on a color yet.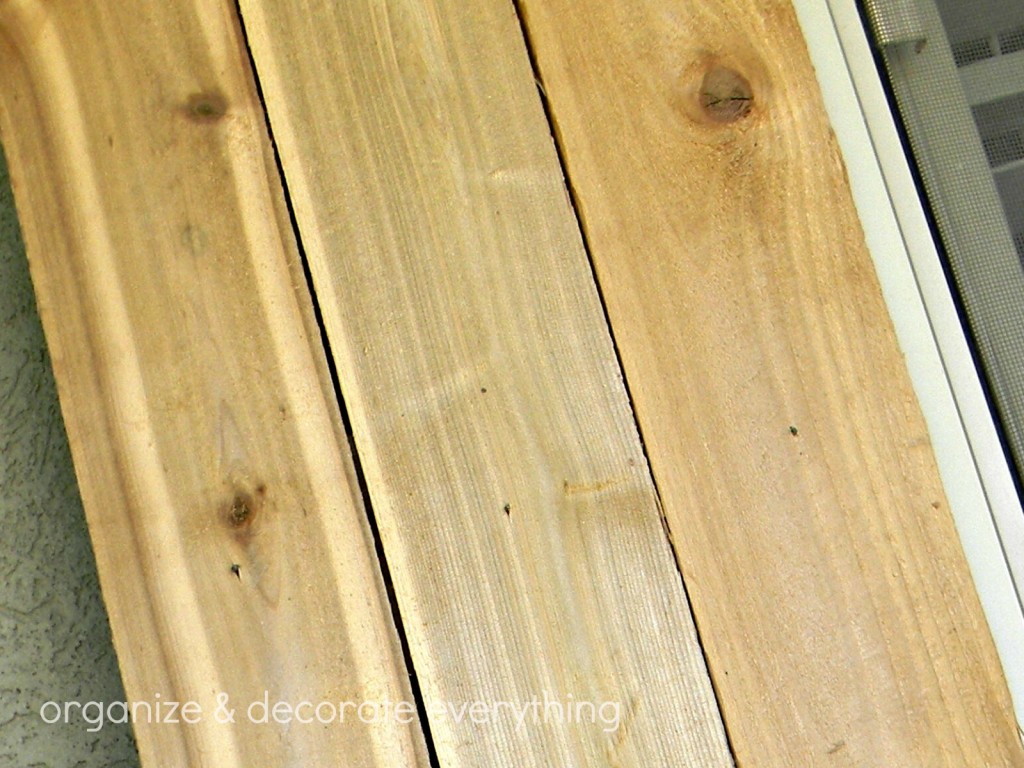 Here's a sneak peek at something else I'm working on for the front of the house. Looks like I have to decide another paint color. I hope this doesn't take me 2 years as well.
I'm linking to these awesome blog parties:
Weekend Wrap Up Party at Tatertots and Jello
That DIY Party at The DIY Showoff
Sunday Showcase Party at Under the Table and Dreaming