I needed a quick, easy salad recipe for a barbeque we were attending and I only had one hour before we had to leave. The measurements I used were a little iffy, but this is close.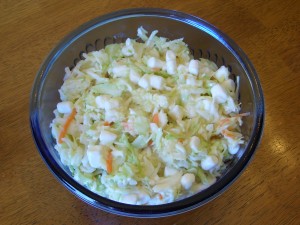 Bag of shredded cabbage
2 Cups crushed pineapple
2 Cups miniature marshmallows (about 4 handfuls)
1/2 Cup miracle whip
Drain pineapple, save the juice. Add pineapple to cabbage and toss. Mix in marshmallows. In a separate bowl, whisk miracle whip with about 4 tablespoons pineapple juice. Pour over cabbage and toss.