Is the trunk of your car or back of your van ready for Summer? I like to be prepared for impromptu picnics, playing at the park, or cleaning up a messy kid. These totes are so inexpensive, maybe $4 each. I have 3 of them I keep in the van. This one is for reuseable shopping bags and yes it's full. I use all of them when I go grocery shopping.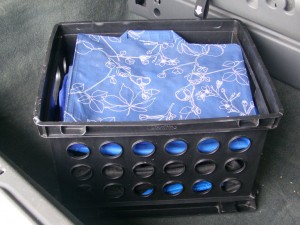 This tote holds a volleyball, soccer ball, frisbee, lacrosse game and kites. The kids love to play on the playgrounds at parks, but when they get tired of that they're ready to play one of these other games. They like that mom and dad can join in the fun too.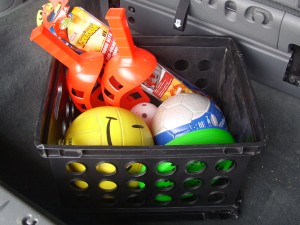 I keep a first aid kit, sunscreen, bug spray, paper towels, wet wipes, water bottles and 2 picnic blankets in this tote. I feel like we're ready for almost anything.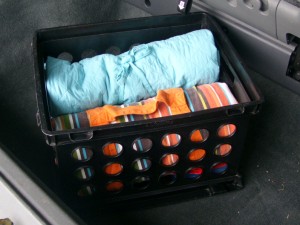 The totes fit across the back of the van with room in the front for camp chairs. The chairs are used for watching baseball and soccer games or just watching the kids play at the playground.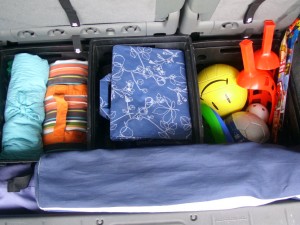 Anything can be used to organize your trunk. Try using reuseable shopping bags, empty ice cream containers, collapsible totes or a laundry basket to keep things corraled.
Now if it will just stop raining here.