I have a lot of recipes and a lot of duplicate recipes. It was time to get rid of the duplicates and make it easier for me to find the recipes we use more often. I started by taking out all the recipes I had stored loosely in a binder. It was starting to be a mess and it was taking longer and longer to find the recipe I wanted.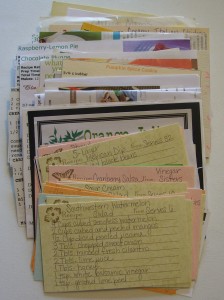 I bought these picture display boxes a few months ago at Big Lots (for only $1 each) and thought they would work perfect for what I had in mind. Ignore the picture in it, I think it looks kind of creepy.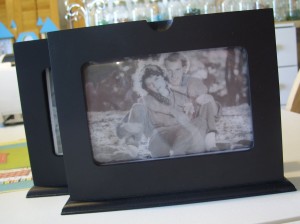 Then I went through my scrapbooking stash for items I might want to use to decorate them.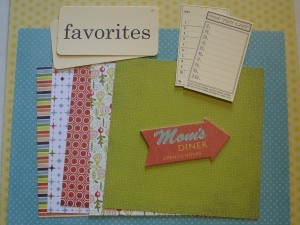 I started by putting my tried and true recipes into categories. Ones I knew weren't duplicates and were family favorites. Most of these were recipes from family members or friends.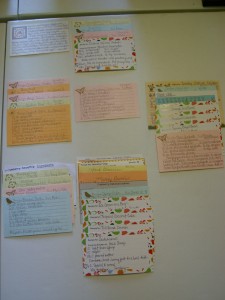 I made another pile of recipes that might already have duplicates. I went through my cookbooks to look for possible duplicates and tossed the ones I already had. Sometimes I had made changes in the recipe, so I would make a notation of that in the cookbook.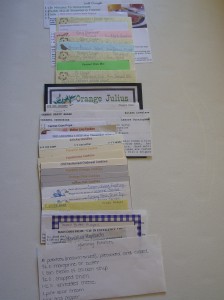 And this was the discard pile of recipes I really didn't use or ones that were duplicated.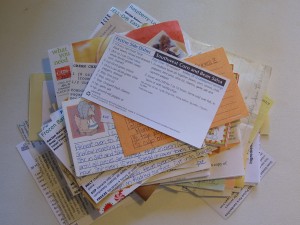 In one of the boxes I put main dishes, salads and breads.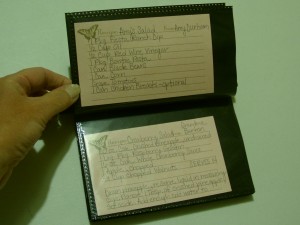 In the other one I put  desserts, drinks and dips.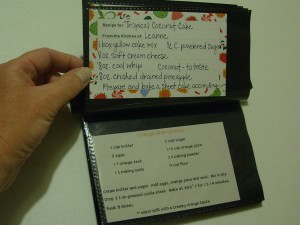 I added some recipes to these cute tags, but later decided to only use the one on the left. It has all my family's favorite recipes listed on it. I put them in the order listed in the box so they could be found easily.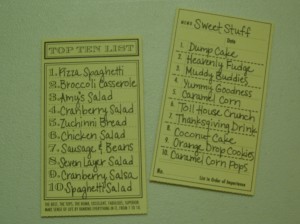 I added some scrapbook paper to the front page.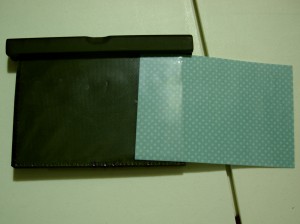 And then embellished it with a couple tags.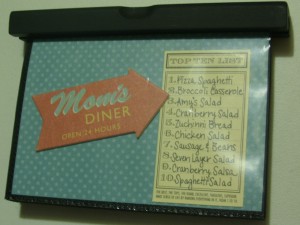 To the front of the box I added a flashcard tag and a ribbon around the bottom.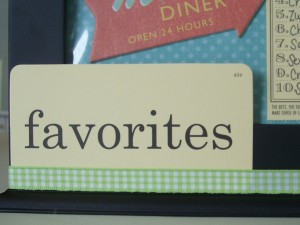 Then I added a couple embellishments and ribbon to the second box.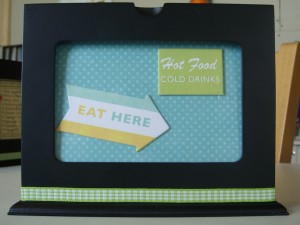 And here they are by my cookbooks. Now it's a lot easier to find the recipes I use most often. And don't they look cute? I can also change out the front cover as often as I like if I want a different look. Now I need to cover the cookbooks to match. Oh, and I love my canister of paper straws by them.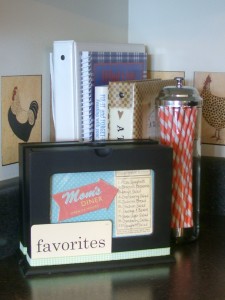 I just had to show you this picture of my kids favorite thing to do with the straws.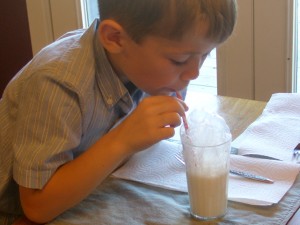 What have you been organizing? Don't forget to link your organizing posts to We're Organized Wednesday this week. I'd love to share what organizing projects, tips or ideas you have.
I'm linking to:
Home and Family Friday at Home Is Where My Story Begins
Look At Me Party at Fun To Craft
Feature Yourself Friday at Fingerprints On The Fridge.
Friday Fun Finds at Kojo Designs
Show and Share Day at Just A Girl
Weekend Wrap Up Party at Tatertots and Jello
Saturday Nite Special at Funky Junk Interiors
Saturday Is Crafty Day at Along For The Ride
Craft Schooling Sunday at Creative Jewish Mom
Sundae Scoop at I Heart Naptime
DIY Project Parade at The DIY Showoff
Craftastic Monday at Sew Can Do
Market Yourself Monday at Sumo's Sweet Stuff
Show Me How at It's A Blog Party
Tutorial Tuesday at Hope Studios
Works for Me Wednesday at We Are That Family