Love You Dearly Slat Sign made from scrap wood and paper mache and wood letters.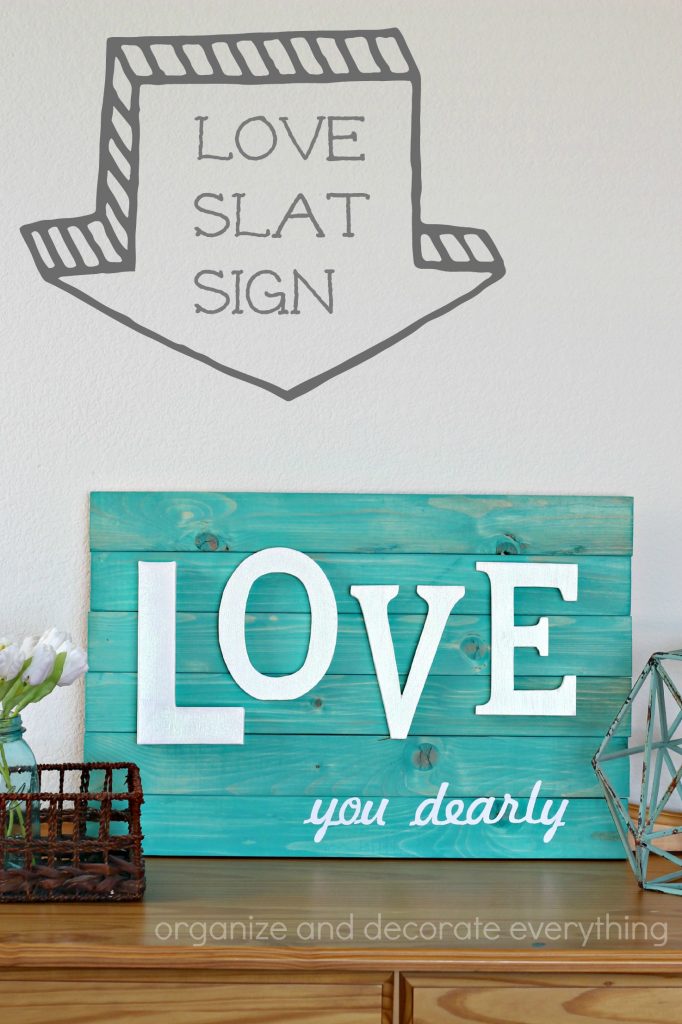 When we moved to a much smaller house I sold or got rid of about half of our stuff. The one thing I didn't get rid of was my stash of raw wood. We used to live close to a pallet yard and they would put scraps of wood in a box that you could take, most people used it for firewood but I would take it for projects. I didn't even have to cut any of the wood I'm using for this slat sign since it was already the size I wanted.
Here's What You Need:
8 wood slats (mine are 3/4″ x 24″)
Paint (I used Apple Barrel Laguna, Americana Snow White, Folk Art Extreme Glitter Hologram)
Water
Wood or Paper Mache Letters
Vinyl or Contact Paper
Screws
Wood Glue

Use 6 boards for the front and 2 boards in the back to secure them together. Choose your paint color. I wanted my boards to look like a wash or a stain so I diluted the paint with water. Paint to water ratio is 1 paint – 1 1/2 to 2 water. If you mix it in a jar you can just shake to mix. Test the paint on a board till you get the consistency you like. I like mine with a lot of the wood grain showing.

Once the paint is dry it's time to secure the boards together. Place the boards face down with the back boards vertical to the front then screw each board to the back boards. Make sure the screws will go through both boards, but only halfway through the front board. You don't want them to go all the way through. I used an electric screw driver to save a lot of time assembling the sign.

Paint the letters using the white and hologram paints. I love the sparkle and shimmer the glitter paint gives but it's not too much. Doesn't it look amazing against the painted wood? You can simply paint the letters white if you don't want the added glitter.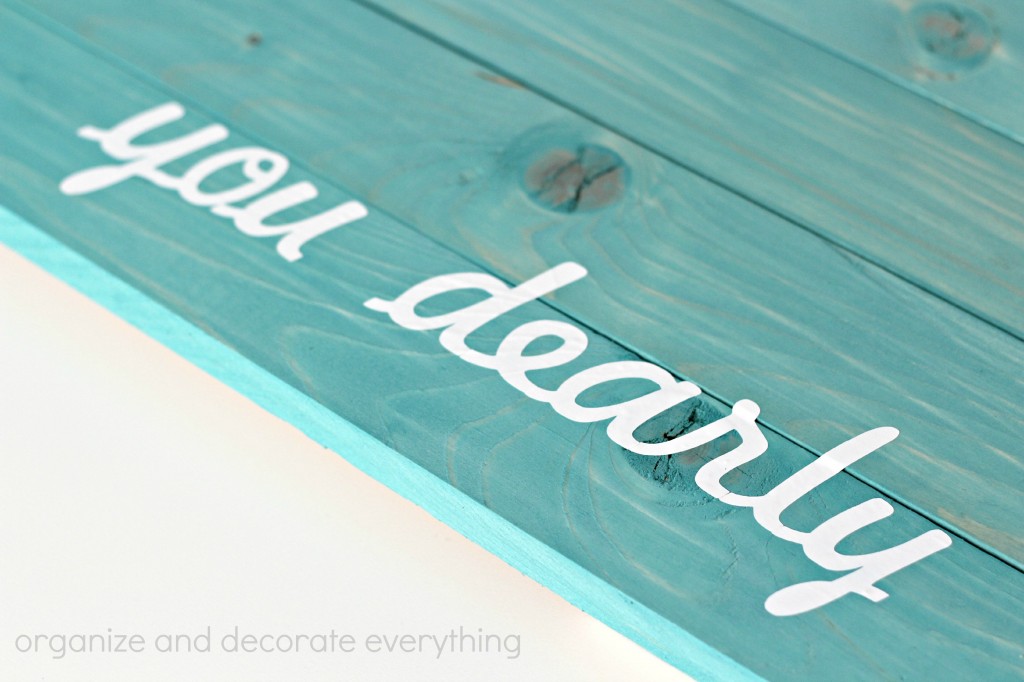 Cut the vinyl using a personal cutting machine or by hand and add it to the bottom of the sign. If you have a steady hand you can paint it but vinyl was easier for me.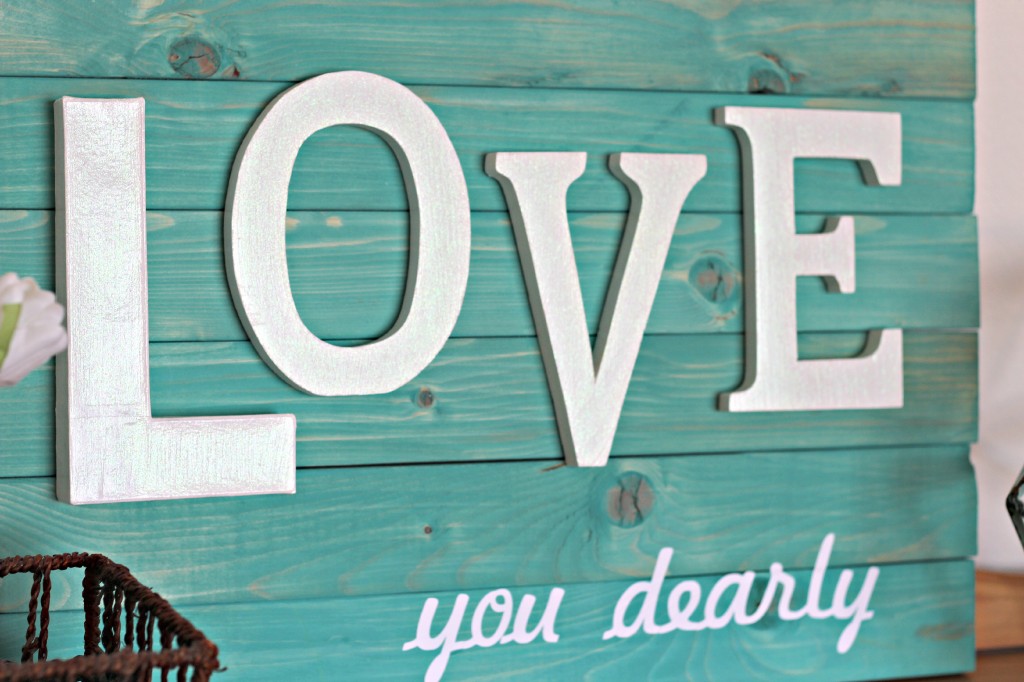 Lastly, secure the letters to the sign using wood glue. It will need to set for a few hours to dry completely.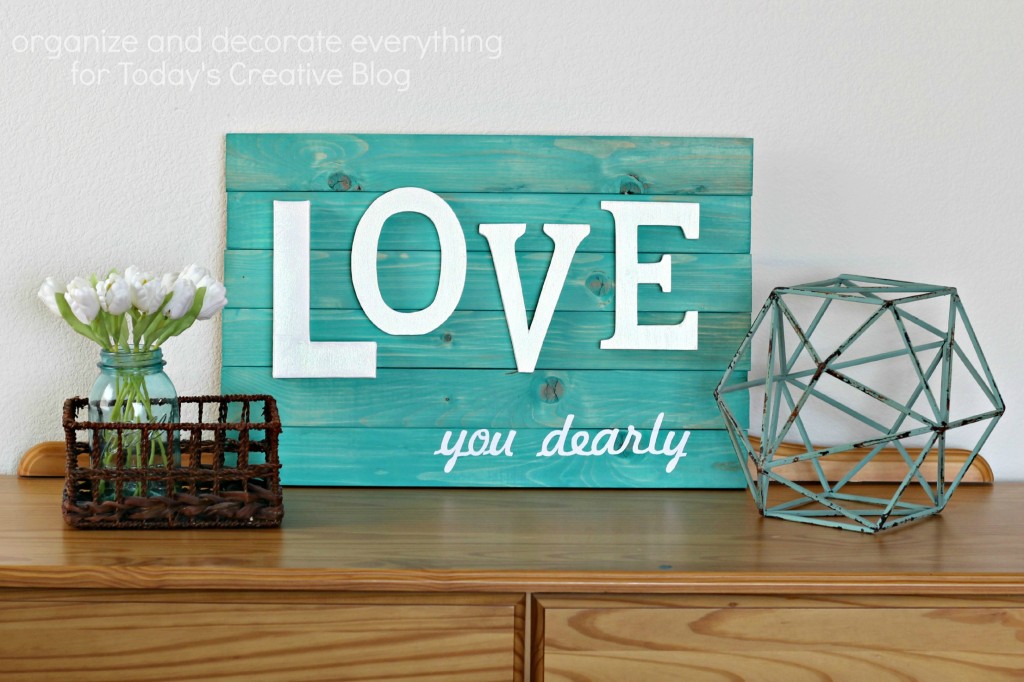 I love creating and adding personal pieces to my home. The sign is in my bedroom for now but I'm sure it will eventually find it's way to other rooms in the house.
Pin it for later: