What are filler ornaments? Do you remember I decorated a tree with candy and magnets to go along with my advent calendar?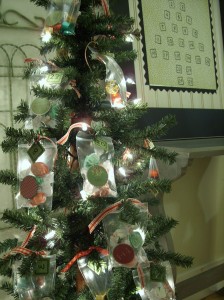 Well, as the days are counting down to Christmas, I'm being left with empty spaces on my tree and it was starting to bug me. I didn't want to spend any money, plus it was 11:00 at night when I started on this project. So, I went to my favorite graphics site:
And printed off some old postcard graphics I liked, on card stock: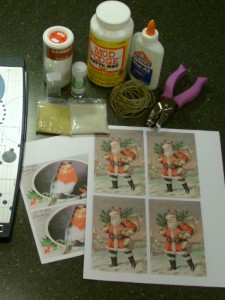 Then I cut them and got to work on making them into ornaments: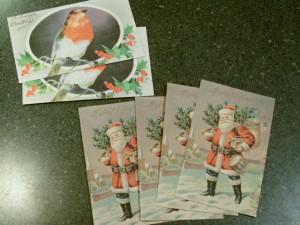 First I dipped all the edges of the cards into glue (I was going to use Mod Podge, but I just used regular Elmer's glue and it worked perfectly):
Then I sprinkled the glitter on and tapped off the excess glitter: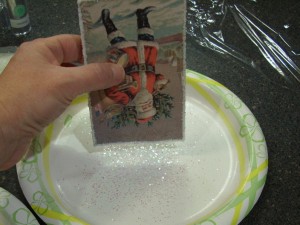 And set it out to dry (Notice I had to use cling wrap instead of wax paper? It was late and I wasn't going to run to the store):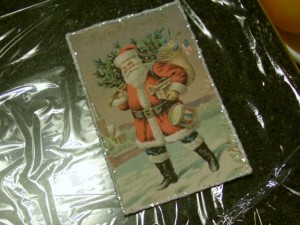 I did the same with the bird cards, but I used different glitter and added glitter to some of the berries. I used a toothpick dipped in the glue and dabbed on the berries: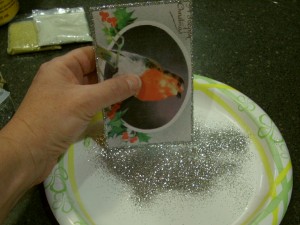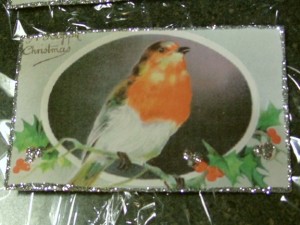 I punched holes in the top of the cards for the twine and then they were ready to hang: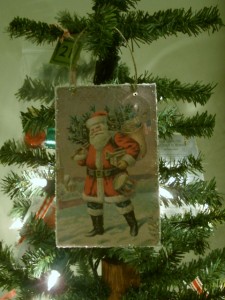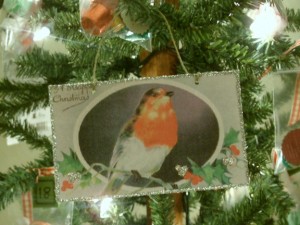 I'll make some more later, but I was tired and more than ready for bed. I'm happy to have a tree with no empty spots again.
I'm linking to:
DIY Day at A Soft Place To Land
Get Your Craft On at Today's Creative Blog
Holly Bloggy Christmas Craft Bash at Blue Eyed Blessings
Transformation Thursday at The Shabby Chic Cottage
Strut Your Stuff Thursday at Somewhat Simple
Holiday Linky Party at The Inspired Room
Frugal Friday Holiday Party at The Shabby Nest
Creative Cats Friday at Poppies at Play
Saturday Nite Special at Funky Junk Interiors
Make It For Monday at Cottage Instincts
Holiday Highlights at The DIY Show Off
Metamorphosis Monday at Between Naps On The Porch
Brag Monday at The Graphics Fairy
Christmas Show and Tell at Tip Junkie
Check Out These Related Posts