I love this mirror and have wanted it forever, but with the price being over $200 there was no way I was ever going to get it.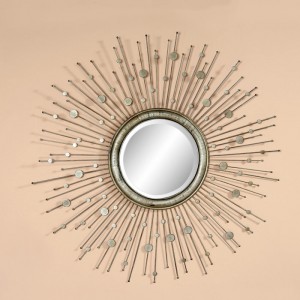 That's when I decided to make my own. Mine only cost me $5 because I had some of the supplies on hand. Even if you need to purchase all the supplies to make the mirror, it would still be under $10.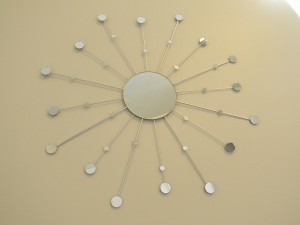 I started by laying my plan, for the mirror, out on the table. I'm working in an unfinished basement (that's the heat duct in the reflection of the mirror).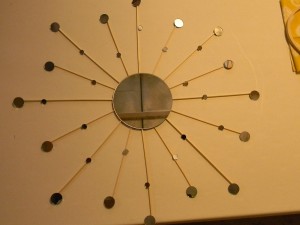 I used wood skewers as the burst part of the mirror. I stuck them in the top of a box to be able to paint all the pieces at one time.
It worked perfectly. I painted them all Krylon silver, but I think they would also look great painted white, black, or gold.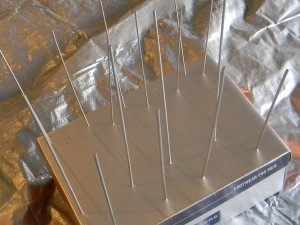 I don't like taking time to measure. I usually just eyeball it, but I did measure the first four pieces to make sure I was starting out even. I used gorilla glue to hold them in place. It expands, which was perfect for this project.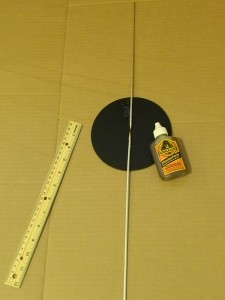 After the first 4 were in place, I filled in with 4 more. I didn't measure this part. It was easy to tell when the skewer was in the center of the other two.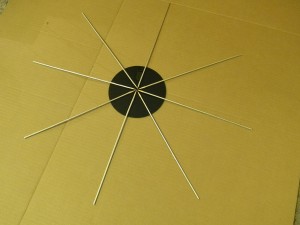 Then I filled in with 8 (slightly smaller) skewers. You don't have to use ones that are different sizes, but I already had them so I decided to use them.
I then weighed it down with a heavy book and let it dry over night.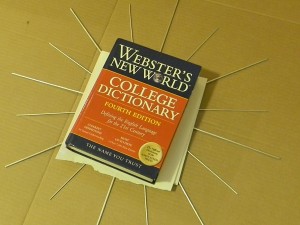 I attached smaller mirrors to the end of every skewer using the same gorilla glue. I had to weigh those pieces down too.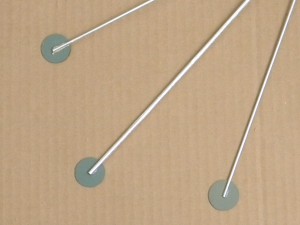 Once those were all dry, I turned the piece over and added the smallest mirrors. I used gorilla glue super glue for these pieces. It works best if you use very little glue (just a dot) and a very light hand. Hold each mirror in place for about 15 seconds, but don't move the whole piece for about an hour.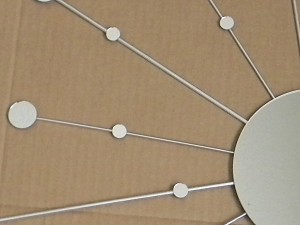 I placed the smallest mirrors on randomly.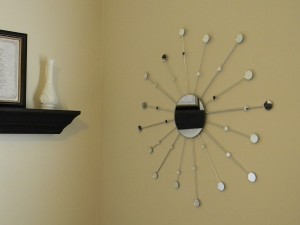 Here's a close up of the painted detail and the small mirrors. I love the reflection of the mirrors with the silver.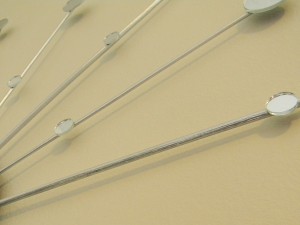 Sorry about my big face in the mirror, but I wanted a picture of it straight on.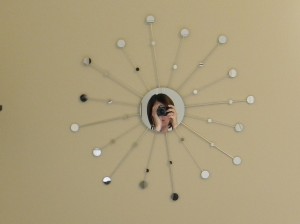 I love how it turned out and how it looks in my room. For some reason my daughter thought it was hers. I guess I'll be making another one soon.
I'm thinking of making some smaller ones for Christmas ornaments. They would go along perfectly with my silver, white and red theme this year.