I have cord control issues. I don't like seeing cords peeking out from under pretty little tables or desks. Desks are hard, because there's usually a lot of electronic devices on them with pesky cords attached. Tables usually have lamps and again with pesky cords. What is a person to do? Luckily, I was sent some Command Cord Organizers from 3M's PR firm. These are handy little things.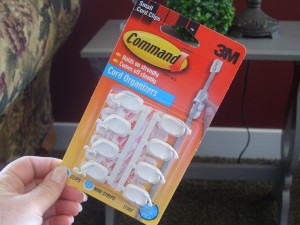 Now you see that pesky cord and soon you won't.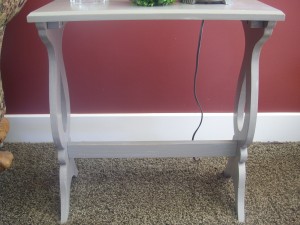 Make sure to follow the directions on the package for best results.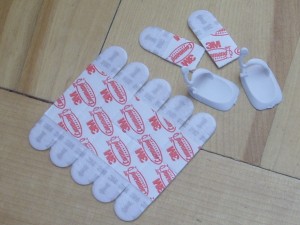 Clean area with alcohol first and let dry. Stick the red printed side to the cord organizers.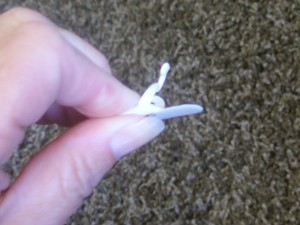 Peel off the other side of the sticky tab and stick it to the clean surface. Hold for 30 seconds.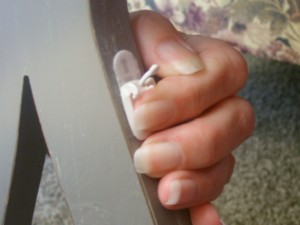 You need to wait 1 hour before slipping the cord through it.  
I added a second one onto the leg of the table.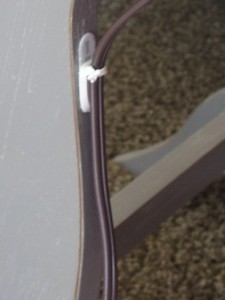 Yay, no more pesky lamp cord. That looks so much better. And the strips come off so easy when you want to remove them. Just follow the instructions on the package.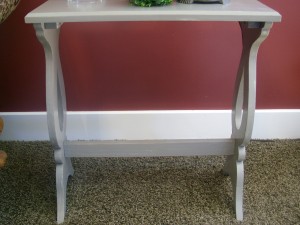 Next, I tackled my desk using the medium size Cord Organizers.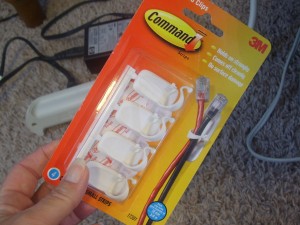 This is under the desk before. It doesn't look too bad.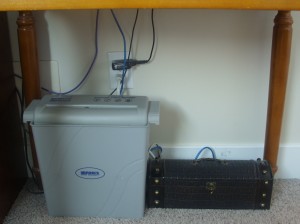 Until you move the shredder. Then they're pretty tangled and it's hard to tell what cord goes where.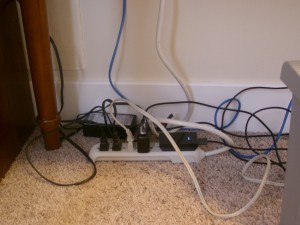 So the first thing to do is to get the cords untangled and label them so I know what they go to. There are cute little labels for cords, but I just used my labelmaker.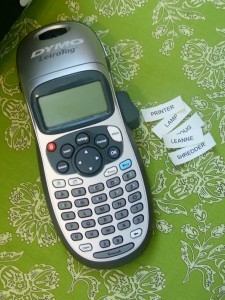 Now they're untangled.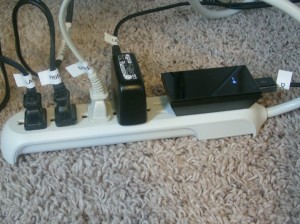 And labeled.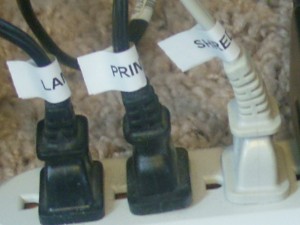 I used the Cord Organizers on the back of the desk. It's nice not to have to worry about them leaving marks on the desk if I need to remove them later. I also put one on the back of the desk leg.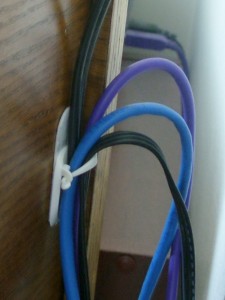 Much better now. The black cords are our phone chargers. They aren't long enough to go on the back of a leg to the plug, so I brought them up the middle.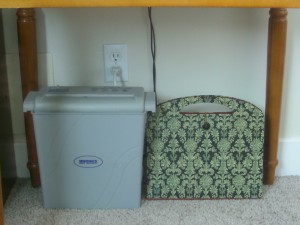 Now, how do I hide the phones while they're charging? I used my Big Bite to make holes in the back of a box I've had on my desk.
Okay, so they're not pretty, but they work. And they're in the back where nobody sees them, so who cares.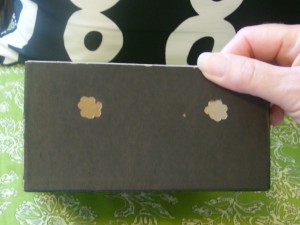 Then I labeled the top of our phone cords, because I can't tell the difference, but there is a difference.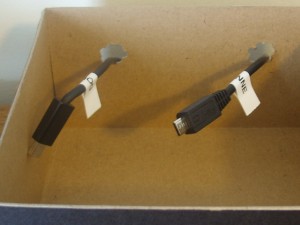 Plug the phones in.
Put on the lid. And there you go. Now I have organized cords and desk top.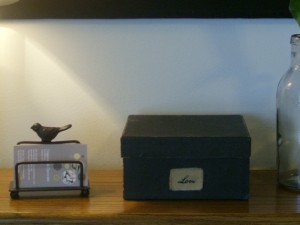 I'm linking to:    
Remodelaholics Anonymous Meeting at Remodelaholic
Show and Share Day at Just a Girl
Weekend Wrap Up Party at Tatertots and Jello
Sunday Showcase Party at Under the Table and Dreaming
Motivate Me Monday at Keeping It Simple
DIY Project Parade at The DIY Showoff
Show Me How at It's A Blog Party