It's Why Not Organize Something Wednesday. Yes, I know Wednesday's almost over. I've been a little under the weather, had to take Emilee to the orthodontist, rearranged the entry and the dining area and worked on something for Young Women's. This is the first chance I've had to sit down at the computer. So let's get started.
Do you have piles and piles of magazines? Are you reading all of them? Are you ever going too? Could you find what you want when you want it? Wouldn't it be easier to take out what you need and file it? You can either keep the piles, give up and throw them all away, or try some of these clutter control ideas for your magazines: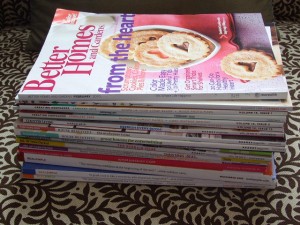 As soon as your new magazine arrives for the month recycle the old one whether you've read it or not. These are our magazines and catalogs ready to be recycled.
Instead of saving entire magazines, tear out and file only the articles you want to save for future reference. Keep them in a binder all together.  
Store you magazines where you're more likely to read them. On your nightstand, in the front seat organizer of your car, in your bag for work, etc. I store mine in a trunk by the front door, so I can just grab a couple on my way out the door.
Put a limit on the number of magazines you subscribe too. And limit purchases at the checkstand, you can always just glance through them as you're standing in line.
Read only the articles you enjoy or will benefit from.
Save some magazines separately from the others for your children's school projects. You should probably limit them to 10.
Cancel subscriptions to magazines you haven't read in 3 months or donate the remainder of your subscription to a friend or family member.
If you're a little behind on your reading schedule reading time into everyday until you catch up.
If you're way behind on your reading just scan the contents page and read only the articles that really appeal to you.
If you subscribe to craft magazines, take out the pages you are going to need and put them in sheet protectors inside a binder, instead of keeping the whole magazine. 
I subscribe to a few magazines, especially since the subscription rate has been so low. I use the "rip and read method." I take out the articles that really appeal to me and put then in a file labeled "read" and take them with me when I have an appointment or when I know I will be waiting for the kids. I'm able to stay up on my reading and have something to do while I'm waiting, like at the orthodontist today. If I want to keep an article, craft idea or decorating ideas or pictures, I just file them in the appropriate binder. I have binders labeled Decorating, Gardening, Scrapbook, Holidays, Organizing, and Parties. If I want an idea, to work on a project or want to look up an article, I know where to find it. I also purge my binders yearly. Just because something once appealed to me doesn't mean it still does.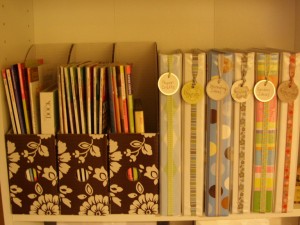 Now go through those magazines and free up some space for those new ones on the way.
I'm linking to:
Victory of the Week at Design-aholic
Tip Me Tuesday at Tip Junkie