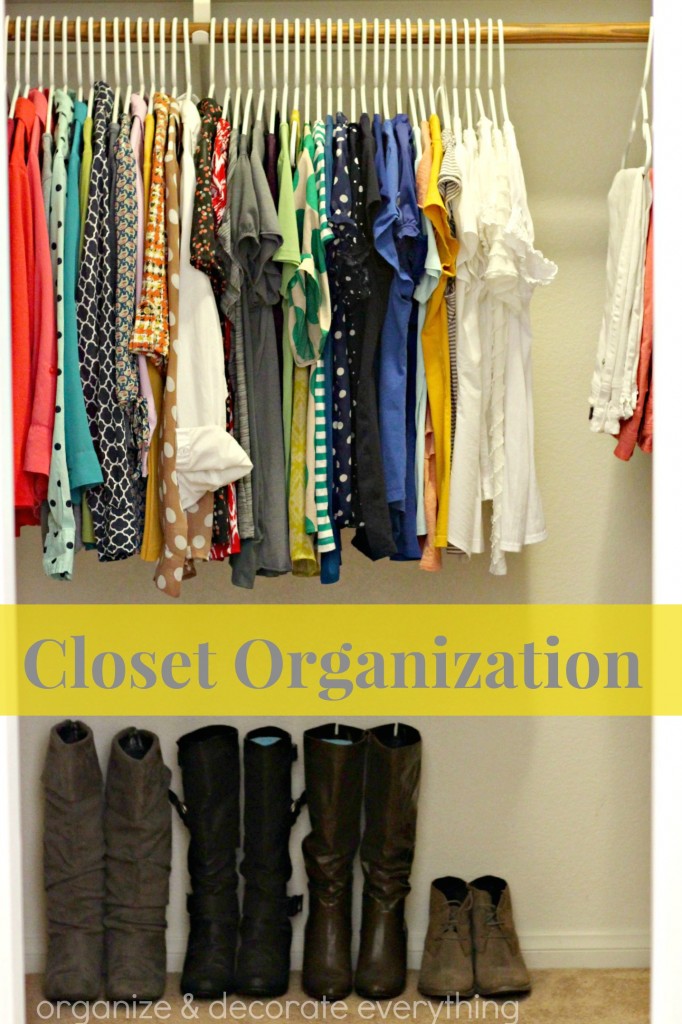 Closets come in all shapes and sizes. I'm sharing with you how I organized my master bedroom closet in my rental home. Let me start by saying that I'm thankful for a big closet in a house that doesn't have much storage. I was able to store little used items on the top shelves and still have plenty of room for all the other things that belonged in there.
My boots are on the floor directly across from the door opening. You can check out how I made the DIY Boot Shape Keepers to make your own. My shirts are hung directly above my boots. I keep all the long sleeve shirts in one area and the short sleeve shirts separate but right next to them. Yes, I do keep the clothes equally spaced. By keeping my shirts like this, I can see exactly what I have and pick out what I want to wear in seconds.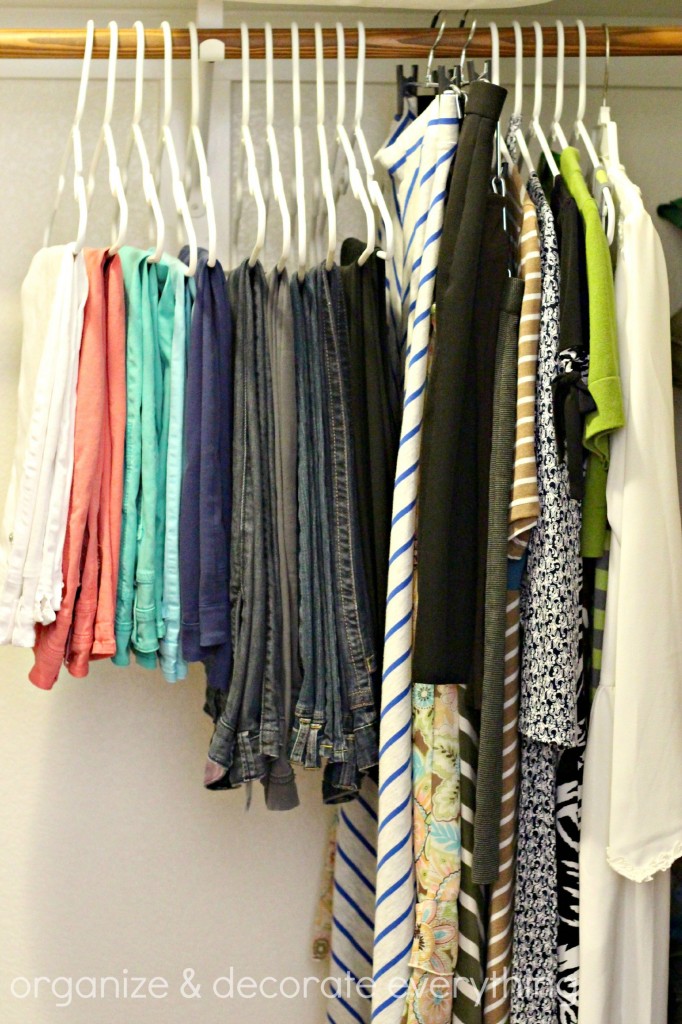 To the right of my shirts are my pants and skirts and dresses. I use skirt hangers with clips available for 4 skirts, to save on space.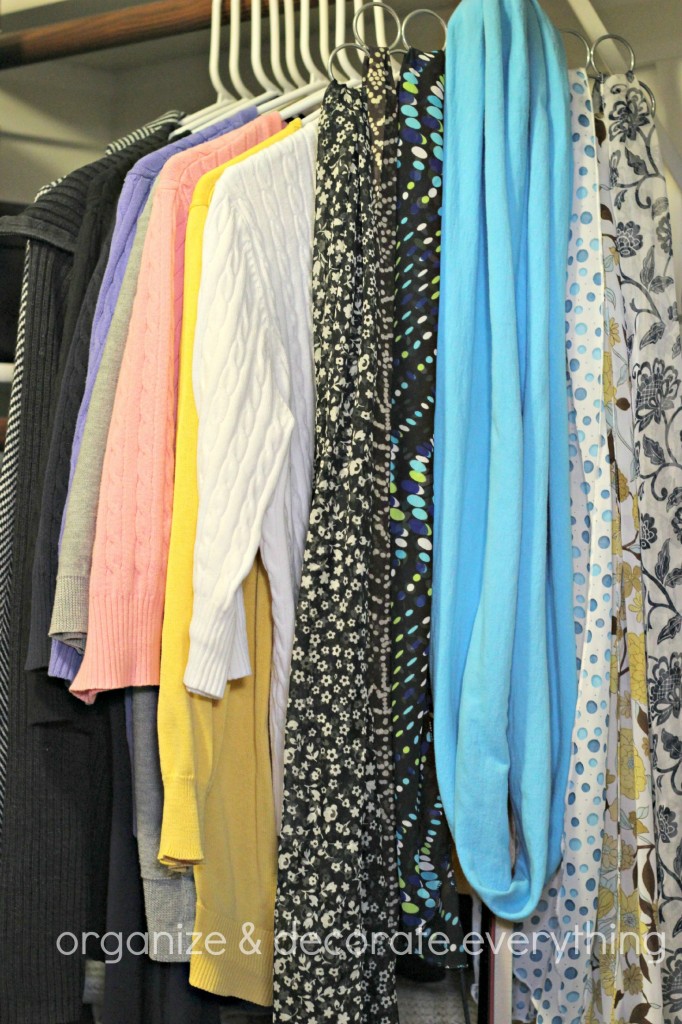 On the next wall to the right of my dresses, are my sweaters and scarves. I use a scarf organizer to hold my scarves and belts and keep them organized. It's easy to see what I have at a glace. This organizer can be purchased at Ross, Target, WalMart, etc.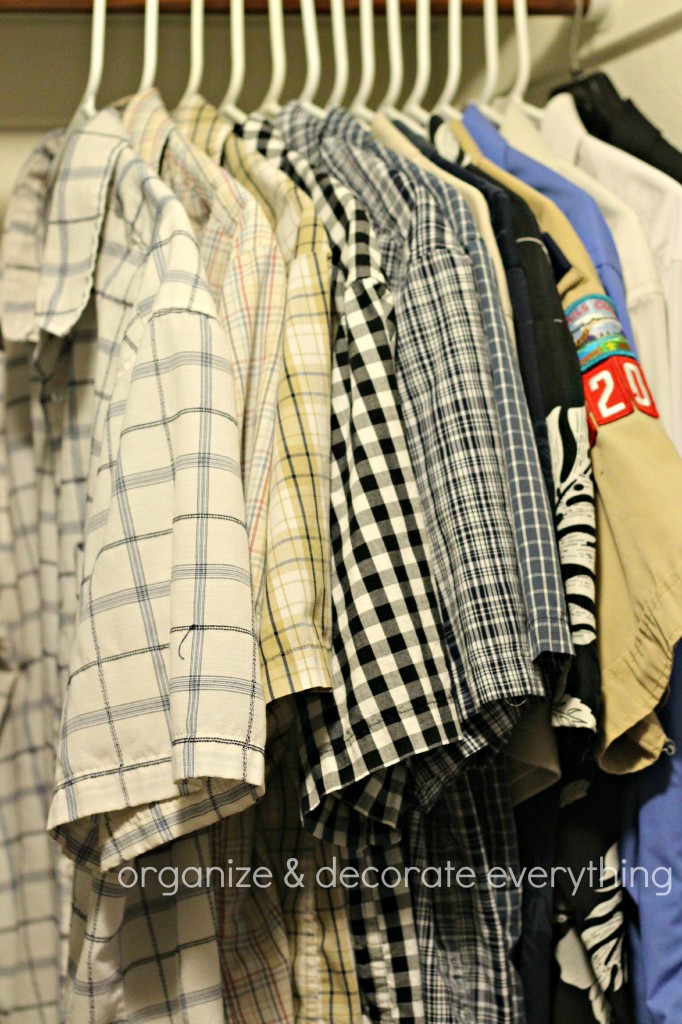 On the same rod opposite my sweaters are hubby's shirts. The rod right below that hold his pants. I like to use the same hangers throughout the closet. It makes it look nice plus it helps keep the clothing neat and wrinkle free. Someday I'll have beautiful hangers, but for now these will do.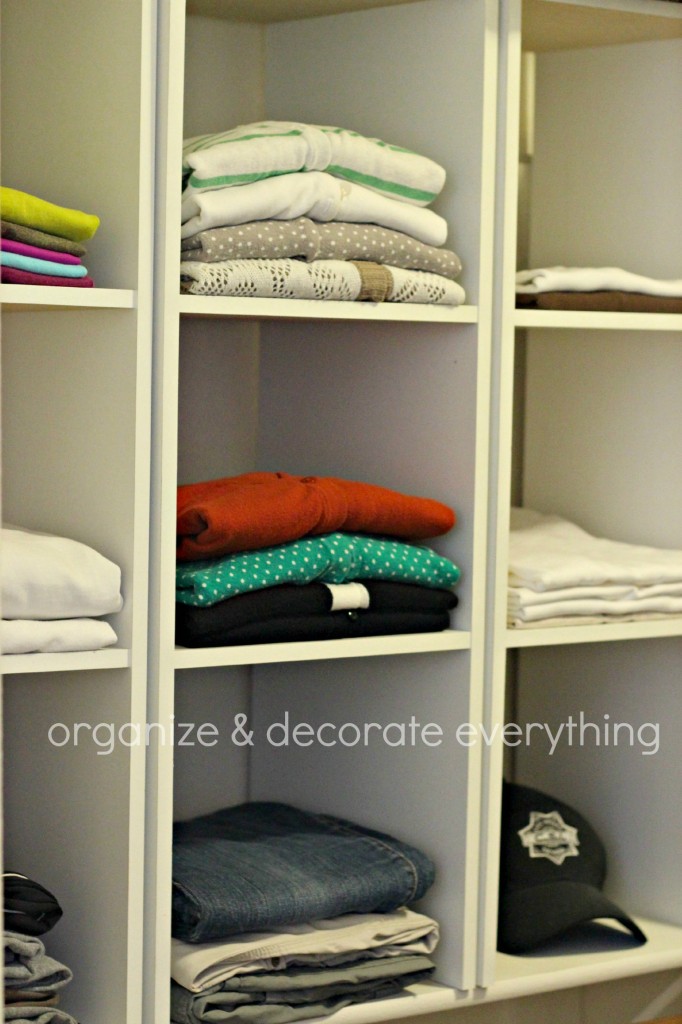 The left side of the closet holds all my shelving units. Since we only have one dresser I store most of my folded clothes here. Exercise pants and tops, shorts, t-shirts, tanks, and folded sweaters. I bought my shelving units at Target, but they are also available at WalMart, Lowe's, Home Depot and other similar stores. I placed them right on the middle shelf at about eye level.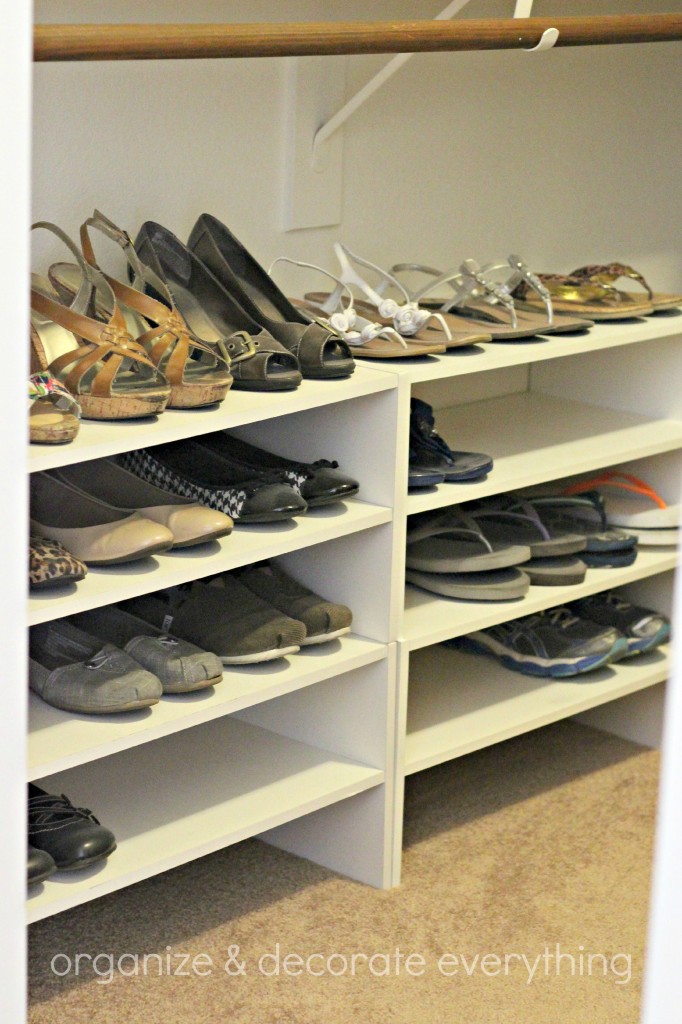 Right below the clothing shelves are my shoes. I try not to store anything on the floor in closets. It can easily become a dumping ground so it's better to have things off the floor on shelves or in containers. I've talked before about how I have a lot of shelving units. My reasoning is that I can move them around and change them whenever it's needed. Since we have lived here I haven't had to buy one shelving unit, I was able to bring them all from my other house and reconfigure them here.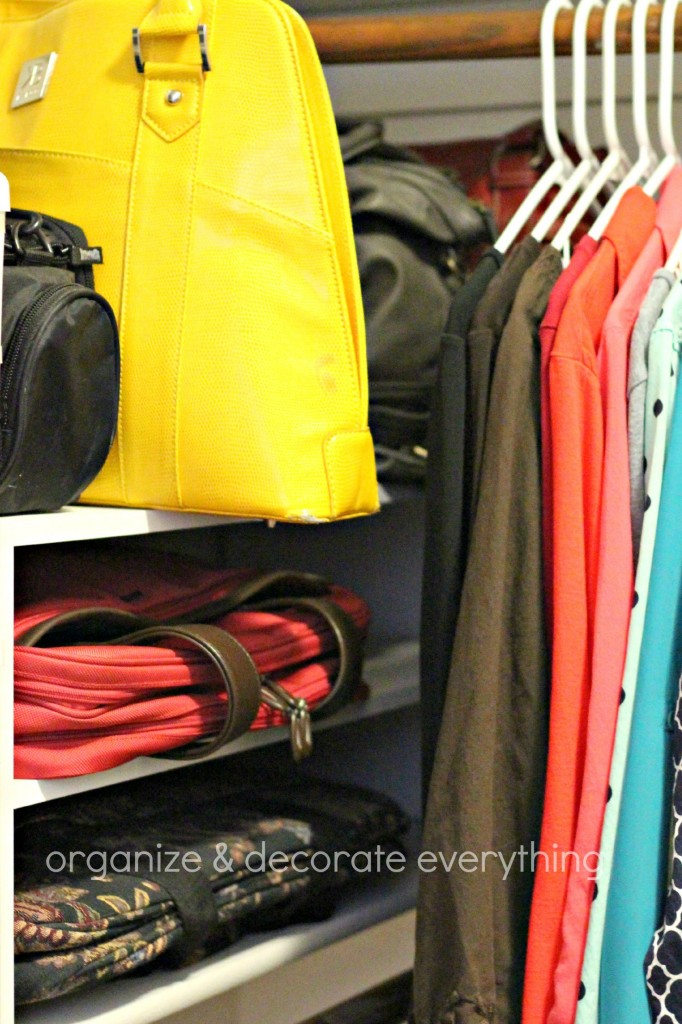 To the right of my upper shelving units are my bags. You can see what I do to keep them in shape here.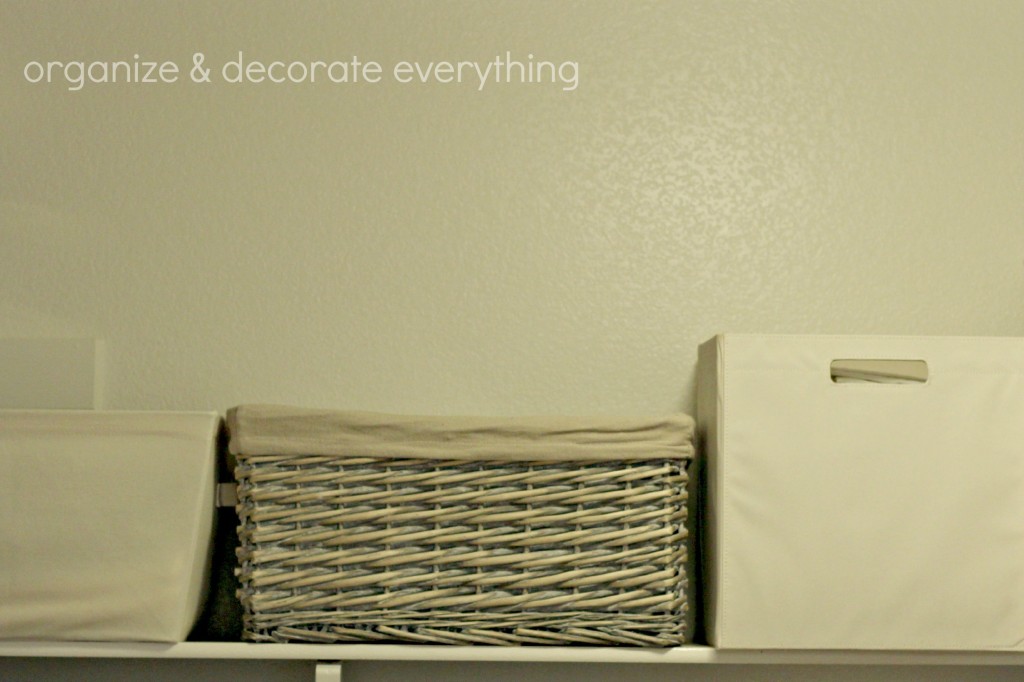 Baskets are some of my favorite things to use in organizing the closet. Things can be easily accessible but also hidden from sight. The one on the left holds sewing and mending projects, the center one holds sheets and bedding, and the one on the right holds bags and other things for travel.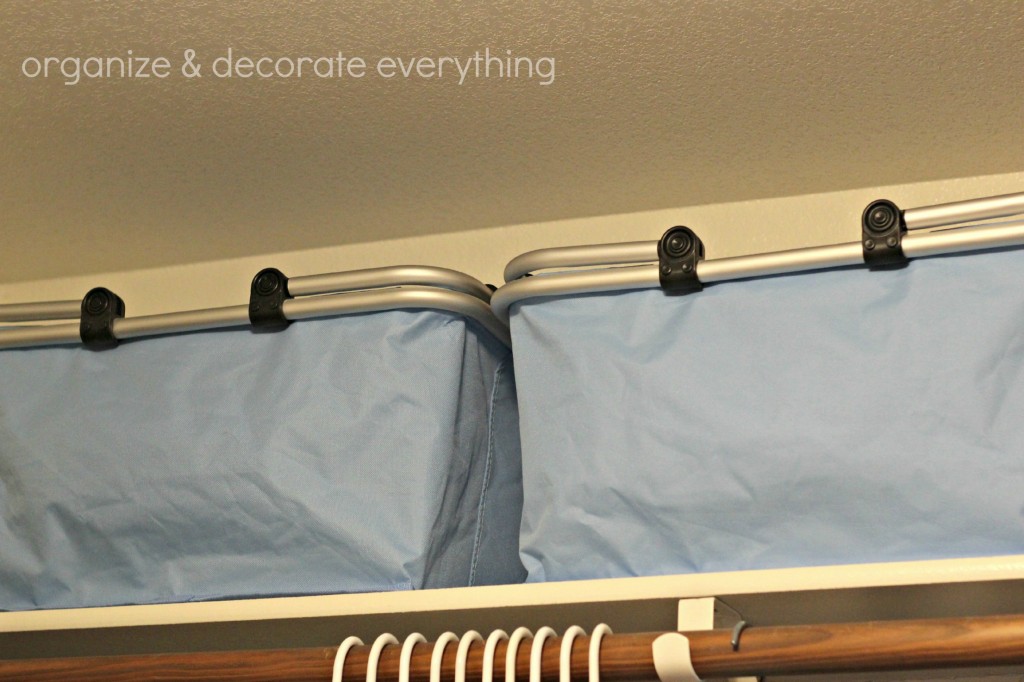 These baskets on the very top shelf hold gifts and other things I want hidden. A lot of the time they are empty, but are perfect for those things I need to keep out of sight until the time is right.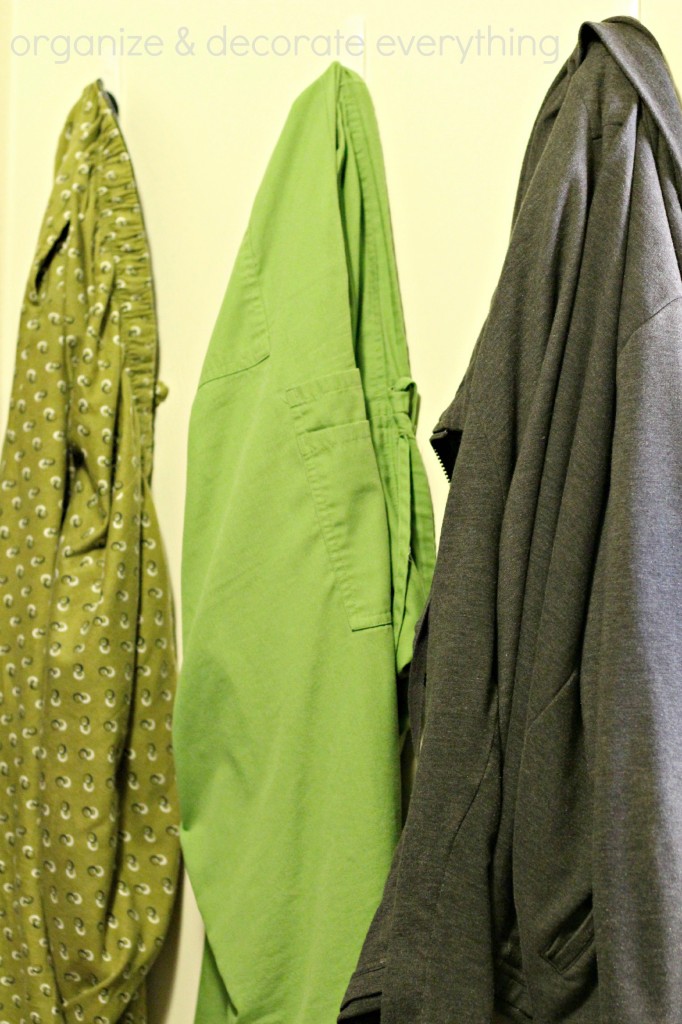 Since we're just renting I don't have the option of moving things around, taking bars down, or adding hooks. I hung our pj's and my jackets on the back of the closet door using Command hooks. These are a renters dream!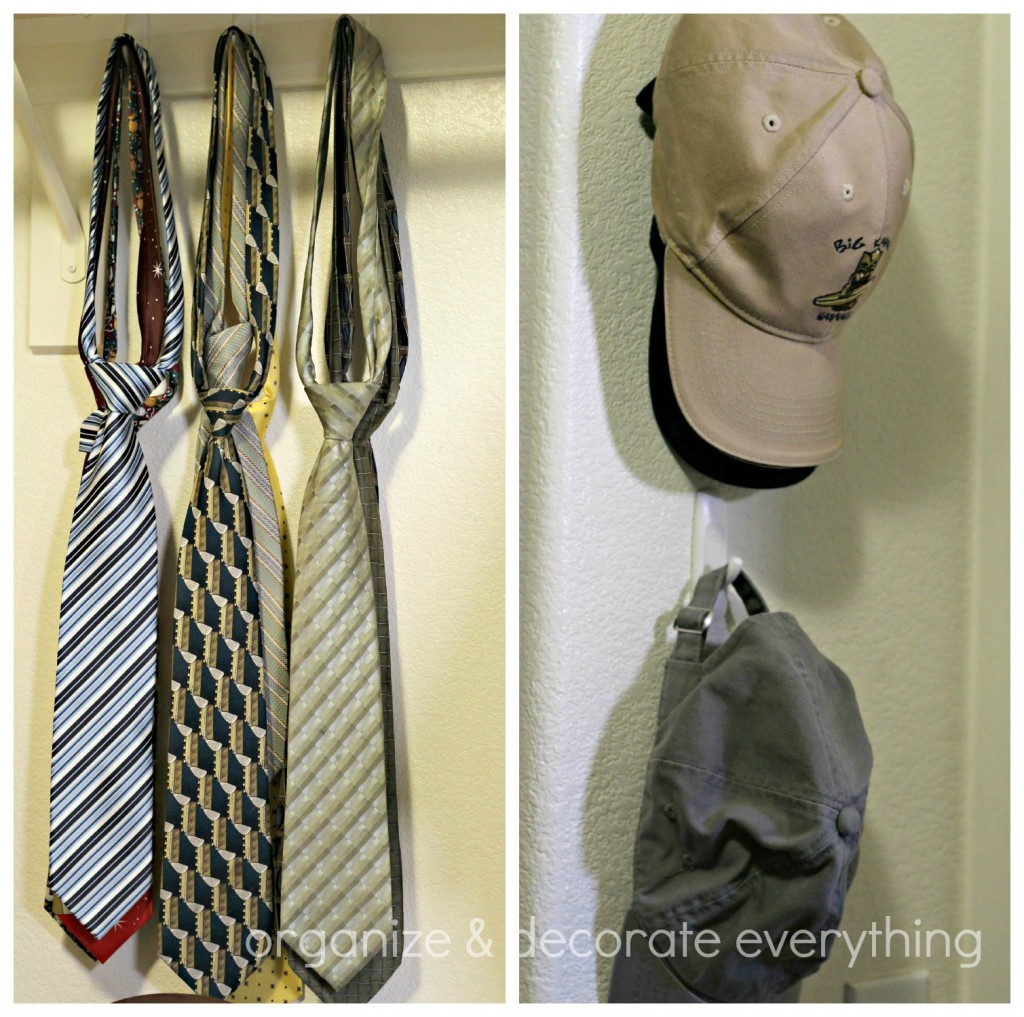 Hubby's ties and hats are also hung using Command hooks.
I hope this gave you ideas on how to organize your own closet. Since I'm renting using non-permanent things work best for me. If you don't have the option of built-ins they're a perfect solution. Even if you own a home I like the ease of using them and being able to reconfigure them on a whim. Sometimes I just like to move things around.