I showed the Activity Days girls how to make bottle cap necklaces last week. You can save the caps off of bottles or buy them from the craft store for about .10 cents each. I chose to buy mine since I don't usually buy drinks that come in bottles.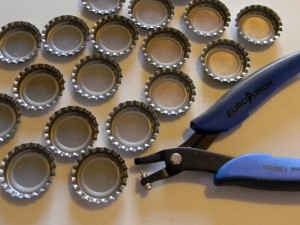 I have a metal hole punch I bought off the Internet about a year ago. It works great on these bottle caps. Once you punch the hole put a jump ring through it. You can add the chain later.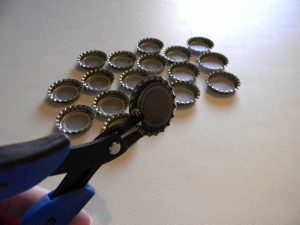 The girls got to choose from different stickers and scrapbook papers. You can also use photos, wrapping paper, something printed from the computer, or a combination of them all.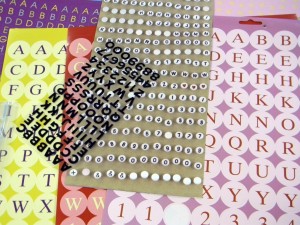 A 1″ circle punch is the perfect size for the bottle caps. I don't have any pictures of the girls working on their necklaces because I was too busy helping them, but they all had a lot of fun and got very creative. We had to limit their jewel usage to one each bottle cap or we would have had some covered in jewels. Which might actually be pretty but we would have run out of jewels.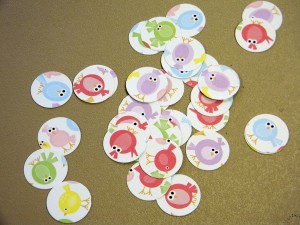 Secure the paper and/or initial to the bottle cap with mod podge. You can add a jewel at this time too. Let it dry a few minutes then cover it with Glossy Accents (follow the directions on the label so you don't end up with bubbles).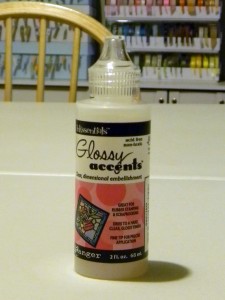 They will appear cloudy for the first few hours but clear up as they dry.
Let them dry for about 24 hours before wearing them. You probably don't have to wait that long but we told the girls they had too. I didn't want an 8 year old girl calling me and crying because her necklace didn't turn out.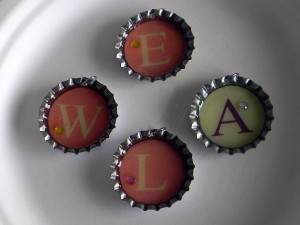 They're so simple to make and the girls did a great job. This would be a fun gift for girls to make for their friends.