I've been wanting to do this for so long, but have never been brave enough. I first saw it in the Park City Parade of Homes 3 years ago and thought it looked so cool but never tried it. Then I saw that Beth did something really similar and that helped me get up the nerve. This is how the little lamp on my desk looked yesterday. I don't love it.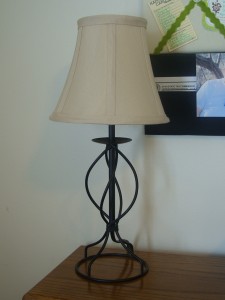 I wanted a naked shade, down to the metal form.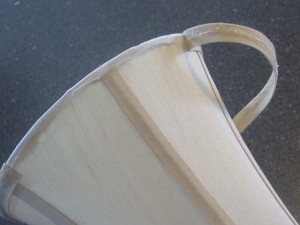 So I peeled the trim off and the lining out.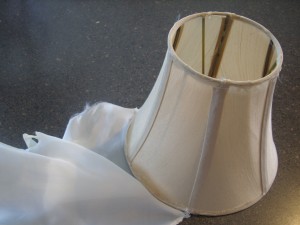 Then took scissors and cut the rest of the material off.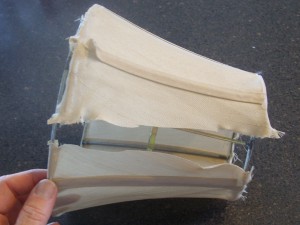 Here's the naked shade.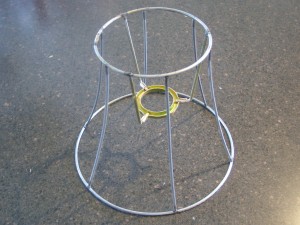 Hmm, don't love it.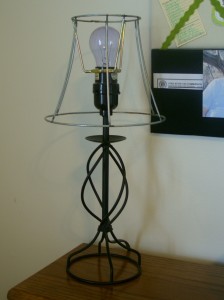 Maybe if I change the base? Nope, still don't love it.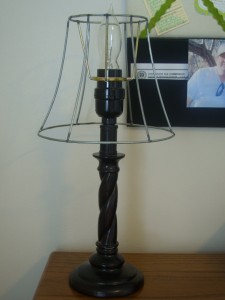 What if I spray paint the shade form black? Better, but….you know.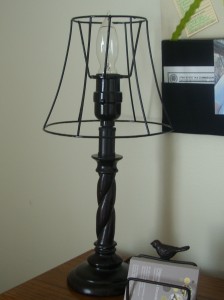 What about twine? I've put twine on bottles, vases, frames, wreaths, letters and around flowers. Why not shades? First I tied a knot and added a drop of super glue.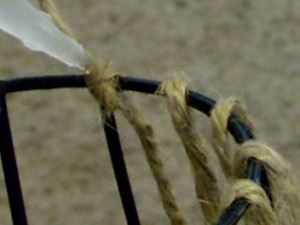 Then I just started wrapping. I tried to space it pretty evenly as I went around. I wrapped the twine 3 times in each area (between the wires) of the shade.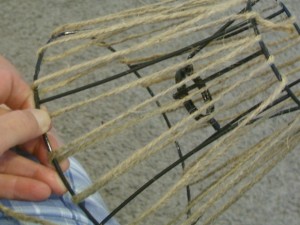 Once I had it spaced how I wanted, I started at the beginning and made them all tighter so it wouldn't slip. Then I tied the beginning and end together and added a drop of super glue.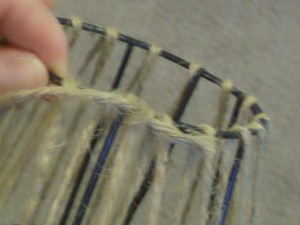 She's pretty snazzy now. I don't know how much twine I used. I just cut a really long piece off the roll and started wrapping.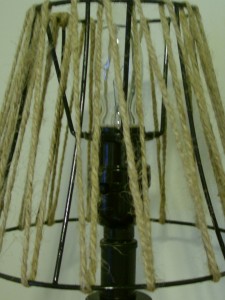 What do you think? Now, I love it!!!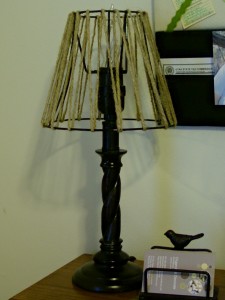 It's hard to take a picture of it with the light turned on, but here you go.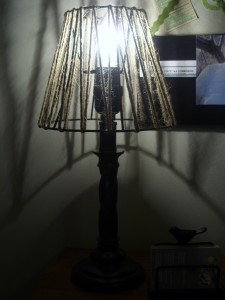 I'm liking to:
Tip Me Tuesday at Tip Junkie
Show and Tell at Blue Cricket Design
Transformation Thursday at The Shabby Chic Cottage
Strut Your Stuff Thursday at Somewhat Simple
Look At Me Party at Fun To Craft
Frugal Friday at The Shabby Nest
Decorating Your Home at It's A Blog Party
Saturday Nite Special at Funky Junk Interiors
Metamorphosis Monday at Beween Naps On The Porch
Make It 4 Monday at Cottage Instincts
DIY Project Parade at The DIY Showoff
Tutorial Tuesday at Hope Studios
Lamp Categorically Crafting Show at Someday Crafts