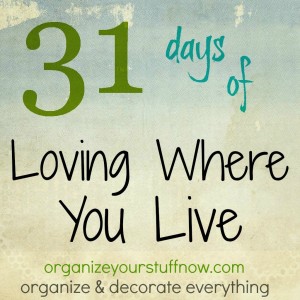 It's hard to enjoy your home when you're the only one cleaning and decluttering it. If you're the only one doing the dishes, vacuuming, cleaning the bathroom and picking up around the house it's going to get old quick and you're not going to enjoy your space.
Divide and Conquer! Even if there's only 2 of you in the home divide up the chores. Things will get done quicker and everyone will be happier. Sometimes it's fun to clean together, especially if you make a contest out of it.
My kids all have chores they don't get paid for. We figure chores go along with being part of a family and doing your part. It's not a lot, but it's enough for them to know they are contributing and helping out. There are extra chores my kids can do for money though and they frequently ask to do those chores. Our chore chart is a simple dry erase chart and it works perfectly for us. I am revamping it though and will have a new one to show you soon. The kids are getting older so we are changing a few chores.
I also have the kids pick up all their things throughout the house a few minutes before they go to bed. It is their responsibility to have their things put in their room or I hold them hostage and they need to do something to get them back. I always give them a reminder first but if they don't take care of it and it's still out I take it until they do something to earn it back.
Here are some more ideas. I'm sure you'll be able to find something that will work for your family. Just remember a few things when deciding on chores:
-Working together is always easier
-It doesn't have to be perfect
-Make sure the chores are age appropriate
-Don't make it a punishment
So how do you handle chores in your family? This is how I feel some days.
See you tomorrow for the next post in the series 31 days of Loving Where you Live: Car Organization
Just a few more things:
31 days of Loving Where You Live – If you've missed any of the series, there is a link to all of the days here.