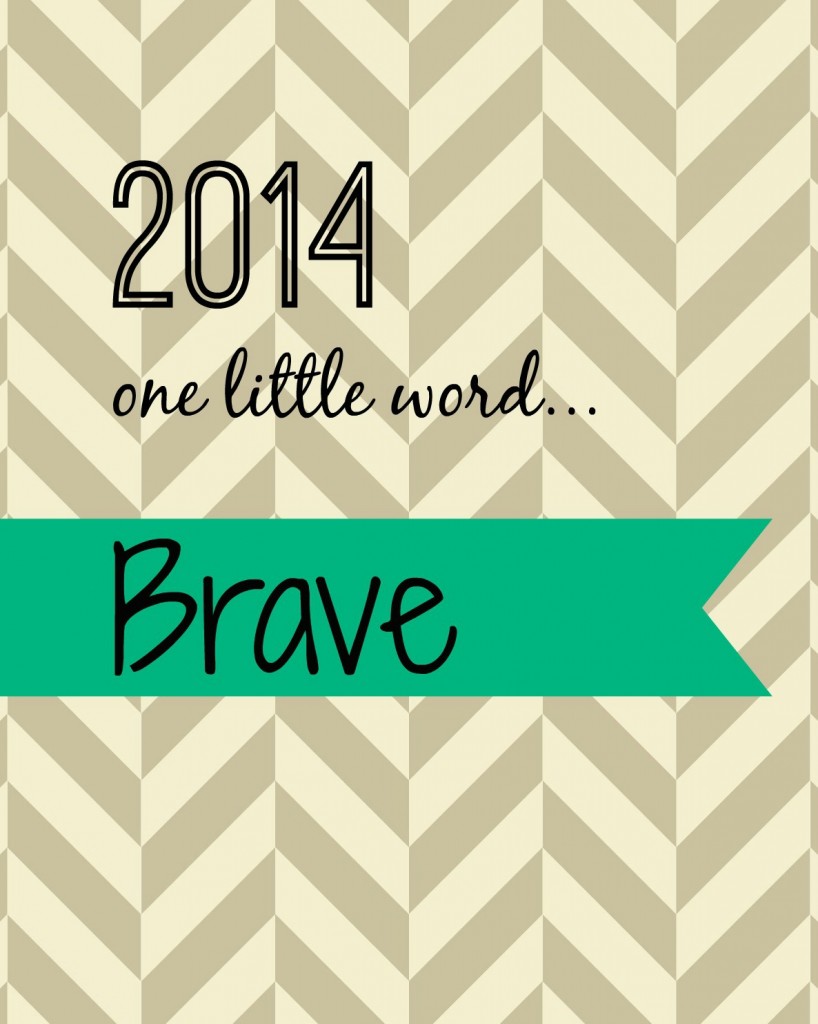 Just a warning: This post is going to get personal.
Do you choose One Word to focus on for the year? This is my 3rd year choosing One Word to focus on as I try to better myself throughout the year. I actually like making resolutions, I look at them more as life time goals. Choosing one word has helped me direct myself towards larger goals. I don't always conquer all my goals and often fall short. Sometimes I think about repeating a …one little word… for another year and maybe I will one year. That doesn't mean I haven't made progress, it just means I still have a ways to go in that area.
So let's get into why I chose Brave for my word this year. Like I said, this is going to get personal and I've been keeping a lot inside for a while. Hopefully this doesn't scare anyone away but I want to share how I'm hoping this word will affect me this year.
I've had a few difficulties to overcome the past few years, there's been job loss (several times), health issues, difficulties with teenagers, money problems because of job loss, and then just everyday things to pile on top of an already stressful situation. I'm not going to get as personal as I first thought I would because I don't know that it will benefit anyone, but I have struggled with depression since my early teenage years. It can be debilitating at times. I feel like I'm in a deep hole and climbing out can be a long, emotionally exhausting journey. But I've made it out each time and grown a little stronger each time.
These past few months have been different though. We recently moved to a new state and it was a difficult move for me. While I believe it was a good move for my family it still didn't make it any less difficult. I felt paralyzed! I started having panic attacks and was scared to leave my home alone. I can count 3 times I left my home alone, except to take Ammon to school (actually he was in the car with me so I guess I wasn't alone) the first 3 months we were here and it was hard every time. We've had visitors and of course since we live in Vegas, they want to go to the Strip. While I used to love visiting the Strip it was now emotionally difficult for me to even think about going there. I didn't want to disappoint anyone so I would go but usually cry and shake the whole way there, saying to myself I can do this! Crowds are not something that are easy for me right now.
That's probably enough detail. Things have gradually been getting better. I've been pushing myself a little more every day. I've found that being outside everyday helps me tremendously, even if I don't leave my backyard. Seeing my kids excel and be braver than I could ever imagine is helping. And an understanding husband is helping the most. When I haven't been able to go to the store, he goes for me. When I've gone walking in the morning, he congratulates me. He pretty much goes with me everywhere I go right now. I actually went to a few stores right before Christmas and it went rather well.
So, you can see why I've picked Brave as my word this year. It's not just about being brave enough to venture out on my own though, it's about being brave in all aspects of my life. It's also about being brave enough to notice what's going on around me and acting on it. Going through this has made me realize that I usually have no idea what's going on in someone's life. I want to become brave so I can help someone else who's struggling. I don't want to be afraid to approach someone with a kind word, a smile, an invitation to lunch, or a long conversation. That might be second nature to some of you but for me it's a stretch. Having a continuous fear of rejection makes it hard to be the one to make the first move, but this is the year I'm going to work hard on being Brave. Through being brave I hope I can help someone overcome a fear or a challenge. We all want to be the best person we can be and we all need help along the way. I have been so grateful to those who have helped me through difficult times, sometimes without even knowing they did. They were just there for me.
I hope to keep you updated here and there on my journey and how this word is helping me this year. Please only positive comments on this post. I will be brave enough to delete negative ones. If you have any questions you don't want to leave in the comments you are more than welcome to email me.
I'm going to do something BRAVE today!
Also I am thinking of making a printable like the one above. I will offer the flag in different colors and leave it blank so you can add your own word. Would anyone be interested?