I love decorating my home, but there's not always money to be changing decor as often as I'd like. My home is in the late Summer/early Fall decorating transition. A little bit of Summer, a little bit of Fall, which happens to work perfectly with my $0 decorating theme. Here's some $0 decorating tips to help you spend as little money as possible on your decorating this season.
Use Books– Books can help add height to any object, add color and style, and even history to an area. Take the dust jackets off and almost any book looks great. These are my kids, Series of Unfortunate Events books, but they were the color and size I needed so they work. BTW, I read all these books and I really liked them.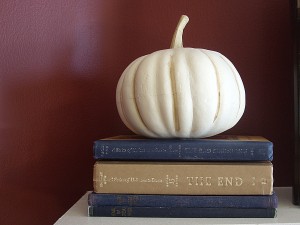 Bring the Outdoors In- Use flowers, plants, leaves, pinecones, acorns, fruit, vegetables or anything else you have in your yard or your neighbors yard (if they don't mind). In a few weeks my leaves will be changing then I can bring them in and use them in a vase, bowl or on the mantel. Until then, I'm harvesting my fruit and displaying them in baskets, bowls and jars. Of course, they're getting eaten too. I love pears off our tree.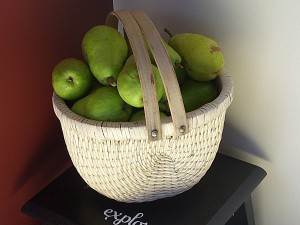 Keep Things Displayed From the Previous Season- Some colors and items can work from season to season, use that to your advantage. I'm keeping out my yellow pillows from Summer for a little longer. They work well with the changing colors of Fall.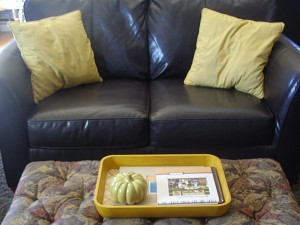 I love colored glass bottles, so why not keep them out and bring them into the next season with the new season accessory, like this little pumpkin.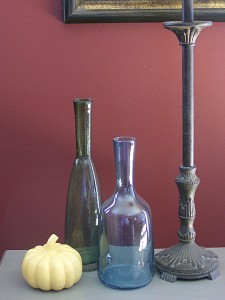 Fill a Jar- I love decorating with glass containers. It's so easy to change the look by just changing the contents of the container. I just filled this one with random Fall pieces: acorns, pumpkins, nuts and artichokes (I think). You can bring things in from your yard, put them in a jar and you have an instant decoration.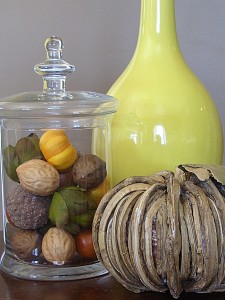 Change the Color- If you don't like the color of something or it doesn't work with the season, change it. Spray paint it (my favorite) or cover it up. I wrapped twine around a dollar store vase and got the exact look I was going for.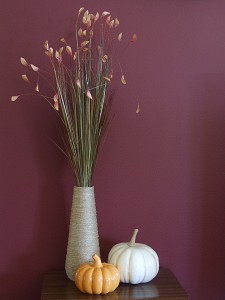 Use Photos or Pictures taken by You- I love decorating with personal items. What can be more personal than pictures taken by yourself? Photos of family or friends, places, or things that have meaning to you. I took this picture at Cedar Breaks National Park last year. It was while we were hiking and the colors were beautiful.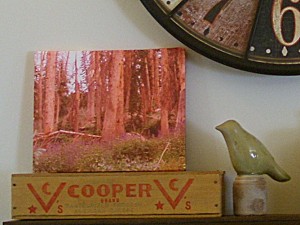 Add Little Things Here and There- You don't have to go overboard. Adding just small touches here and there can help welcome in the next season.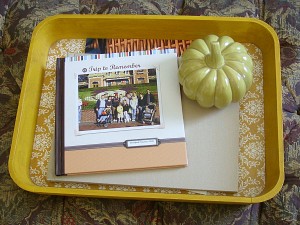 Use Free Art- There are so many free printables from wonderful blogs on the internet. Look around, you're bound to find something that will fit your personality and style. Stick it in a beautiful frame and you're done.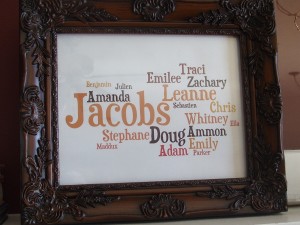 Use What You Have- Everything I have decorated with this season are things I already owned. I didn't have to buy one thing. I think everything seems new again once I unpack it from being stored away for almost a year. I even forget a lot of the things I have. It's like Christmas everytime.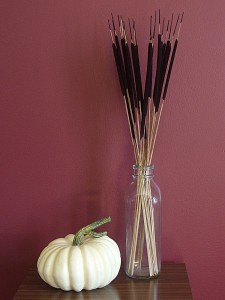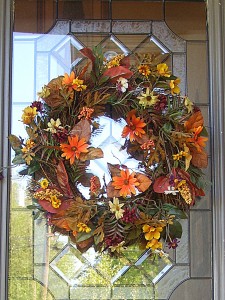 I'll be adding more Fall decor in a few weeks. I'm not planning on buying anything, so come back to see what I come up with.