I usually have a Winter tree up for the month of January. It's kind of a transition tree that makes it easier for me to take down all the Christmas decorations and not feel so bad about it. I haven't shown it yet and since it's the middle of the month, I thought I better show it before it's time to take it down. It's in the upstairs loft area of our home, where the computers are and where the kids hang out.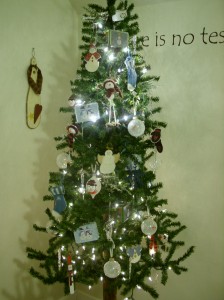 I don't usually decorate with snowmen at Christmas, instead I save them for January when it's too early for me to start putting Valentine's decorations out. Plus we have tons of snow on the ground, so it's like brings the outdoors in. I found these cute little lunch boxes at Target about 8 years ago.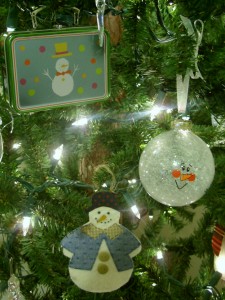 I made these snowmen out of muslin, fabric and iron-on adhesive quite a few years ago with my best friend. I forgot how much I like them. Maybe it's time to make some more.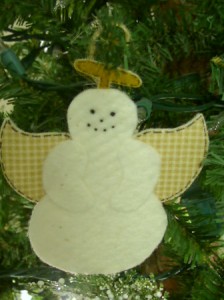 I made these about 10 years ago. I covered the inside with glue, sprinkled in some glitter, shook it around, dumped out the excess and used rub-ons for the face. They're all a little different and so cute and easy to make.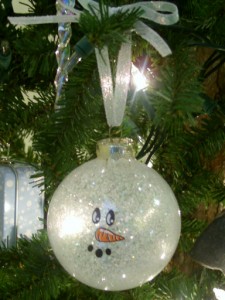 This one is super easy and cheap to make. You just use a tuna or other small can and paint a cute face on. Poke holes in the sides of the can and put wire through for a handle or to hang.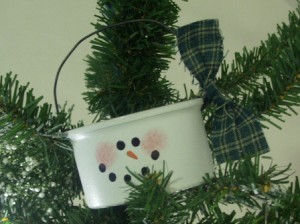 The topper is just a large snowflake that's suppose to be hung.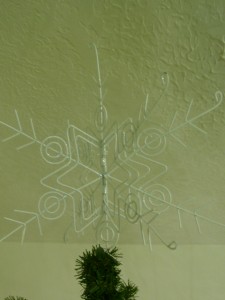 I love simplicty in January, so this is my little front window with green plants and pinecones. So simple, clean and beautiful.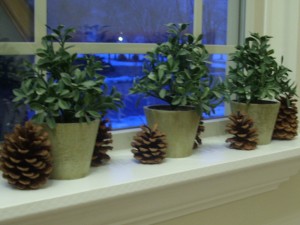 Do you decorate for January or have some transition decorating time between Holidays?
I'm linking to:
DIY Day at A Soft Place To Land
Get Your Craft On at Today's Creative Blog
Show and Tell at Blue Cricket Design
Strut Your Stuff Thursday at Somewhat Simple
Transformation Thursday at The Shabby Chic Cottage
Show and Tell Friday at My Romantic Home
Creative Cats Friday at Poppies at Play
Inspiring Finds at The Inspired Room
Saturday Nite Special at Funky Junk Interiors
Metamorphosis Monday at Between Naps On The Porch
Make It For Monday at Cottage Instincts
Make Your Monday at Twice Remembered
It's So Very Creative at It's So Very Cheri
Happy Birthday to my oldest, Traci! She's 29 today and having her 3rd little boy in about a month. Have a wonderful day Sweetie and enjoy your Pizza Spaghetti!
Whitney and Traci-Christmas 2008