Oops! I forgot to draw the winner of the Imaginisce Dinoroar line from Roberts Crafts. The randomly drawn winner is Christy at Selectively Reckless. Congratulations Christy!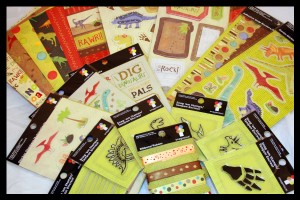 And because the second winner of the Organized Mom book never contacted me I have another winner for that book. It's Anne Marie at Declutter Diva. I love her blog name. Congratulations Anne Marie!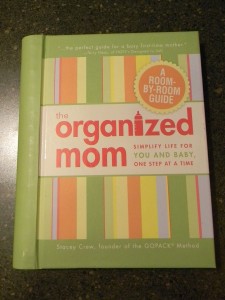 Please e-mail me within 72 hours with your mailing addresses.
Thank you, thank you, thank you for all your book recommendations for my son to read. I think I have enough to take him through 5th grade now. The Percy Jackson series and The 39 Clues seem to be a big hit, so we'll try those next. Read the comments on this post if you're searching for some recommended books for your kids.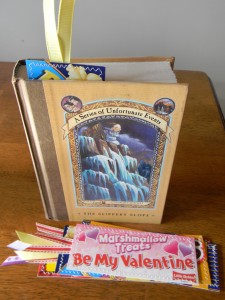 My birthday was a few days ago and I tried to keep it under wraps, but hubby let the cat out of the bag in a comment and others caught on, so thank you for all your Happy Birthday wishes. They mean a lot to me. My kids were so cute. Amanda got up early and started decorating the house then the younger kids joined in as they got up. I didn't even hear them decorating and my room is right down the hall. Here's what I woke up to Monday morning. This is right outside my bedroom door.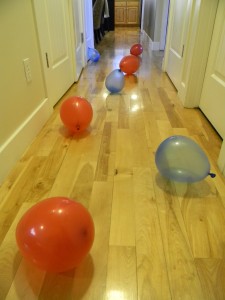 Looking back towards my room.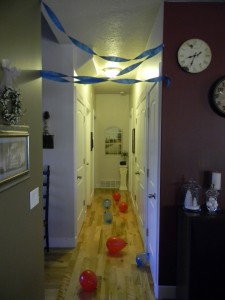 Some signs on the fridge.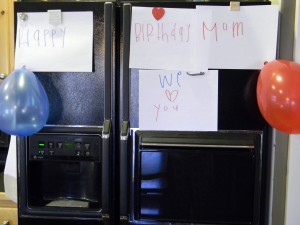 Flowers, cards, and breakfast. They didn't make the breakfast for me because I have to wait an hour after I take my medication to eat in the morning. The flowers are from hubby. Aren't they so sweet!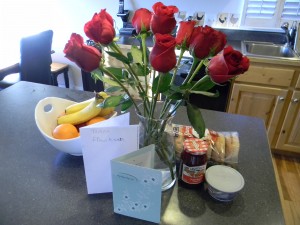 Another job update (are you getting tired of these)? Hubby is working about 30 hours a week now. We really need 40, but we're hanging in there. The 40 hours are in the works, but it's taking a while. Hopefully by the end of next week he'll be a full time employee with benefits. That will be such a relief for our family. Hubby has been out of work since the beginning of September and trying every minute since then to get a full time job. Things are looking up now and we couldn't feel more blessed.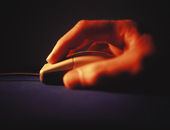 Grrr! Apparently, a lot of my e-mails have been ending up in my bulk mail box again and I didn't realize it. If you've e-mailed me in the last few weeks and haven't received a response that could be why. If you'd like me to respond send me another e-mail and I'll be checking my bulk mail box also until my e-mails get straightened out. I appreciate your understanding.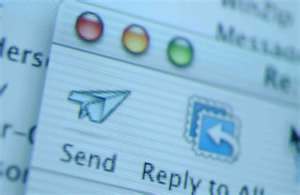 One last note! I have some fun giveaways coming up. I love supporting great businesses by giving them some recognition on my blog. If you'd like to sponsor a giveaway and have your button on my sidebar for a month for free, send me an e-mail at leanneja (at) organizeyourstuffnow(dot) com. I'd love to help bring more traffic to your etsy shop, blog or business.
That's it for now. Have a wonderful day!