You know how I've talked about not keeping something you don't love, use often, or have for sentimental reasons? So, why do I still have this at the end of my hall? Yeah, that wood thing. It doesn't really fit, does it?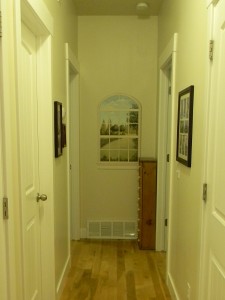 Want to see what's inside? Lots of Cd's. I know Cd's are on the way out, but hubby and I love our Cd's. So, I needed to come up with another storage idea.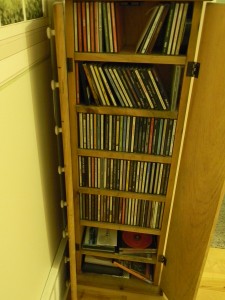 Enter my beautiful Chinese Chest. We've lived in this house for 6 1/2 years and the chest has been in the basement, covered in dust that whole time. Why? I don't know. I love it! It's my favorite piece of furniture I have. It's a real antique and I've had it for over 25 years. I guess I've always been afraid it wouldn't "mesh" well in my living room. And then I thought, "I love it, so it will work."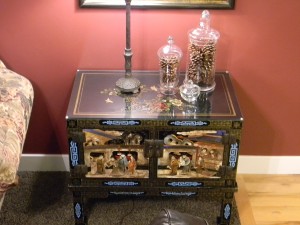 I loaded in the Cd's and even have more room if need be. The Christmas and children Cd's are in the back.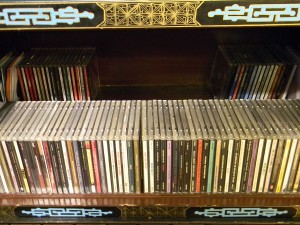 Why would I think it wouldn't "mesh" in this room? It looks beautiful. Sorry, it's hard to get a good picture of it because of where it is. I love it under the mirror and I didn't even have to move it, which is a good thing since it's heavy and took me forever to hang it the first time.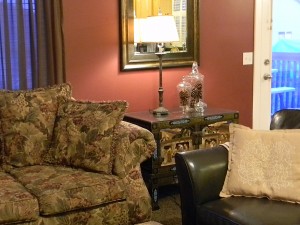 And now my hall looks better too. Ummm, yes, I did get that pedestal out of my yard sale pile. Don't take things out of your yard sale pile. That's a big no no! Do as I say and not as I do. I did put the wood cabinet in the yard sale pile, so technically they just changed places.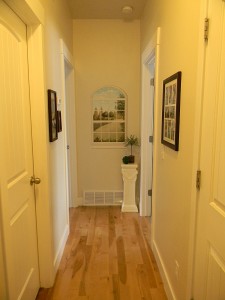 I love both my spaces so much better now. Do you have something in the basement you love, but haven't been using?
Make it a Beautiful Weekend!