It's Why Not Organize Something Wednesday and since it's almost a new year, it's time to start thinking calendars and planners. Do you have one that works for you or are you still looking for that right one? Try to find one that meets your needs, whether it's helping to schedule the kids activities or finding balance between work and home. Here are some planners I thought were the best in organization and some desk calendars just for fun.
Planners are all under $25.00
Franklin CoveyClassic Simplicity for Moms – Wire bound – 2 pages per week – $24.95. This is the one I use. I've been hooked on Franklin Covey since the first time I used it over 20 years ago, so I'm probably a little biased. But it has everything I need to keep my family, work and recreation scheduled and under control. You've seen mine before: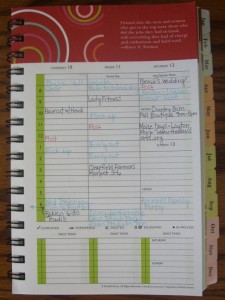 And here's the new one for 2010: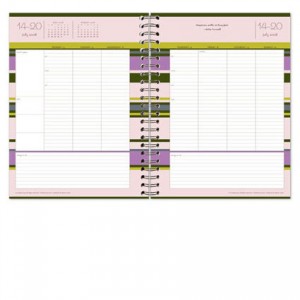 Mom Agenda Mini Daily Planner – $24.00. This one has a lot to offer for Moms with keeping kids schedules and records straight. It's available in different colors and styles too. It comes highly recommended from everyday Moms:
Mom's Home Plan-It Engagement Calendar – 17 months – 2 pages per week – $14.99. I think it has a lot to offer, especially for the price. I like calendars that start in August, as the kids are getting ready to go back to school: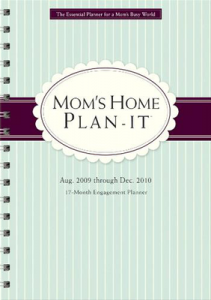 Mom's Home Plan-It Pocket Wall Calendar – 17 month – again a lot to offer for the price – $14.99. You can look at the whole families schedule at a glance: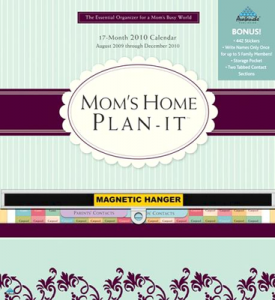 WhoMi How Do I Do It Spiral Notebook – $12.00. The graphic is cool and it's color coded, which I like, because it brings your eyes right to what you're looking for: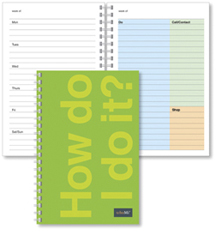 Busy Body Book – 13 month – week at a glance -5 family member columns – spiral bound – $17.95. I think the name explains it all. It helps keep your busy family organized: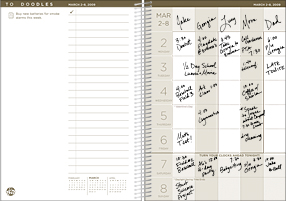 Bubble Planner – coil bound – $19.99. Okay, I must admit, I don't think this one would work for me, but for you uber artsy-fartsy visual people out there this just might be the one. Do you remember those bubbles you had to make in school, well here it is again. This one is for family goals and schedules: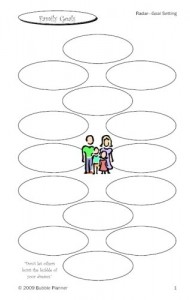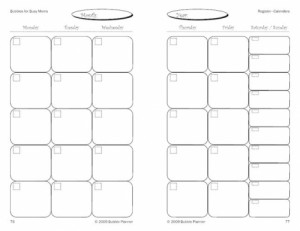 Which one do you think will work best for you? Find the one that's easy for you to use and has everything you need in it.
Now for some fun calendars that are all under $30.00.
Animal Calendar designed by Katsumi Tamura – $24.95. I might have to get this. I fell in love at first sight. I first saw it in House Beautiful magazine. I'm sorry, the picture does not do it justice. There's a deer, rhino, camel, giraffe, ape, alligator and each animal has one month per side. They're made of sturdy white paper that you put together. So fun lined up on a desk or side table: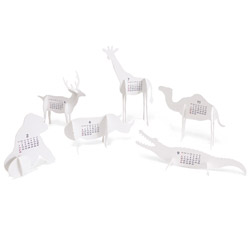 Jumping Point Calendar designed by Michael Domberger – $19.95. This calendar hangs on the wall and you punch out the circles to reveal the colors underneath. You can punch out special dates like birthdays, anniversaries and holidays and also punch out the days as they go by. Great design too: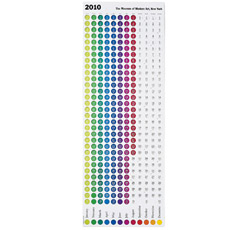 Small Perpetual Calendar designed by Gideon Dagan – $28.00. I like the orange and silver but it also comes in just silver. The magnetic balls stay on the date and month you put them. I think this would look so cool sitting on Hubby's desk: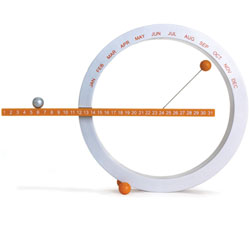 Those are my favorites. Which one will serve you best? I'm actually a office products and organizing products geek so it's hard for me to choose. Have fun and get your days and weeks organized.
I'm linking to:
Works For Me Wednesday at We Are That Family