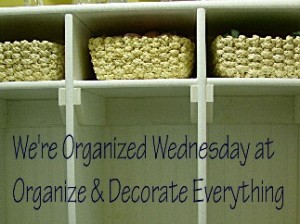 Giveaway is now closed!                           
I'd like to introduce you to Joy from Just Organize Yourself. How perfect is her blog name?  She has graciously let me share with you some of her great organizing tips and ideas. I especially like this one because it can apply to so many other spaces. Follow the Dump, Sort, Containerize, Toss Principle in every space of your house and before you know it you've got yourself one mega Organized home. So here's Joy and remember even if you don't have a lot of time you can still get some space in your home organized.    
We are in BEDROOM zone this week!
I don't have a lot of time today (it's the last errand day before school gets out). But, I did make time for ONE dresser drawer. When the kids get home from school, I'm going to have each of my children clean out ONE of theirs. De-cluttering now will make the summer clean-ups so much easier which means MORE TIME FOR FUN!
Before
WHAT can you TOSS today?

Thanks Joy! Please go to Just Organize Yourself and check out more of her great organizing ideas.
Now, let's see yours! It doesn't matter how big or small it is, link it up. We all need some inspiration. And with Summer here, we need to be organized so we have more time to get out and play. 
And don't forget, there's always a giveaway. This week it's the Parent's magazine meal planner plus.
With areas for meal planning, shopping lists, takeout menus, recipes and leftovers.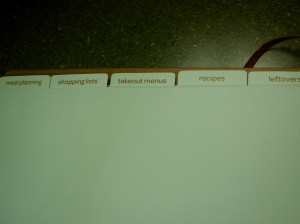 I know you all need this for your busy family.
How to Enter:
1-4 entries- for each post linked up to 4. 
Another Entry- leave a comment. I heart comments (don't we all).
Another Entry- leave Joy a comment then come back and let me know (she likes comments too).
Another Entry- e-mail me at leanneja@organizeyourstuffnow.com and let me know if you'd like to offer a giveaway for an upcoming We're Organized Wednesday. The giveaway doesn't have to be anything to do with organizing. I like other things too.
That's up to 7 Entries, so let's go:  
Link up using the URL code for your actual post and not your general blog. Include a description of your post, someone might be searching for something specific.
Add my button or link back to this post so everyone can join in the fun. (Okay, you don't have to add my sad button but at least link back to my blog.)
Visit and Comment on other blogs. I just know you're going to get some great organizing ideas you won't want to miss. You'll make some new friends and have fun while you're exploring other blogs.
We'll keep the party open till Saturday, June12 to give you more time to organize something.