It's time for another We're Organized Wednesday and I'm excited to see what you've all been working on. So get ready to share your organizing ideas and get some great new ideas while you're at it.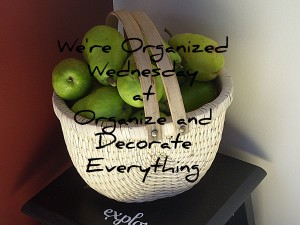 I'm so excited for the giveaway this week. I totally love Becky and her organized self. She's made it so easy for all of us to get organized and stay that way. I've been using Clean Mama Printables for about a year now and don't know what I'd do without them. 
Becky has put together Kits to make everyday tasks a little more fun: The Busy Mama Homekeeping Kit (19 documents), is a complete kit to keep your homekeeping manageable and on-track. The Busy Mama Kit is designed in fun fonts and colors and is meant to be used month after month, year after year. It has documents that every homekeeping binder needs – a variety of lists, perpetual calendars, a deep cleaning checklist, a medical information sheet, daily and weekly planner pages…
The Cleaning Kit (her bestseller), lists a combination of all the tasks that should be done in homes in an attractive, easy to use format that will work beautifully for you and your busy family. The lists are designed to be used together – one for rotating tasks to do year round and one for weekly tasks.
The Organized Kitchen Label Kit is 11 documents in an easy to use, print and label format – the ideas are endless. Get ready to label your entire kitchen – canisters, spice jars, dry storage containers – and with plenty blank labels, you can label other things in your home as well. You can print the labels on clear label sheets, vinyl, white sticker paper, colored paper, printed scrapbook paper……
The Everything Kit bundles 4 of her best-selling kits (32 documents) – The Busy Mama Kit, The Cleaning Kit, The Vertical Weekly Docket, The Meal Planning Kit, and the Christmas Planning Kit (the Christmas Planning Kit can be switched out for any other kit with 5 or less documents). This kit is perfect for someone just getting a homekeeping notebook started.
Want to create your own kit?  Choose the Pick 2 Kit or the Pick 3 Kit – you get to choose your own 2 or 3 kits to create your own personalized bundle – and get  a little discount while you're at it!
In addition to the printable kits, she also carries individual documents. All printables are in PDF file format so once your order is finalized, you can print the digital files as many times as you like for your own personal use. Becky can create a document just for you – she loves special orders, so if you have something in mind but don't see it, just ask!
List Style Calendar (perfect for jotting down birthdays and anniversaries)
The April Cleaning Schedule
The To Do List Kit
The Blogging Kit
The Grocery Shopping Kit
The Everything Kit
The Resolution Kit
Busy Mama Kit
Cleaning Kit
Fitness and Weight Loss Kit
Bill Pay and Budget Kit
The Organized Kitchen Label Kit
Vacation Planning Kit
Meal Planning Kit
Weekly Docket
Horizontal Weekly Docket
List Style Calendar
Moving Planner Sheet
Clean Mama Printables
is giving away a
$50 Gift Certificate
! Becky is also offering 20% off through this week to all Organize and Decorate Everything readers – just enter the code '20ODE' at checkout!
Becky can also be found blogging at Clean Mama – where she blogs about all things clean and organized and other homey things in between.
1st Entry– Become my friend in Google Friend Connect. Come back and leave a comment telling me you did so.
2nd Entry– Visit Clean Mama then come back and let me know your favorite printable.
3rd + Entries– Link as many Organizing, Decluttering or Cleaning Projects, Tips or Ideas that you like. Please only link posts that meet this criteria or I will have to delete them. And as always, please link back to this party.
Okay, are you ready to party? Link your projects here. Let's see if we can get over 60 links to the party this week.