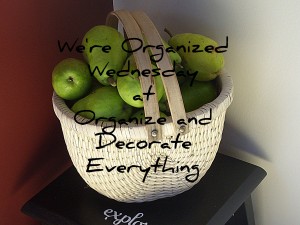 The giveaway is now closed, but you can still check out all the great organized ideas linked here.
Welcome to another We're Organized Wednesday. I can't wait to see what you've all organized over the past 2 weeks. I've been working on a lot lately. If you missed anything you can just look back through the last few posts.
Before we start the party, let's talk pretty jewelry. Gales Designs is sponsoring a beautiful giveaway today. You have your choice of one of these pair of beautiful earrings.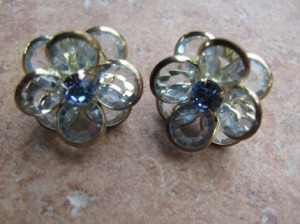 Don't you just love how they sparkle and shine?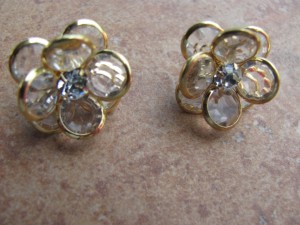 I would have a hard time deciding which pair I want.
If you win, Beth will get with you to help you decide.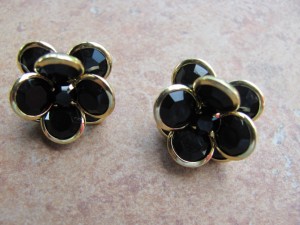 Here's how you enter:
1 st entry- Visit Gales Designs then come back here and leave a comment telling me your favorite piece of jewelry.
2 nd entry- Leave a comment telling me you favorite pair of earrings if you win.
More entries- Link an organizing tip, idea or project to the party below.
Please leave a separate comment for every entry.
She has a special for the month of September too. With any purchase you get a free polishing cloth. It's a $2.50 value for free!
Here's what I organized today. Once I hung Ammon's corkboard and art supply station, I knew I was going to have to make a place for him to display his masterpieces. (I have plans for that table too.) I haven't been to Ikea for a year, but luckily when I was there last I bought this great system (I actually bought 2). I think it was around $2. It was originally meant for Adam.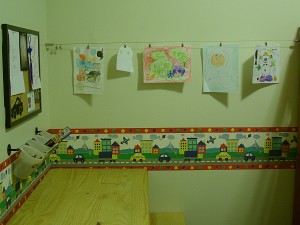 Follow the picture instructions in the bag. You have to supply your own screws. First secure the left side to the wall. There's a L or a R marked on the piece.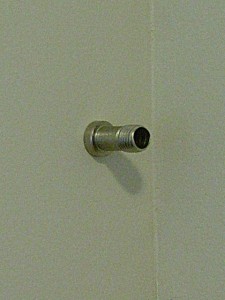 Take the screw out of the small piece then thread the 2 pieces onto the wire.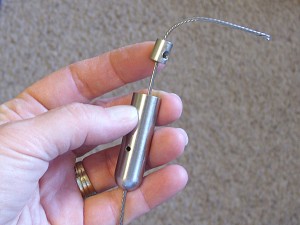 Bend the wire back , thread it back through the small piece and tighten the screw.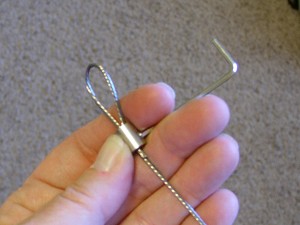 Then screw the cover over the screw in the wall. After trying to get it to screw in for about 5 minutes, hubby pointed out to me that it's a reverse thread. Yeah, I didn't know there was such a thing, but apparently you screw it in the opposite direction.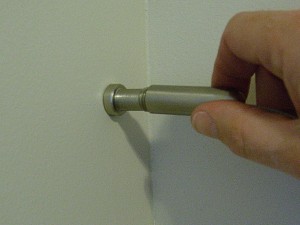 Left side down, right side to go.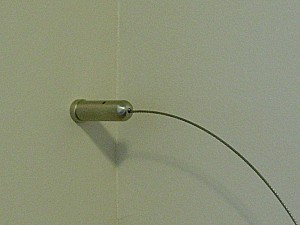 First measure the length of wire you need. I did this by pulling the wire straight and marking it. Then cut it with wire cutters.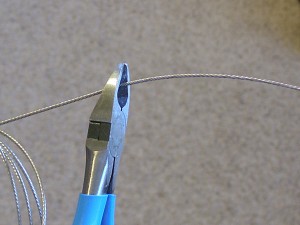 Do the same thing on this side as you did on the other one. Don't forget to put the big piece on the wire first, I almost forgot. Loop it again and then screw it into the other wall (or in my case, the wood bed).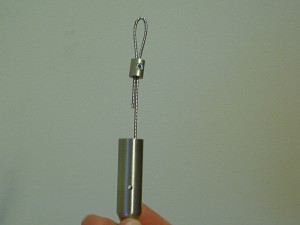 And there you go, a place for Ammon's art creations. He was very excited, then he said, "When are you going to get my table finished?" Hmmm, he's not demanding, is he!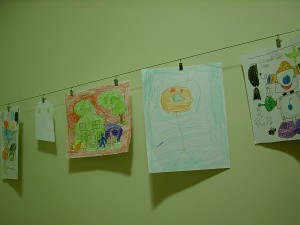 Let's see what you've been working on. Link up any organizing idea, tip or project you'd love to share. I can't wait to see them all.