Should I announce the winners of the calendar giveaway? First, Jared Barnes is an amazing artist. His paintings are so beautiful and speak to my heart. I can't describe how gorgeous this calendar is. I'm honored that he's let me share this beautiful calendar with all of you and I wish you all could have won. But remember you can still order calendars directly from Jared here. All the images of Christ are so beautiful. How could you not enjoy looking at this calendar everyday? Drum Roll, Please…………….. and the winners are Mistie Boully and Christy from Embellished Bayou. Congratulations to both of you! Please send me an e-mail leanneja@organizeyourstuffnow.com and let me know your mailing address so I can get these beauties sent out to you.
What did you do this weekend? We spent Saturday morning watching our daughter in a Christmas play the school was putting on. Does your chest puff up and you feel all fluttery inside every time you watch your child perform or participate in anything? Yeah, mine too. It was fun to watch and all the kids worked really hard and practiced many hours. What a great way to start the holidays and get in the spirit of the season. Emilee had 2 parts. A narrator elf and Peppermint the Elf. 
My favorite line she said: Or Shawanna's Barbie Fairytpoia Mermaidia Elina Doll with removable fairy wings and other accessories? ( She's standing next to Santa)
Doug's favorite line: Oh, the humanity! (She's crying in this part, on the end with the bunny).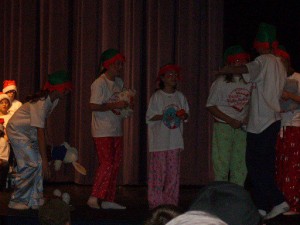 As one of the narrators (on the right).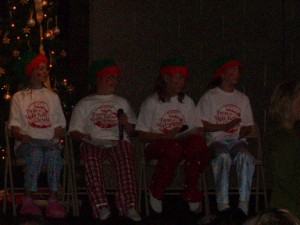 With another little elf friend after the performance.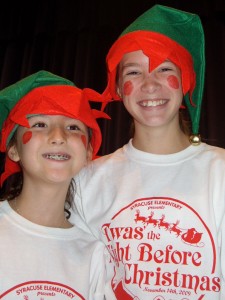 This is what we came home to after the play.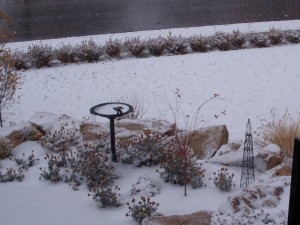 It was blowing up on the front porch. I guess it's time to bring the wicker chairs in.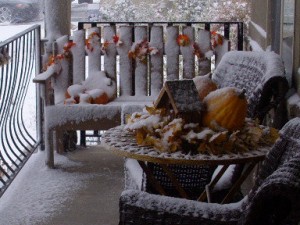 Snowy pumpkins.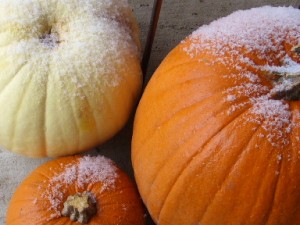 Do you love the first snow of the season? The kids couldn't wait to get their coats and boots on and head outside.
What a beautiful day! I hope you had a beautiful weekend!