I bought this chair for $5 at a local thrift store. Scary, huh! What was I thinking? The wood and cane were still in good shape, but the color was sad and the cushion didn't smell very good. Okay, it stunk! Here it is (aren't those legs gorgeous?):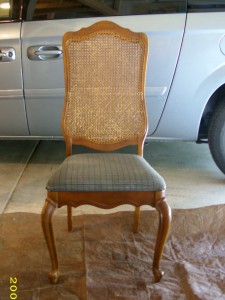 The first think I did was take the cushion off and throw it away. Before I threw it away though,  I measured it to cut the new one the correct size. I found the perfect green material, wrapped it around the new cushion and stapled it to the bottom of the seat. Then I went through my stash of spray paint and of course went straight to the glossy black paint. I love glossy black paint. I painted the chair, reattached the seat and here's the end result: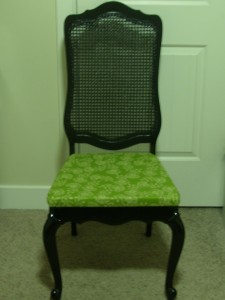 Look at those beautiful legs. I love my new chair. It sits in my bedroom at my desk. Emilee calls it my princess chair. She wants me to make her one next, but she wants hers in white.
I'm linking to:
Power of Paint Party at Domestically Speaking