I know you all love place cards as much as I do and want to find that perfect one for your holiday table, so I'm really happy to share another beautiful place card idea with you. My party contributor, Anne shows you how to create a sweet Tissue Paper Pom-Pom Place Card Holder. Here's Anne:
Happy Thursday everyone. Anne here from Circus Berry. I am back this month sharing another simple place card idea for your holiday season – a Tissue Paper Pom-Pom Place Card Holder. I love the flexibility this place card offers, not to mention the re-use factor. When you are done donning your festive table with these, go ahead and string them together for a sweet pom-pom garland.
These are made like your typical pom poms…just smaller. Gather your tissue paper, string, and scissors. I used some metallic-y silver tissue paper because it matches the fancy china I will be using for Thanksgiving Dinner this year (wink, wink).
My tissue paper pom-poms are roughly 6 by 7 inches, 6 sheets in a stack. You want to stay around that size to get nice fluffy pom-poms.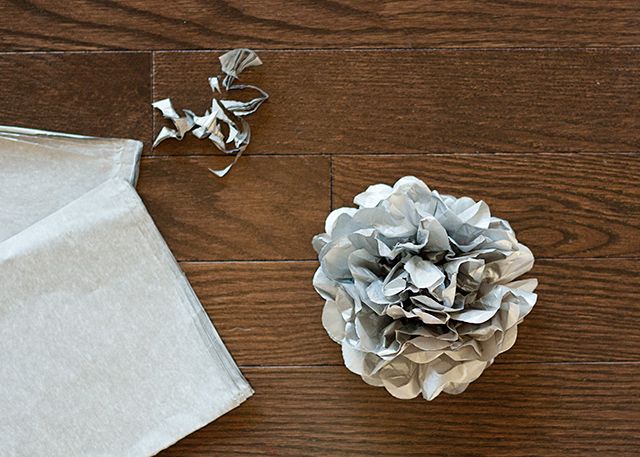 Accordion fold your stack of tissue paper in roughly one inch increments. Tie some string to the center. Round the ends of the folded tissue paper with scissors.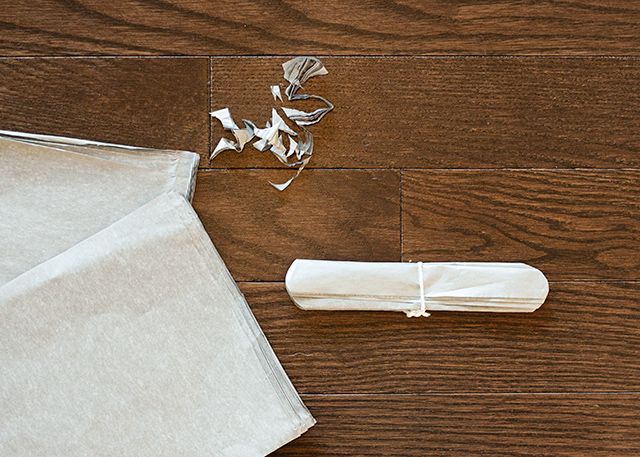 Now the part that makes or breaks a good pom-pom–GENTLY separate your tissue paper to the center. Work with easy, gentle hands or you will end up with a ripped up mess of tissue paper, no pom-pom, and lots of curse words. Slow and steady here. And leave the bottom of the pom-pom flat so that it will sit nicely on your plate.
Get some some punched papers with your guests' names on them and pop them into the top of your finished pom-pom.
Isn't that pretty? I am thinking some bold red up against basic, white plates would be lovely for Christmas!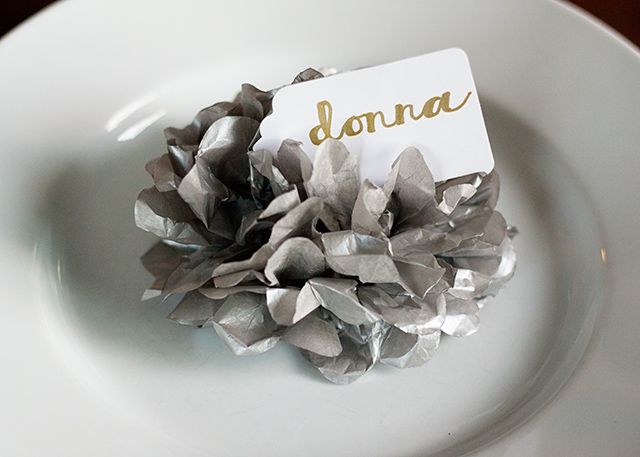 Happy Thanksgiving everyone and I will see you next month! Cheers!
Check Out These Related Posts